Hello from New Jersey! I had a ridiculous travel day yesterday, starting with an upgraded seat on my flight (thanks to a total stranger!), and ending with an evening of being lost all over the New Jersey highway system in a rental car. Quite the whirlwind!
Fortunately, after a good night's rest, I was ready to get cooking with one of my very favorite chefs– Doris Choi! For those of you who don't know, Doris is the brilliant chef behind Detox Delivers and the Rose Program Culinary Institute, and I feel extremely lucky to be here training with her first-hand!
Over the next few days, I will be learning (and more importantly, tasting!) some of Doris's delicious recipes, as well as gaining the culinary knowledge to go off and create more of my own delicious meals long after I'm finished here!
—
Here's a peek at what our first day looked like, which focused on mostly raw dishes:
Raw Veggie "Spring Rolls."
Raw Kimchi. (this will be fermenting over the next few days)
Raw cucumber & avocado rolls.
Spicy "tuna" rolls. (my favorite dish of the day–> I will be making this ALL the time now!)
Collard wraps, with a carrot-miso dipping sauce.
Cauliflower Couscous.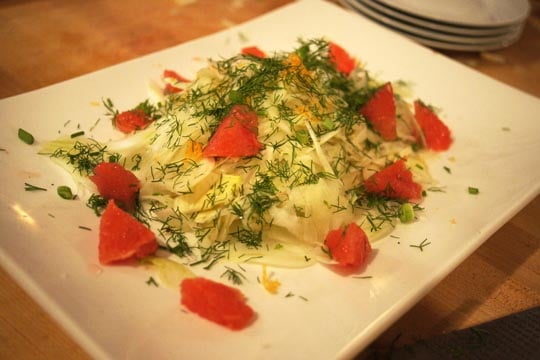 Shaved fennel salad, with raw sheep pecorino.
Beet and zucchini carpaccio, with fresh herbs and seeds. (the beet version is addictive!)
Carrot "BBQ" chips. 😉
Scallops! (Only, they're not really scallops… they're mushrooms! And they're the best "scallops" I've ever tasted.)
Vegetable Fried Rice. (Very similar to the fried rice I usually make, but Doris taught me some amazing techniques to make it even better!)
—
Needless to say, everything we made today tasted delicious! It's unbelievable how simple, clean food can taste so amazing. I feel like I need to throw a dinner party when I get home, to share all this tasty, healthy food with my friends!
**If you're interested in Doris's recipes, you can get them all in The Fresh Energy Cookbook.