This Gluten-Free Peach Crisp is one of my favorite summer desserts. I love that it's naturally sweetened and topped with a crispy grain-free topping, so it shouldn't spike your blood sugar as much as the traditional version, but it's still just as satisfying!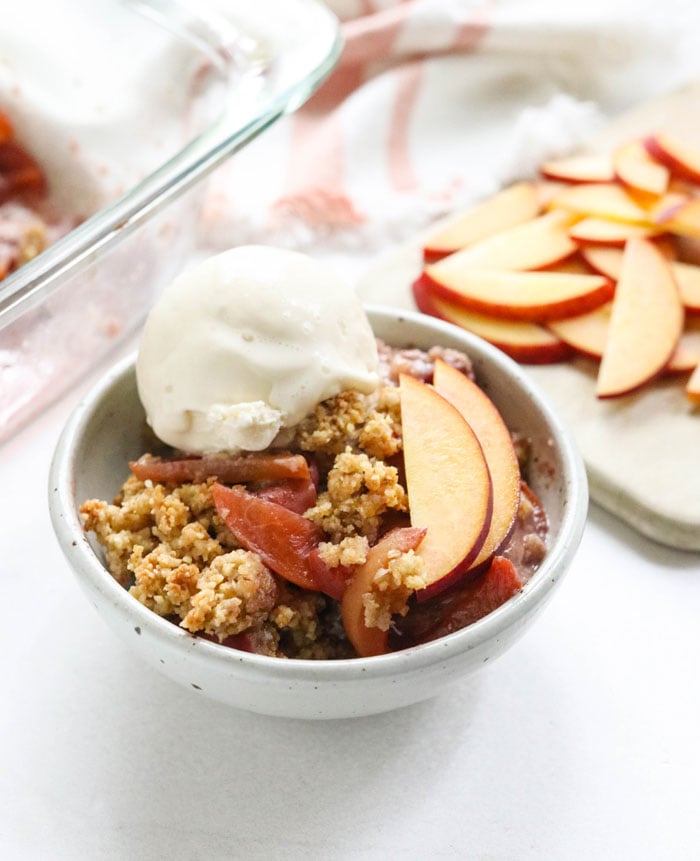 How to Make a Healthy Peach Crisp
This gluten-free peach crisp is easy to make, using fresh or frozen peaches. When they are in season, I love using fresh peaches because all you have to do is slice them up before getting started. I don't even bother to peel them, since there's nutrients in their skin! (This does lend a red hue to the filling, though.)
When using fresh peaches with the peel on, I like to slice them very thinly, so that they will cook quickly and become very tender. If you prefer to skip the slicing process all together, use frozen peaches that are already peeled! You'll just need to let them thaw completely before moving on to the next step.
Once your peaches are sliced (or thawed and drained) you'll place them in a large pot over medium-high heat with maple syrup, vanilla, and cinnamon. Bring the mixture to a boil, then lower the heat to a simmer and continue to stir and cook the peaches until they are fork-tender.
How to Make a Gluten-free Crisp Topping
While you're waiting for the peaches to soften up, you can throw together this easy crumble topping! All you need is some walnuts (or any other nut that you love), shredded coconut, along with a little coconut oil and maple syrup. I like to add a splash of almond extract for a pop of flavor, but you can leave that out if you don't care for almonds. Process it all together until it's crumbly.
When the fruit is tender, pour it into a baking dish and sprinkle the crumble over the top. Then you'll just bake it until the top is crisp and golden.
What is the Difference Between Peach Cobbler and Peach Crisp?
Peach cobbler and peach crisp are both baked fruit dishes, but cobbler reminds me more of a "dump cake," where you pour a prepared biscuit mix or cake mix over the top of cooked fruit, while a crisp is more, well, "crispy" on top. In my experience, peach cobbler usually turns out with the peaches and cake batter more mixed together in the final baked dish, while a peach crisp stays in layers, with the fruit on the bottom and the crisp topping over that.
I hope you'll enjoy this flourless dessert as much as my family does! We like to top it with a scoop of ice cream or coconut whipped cream for serving.
How to make Gluten Free Peach Crisp (1-Minute Video):
Gluten-Free Peach Crisp (Vegan & Paleo)
This healthy Peach Crisp is my favorite summer dessert! I love how the topping get nice and crisp, without using refined flour or sugar.
Ingredients
Crumb topping:
1 1/2

cups

walnut halves

1/2

cup

shredded unsweetened coconut

2

tablespoons

pure maple syrup

1

tablespoon

melted coconut oil

1/4

teaspoon

salt

1/4

teaspoon

almond extract
Instructions
Preheat the oven to 350F. In a large sauce pot over medium heat, combine the peaches, maple syrup, vanilla, and ground cinnamon. Stir well until the syrup comes to a boil, then allow to simmer until the syrup has thickened a bit and the peaches are fork-tender. Turn off the heat and allow the pot to sit while you make the crumble.

To make the crumble, place the walnuts and shredded coconut in the bowl of a large food processor fitted with an "S" blade. Process until a crumbly texture is formed, then add in the maple syrup, coconut oil, salt, and almond extract. Process again, until a sticky and crumbly mixture is formed.

Pour the peach filling into a 9-inch square baking dish, then sprinkle the crumble over the top evenly. Bake at 350 for 15 to 20 minutes, or until the top is lightly golden, then serve warm.

Store covered leftovers in the fridge for up to 3 days.
Nutrition
Calories:
284
kcal
,
Carbohydrates:
26
g
,
Protein:
5
g
,
Fat:
20
g
,
Saturated Fat:
6
g
,
Sodium:
77
mg
,
Potassium:
378
mg
,
Fiber:
4
g
,
Sugar:
20
g
,
Vitamin A:
370
IU
,
Vitamin C:
7.8
mg
,
Calcium:
46
mg
,
Iron:
1.1
mg
Gluten-Free Peach Crisp Nutrition (1 of 8 servings): Calories: 284, Fat: 20g, Carbohydrates: 26g, Fiber: 4g, Protein: 5g
Recipe Notes:
I have a feeling this recipe will work well with any other fruit in season, so feel free to experiment! (And please let us know if you have any success in the comments below.)
I love the buttery texture that walnuts add to the crisp, but pecans will create a similar result. Feel free to try sunflower seeds for a nut-free version, but you may want to add a touch more sweetener to balance out their bitter flavor.
If you love this recipe, you'll also enjoy my Blueberry Crisp (made with almond flour), Paleo Apple Crisp, and Paleo Berry Crisp.
If you do try this recipe, please leave a comment below letting me know how you like it. If you make a substitution, please let me know what you tried, too! We can all benefit from your experience.
—
Reader Feedback: What's your favorite fruit-flavored pie or crisp?