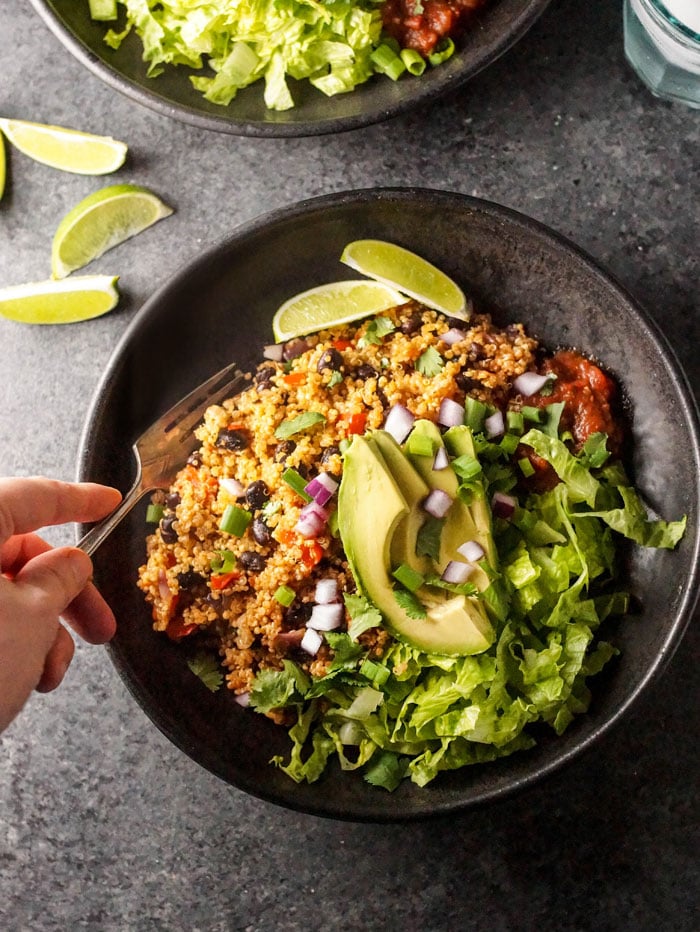 Sometimes, recipe inspiration strikes and I have to try something new right away. Like, as soon as humanly possible. That's how I felt when I thought of making these Vegan Burrito Bowls in the Instant Pot.
This recipe is actually a spin-off of a simpler idea I had last week– I wanted to make protein-rich "Mexican rice" by combining two simple ingredients: quinoa and prepared salsa.
Genius, right? I thought so, anyway.
We always have a jar of salsa in our pantry, so I thought it was a super-convenient way to add some flare to our usual quinoa, without taking extra time to chop up veggies. I replaced one cup of the cooking water with one cup of salsa, and it turned out really well.
During that first test-run, I sautéed some peppers and onions, along with some black beans and seasonings, to serve over my Mexican-style Quinoa. The combination was delicious, but I wondered if I couldn't streamline the process even more by cooking everything in the Instant Pot at the same time. That's how these one-pot vegan burrito bowls were born.
I experimented with "dump meals" quite a bit while writing my latest cookbook, so I can tell you from experience that you can make these burrito bowls by simply dumping everything into the Instant Pot and pressing a button.
However, the flavor is never quite as good compared to when you take the extra 10 minutes to sauté the onions and peppers first. Either way works; it's just something to keep in mind!
This recipe is delicious when served hot or cold. I like to enjoy it warm right after making it, then I throw the rest in the fridge for quick lunches for several more days. I hope you'll enjoy it just as much.
Instant Pot Quinoa Burrito Bowls (Vegan!)
These Instant Pot Vegan Quinoa Burrito Bowls are an easy and healthy make-ahead meal loaded with fiber and protein. 
Equipment
Ingredients
1

teaspoon

extra-virgin olive oil

1/2

red onion

, diced

1

bell pepper

, diced

1/2

teaspoon

salt

1

teaspoon

ground cumin

1

cup

quinoa

, rinsed well

1

cup

prepared salsa

1

cup

water

1 1/2

cups

cooked black beans

, or 1 (15 oz.) can, drained and rinsed

Optional toppings: Avocado

, guacamole, fresh cilantro, green onions, salsa, lime wedges, shredded lettuce
Instructions
Heat the oil in the bottom of the Instant Pot, using the "Saute" setting. Saute the onions and peppers until start to soften, about 5 to 8 minutes, then add in cumin and salt and saute another minute. Turn of the Instant Pot for a moment.

Add in the quinoa and water and stir well, making sure to scrape the bottom of the pot with a wooden spoon, to make sure nothing is stuck to the bottom. (This will trigger a burn error.) Add the salsa and beans on top without stirring again. Secure the lid and move the steam release valve to "Sealing."

Press the Rice button (which cooks at LOW pressure for 12 minutes) or press the Manual or Pressure Cook button, and cook at high pressure for 1 minute. Let the pressure naturally release for 15 minutes when the cooking cycle is complete, to let the quinoa finish cooking, without burning to the bottom of the pot. When the screen reads L0:15, move the steam release valve to Venting to release any remaining pressure.

When the floating valve in the lid has dropped, it's safe to remove the lid. Fluff the quinoa with a fork, then serve warm with any toppings you love, such as avocado, diced onions, salsa, and shredded lettuce.

Leftovers can be stored in an airtight container in the fridge for up to a week. You can quickly reheat on the stove top, or serve cold!
Notes
Nutrition information is for 1 of 4 servings, without any additional toppings. This information is just an estimate, and not a guarantee.
Nutrition
Calories:
163
kcal
,
Carbohydrates:
28
g
,
Protein:
6
g
,
Fat:
2
g
,
Sodium:
294
mg
,
Potassium:
268
mg
,
Fiber:
3
g
,
Vitamin C:
1
mg
,
Calcium:
28
mg
,
Iron:
2.3
mg
Per Serving: Calories: 163, Fat: 2g, Carbohydrates: 28g, Fiber: 3g, Protein: 6g
Note: Feel free to substitute another grain for the quinoa if you like, such as rice or millet. As written, this dish packs 14 grams of protein and 12 grams of fiber per serving!
Don't have an Instant Pot?
Stove Top Directions: You can heat everything in a covered pot over the stove. Instead of hitting the "rice" button using the directions above, simply bring everything to a boil in a large pot over high heat, then lower the heat and cover to steam until the quinoa is tender and the liquid is absorbed, about 15 minutes. Remove the lid and fluff with a fork before serving with your favorite toppings.
This recipe is a great make-ahead meal to prepare over the weekend, so I hope you'll try it the next time you have a free 20 minutes to spare. You can enjoy it right away when it's warm, then have lunch ready-to-go for three more days next week.
—
Reader Feedback: Do you have a favorite Instant Pot meal at the moment? Let me know what I should try next! I've almost perfected the best Vegan Mac n' Cheese of my life using the Instant Pot… so that recipe will be coming to you soon.