As the holidays approach, I feel like there's a collective urge to restrict your eating choices so that you can "splurge" for holiday parties. If you are familiar with my history of binge eating, you'll know why I don't restrict my eating choices now, even when I'm surrounded by holiday treats!
In my experience, I make much better choices (and feel a sense of food freedom) when I'm open to eating anything. Even total junk food! Growing up, potato chips were one of my weaknesses, and I still keep a bag in the house for when I need something salty and crunchy. While that totally goes against most dietary advice (you're supposed to remove everything "bad" from your house, right?), having a bag of chips in my house reminds me that I truly am free to choose those if I want to. You can hear me talk more about this topic in my episode of the Free Spirit Podcast.
Of course, I also keep plenty of other healthy snacks in our house that will actually fill me up. From experience, I know potato chips won't fill me up or leave me feeling good… but I did have to let myself eat them in order to have that perspective. Now, they're not as appealing to me when I'm actually hungry, even though they're always an option.  This is also why I usually have healthy desserts stashed in my freezer– so I can have a treat that actually fills me up when I want one.
In addition to having an unrestricted mindset when it comes to food, meal prep is another thing that helps me make better choices during the holidays. When I find myself starving, and ready to reach for whatever is easiest, it's nice to have something that's actually healthy, filling, and delicious ready to go.
This weekend, I made an easy chickpea salad to have on hand (recipe coming to the blog very soon!), and I plan on having plenty of leftovers from this week's meal plan for easy lunches. You can see my meal plan below.
As an Amazon Associate, I earn on qualifying purchases.
Here's my Meal Plan for the Week:
Join Me for a LIVE Cooking Demo
As usual, I'll be doing a LIVE cooking demo on Monday night on both Facebook and Instagram at 8:30pm CST. (9:30pm EST / 6:30pm PST) Last week, many of you asked me to do another Instant Pot demonstration, so this week I'll be showing you how to make my Kung Pao Chickpeas AND a bowl of rice in there at the same time– with a 4 minute cook time! Join me there with any questions you might have about the Instant Pot. I'm happy to answer them as I go.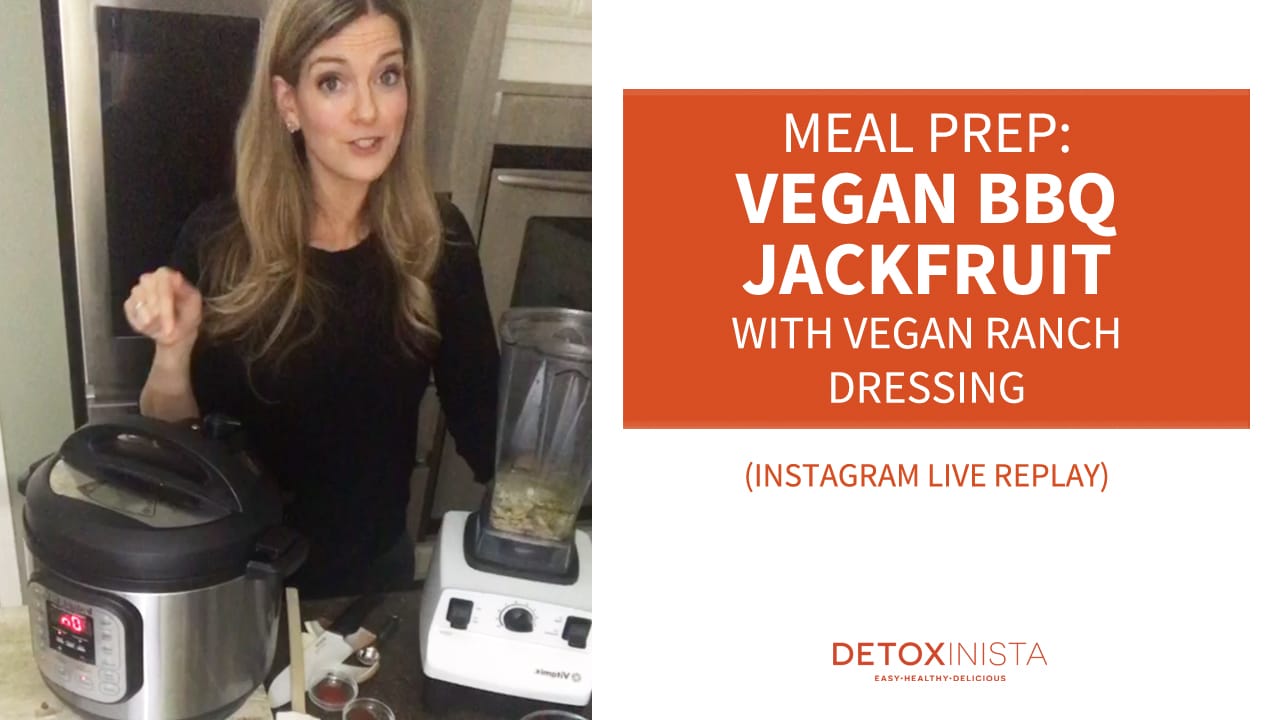 You can always catch-up on my cooking videos on my YouTube channel, too.
Feel free to leave a comment below if you have any requests for my next cooking demonstration. I was thinking maybe a Christmas cookie or cinnamon roll recipe next!
–
Reader Feedback: What are YOU planning to eat this week?