Banana Oatmeal Pancakes are some of the best pancakes you'll ever make. All you need is a few simple ingredients to make them, along with a blender!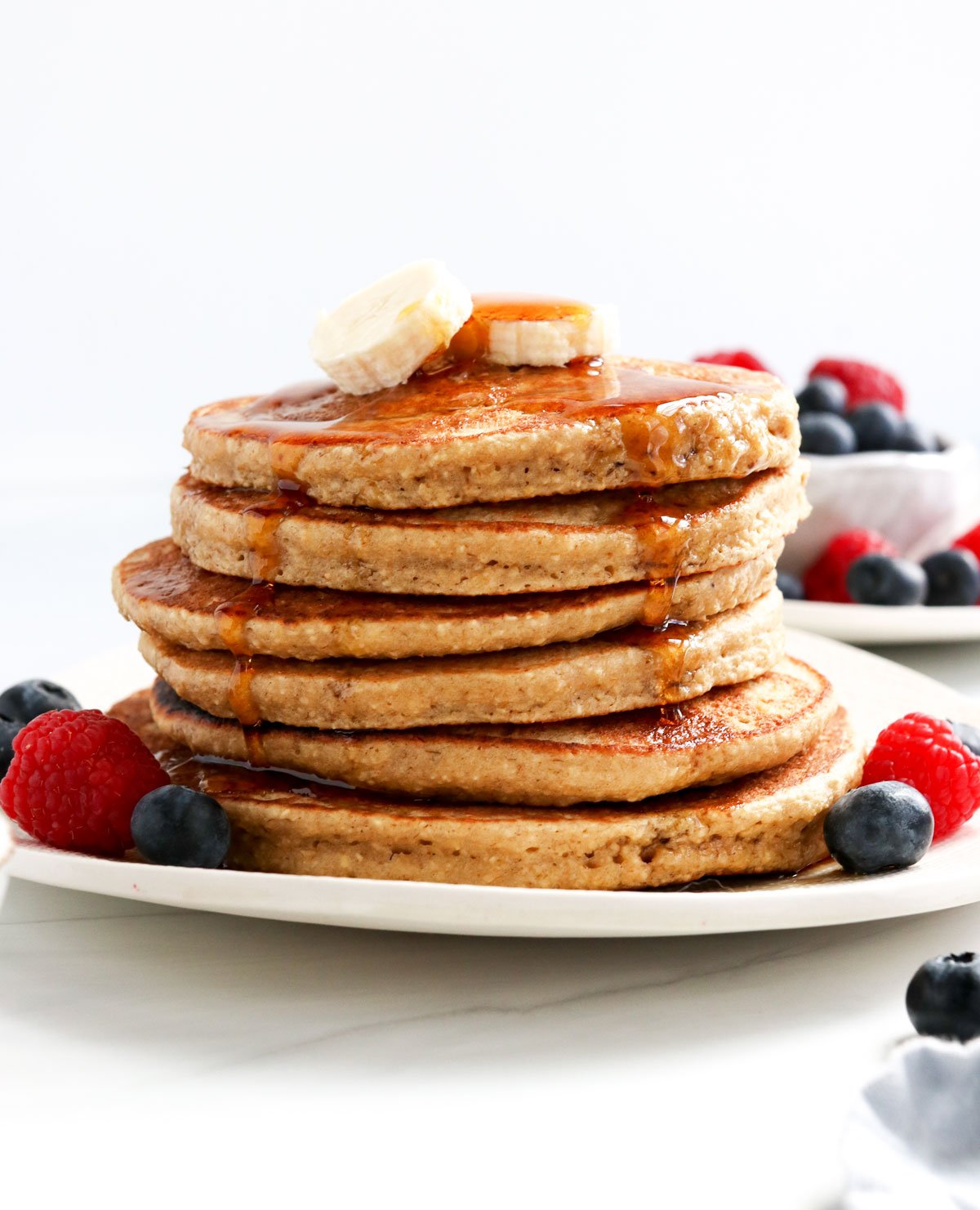 Why You'll Love Them
This recipe is quick and easy, and naturally gluten-free. All you have to do is blend the ingredients together, and then you can use the blender's spout to pour the batter directly into a hot skillet.
The bananas add natural sweetness and oats are higher in protein than many other cereal grains, so these pancakes are a great source of fiber and should help keep you feeling full. Plus, the prep work is done in less than 5 minutes!
These pancakes are:
Gluten-free & dairy-free
Naturally sweetened
Unbelievably fluffy
Easy to bake all at once (see tips below!)
Kid-friendly
And totally delicious!
Seriously, once you taste this pancake recipe, it will become your go-to. I make a batch almost weekly as part of our meal prep routine, because they are easy to bake all at once and then freeze.
When you want to heat one up, just pop it into the toaster, or toaster oven, like you would a frozen waffle! This is my kids' favorite breakfast before school for an easy morning.
Ingredients You'll Need
What's in banana oatmeal pancakes? 
Ripe bananas
Eggs
Rolled oats (or quick cooking)
Vanilla
Maple syrup
Olive oil (or any other variety you prefer)
Baking powder
Salt
When you blend these simple ingredients together with a splash of water and baking powder, to help them rise, the pancake batter is ready to use in just minutes. The banana acts as a binder and adds sweetness, but the banana flavor isn't overwhelming.
Feel free to add a dash of cinnamon or a teaspoon of vanilla extract, if you'd like, or a handful of chocolate chips or blueberries as these cook, for a fun variation!
Need an egg-free recipe? Try my vegan pancakes instead, which are made with oat flour.
How to Make Banana Oatmeal Pancakes
1. Blend. Add the banana, egg, oats, oil, maple syrup, water, vanilla, and salt to a blender and blend until totally smooth.
It's okay if you see a little texture from the ground oats, but you shouldn't see any large flakes.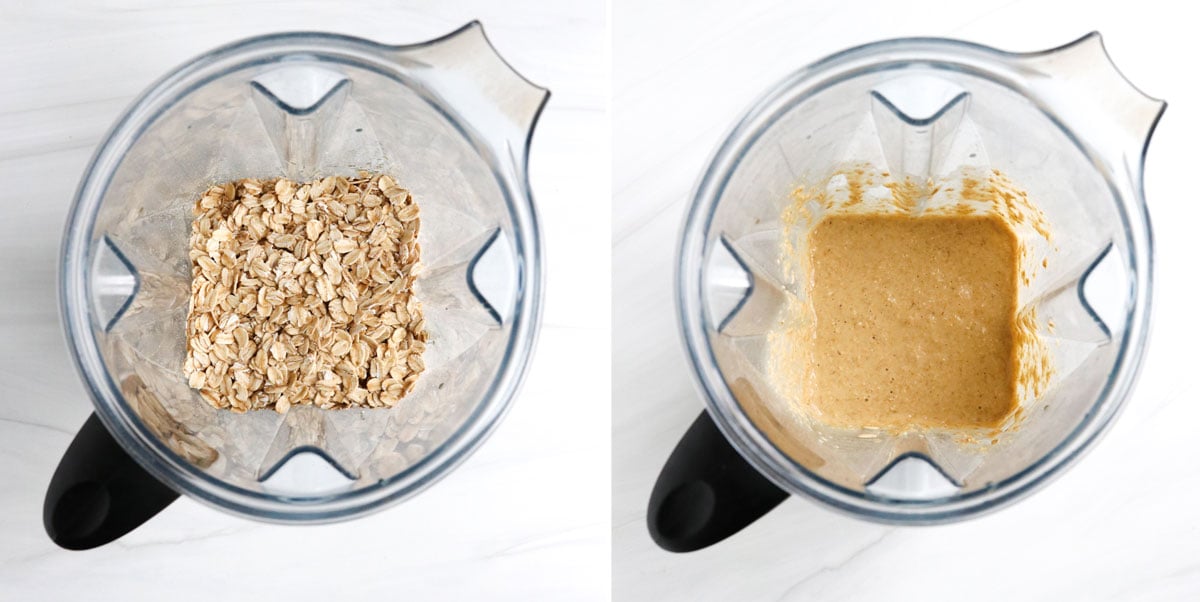 2. Cook. Heat a skillet over medium heat, or use a griddle. You'll know it's ready to cook when a splash of water instantly sizzles when you splash it on the pan.
Spray the pan with cooking spray, and pour the batter into the center, using about a 1/4 cup portion at a time. You don't want the pancakes to be too large, or they will be trickier to flip.
When bubbles start to form on the top of the pancakes and a spatula easily slides under the pancake, it's ready to flip. Cook the other side until it's golden, about 2 to 3 minutes.
Repeat with the remaining batter, and keep in mind that the heat may need to be lowered as you go. I usually need to turn the heat down to medium-low as I cook the pancakes. If the surface of your pan starts smoking, you'll know it's getting too hot.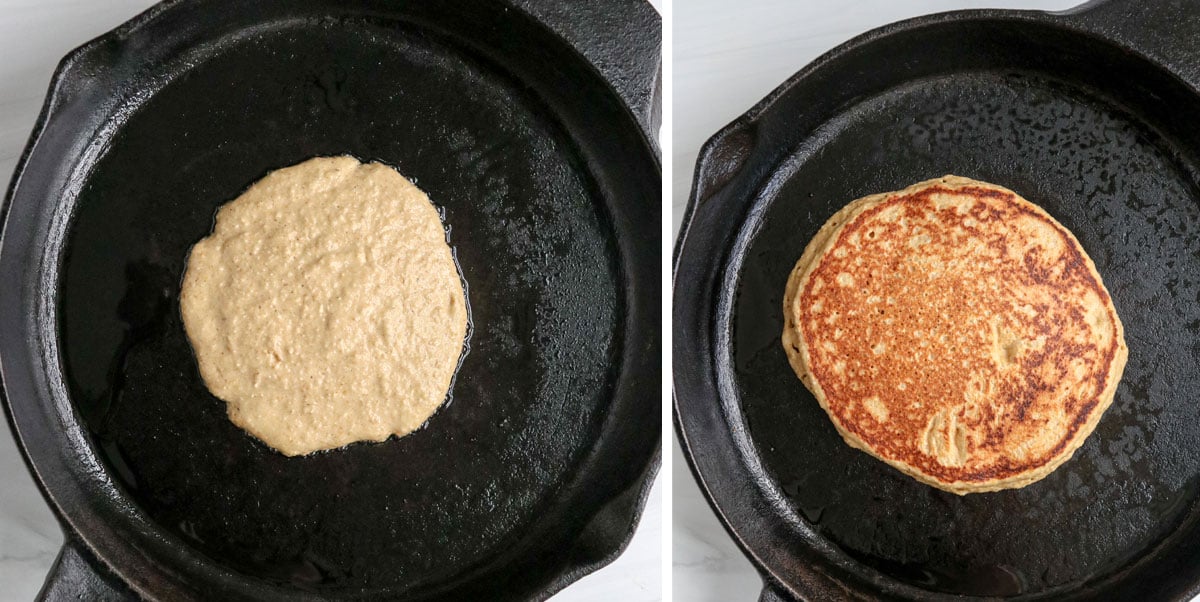 Note: The oats will continue to absorb the moisture in the pancake batter, so it will thicken up as you work.  You may need to use the back of a spoon to help spread out the pancake batter as you work.
Adding water to the batter will make the recipe more gummy in texture, but you can add a tablespoon of water or almond milk, if you think the batter needs to be thinned-out slightly.
3. Enjoy! Once all of the pancakes have been cooked, serve them warm with fresh berries, peanut butter, or  maple syrup on top. My kids are a big fan of peanut butter and sliced bananas on top.
Leftover pancakes can be stored in an airtight container in the refrigerator for up to 5 days, or in the freezer for up to 3 months. Reheat the pancakes by popping them in the toaster, just like a frozen waffle. (You may need to push it down twice to get the center heated through.)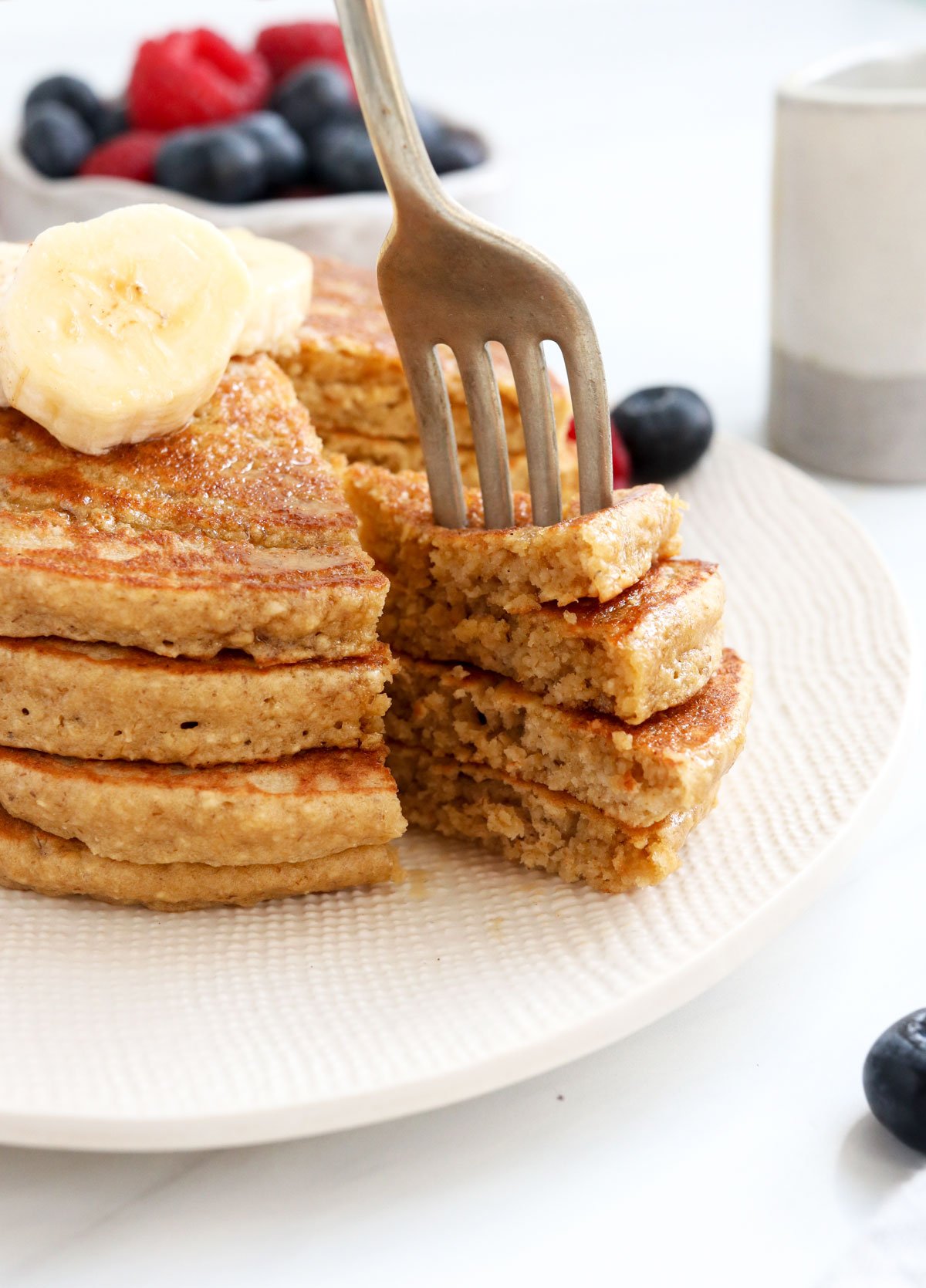 How to Bake Pancakes on a Sheet Pan
If you've never tried baked pancakes, let me tell you, they are a GAME CHANGER.
Instead of cooking these pancakes individually in a skillet, you can bake them on a sheet pan all at the same time. No more standing by the stove waiting to flip each one!
Here's how to bake pancakes:
Preheat the oven to 350ºF and line 2 large baking sheets with parchment paper.
Pour the batter, roughly a 1/4 cup at a time, into small puddles on the baking sheet. Use the back of a spoon to spread them out into a pancake shape, and keep about 1 to 2 inches of space between each pancake to allow for spreading. I usually can fit about 6 pancakes on a half-sheet pan, and this recipe makes approximately 10 pancakes.
Bake at 350ºF for 10 to 12 minutes, until the pancakes feel firm to the touch in the center. There's no need to flip these! They won't look like a pan-fried pancake, as they don't brown on either side, really, but they taste just as delicious. (My kids love them this way!)
You can serve banana oat pancakes warm right away, or store them as part of your meal prep routine. They will reheat easily in the toaster for a fast morning.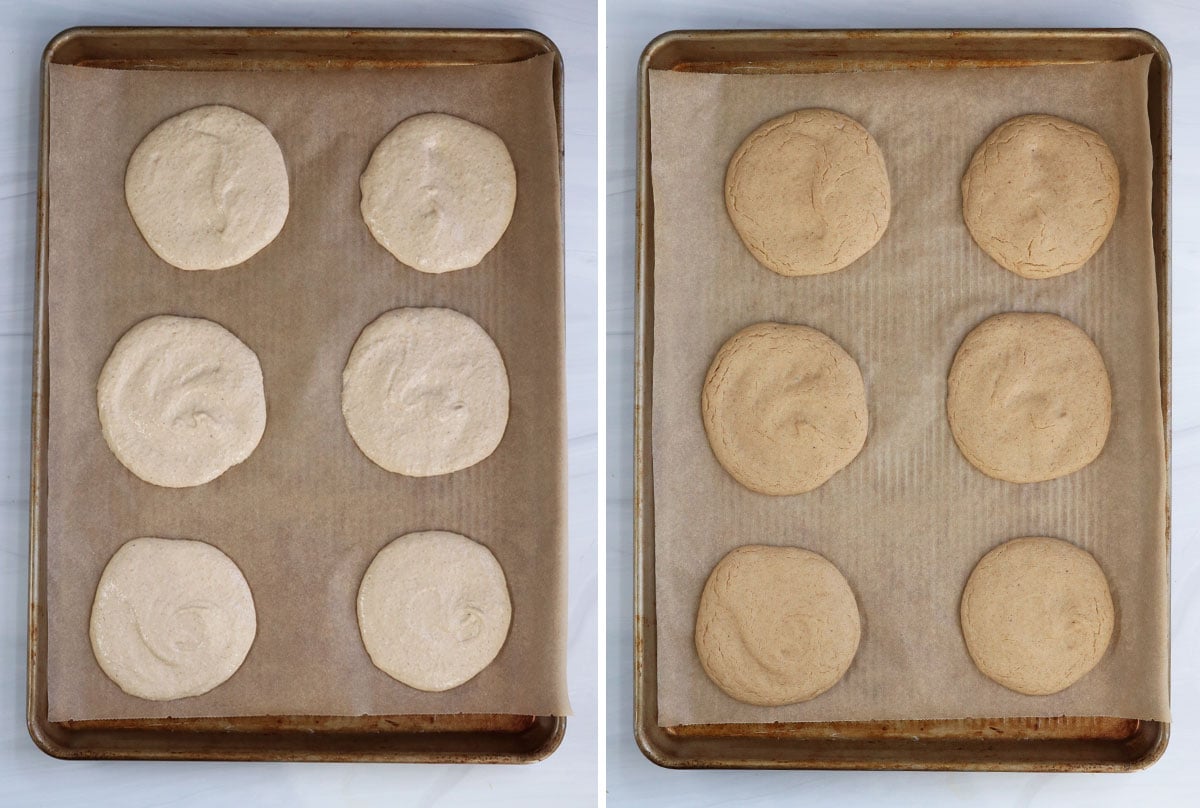 Frequently Asked Questions & Tips
Which oats work best? I typically use old-fashioned rolled oats for this recipe, but quick cooking oats should work, as well. If you need to use oat flour instead of rolled oats, I'd probably use 1 cup to 1 1/4 cups of oat flour as a swap for the rolled oats.
Can I use a flax egg? Flax eggs work best with gluten-containing grains (like whole wheat flour) so I don't recommend using them here without expecting a very gummy, not fluffy result. Try my Vegan Buckwheat Pancakes as another gluten-free  option.
Can I swap the banana for something else? You could try using applesauce or pumpkin puree as an alternative, but the pumpkin won't be as sweet. You may add up to 2 more tablespoons of maple syrup and some pumpkin pie spice, for a pumpkin pie flavor.
Looking for more healthy pancake recipes? Try Banana Egg Pancakes, Chickpea Flour Pancakes, and Paleo Pancakes to change things up.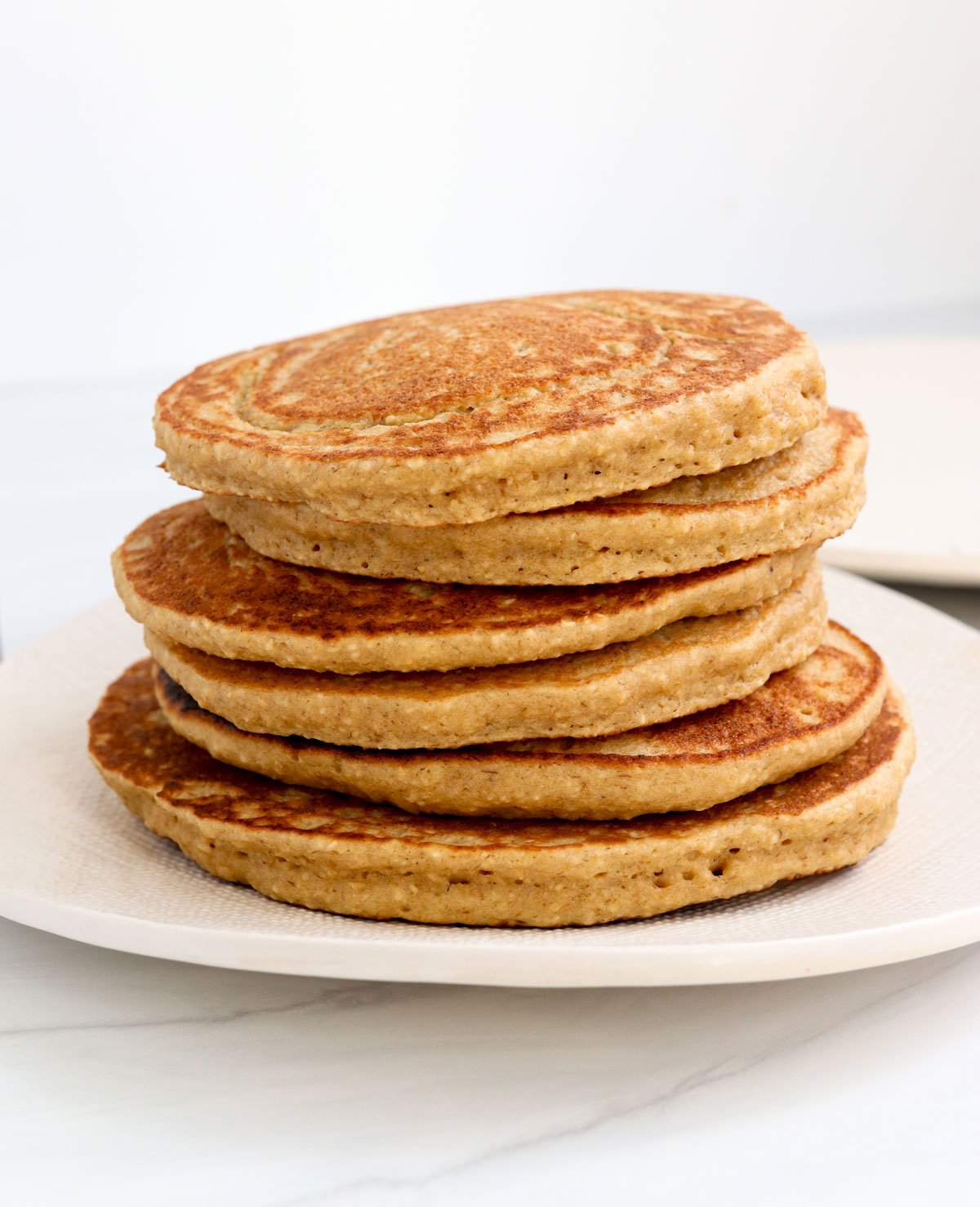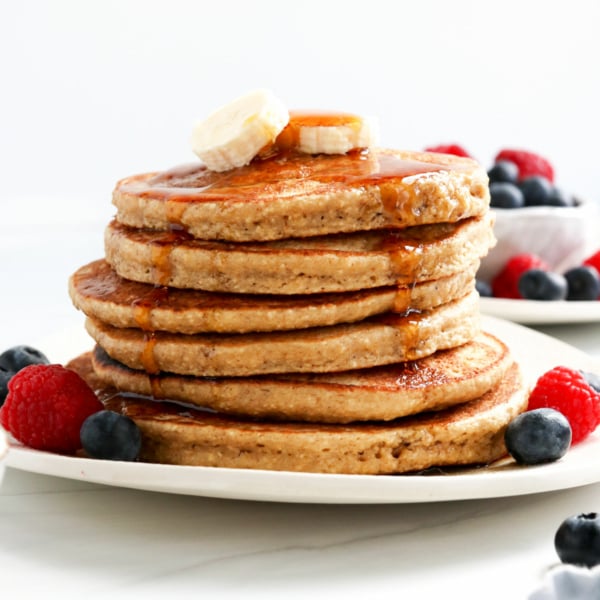 Banana Oatmeal Pancakes
Banana Oatmeal Pancakes are an easy, gluten-free pancake recipe made in a blender! You can cook them in a skillet, or on a sheet pan in the oven to cook them all at once.
Equipment
Ingredients
2

eggs

1

banana

(ripe with spots on the skin)

2

tablespoons

maple syrup

2

tablespoons

extra-virgin olive oil

1

teaspoon

vanilla extract

1/4

cup

water

1 1/2

cups

rolled oats

(certified gluten-free, if needed)

2

teaspoons

baking powder

1/4

teaspoon

salt
Instructions
In a blender, combine the eggs, banana, maple syrup, oil, vanilla, water, oats, baking powder, and salt. (It's easiest to blend when you add the liquid ingredients first.) Blend until the batter is smooth, and stop and scrape down the sides, if needed.

Preheat a skillet over medium-low heat, and grease it with olive oil to prevent sticking. You'll know it's ready to cook when a splash of water instantly sizzles on the pan.

Pour roughly a 1/4 cup of batter into the pan, and let it cook for 2 to 3 minutes, until the center starts to bubble. Be sure to keep the heat on the low-side, so that your pancake doesn't start to burn before the center gets cooked through.

Flip the pancake and cook for another 2 to 3 minutes, until both sides are golden. Repeat this process with the remaining batter, until all of the pancakes are cooked. (You can cook several at once if you use a griddle on your stove top.) The batter may thicken as it sits in the blender, so use the back of a spoon to spread out the batter on the pan, if you need to. If you add extra liquid to the pancake batter, the center may turn gummy in texture.

Serve these pancakes warm, with fresh fruit and maple syrup, if desired. Leftover pancakes can be stored in an airtight container in the fridge for up to a week, or frozen for up to 3 months. Reheat the pancakes in the toaster for an easy morning!
Notes
Nutrition information is for 1 of 9 small pancakes. This information is automatically calculated, and is just an estimate, not a guarantee.
To bake the pancakes all at once, line 2 large sheet pans with parchment paper and preheat the oven to 350ºF. Pour the batter onto the lined baking sheet, using a 1/4 cup measure. Spread the batter out with the back of a spoon, and leave 2 inches between each pancake to allow for spreading as they bake. Bake until the center is firm to the touch, about 10 to 12 minutes. No flipping required!
Nutrition
Calories:
122
kcal
,
Carbohydrates:
16
g
,
Protein:
3
g
,
Fat:
5
g
,
Saturated Fat:
1
g
,
Polyunsaturated Fat:
1
g
,
Monounsaturated Fat:
3
g
,
Cholesterol:
41
mg
,
Sodium:
16
mg
,
Potassium:
210
mg
,
Fiber:
2
g
,
Sugar:
5
g
,
Vitamin A:
66
IU
,
Vitamin C:
1
mg
,
Calcium:
57
mg
,
Iron:
1
mg
Update Note: This pancake recipe has been updated in February 2022 to use slightly less added sweetener. The original recipe called for a 1/4 cup maple syrup and 2 tablespoons of water, so I swapped that ratio for this new & improved recipe. Feel free to go back to the original ratio if you prefer sweeter pancakes.
If you try these banana oatmeal pancakes, please leave a comment and star rating below letting me know how you like them!