These easy Spinach Muffins are naturally gluten-free (with a tested egg-free option) and come together quickly in a blender. I love their fluffy texture and slightly sweet flavor, but I especially love how my picky children gobble them up!
You should know that my 5-year-old son rarely eats anything that I make these days. Except cookies, of course. He's grown to love the snacks they serve at his preschool, like Goldfish and graham crackers.
Because he's been exposed to packaged snacks like those, and to some picky-eating peers at school, he turns his nose up at my smoothies (that he used to love!) and most of my homemade baked goods. My 2-year-old daughter is starting to follow suit, because she wants to be just like her big brother. Yippee.
Spinach Muffins Recipe
That's why I'm SO EXCITED about these muffins. They're green, because they're loaded with fresh spinach, and my son nearly ate the whole pan the first time I made them. I love how they keep him full, thanks to the fiber-rich oats, banana, and protein-rich egg.
But, let me let you in on my little secret: the key is all in how you present them.
My 5-year-old is obsessed with Ninja Turtles right now, so I called these "turtle power" muffins, and told him that Ninja Turtles eat these to stay strong. He loves to pretend to train like a Ninja turtle, so he asked me if he could have two right away. Then he came back for two more, and soon again, he wanted two more. (They're bite-sized, mind you.)
Spinach Muffins for Toddlers
If your child is into the Incredible Hulk, or dinosaurs, or the Grinch, feel free to call these bright green muffins whatever you need to. They could be St. Patrick's Day muffins! Or Christmas tree muffins! The options are endless.
The first time I made these, the whole pan of muffins was gone by the end of the day! My 2-year-old daughter had eaten several herself, and so did my husband. They're a total hit with my family! I did sweeten them with a little bit of honey, because I know my audience, but if you prefer a less-sweet treat, feel free to cut back on that to your taste.
Spinach Muffins for Babies
If you're making these muffins for a baby under 1 year of age, omit the honey. You can use maple syrup instead, or just add a little more banana or applesauce for natural sweetness. The more ripe your banana, the sweeter they will be.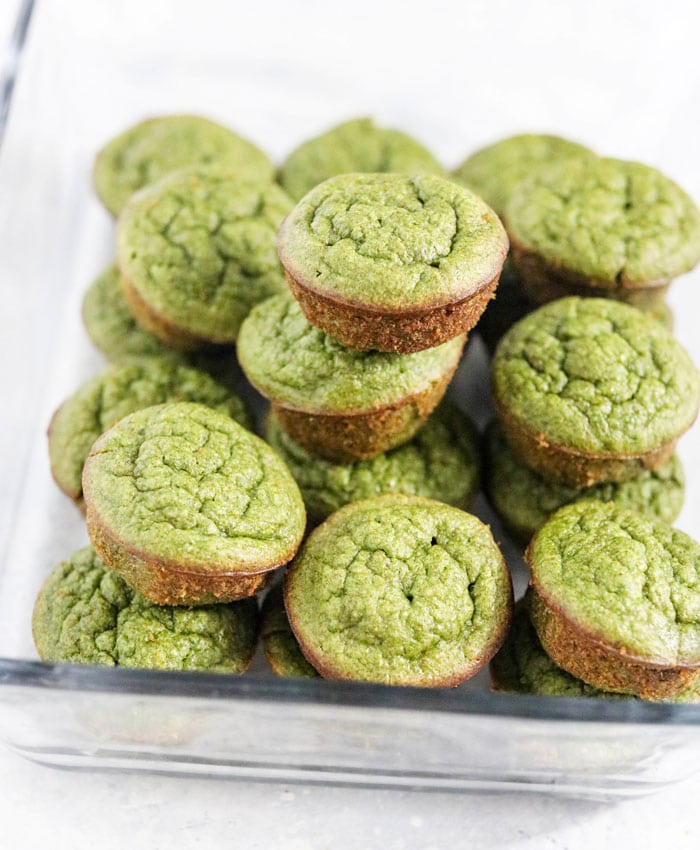 Spinach Muffins for Picky Eaters (Gluten-free!)
These healthy Spinach Muffins are made with fresh spinach, gluten-free oats, banana, and a touch of honey for a naturally-sweet muffin my kids love! Egg-free option included.

Ingredients
1

ripe banana

(6 to 8 ounces)

1/4

cup

water

1/4

cup

almond butter

(or any other nut/seed butter)

1

egg

(or a vegan flax/chia egg; see note)

1/4

cup

honey

1-2

cups

fresh baby spinach

, loosely packed

1

cup

rolled oats

(certified gluten-free, if needed)

1/4

teaspoon

baking soda

1/4

teaspoon

ground cinnamon

(optional)

1/2

teaspoon

vanilla extract

1/8

teaspoon

salt
Instructions
Preheat the oven to 350ºF and grease a mini muffin tin.


Into a blender container, add the banana, water, almond butter, egg, honey, spinach, rolled oats, baking soda, cinnamon, vanilla, and salt, in that order. (Liquids on the bottom help facilitate blending better.) Blend until very smooth, stopping to scrape the sides as needed.


Pour the green batter into the prepared mini muffin cups. I usually get 22 to 24 muffins out of this batch, depending on the size of the banana. If you like to measure, I use about 1.5 - 2 tablespoons of batter per muffin cup.


Put the muffin tin in the preheated oven and bake until the muffins rise and feel firm to a light touch in the center, about 15 to 17 minutes. The edges should turn lightly golden, and might crack a bit.


Remove the muffins from the oven and allow them to cool at least 30 minutes before removing them from the muffin tin. I find that using my fingers to twist them out of the tin helps them release easily, but you can also run a knife around the sides of the muffin to help get them out.


Muffins can be stored at room temperature for 24 hours, but I recommend storing them in an airtight container in the fridge for up to a week.

Nutrition
Calories:
47
kcal
,
Carbohydrates:
6
g
,
Protein:
1
g
,
Fat:
1
g
,
Cholesterol:
6
mg
,
Sodium:
28
mg
,
Potassium:
67
mg
,
Sugar:
3
g
,
Vitamin A:
245
IU
,
Vitamin C:
1.2
mg
,
Calcium:
14
mg
,
Iron:
0.4
mg
Per mini muffin: Calories: 47, Fat: 1g, Carbohydrates: 6g, Fiber: 0g, Protein: 1g
Recipe Notes:
For a vegan version of these muffins, use a flax or chia egg to replace the egg called for. No need to mix the egg ahead of time; I just add 1 heaping tablespoon of ground flax seed and 3 tablespoons of water to my blender, with the rest of the ingredients. I also recommend adding a teaspoon of apple cider vinegar in this case, to react with the baking soda and help the vegan muffins rise. Instead of honey, use maple syrup. The vegan version is slightly "gummier" in texture, but still totally passable as a muffin.
If you can't have oats, try adding a handful of spinach to this flourless peanut butter banana muffin recipe instead. It's naturally sweetened and you could use almond butter instead of peanut butter for a paleo version.
I'm not sure how these would work in a full-sized muffin tin. My kids only like mini muffins, so that's the only way I've tested this recipe. I don't think the vegan version would work as well, with more middle needing to cook through, but the egg version might be okay with a cook time of closer to 25-30 minutes.
–
Reader Feedback: Do you have any other sneaky ways of getting your kids to eat more veggies, and less processed snacks? Please feel free to share in the comments below!