It's the first Monday of 2015, which means there are probably quite a few "resolutions" starting today. If one of your resolutions includes cleaning up your diet and reducing the added sugar in your life, these recipes should help.
They're all free of added sweeteners, even natural ones like honey, maple syrup, and stevia, so you can stay on track with your goals and enjoy the process as you go!
—
1. Spaghetti Squash Enchilada Boats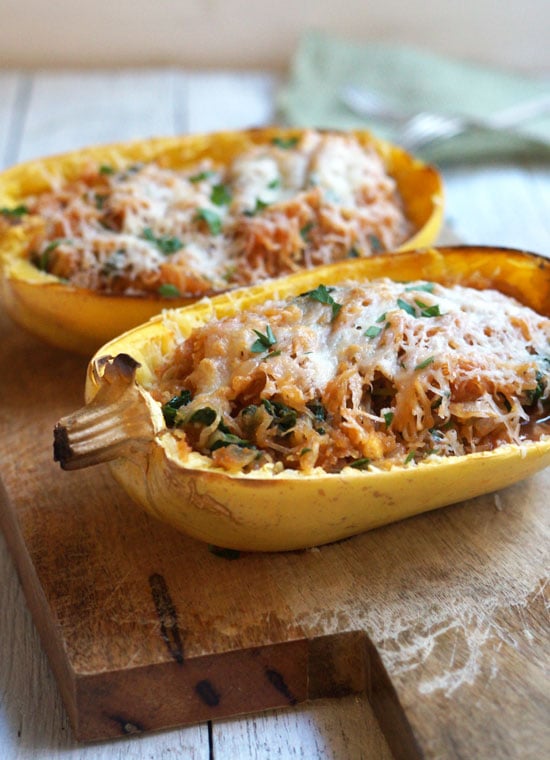 This grain-free meal is one of my favorites at this time of the year. It has all of the flavor of an enchilada, while still being light on your digestion!
—
In case you're cutting back on dairy, too, this sweet potato based queso is a delicious alternative! Serve it as a dip, or as a topping over your favorite cooked vegetables for a comforting dish.
—
3. Cajun Zucchini Noodle Pasta
This vegetable based dish is a delicious low-carb alternative to pasta. It's hot and spicy and sure to warm you up!
—
4. Easy Lentil, Sweet Potato & Coconut Curry
This vegan dish is warm and hearty, and couldn't be much easier to prepare!
—
5. Chocolate Banana Protein Shake
This frosty chocolate shake is exclusively sweetened with fruit, and has a slushy texture reminiscent of an authentic milkshake.
—
This dish reminds me of baked spaghetti, but uses spaghetti squash instead of traditional pasta for a lighter dish. Be sure to check the label on your marinara sauce to make sure there's no added sugar. (Amy's Organic Pasta Sauce is one option that's sugar-free.)
—
I call this my "cheater's risotto" because it takes half the time to prepare when compared to traditional risotto, and it's pretty difficult to mess up! Since it's made with quinoa, instead of rice, it's also loaded with complete protein and can be ready in no time.
—
This dairy-free soup has a brief ingredient list and gets its creamy texture from cashews instead of heavy cream.
—
There's a reason this recipe is wildly popular with readers– it has all of the garlicky-Caesar-salad taste you love, without the need for the anchovies or mayonnaise that some recipes call for.
—
10. Classic Greek Salad Dressing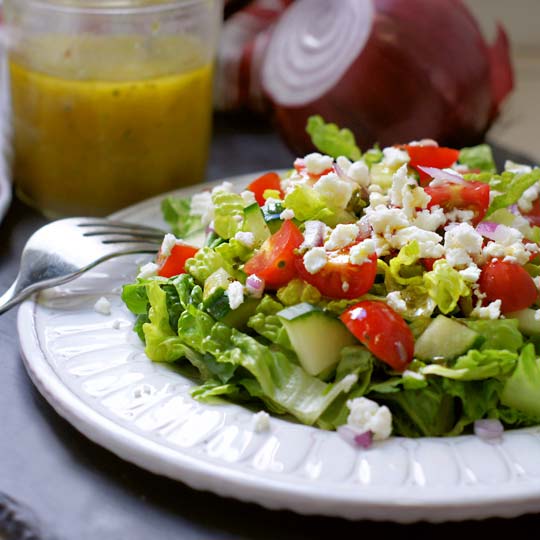 This dressing is a welcome addition to any of your favorite salad ingredients, without the need for sugar.
—
11. Cheesy Spaghetti Squash Casserole
This dish is one of my favorite comfort foods. It reminds me of my mom's "cheesy hash brown casserole," but is made with low-carb spaghetti squash for a lighter variation.
—
This dip is brimming with gut-friendly probiotics and fresh herbs, so you can enjoy it liberally with your favorite veggies! (Try it with Greek yogurt, if you prefer.)
—
13. Chocolate Covered Strawberry Milkshake
This shake is exclusively fruit-sweetened and is a great way to naturally satisfy your sweet tooth.
—
14. 3-minute Chocolate Pudding
This dairy-free pudding makes quick and filling treat!
—
This bean-free hummus is easier to digest than the traditional version, but makes an equally tasty snack with your favorite vegetables.
—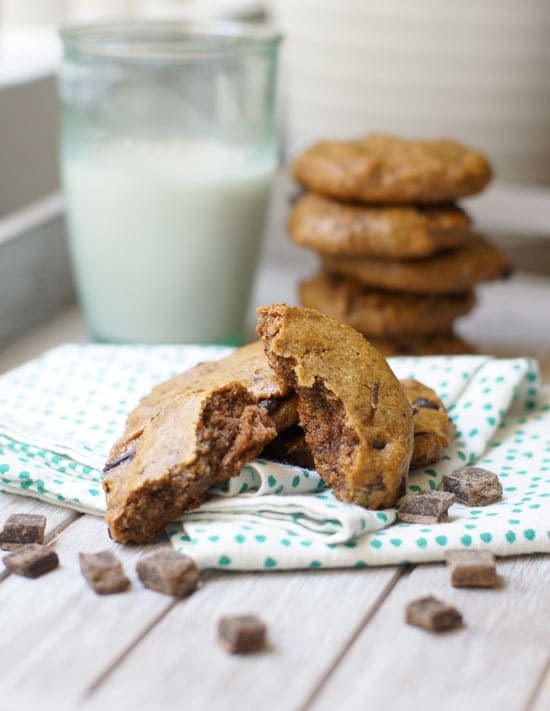 These cookies are made with 100% whole food ingredients– no added oils, sugars, or flours– and yet somehow they taste like my childhood favorite "soft batch" cookies!
—
If you need to satisfy a chocolate craving, these no-bake bites will do the trick. They're fruit-sweetened and have an irresistible fudgy flavor.
—
I hope these recipe ideas will help you get off to a great start for the new year. I'll continue to share more added-sugar-free recipes for the entire month of January, so stay tuned!
Reader Feedback: Do you have any sugar-free recipes to share? Feel free to share them in the comments below!