This healthy coffee creamer recipe is easy to make and tastes 10 times better than anything you can buy at the store. I love how creamy it makes coffee, and how it can actually make a luscious foam for lattes and cappuccinos, too.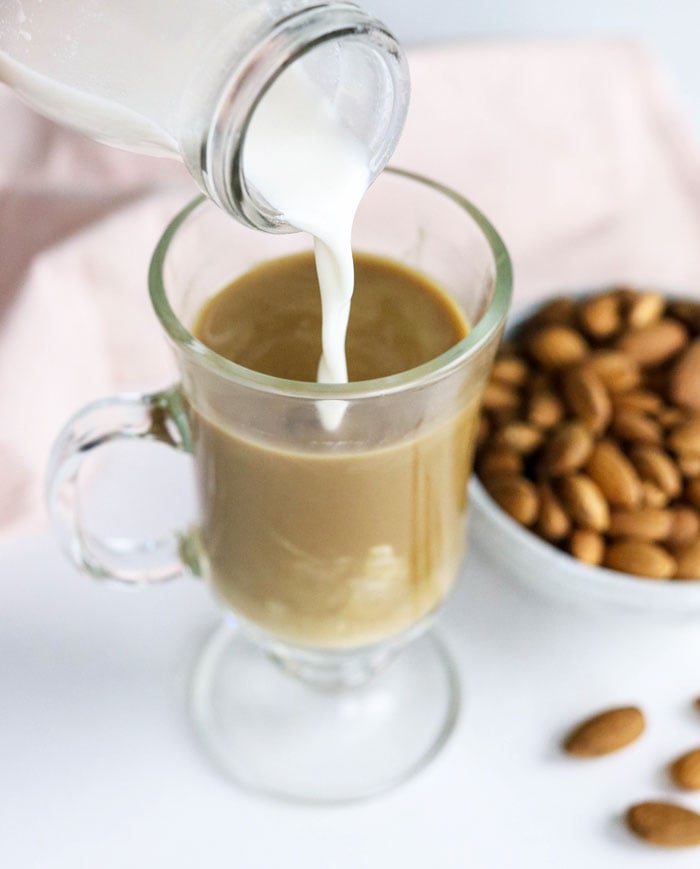 A Good Substitute for Coffee Creamer
If you're trying to cut back on dairy, you may try almond milk in your coffee only to discover that it doesn't work very well as a creamer substitute. Not only is it watery in texture, it can also curdle, separate, and tastes like preservatives if you're using a store-bought version. Not at all appealing!
The Secret to this Healthy Coffee Creamer?
This coffee creamer gets its added creaminess from the addition of coconut oil. Emulsifying a bit of coconut oil into homemade almond milk creates a thick and creamy result, that actually makes you feel like you're drinking a traditional coffee creamer.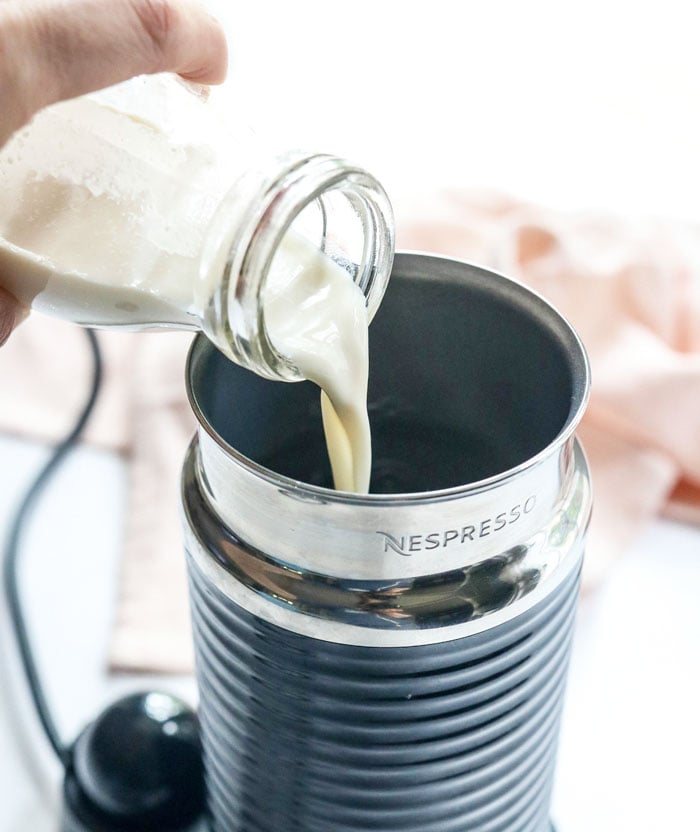 I like to add one or two dates to replicate traditional creamer (milk has naturally occurring sugar), and then you can add vanilla or extra sweetener if you're trying to recreate something like a French Vanilla style creamer.
Here's what's included in this healthy coffee creamer:
Almonds. A great source of antioxidants, which may protect against oxidative stress that can contribute to inflammation and premature aging, almonds are also one of the best sources of Vitamin E.
Coconut Oil. Since it contains medium-chain fatty acids, also called MCTs, coconut oil may help to boost your metabolism and help your body use fat for energy, as opposed to storing it.
Dates (optional). Dates are a good source of iron and are also high in antioxidants. They are thought to promote brain health, and may even help with blood sugar regulation! (source)
If you want your coffee creamer to be sugar-free, you can omit the dates. I find that the coconut flavor is slightly more noticeable without the dates for some reason, but you can also use refined coconut oil if you prefer, which is thought to have no flavor at all.
How Bad is Regular Coffee Creamer for You?
I don't like to think of foods as "good" and "bad," but I stopped using coffee creamer after reading about how milk may block the benefits of coffee. Casein, a protein found in dairy, can bind to antioxidants and reduce their ability to fight harmful free radicals.
As an Amazon Associate, I earn on qualifying purchases.
As you can see, this homemade coffee creamer foams up nicely when you use a milk frother. It's perfect for making dairy-free lattes and pretty authentic looking cappuccinos! I like to top mine with a sprinkle of ground cinnamon.
How to make Healthy Coffee Creamer (1-Minute Video):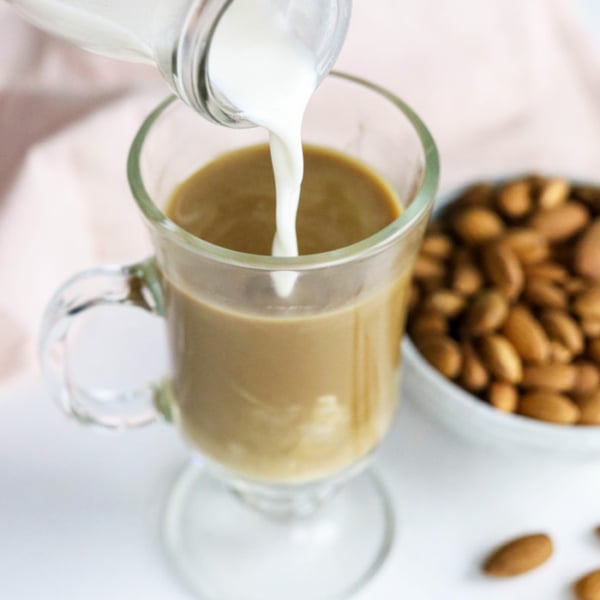 Healthy Coffee Creamer
This Healthy Coffee Creamer is an easy dairy-free option with just 3 ingredients. I love how to foams up nicely for lattes and cappuccinos.
Ingredients
1/2

cup

raw almonds

, soaked 6-8 hours & rinsed well

2

cups

filtered water

1

Tablespoon

coconut oil

1 or 2

Medjool dates

(pitted; optional for sweetness)
Instructions
Combine all of the ingredients in a blender, and blend until very smooth and creamy.

Position the nut milk bag over a large bowl, then pour the blender contents into the bag to strain.

Squeeze well, until only dry almond pulp remains in the bag. (Reserve the leftover almond pulp for another recipe!)

Transfer the almond milk to a sealed container, and store in the fridge for up to a week.
Notes
Freshly made almond milk produces a lovely foam, perfect for making a latte or cafe au lait, if used right away! ©Detoxinista.com
Nutrition
Calories:
37
kcal
,
Carbohydrates:
2
g
,
Protein:
1
g
,
Fat:
3
g
,
Saturated Fat:
1
g
,
Sodium:
2
mg
,
Potassium:
42
mg
,
Fiber:
1
g
,
Sugar:
1
g
,
Calcium:
14
mg
,
Iron:
0.2
mg
Healthy Coffee Creamer Nutrition (per 2 tablespoons): Calories: 37, Fat: 3g, Carbohyrdates: 2g, Fiber: 1g, Protein: 1g
Recipe Notes:
I prefer to use almonds that are not roasted for the most mild flavor. If you don't mind a slightly roasted flavor in your coffee, feel free to use any type of almonds that you have on hand. I use unsalted nuts, but Alton Brown says that adding salt to your coffee cuts the bitterness!
I have not tested this recipe using other oils. I imagine you could use another one, but your coffee will taste slightly like whatever you use. (I'm not sure I'd like coffee that tastes like olive oil.)
For sweetening, you can use honey, maple syrup, or any other sweetener you like.
If you try this recipe, please leave a comment and let me know how you like it! If you make a substitution, I'd also love to hear about it. We can all benefit from your experience!
–
Reader Feedback: Are you a coffee or tea drinker? Do you add cream to your morning beverage? If nothing else, I hope you're inspired to make your own almond milk if you haven't tried it already. It's so easy, and so much tastier!