This homemade elderberry syrup is a game changer! I used to buy it by the bottle, but it's so much cheaper to make it at home, and you get to control the sweetener.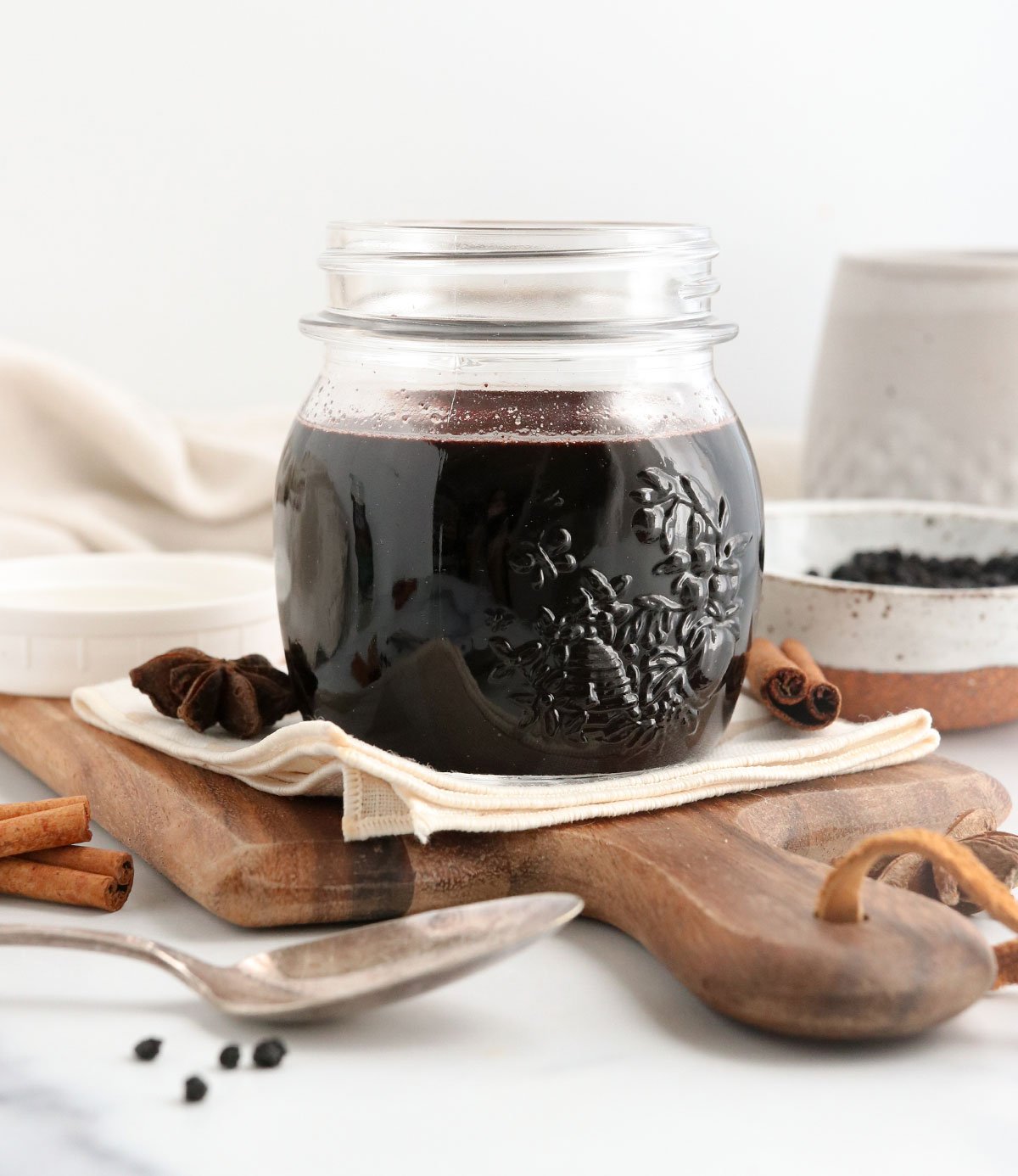 Wondering if it is really effective?
Does elderberry syrup really work? Elderberry extract has been shown to significantly improve or reduce cold and flu symptoms, and it may help you get over your symptoms faster, when taken at the first sign of illness.
According to this study, elderberry extract has been shown to reduce the duration of flu symptoms by an average of 4 days(!!) when taken within the first 48 hours of symptoms appearing.
In lab rat studies, elderberries have also been shown to lower insulin resistance. This is actually something to keep in mind if you are a diabetic taking insulin, as you might want to talk with your doctor before taking it.
Ingredients You'll Need
What's in elderberry syrup?
Dried elderberries
Cinnamon
Ginger
Cloves
Honey (or sweetener of choice)
Each ingredient in this recipe has potential benefits, and makes this syrup taste amazing, but it's also flexible! If you don't care for ginger, cinnamon, or cloves, you can simply leave it out.
If you'd prefer a sugar-free recipe, you can also make elderberry tea, instead.
How to Make Elderberry Syrup
1. Combine the ingredients. Add the elderberries, cinnamon, ginger, cloves, and water to a small saucepan.
2. Simmer. Bring the liquid to boil over medium-high heat. As soon as the liquid is bubbling, you can lower the heat and let it simmer until the liquid is reduced by half, about 30 minutes.
3. Strain. Pour the cooked elderberry mixture through a fine mesh sieve, into a large bowl. Use the back of a spoon to strain out as much juice as possible. Discard the solids.
4. Sweeten. Let the elderberry liquid cool, until it feels comfortable to handle the bowl. You don't want it to be too hot when you mix in the honey. Add the honey, and whisk well.
Transfer the elderberry syrup to an airtight container and store it in the fridge for up to 4 weeks. I usually use this small batch in about 2 to 3 weeks, depending on how many of my family members remember to take it. Feel free to double the recipe if you need to serve a larger family!
Homemade elderberry syrup is more runny in texture than a store-bought version. This is because we didn't boil the elderberries with a granulated sugar, and the concentration of sugar is lower than store-bought recipes, which need to be shelf-stable.
I think this is a good thing, but I wanted to point it out, so you're not surprised by the final results!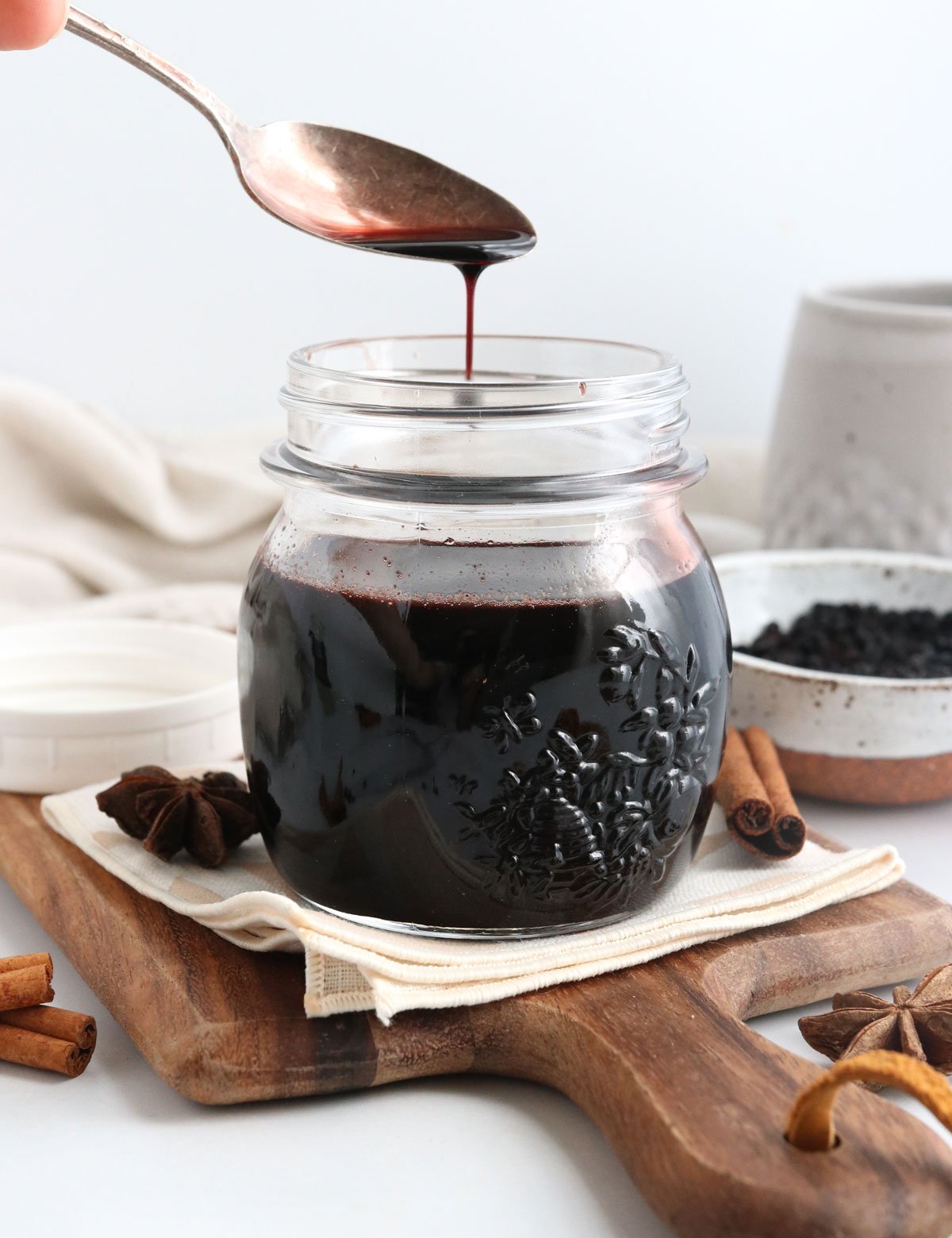 Frequently Asked Questions
Note: You should always talk with your doctor before starting a new supplement. I am not a doctor and this post should not be considered medical advice. I'm just sharing my personal experience using this recipe.
Where do you buy elderberries? I buy organic dried elderberries (<-affiliate link) online, because it's the easiest option where I live.
If you have a local health food store near you, they might also sell dried elderberries! If you want to use fresh elderberries, I'd suggest using at least double the amount that this recipe calls for, since they aren't as concentrated as the dried version.
Do you need to use a sweetener? When you make elderberry syrup with a high-enough concentration of sugar (around 65-70%) it becomes self-preserving, so you don't have to refrigerated it. I opted for making my elderberry syrup with honey instead, which means it can't be stored at room temperature, but I think the benefits make it worth it.
Honey is rich in antioxidants, and it's also been shown to lower LDL cholesterol (the "bad" type) while raising HDL cholesterol (the "good" type). There is also evidence that honey may help suppress coughs in children, making it the perfect addition to this natural cold and flu remedy.
How do you use elderberry syrup? In my home, I take 1 tablespoon when I feel like I need an immune boost. (Note: Do not give honey to children under 1 year of age.) If I already feel ill, sometimes I'll take it up to 3 times a day.
Please talk with your doctor before starting any new supplements, to be on the safe side.
What are the side effects of elderberry? The elderberry plant contains cyanogenic glycosides, a toxin which is removed by cooking, but you should not include the leaves, branches, or bark.
In one case, 8 people experienced nausea, vomiting, and more, after drinking the juice made from freshly picked berries, including the leaves and branches. This is why people don't usually recommend juicing the raw elderberries, or tossing them into a smoothie.
Stick to cooking your elderberries first, to be on the safe side.
Benefits of Elderberry
The elderberry plant has been long used in traditional medicine for pain relief, inflammation, and as a diuretic.
Here are more potential benefits of elderberries: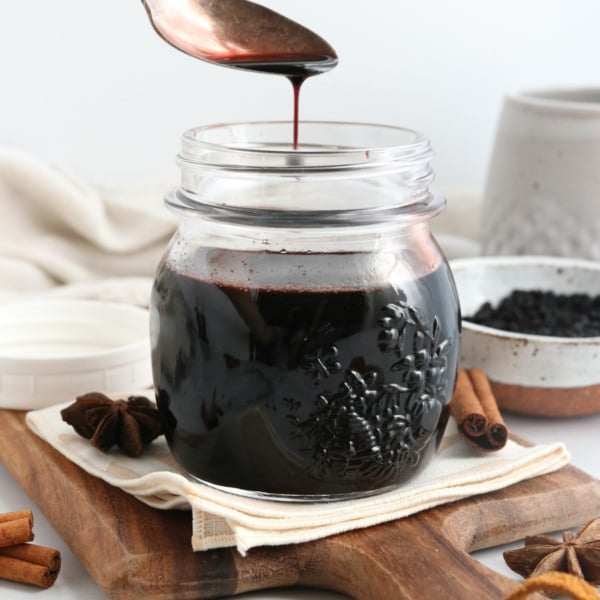 Elderberry Syrup
This elderberry syrup recipe is quick and easy to make, and more affordable than the store-bought version! All you need is a few ingredients to get started.
Ingredients
1/2

cup

dried elderberries

(58 grams; see notes)

2

cups

water

(460 grams)

1

teaspoon

ground cinnamon

(optional)

1/4

teaspoon

ground cloves

(optional)

1

tablespoon

fresh ginger

, minced (optional)

1/2

cup

honey

(184 grams)
Instructions
Combine the elderberries, water, cinnamon, cloves, and ginger in a small saucepan over high heat and bring the mixture to a boil. Lower the heat and allow the mixture to simmer until the water has been reduced by half, about 25 to 30 minutes.

Pour the cooked berries and liquid through a fine mesh strainer, into a clean bowl, to strain out the berries. Use the back of a spoon to press on the berries in the strainer, to extract all of the juice, then discard the pulp that's left in the strainer. 

Allow the elderberry juice to cool to room temperature, so that the heat doesn't harm the nutrients in the honey. Stir in the honey, using a whisk to incorporate it smoothly, then transfer the syrup into a sealed glass jar that you can store in the fridge. 

This syrup should keep well for at least two weeks when stored in the fridge, so if you don't think you'll use it all before then, feel free to freeze any extras. You can always thaw it overnight in the fridge when you need more. Homemade elderberry syrup doesn't become as thick as the store bought version because it uses less sugar and no preservatives or thickeners, so don't be alarmed if the final syrup has more of a liquid consistency.
Video
Notes
Nutrition information is for roughly 1 ounce of elderberry syrup, but I only take 1 tablespoon at a time as an adult, so the nutrition information would be even lower for that serving. Typically 1 ounce = 2 tablespoons. 
This recipe should make roughly 1.5 cups of elderberry syrup, but that amount will vary based on how long you let the liquid cook down. This recipe is very adaptable, so feel free to experiment with it.
I can't find a local source for safe dried elderberries, so I ordered these dried organic elderberries from Amazon.
If you need a vegan recipe, feel free to use coconut sugar or maple syrup as an alternative sweetener to honey. If you choose to omit the sweetener, you'll just be left with cooked elderberry juice, which will spoil much more quickly in the fridge. 
Nutrition
Calories:
48
kcal
,
Carbohydrates:
13
g
,
Protein:
1
g
,
Fat:
1
g
,
Saturated Fat:
1
g
,
Polyunsaturated Fat:
1
g
,
Monounsaturated Fat:
1
g
,
Sodium:
3
mg
,
Potassium:
28
mg
,
Fiber:
1
g
,
Sugar:
12
g
,
Vitamin A:
37
IU
,
Vitamin C:
2
mg
,
Calcium:
6
mg
,
Iron:
1
mg
Note: If you'd prefer NOT to make your own elderberry syrup, this is the brand I've been using with my family. If you want to avoid the added sugar, try taking elderberry capsules instead.
More Recipes for Cold & Flu Season
If you need some more recipe inspiration when the weather cools down, try these comforting and nutrient-packed recipes below.
If you try this elderberry syrup recipe, please leave a comment below so I know how it works for you! And if you make any modifications, I'd love to hear about those, too. We can all benefit from your experience.
—
Reader Feedback: Have you tried using elderberry syrup before? Now that I know research backs it up, I'm going to rely on it more during cold and flu season!
SaveSave
SaveSave