When you're trying to conceive, two weeks can feel like an eternity. On average, that's how long you have wait after ovulation, before you can possibly get a positive result on a home pregnancy test. For some, it may take even longer!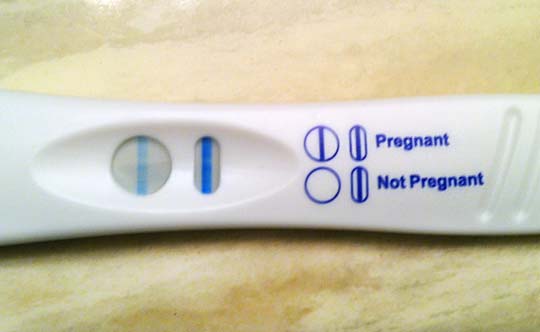 Luckily, I didn't have to wait too long. A few early symptoms started to show up for me within a week!
However, these weren't the typical pregnancy symptoms that I'd always heard about.
I wasn't nauseous, nor did I have particularly tender or swollen breasts. In fact, had I not started browsing through some pregnancy message boards online, to get an idea of some common early pregnancy symptoms, I probably would have had no idea I was already starting to feel pregnant.
Hopefully sharing my experience will help others identify some early signs, too!
—
Here's what my symptoms looked like:
(DPO= days post ovulation)
1-2 DPO: Soon after ovulation, I remember feeling a bit of mild cramping, similar to PMS. This occurred much earlier in my cycle than I'm used to, which made me take notice.
5-6 DPO: I woke up with a painfully stiff neck! I didn't think much of it, at first, but a few other women mentioned this as an early sign of pregnancy, so I started to think… maybe. I also thought I felt a mild aching sensation around my pelvis, but I thought it might just be wishful thinking.
8 DPO: I woke up with a strong acidic feeling in my throat, and nothing I ate or drank helped me get rid of it. I also felt the need to clear my throat for most of the day, and I felt very tired. Since I've never had acid reflux in my life, I was almost positive this was a sign that I was pregnant.
9 DPO: I became so convinced that I was pregnant, I decided to take a home pregnancy test early. And I saw a faint blue line! I've heard that even the faintest line means you're definitely pregnant, but it was hard to believe it's true. Still in shock, I decided to wait a little longer to tell Austin– until I get a solid blue line to show him.
10 DPO: I started to feel mild cold-like symptoms, including a stuffy nose and an itchy cough, which continued for most of the following week.
12 DPO: I take another pregnancy test (still 2 days earlier than I probably should have) and I get a solid blue line–> I'm definitely pregnant!
—
As you can see, almost none of the "typical" pregnancy signs showed up for me until nearly two weeks after getting the positive pregnancy test. Luckily, knowing some of the more unusual signs helped me identify my situation quickly!
Of course, then the waiting really begins… when you become impatient to see or hear the heartbeat!