If you ask me, smoothies are one of the BEST ways to boost your kid's fruit and vegetable intake during the day. However, if your kids are anything like mine, they can be picky about which smoothies they're even willing to try. Color, flavor, and even the cup you serve it in, matter!
That's why I wanted to share this smoothie recipe with you today. It has become my go-to smoothie that I make for my kids most days, and it's ALWAYS a hit when I make it for neighborhood friends when they come over to play. I've had several moms tell me that they need the recipe because their kids have come home raving about it!
Anything that gets kids to crave more fruits and vegetables is a good thing in my book.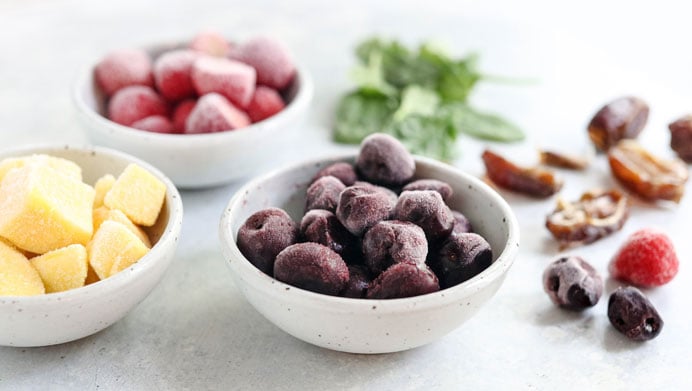 A Smoothie without Banana
I think what makes this smoothie really special is that it's not sweetened with bananas. Sometimes you just want a smoothie without that noticeable "banana" flavor. That's why I use dates in this smoothie, instead.
I love adding dates to smoothies, especially for my kids, because they are a surprising source of iron and have so much fiber that they won't impact blood sugar levels the way something with a similar sugar content might. If you happen to be pregnant or know someone who is, dates may also help you have a better labor and delivery experience. (It certainly seems to have worked for me!)
A Healthy Smoothie For Kids
Though some people worry about the "sugar" in smoothies, I hope you won't in this case. I think we are biologically wired to crave sweet things for a reason– they are LOADED with vitamins and minerals! If we avoid eating fruit because of the sugar content, we'll also miss out on all the other nutrition they have to offer.
In just 1/4 of this smoothie recipe, you'll get:
Nearly 40% of your daily vitamin A requirement
Over 70% of your daily vitamin C requirement
6% of your daily iron requirement
5% of your daily calcium requirement
2 grams of plant-based protein
4 grams of fiber
I think it should also be mentioned that several studies have shown that it's nearly impossible to eat "too much" fruit— even when eating 20 pieces of fruit in a day! You can read my full post here about fruit, which includes links to several research studies on the subject. (One of them is about how dates don't cause significant glucose spikes and may even be beneficial for people with Type 2 diabetes.)
As an Amazon Associate I earn from qualifying purchases.
The Best Reusable Pouches for Kids
I think what initially got my son to try this smoothie (when he had previously been rejecting my smoothies for months) is that I served it in this reusable smoothie pouch.
I originally bought these pouches years ago, when my son was just a baby, and he would happily drink from them several times a day. He stopped using them a couple years ago, so I was only using them for my youngest, but I decided to give them another shot recently– mostly to mask the color of the smoothie, and to mimic the "sucking" action that he uses with the store-bought applesauce pouches that he loves so much. To my surprise, it worked!
So, I guess the lesson here is never give up and keep trying new smoothie combinations. I hope the kids in your life love this one as much as mine do.
Smoothie Popsicles
If you have any leftover smoothie after making this recipe, I suggest pouring it into a mini popsicle mold (like this one!) so you can serve fun, nutrient-dense popsicles later. My kids never get sick of them!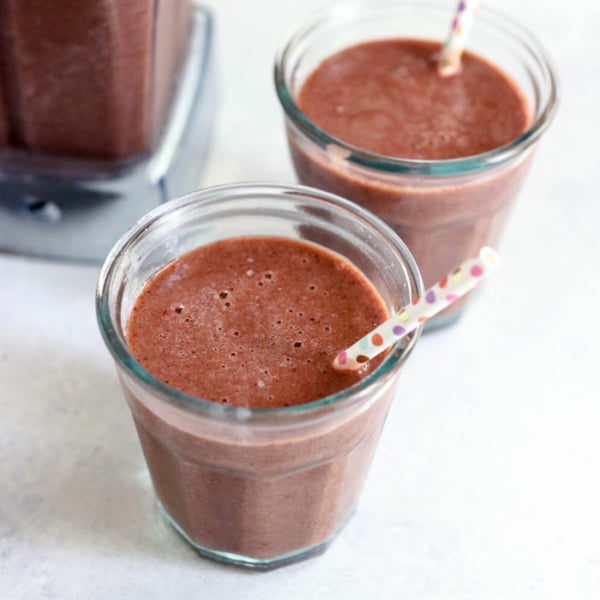 My Go-To Smoothie Recipe for Kids
Fresh Fruit | Gluten-free, Dairy-free, Soy-free, Egg-free, Nut-Free, Vegan
This easy smoothie recipe for kids is always a hit, made with a healthy combination of strawberries, mango, cherries, and spinach.

Ingredients
1.5

cups

water

.5

cups

orange juice

4

Medjool dates

(pits removed)

1

cup

frozen mango chunks

1

cup

frozen strawberries

1

cup

frozen sweet cherries

(pits removed)

2

cups

fresh spinach

1/4

avocado
Instructions
In a high-speed blender, combine the water, orange juice, dates, mango, strawberries, cherries, spinach, and avocado. Blend until very smooth, adding more water if needed to help facilitate blending.


When there are no longer any chunks of fruit or spinach visible, serve right away.

Notes
Tip: Leftover smoothie makes AMAZING popsicles. Simply pour the leftover smoothie into a popsicle mold (we love this mini mold for both of my young kids) and then freeze until firm. It's a great way to get even more nutrition in your child's day!
Nutrition
Calories:
161
kcal
,
Carbohydrates:
37
g
,
Protein:
2
g
,
Fat:
2
g
,
Sodium:
18
mg
,
Potassium:
574
mg
,
Fiber:
4
g
,
Sugar:
30
g
,
Vitamin A:
1990
IU
,
Vitamin C:
59.6
mg
,
Calcium:
51
mg
,
Iron:
1.1
mg
Per Serving: Calories: 161, Fat: 2g, Carbohydate: 37g, Fiber: 4g, Protein: 2g
Recipe Notes:
This recipe makes about 5 cups of smoothie. Feel free to divide the recipe in half if you don't need that much. It usually serves my whole family at breakfast, but we also eat something else with it, so it's not a meal replacement.
You are welcome to adapt this recipe however you see fit. I've used 1/2 cup of frozen pineapple instead of mango, and it still passed my kids' taste test, but they did NOT like it when I swapped blueberries for the strawberries. So, the swaps are up to you and your family's tastes.
I also tested this recipe using a ripe banana instead of the dates. The result is less sweet, but still "good enough" for me and my husband. My picky 4-year-old, however, wouldn't drink more than one sip.
—
Reader Feedback: Do you have a go-to smoothie recipe for kids? Feel free to share in the comments below so other readers can benefit!