Oat Flour Pumpkin Bread is naturally gluten-free, and you don't need any other specialty flours, gums, or starches to make it. My taste testers report that this pumpkin bread tastes like the kind from Starbucks!
This gluten-free pumpkin bread has the perfect flavor and texture. It's lightly sweet and spicy, without a mushy texture that can sometimes come from using oat flour.
Ingredients You'll Need
To make this recipe as fool-proof as possible, I've tested it with a number of different ratios and sweeteners. I recommend sticking to this recipe as closely as possible for the best results!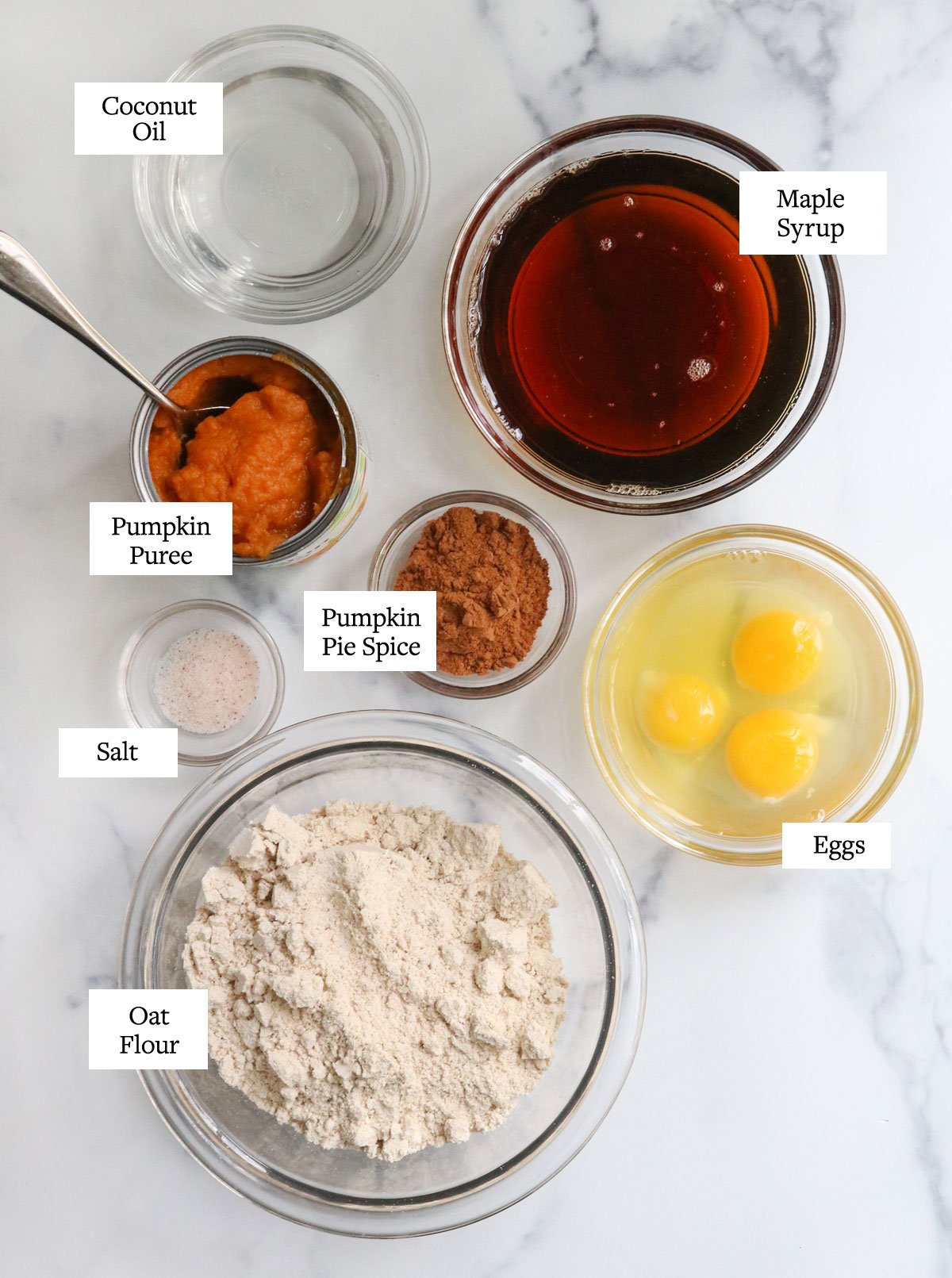 Here's what you'll need:
Oat flour
Eggs
Maple syrup
Pumpkin pie spice
Coconut oil
Baking powder
Salt
Just mix the ingredients together in one bowl, and then bake it in a loaf pan for a perfectly fluffy, gluten-free pumpkin bread.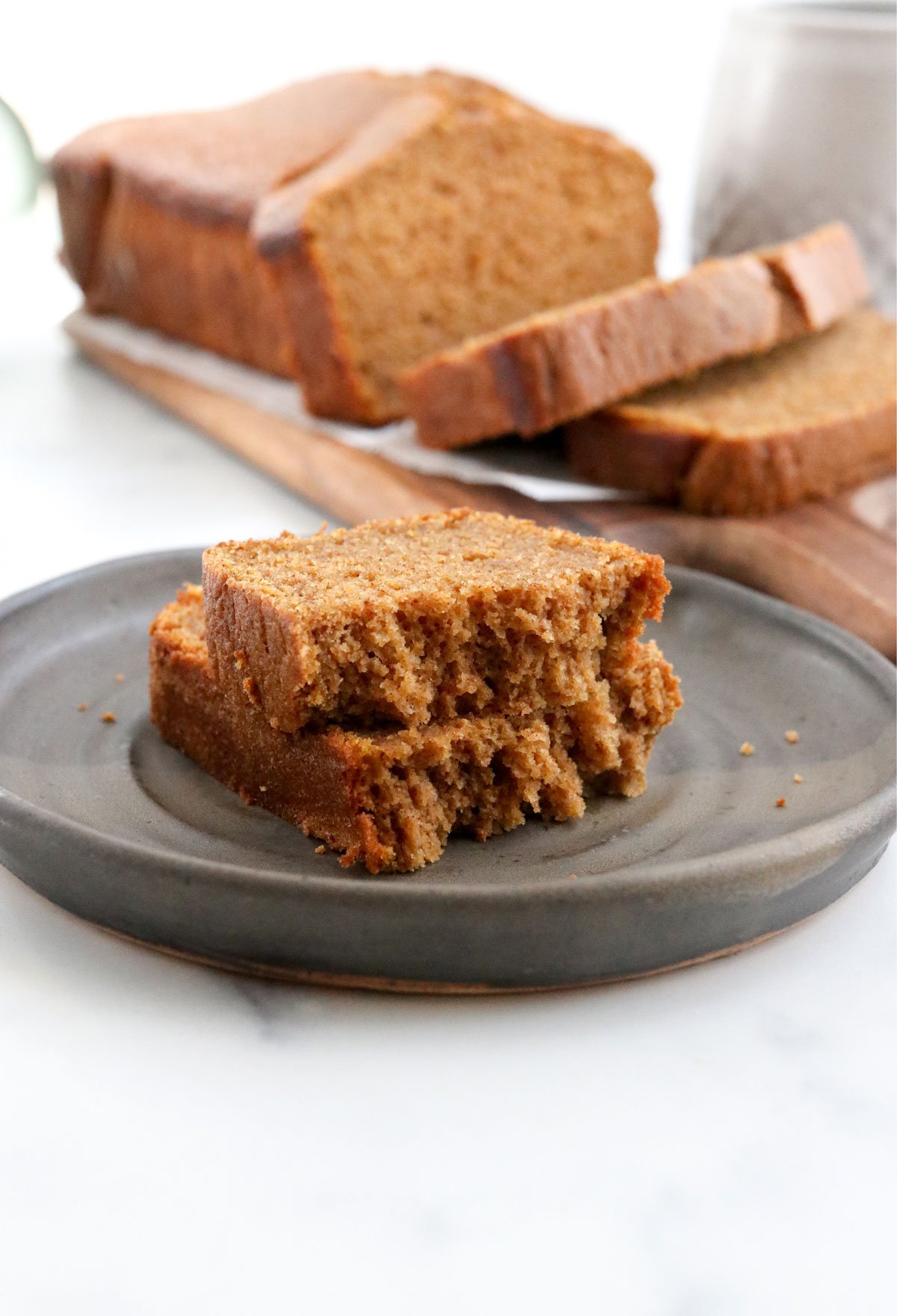 Note: Oats are naturally gluten-free, but sometimes they can be contaminated with gluten ingredients during processing. Be sure to buy "certified gluten-free" oats to avoid that risk, if needed.
How to Make Gluten-Free Pumpkin Bread
1. Mix. Add all of the ingredients to a bowl, and stir until well combined.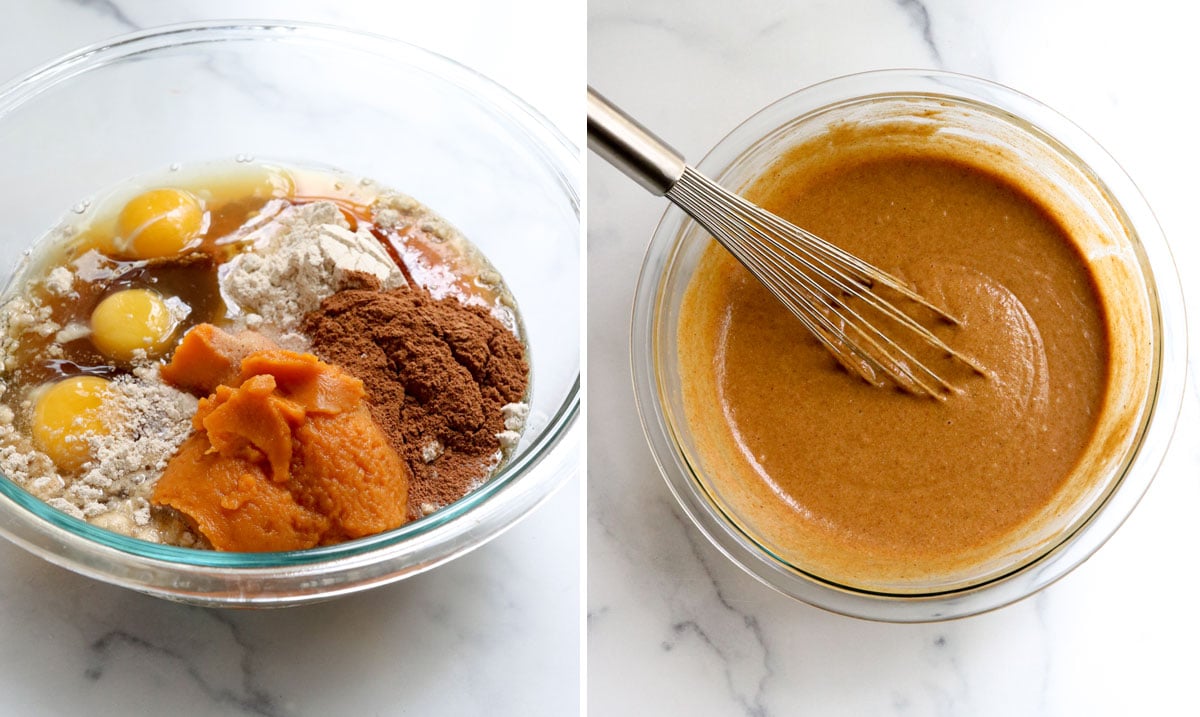 You can mix the dry ingredients together first, if you want to be a perfectionist about it and ensure that the baking powder is evenly distributed, but I usually just toss it all together at once and stir really well!
2. Bake. Lightly grease a 9-inch by 5-inch baking pan and then press a piece of parchment paper inside. The oil will hold the parchment paper in place as you add in the batter.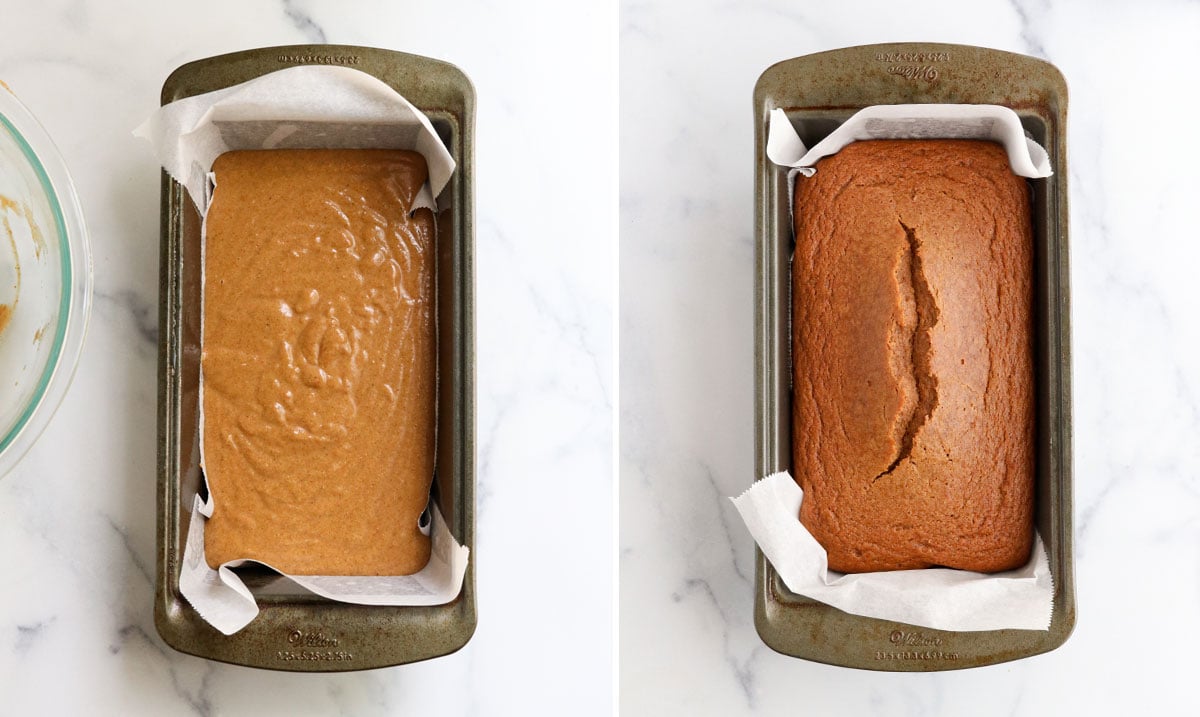 Smooth the top with a spatula, then bake at 350ºF for 50 to 60 minutes. You'll know it's done when the center feels firm to a light touch, and there's a big crack down the center of the loaf.
3. Cool & Slice. Oat flour can provide a gummy texture to bread when it's still warm, but the texture improves significantly as it cools. So, be patient! When the loaf is totally cool, you can slice into it and enjoy.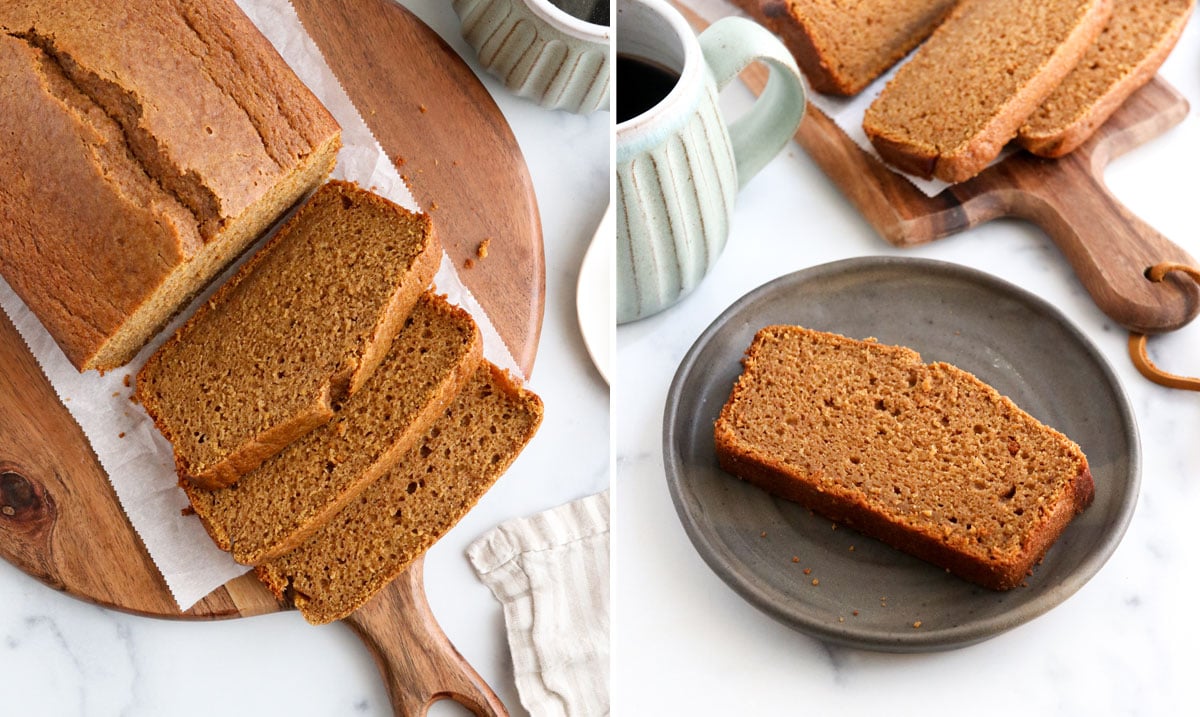 Store the pumpkin bread in an airtight container at room temperature for up to 48 hours, or store it in the fridge for up to 1 week.
You can also freeze individual slices with parchment paper between each slice, if you need it to last longer!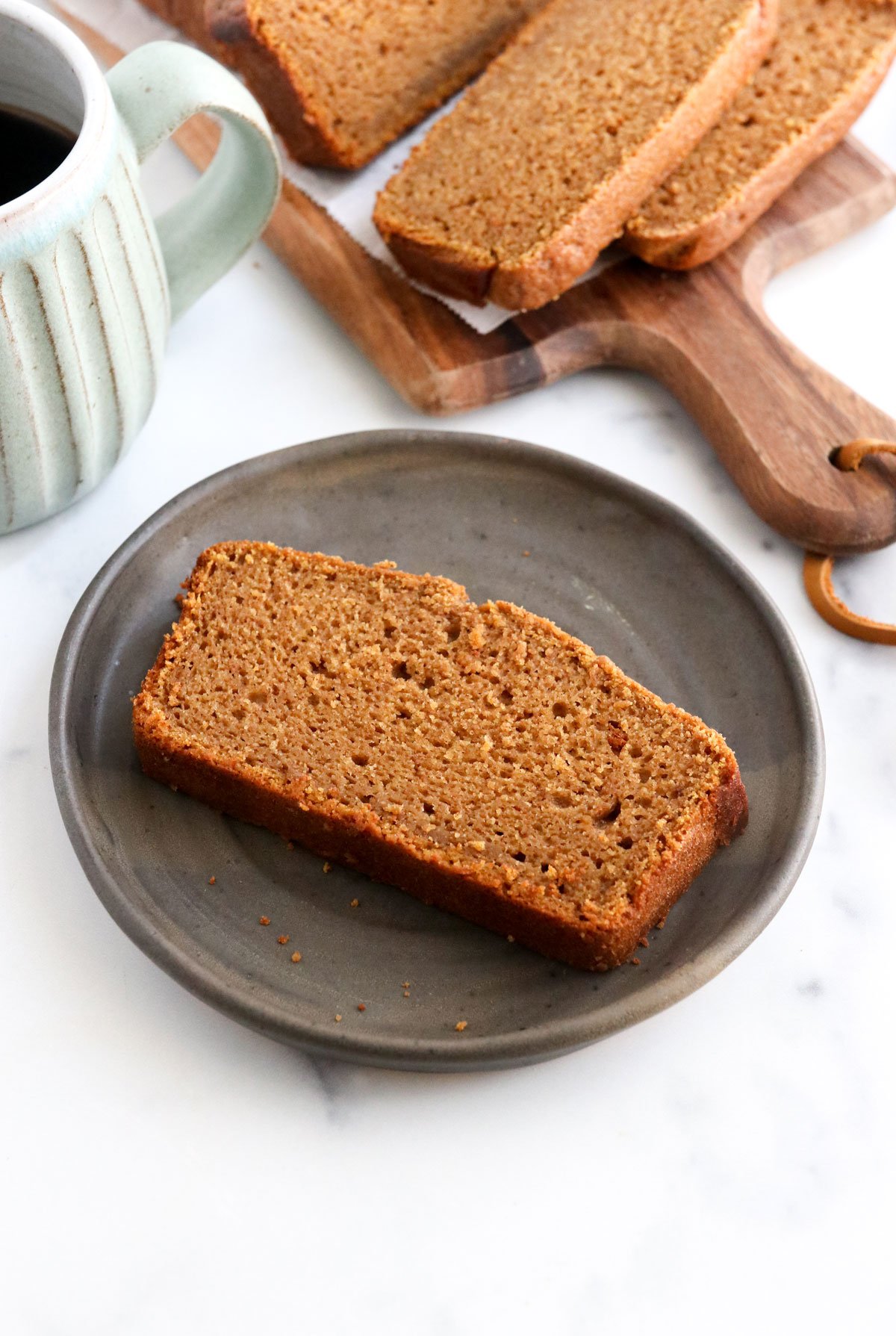 Substitution Tips
It took me 7 attempts to get this recipe right, which is honestly on the low-end for gluten-free baking, but in that time I tried a few different things that might be helpful.
Don't have pumpkin pie spice? Replace it with 1 tablespoon ground cinnamon, plus 1/2 teaspoon each of ground ginger and cloves.
Using coconut sugar instead of maple syrup. I originally thought I could use coconut sugar in this recipe for a better texture, but the loaves I tried with coconut sugar turned out more gummy & mushy compared to the maple syrup trials. If you must use coconut sugar, you can try using 1 cup, but the texture won't be as nice compared to using maple syrup.
Using honey as the sweetener. I imagine honey would work similarly to maple syrup, but I would use less since honey has a more prominent flavor. Maybe start with only 1/2 cup, and then add more to taste?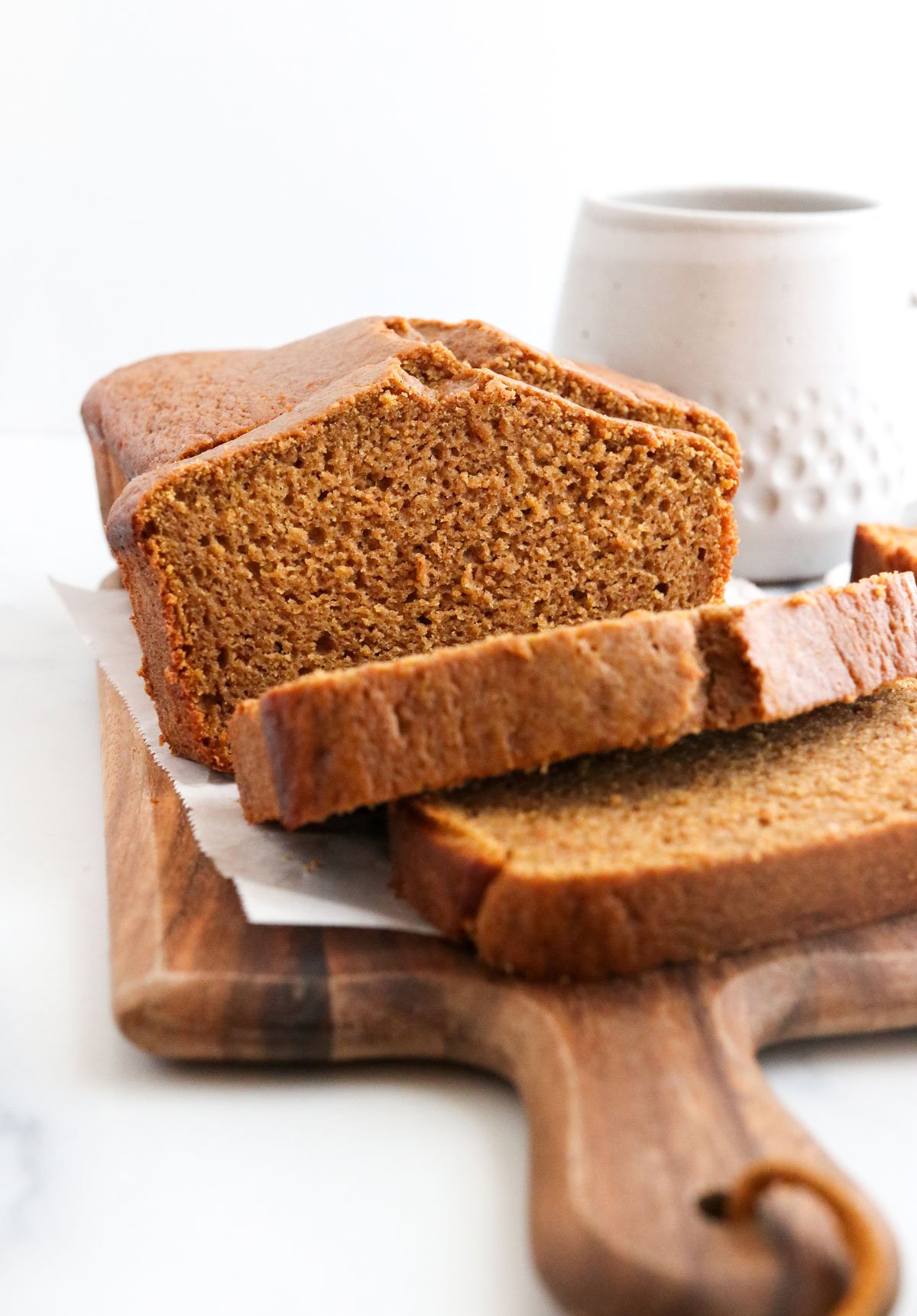 Make it egg-free. I haven't tested this particular recipe with an egg-free option yet, but I do already have a vegan pumpkin bread that uses oat flour in my second cookbook, if you have a copy of that.
There's also a Buckwheat Pumpkin Bread that's vegan here on my website, and Vegan Pumpkin Muffins are a great alternative– but be sure to bake them as muffins, and not as a loaf. (It doesn't work for some reason!)
Using a different flour. Oat flour is slightly different than any other flour out there, so I don't recommend swapping it for another gluten-free flour. It's better to look up a recipe that calls for the exact flour you want to use, so you'll get tested results!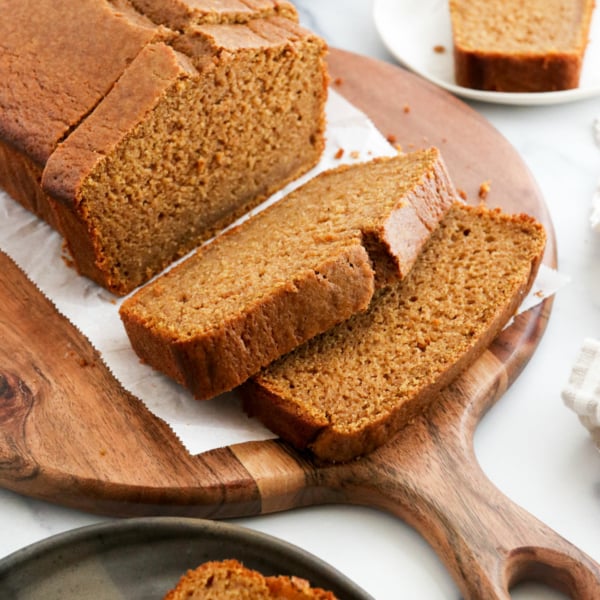 Oat Flour Pumpkin Bread
This Oat Flour Pumpkin Bread is gluten-free, and tastes just like the kind you'd buy at a coffee shop. I love the texture, and the perfect balance of sweetness and spice.
Instructions
Preheat the oven to 350ºF and lightly spray a 9-inch by 5-inch loaf pan with oil. Press a piece of parchment paper into the bottom. The oil will hold it in place! In a large mixing bowl, combine the oat flour, pumpkin, maple syrup, spice, eggs, oil, baking powder, and salt. Mix well.

Pour the batter into the prepared pan, and use a spatula to smooth the top. Bake until the loaf rises and cracks on top, about 55 minutes at 350ºF.

Let the pumpkin bread cool completely, as it will have a slightly gummy texture when it's warm. Slice the cooled bread and serve right away. Leftovers can be stored in an airtight container on the counter for up to 48 hours, or in the fridge for up to a week.
Video
Notes
Nutrition information is for 1 of 12 slices. This information is automatically calculated, and is just an estimate, not a guarantee.
See the full post for substitution ideas, and there are too many to list here!
Nutrition
Calories:
200
kcal
,
Carbohydrates:
30
g
,
Protein:
4
g
,
Fat:
7
g
,
Saturated Fat:
5
g
,
Polyunsaturated Fat:
1
g
,
Monounsaturated Fat:
1
g
,
Cholesterol:
47
mg
,
Sodium:
119
mg
,
Potassium:
236
mg
,
Fiber:
2
g
,
Sugar:
17
g
,
Vitamin A:
2450
IU
,
Vitamin C:
1
mg
,
Calcium:
82
mg
,
Iron:
1
mg
If you try this Oat Flour Pumpkin Bread, please leave a comment below letting me know how you like it.
–
Reader Feedback: Which flour would you like me to work with next?