If you love the convenience of a spice mix, this Pumpkin Pie Spice is one that you need to have on hand during the holiday season. It's perfect for making a pumpkin spice latte or pumpkin pie, without having to separately measure several jars of spices each time you're ready to bake.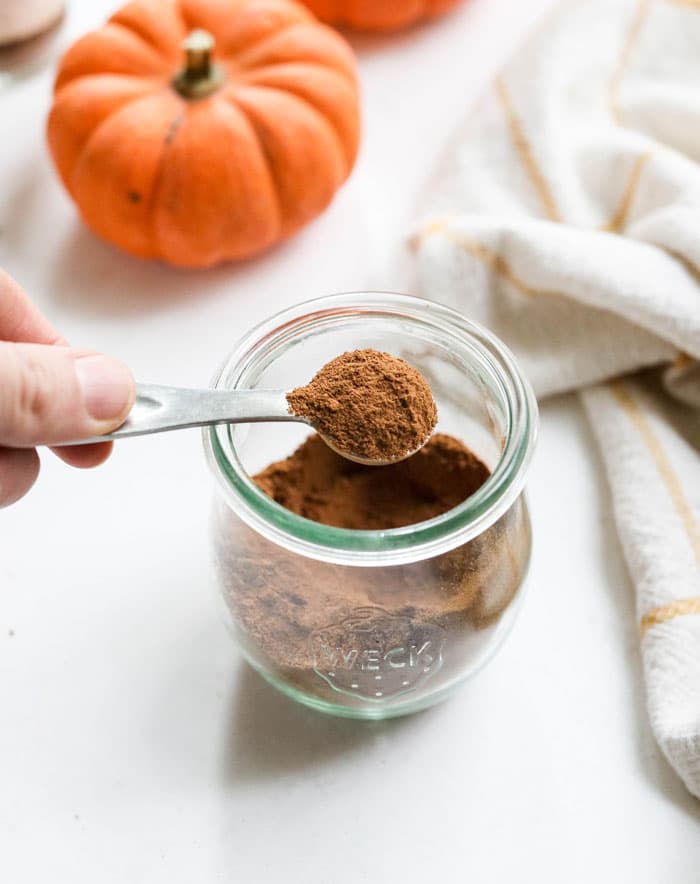 What is Pumpkin Pie Spice Made of?
Pumpkin Pie Spice mixes can vary slightly, but the typical spices include:
Cinnamon
Ginger
Nutmeg
Cloves
Allspice
I noticed that the back of my spice jar from Trader Joe's uses lemon peel and cardamom instead of allspice, and other brands leave out allspice all together, so feel free to experiment with what you like best. The first 4 ingredients are non-negotiable, if you ask me, though.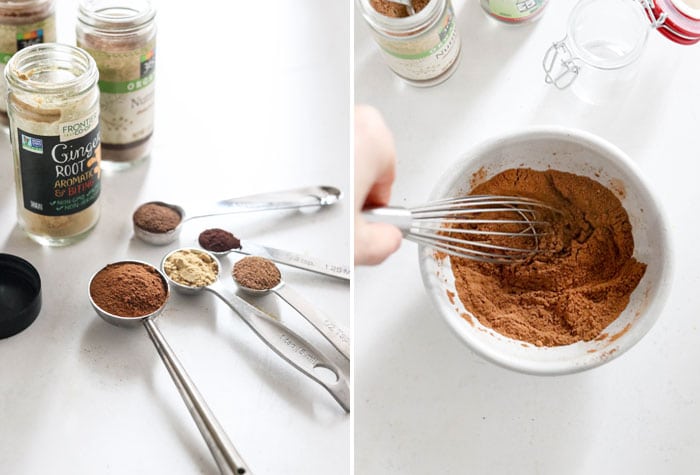 What Can You Use Instead of Pumpkin Pie Spice?
If you don't have a jar of Pumpkin Pie Spice on hand, and you only need a small amount of pumpkin pie spice for a single recipe, here's a quick substitution for you.
To replace 2 teaspoons of pumpkin pie spice, use:

1 teaspoon ground cinnamon
1/2 teaspoon ground ginger
1/4 teaspoon ground  nutmeg
1/8 teaspoon cloves
1/8 teaspoon allspice
This is roughly what you need to make my Vegan Pumpkin Pie. The printable recipe below makes over 6 tablespoons of pumpkin spice mix, which should fill up an empty glass spice jar.
How to Use Pumpkin Pie Spice
Other than making pumpkin pie, you can use pumpkin pie spice to add a little extra "zip" of spice to any of your favorite Fall recipes that already call for cinnamon.
You can use it in:
I hope this easy spice mix will help you the next time you need it!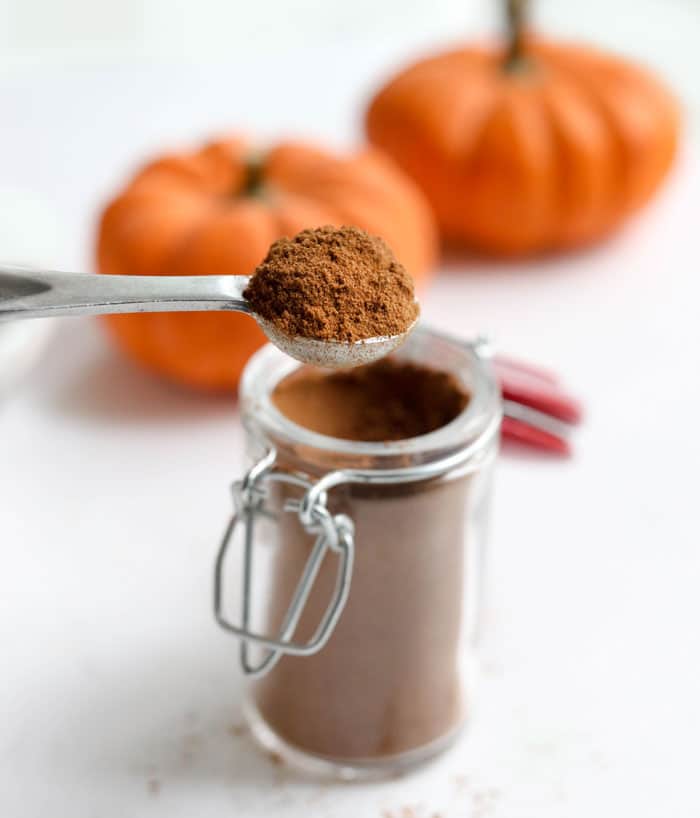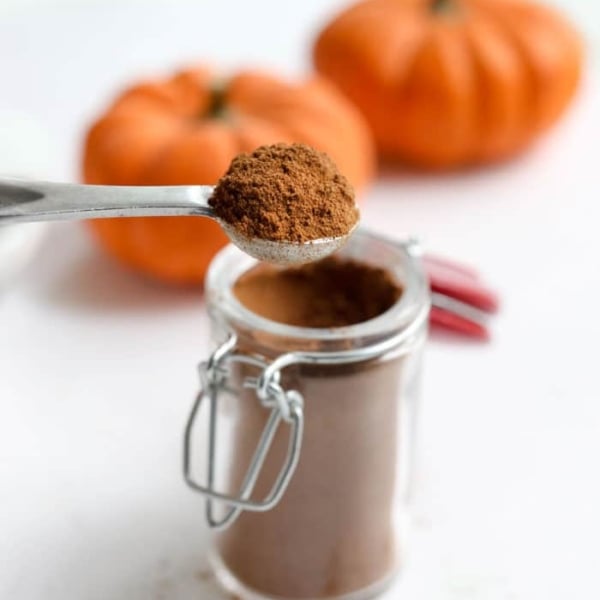 Pumpkin Pie Spice (Easy Mix for Baking!)
This Pumpkin Pie Spice recipe is a convenient way to make pumpkin pie and other Fall recipes, without needing several separate spice jars.
Ingredients
3

tablespoons

ground cinnamon

2

teaspoons

ground ginger

2

teaspoons

ground nutmeg

1

teaspoon

ground cloves

1/2

teaspoon

allspice
Instructions
Combine all of the spices in a small bowl and stir well to mix. (I like to use a whisk to break up any clumps.)

Transfer to a dry empty jar and secure the lid to store. Use it in any recipe that calls for pumpkin pie spice.
Storage:
Dry ground spices should last for up to 2 years when stored correctly, but make sure you check the expiration date on your individual
Nutrition
Calories:
6
kcal
,
Carbohydrates:
1
g
,
Protein:
1
g
,
Fat:
1
g
,
Saturated Fat:
1
g
,
Sodium:
1
mg
,
Potassium:
9
mg
,
Fiber:
1
g
,
Sugar:
1
g
,
Vitamin A:
4
IU
,
Vitamin C:
1
mg
,
Calcium:
14
mg
,
Iron:
1
mg
Pumpkin Pie Spice Nutrition (per teaspoon): Calories: 6, Fat: 0g, Carbohydrates: 1g, Fiber: 1g, Protein: 0g
Recipe Notes:
You can tweak this recipe to use what you have on hand, just try to keep the ratios relatively similar for the most consistent flavor.
–
Reader Feedback: Have you tried making your own spice blend before? My Cajun seasoning is another popular blend I use when I want to add a spicy kick to my meals!