If you've ever made homemade almond milk, but aren't quite sure what to do with the pulp, this recipe is for you. This easy hummus is made without beans, and is properly combined for better digestion.
As an Amazon Associate I earn from qualifying purchases.
It comes from my first cookbook, Everyday Detox, and tastes remarkably like the "real thing." I love making it in my blender, immediately after making a batch of homemade almond milk, so I only have to clean my blender once after making both recipes.
How to Make Almond Pulp
To make almond pulp, you first need to make a batch of homemade almond milk. The ratio I use is 4 cups water to 1 cup of almonds, but you can use less water for a creamier milk, if you like.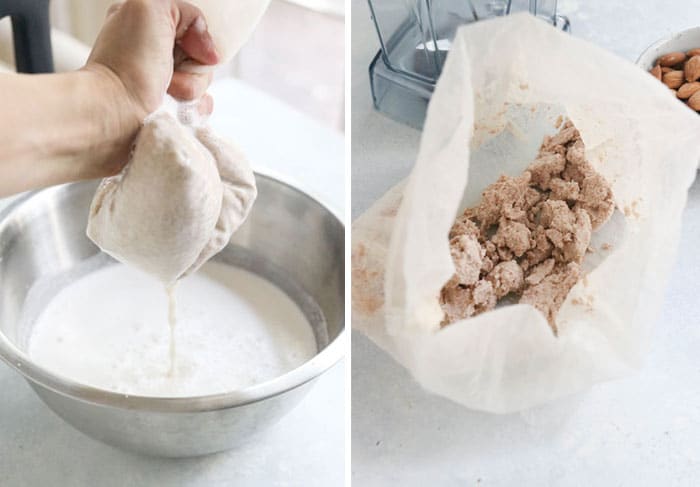 Once you've strained the milk through a nut milk bag, what you have leftover is the almond pulp. To make this hummus, you simply add the wet almond pulp back to the blender, add in the rest of the hummus ingredients, and blend again!
It really couldn't be easier. Serve this hummus with sliced veggies and enjoy it as a healthy snack all week long.
Almond Pulp Hummus
NUT/SEED/DRIED FRUIT | Gluten-free, Dairy-free, Soy-free, Egg-free, Sugar-free
This healthy hummus is made from almond pulp, leftover from making almond milk. It's made with no beans, for a dip that's easier to digest.

Ingredients
1/2

cup

raw tahini

1/4

cup

freshly squeezed lemon juice

1

tablespoon

ground cumin

2

cloves

garlic

, minced

1/2

teaspoon

sea salt

1/4

cup

extra virgin olive oil

1

scant cup

wet almond pulp

(leftover from making 1 batch of almond milk; see below)

1/4

cup

water
Instructions
Combine the tahini, lemon juice, cumin, garlic, salt, and olive oil in a high speed blender and blend until smooth.


Add the almond pulp and water, then blend again until very smooth. For best flavor, place the hummus in the refrigerator for 2 hours before serving.


Store in a sealed container in the fridge for up to 1 week.

Notes
Note: A high speed blender is best for breaking down the gritty texture of the almond pulp, but a food processor can also be used to prepare this hummus.
Almond Milk Recipe: For the recipe I use, click here.
Nutrition
Calories:
193
kcal
,
Carbohydrates:
5
g
,
Protein:
4
g
,
Fat:
18
g
,
Saturated Fat:
2
g
,
Sodium:
152
mg
,
Potassium:
90
mg
,
Fiber:
1
g
,
Vitamin A:
20
IU
,
Vitamin C:
3.8
mg
,
Calcium:
44
mg
,
Iron:
1.5
mg
Calories: 193, Fat: 18g, Carbohydrates: 5g, Fiber: 1g, Protein: 4g
Recipe Notes:
If you don't have almond pulp, try this Zucchini Hummus recipe instead, for another bean-free option.
I prefer the mild flavor of raw tahini, but any tahini should work for this recipe. As always, adjust the flavoring to your taste!
More Almond Pulp Recipes:
Reader Feedback: Do you use your leftover almond pulp for anything else? Please share in the comments below!