Chocolate almond milk is a delicious way to get your chocolate fix, without the dairy. This recipe is naturally-sweetened, and tastes even better than the store-bought versions!
The best thing about making your own almond milk, is that you get to control exactly what goes into it. The store-bought versions can have added thickeners and gums, or taste too sweet, so I think it's worth the extra effort to make it at home!
How to Make It (Maple-Sweetened)
The low-maintenance way to make chocolate almond milk is to sweeten it with maple syrup. Similar to my original almond milk recipe, you'll just add everything to the blender, including the almonds, cacao powder and maple syrup, and blend until smooth.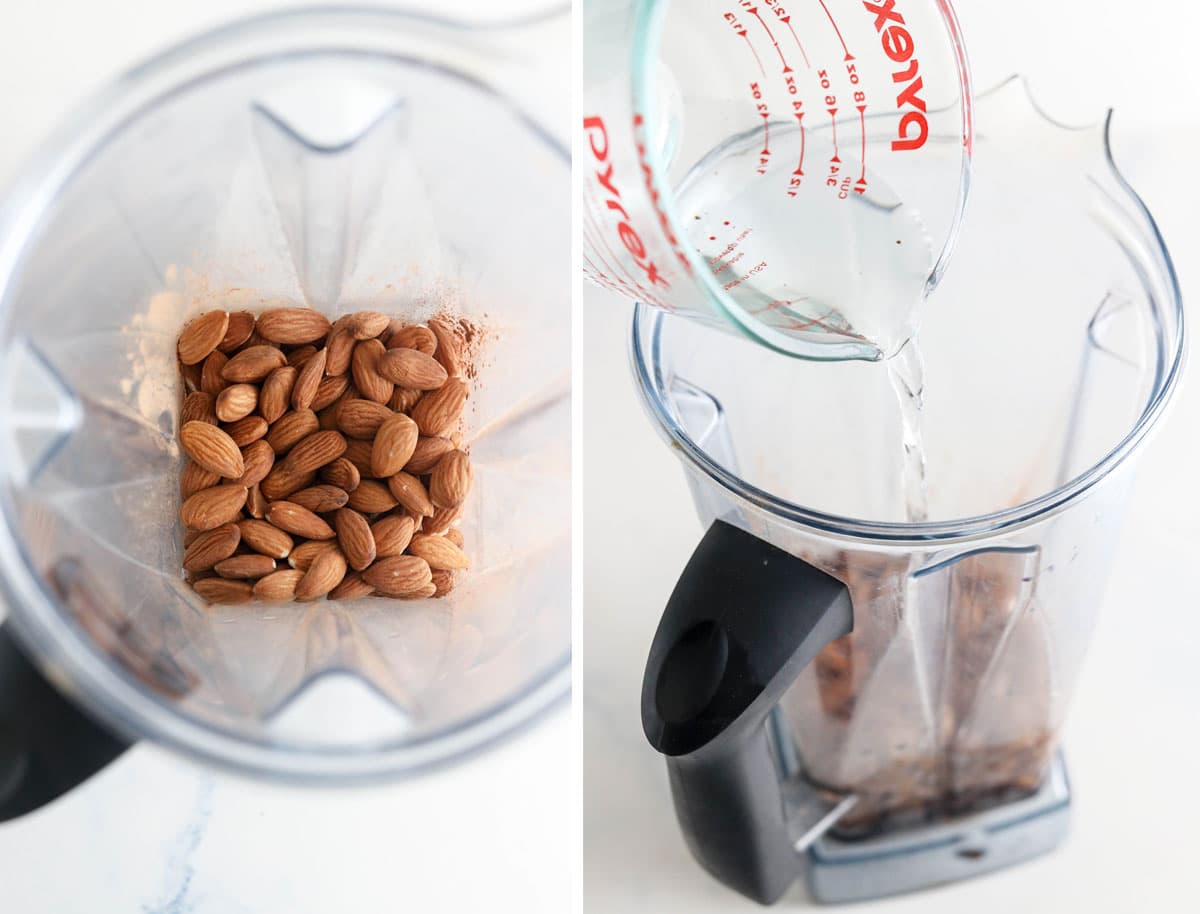 Drain the mixture through a nut milk bag, and then the chocolate milk is ready to drink! You may want to place it in the fridge to chill, if you want an ice-cold drink.
Keep in mind that homemade almond milk will separate in the fridge, and that's totally normal because we're making this without thickeners or preservatives. As a result, the homemade drink is thinner in texture, too. But, I think it's hard to beat the flavor once you've tried it!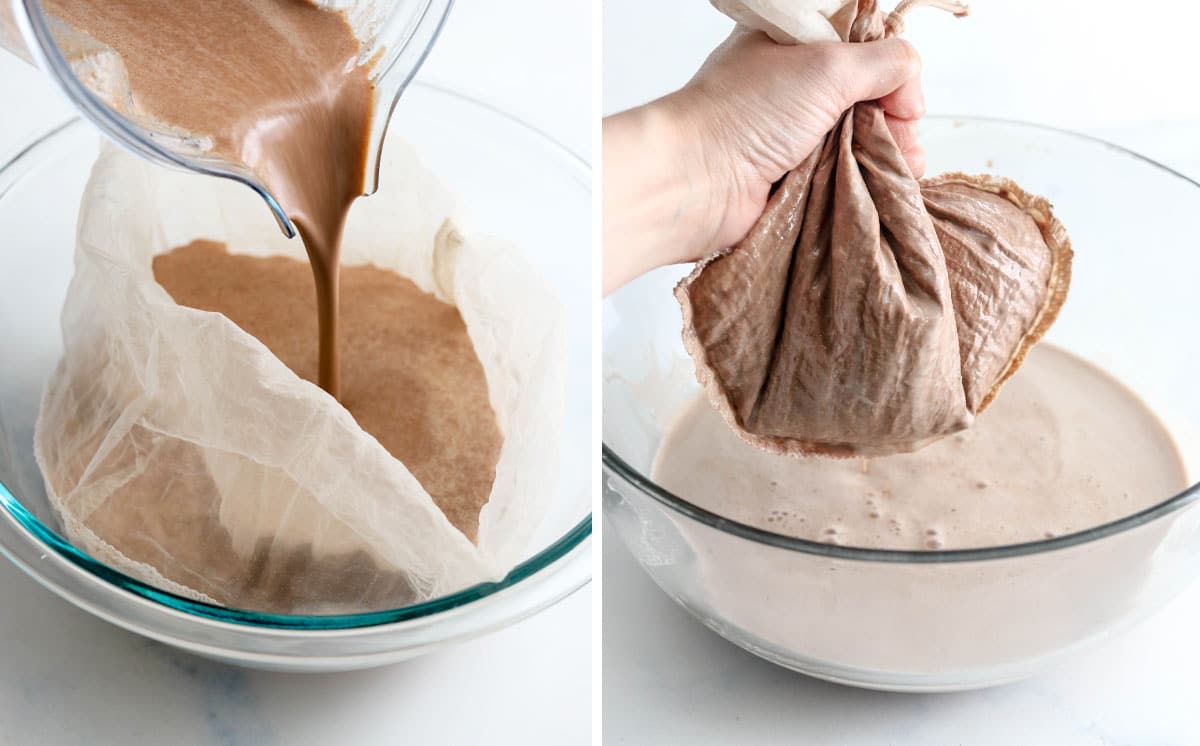 When your chocolate almond milk separates, just shake the container before you pour it, and it will be back to normal.
What to Do with Leftover Almond Pulp
I have plans for experimenting with the leftover chocolate almond pulp from this recipe, so stay tuned for that.
After tasting this pulp, it really doesn't have much of a flavor, so you could probably still make my Almond Pulp Crackers or Almond Pulp Hummus with it.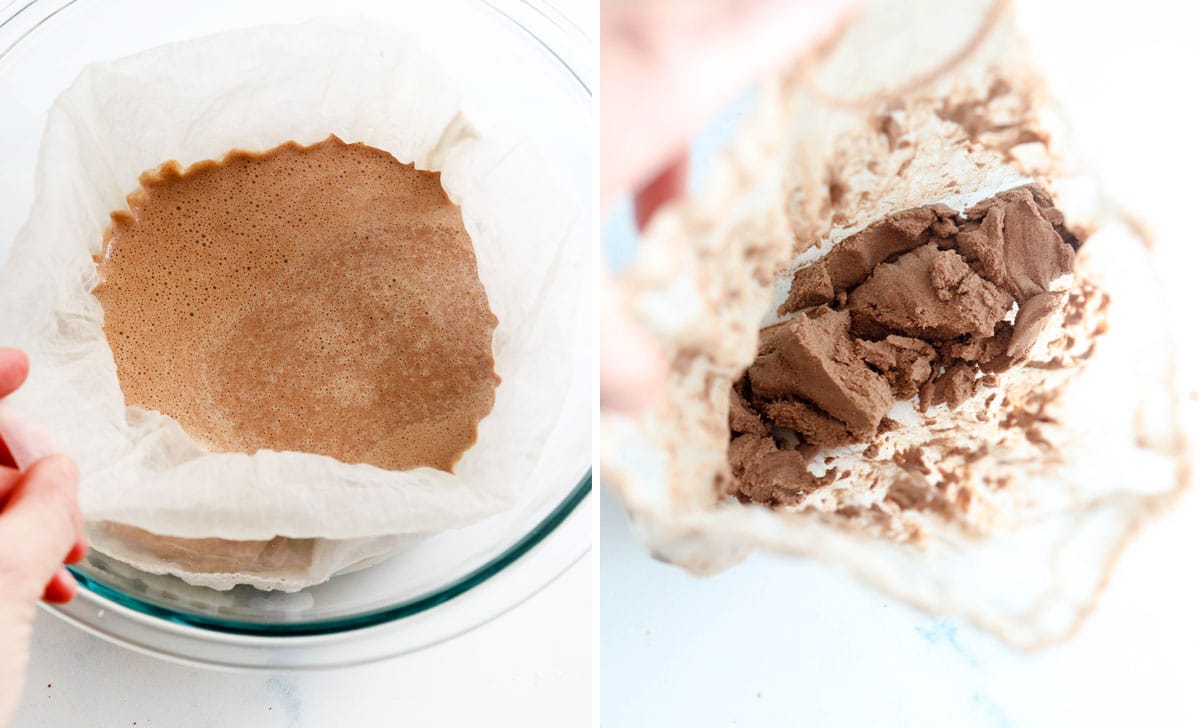 How to Make Date-Sweetened Almond Milk
There are two ways you can make date-sweetened chocolate almond milk.
Method #1: Blend the almonds and water together first, as if you're making a batch of plain almond milk, and then strain it through a nut milk bag. Return the strained milk back to the blender, add in the dates and cacao powder, and blend until smooth. You can strain this mixture again, or just enjoy it as is.
Method #2: Blend the almonds, dates, water, and cacao powder at the same time, then pour the mixture through a fine mesh strainer. (It won't squeeze through a nut milk bag very well– trust me, I tried.) I had to discard the leftover pulp in this case, because it was too slimy in texture from all the blended dates.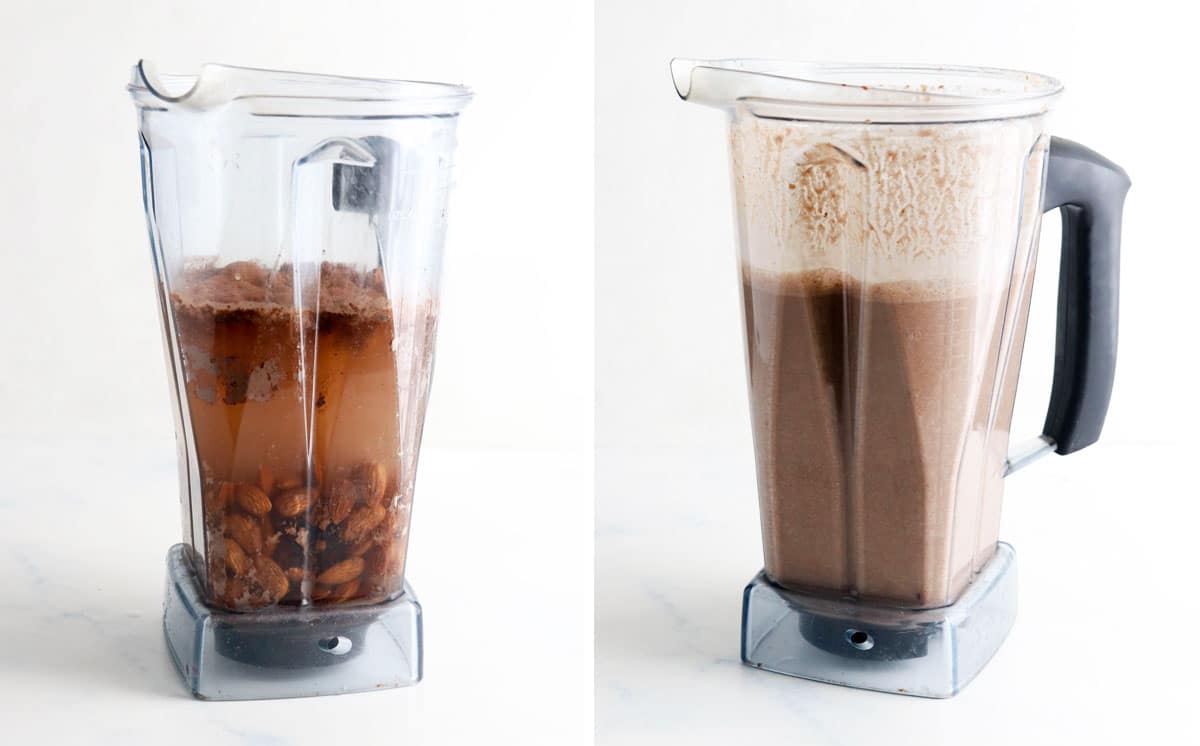 The first method is what I prefer, because the almond pulp is much easier to work with. You can save it to make one of the almond pulp recipes I mentioned above, and then when you blend the dates in you'll still benefit from the fiber they contain. (Plus, it will thicken up the milk a little more!)
The leftover pulp from Method #2 is not very appealing to work with. It's slimy in texture, so I wasn't able to save it for making any recipes later, so I only recommend trying that method if you're not interested in using the leftover almond pulp.
How to Make Instant Chocolate Almond Milk (No Straining!)
If you don't want to make a whole batch of chocolate milk, or you don't have a nut milk bag on hand, here's how to make a faster version in a single-serving. Feel free to double or triple it, as needed.
Here's what you'll need:
3/4 cup water
1 tablespoon almond butter
1 heaping tablespoon cacao powder
2 pitted Medjool dates, or 4 teaspoons maple syrup
Blend everything together until creamy, then pour it into your glass. You'll need a high-speed blender to break down the dates, so if your blender isn't powerful, just stick to using maple syrup.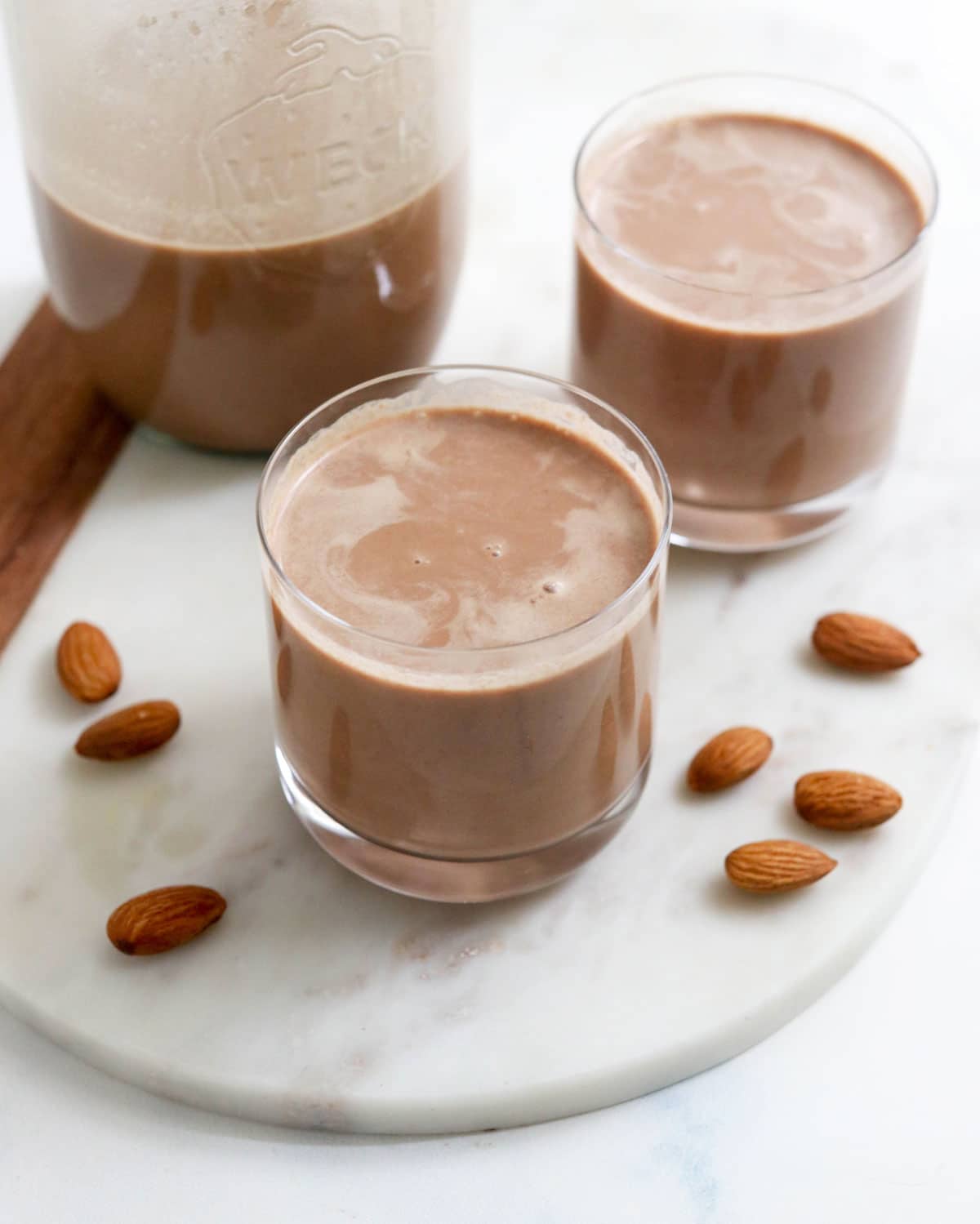 How Long Does it Last?
Homemade almond milk doesn't have any preservatives, so it will only last in your fridge for up to 4 days.
I recommend making only what you'll use in that time frame, or you can freeze it in ice cube trays if you'd like to use it in smoothies. I imagine it would make an extra-rich chocolate smoothie!
Do You Have to Soak Almonds?
I recommend soaking almonds in water before you blend them, because it can soften them so that they blend easier, and it may also help improve their digestion.
Almonds naturally contain phytic acid, which is an anti-nutrient that may prevent the absorption of minerals like calcium and iron, and studies have found that soaking almonds may help to reduce the phytic acid they contain. (But not by much; it was less than a 5% reduction in this study.)
If you don't have time to soak the almonds and you have a high-speed blender,  your almond milk should still turn out just fine!
More Non-Dairy Milk Recipes
If you need some more creamy non-dairy milk ideas, be sure to try out some of these other ways to make it at home.
I can't wait to hear what you try.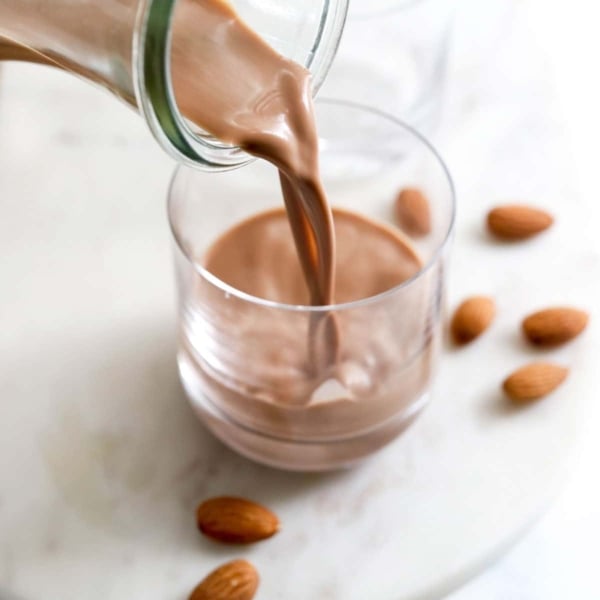 Chocolate Almond Milk
This Chocolate Almond Milk recipe is quick & easy to make, using only 3 ingredients. You can sweeten it with dates or maple syrup!
Ingredients
1

cup

almonds

(soaked in water for up to 12 hours)

5

tablespoons

cacao powder

5

tablespoons

maple syrup

(or 8 pitted Medool dates)

3 1/2

cups

water
Instructions
If you soaked the almonds first, drain and rinse well. You'll want to use fresh water (not the soaking water) when you make this recipe.

In a high-speed blender, combine the almonds, cacao powder, maple syrup, and water. Blend until completely smooth and creamy, about 1 full minute. (See the notes below for the date-sweetened version.)

Pour the chocolate milk mixture through a nut milk bag, and squeeze well until all of the liquid is removed, with only dry pulp remaining in the bag. Save the leftover almond pulp for one of the recipes mentioned in this post. You can also use a fine mesh strainer to strain out the almond pulp, if you don't have a nut milk bag, or try using cheesecloth.

Pour the chocolate almond milk into an airtight container and store it in the fridge to chill. It's natural for homemade almond milk to separate, so shake the container well to mix it back together before pouring.

This homemade milk can be saved for up to 4 days in the fridge, or you can pour whatever you won't use into an ice cube tray to freeze. Frozen cubes can be stored in an airtight container for up to 3 months, and make a great addition to smoothies.
Notes
To make the date-sweetened almond milk, use a strainer instead of a nut milk bag, as the pulp will be too slimy to pour through a fine-mesh bag. You can also blend the almonds and water together first, strain through a nut milk bag, and then add in the cacao powder and dates after the milk is strained to be blended together. See the post above for more details.
Nutrition
Calories:
287
kcal
,
Carbohydrates:
28
g
,
Protein:
9
g
,
Fat:
19
g
,
Saturated Fat:
2
g
,
Sodium:
14
mg
,
Potassium:
404
mg
,
Fiber:
6
g
,
Sugar:
16
g
,
Calcium:
136
mg
,
Iron:
2
mg
Nutrition information is based on using a whole cup of almonds without straining out the pulp, so it's hard to know how much of their calories, fat, and nutrients are leftover in the final milk. This nutrition information is just an estimate, and not a guarantee, and is based on drinking a whole cup of chocolate almond milk as a serving.
If you try this recipe, please leave a comment below and let me know what you think! If you make any modifications, I'd love to hear about those, too. We can all benefit from your experience.
–
Reader Feedback: What's your favorite way to use almond milk? Do you drink it as-is, or add it to something?