Crispy baked tofu is perfectly seasoned, with a lightly crisp texture you'll love. You can serve it as an appetizer, or as a topping for your favorite salads and bowls!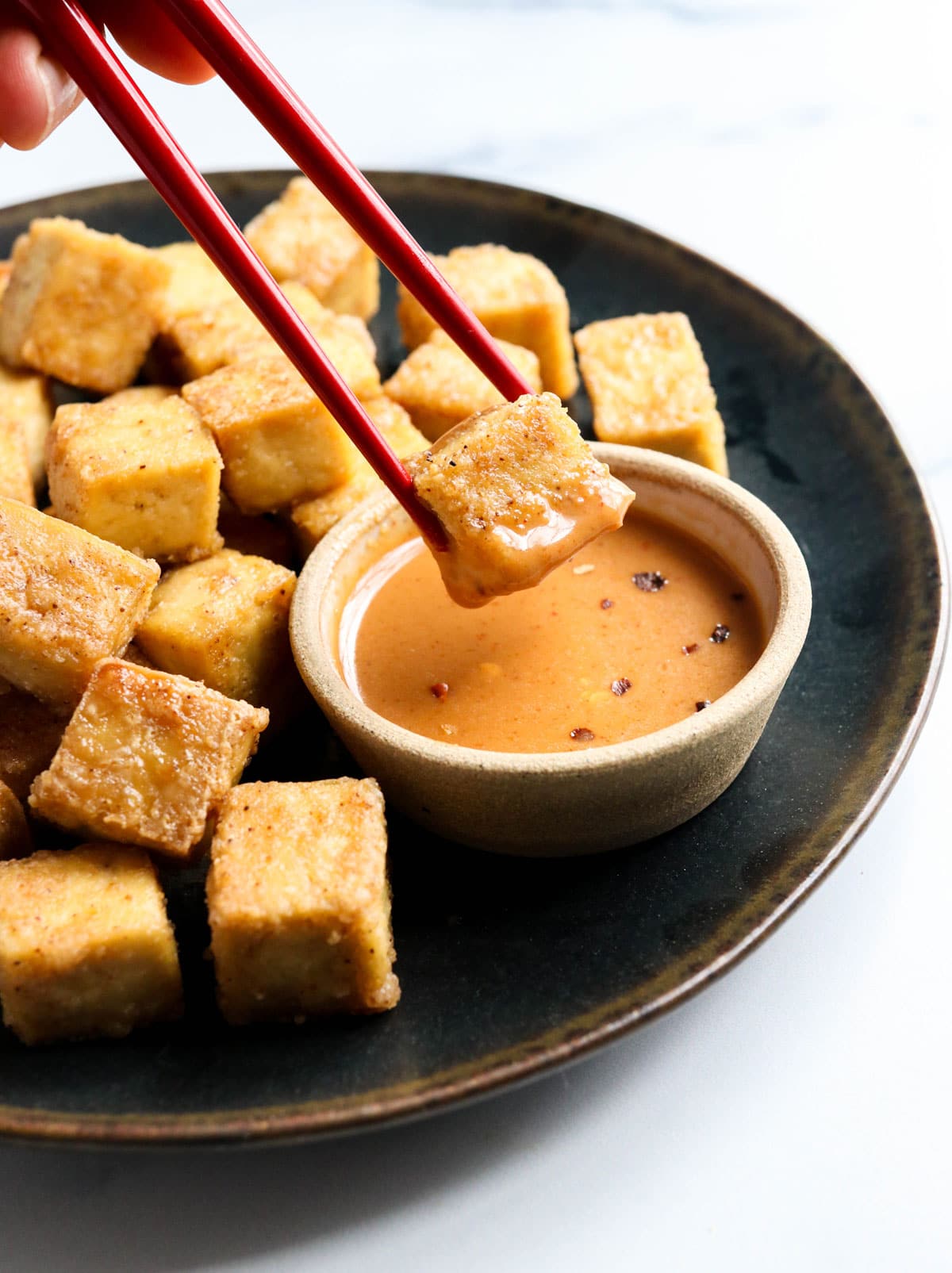 Why You'll Love It
It's flavorful. Tofu doesn't necessarily taste great on its own, but when you toss it in a simple mix of seasonings, you'll want to eat it straight off the pan. The flavor goes well with practically any dish!
It's loaded with protein. If you follow a vegan or vegetarian diet, tofu is a a complete source of protein, containing all the essential amino acids your body needs. You can add it to salads, bowls, or anywhere else as an alternative to using a store-bought meat substitute.
It has potential health benefits. Research suggests that eating soy may have a positive effect on reducing the risk of breast cancer, and the isoflavones in soy may also help to lower blood glucose levels.
No marinades required. This recipe is fast to make, because you don't need to let the tofu soak in a marinade ahead of time. You'll enjoy plenty of flavor from the coating, without adding excess moisture.
Ingredients You'll Need
What's in baked tofu?
Extra-firm tofu
Garlic powder
​Cayenne pepper (optional; for spice)
Salt
Arrowroot starch
Toasted sesame seed oil
You can swap the sesame seed oil for olive oil, if you prefer, or you can make this dish lower in oil by tossing the tofu in soy sauce (or tamari for a gluten-free recipe) instead. In that case, use less salt in the coating, so your tofu won't be too salty.
I like to add the cayenne for a hint of spice, but feel free to leave that out if you need to keep things more mild. You can also add any other seasonings you enjoy, like black pepper, onion powder, or paprika.
How to Bake Tofu
1. Press the tofu.
Drain the tofu from any liquid in the package, then place it on a cutting board and slice it in half lengthwise. Lay the two tofu pieces down on a towel (or a few paper towels) then cover it with another layer of towel.
Set something heavy on top of the tofu, like a few books or a cast iron pan, and let it rest for 10 to 15 minutes. This will help to squeeze out excess moisture, so the tofu will bake up crispier.
2. Add the coating.
Preheat the oven to 400ºF and line a baking sheet with parchment paper. Cut the pressed tofu into 1-inch cubes and toss it with sesame oil, to help the seasoning stick.
In a small bowl, stir together the garlic powder, salt, and cayenne, if using. Sprinkle the mixture over the tofu, and stir well to distribute the seasoning.
Next, add in the tablespoon of arrowroot powder, and stir until you can't see the white powder anymore.
3. Bake.
Transfer the tofu to the prepared baking sheet, and arrange the cubes in a single layer to promote even crisping. Bake at 400ºF for 20 minutes.
When the timer goes off, flip the tofu cubes so the other side can crisp up, and return the pan to the oven for 15 more minutes.
The tofu should look golden brown on the outside when it's done.
Serve it with my favorite peanut sauce as an appetizer, or add it to a bowl of noodles, or on top of a salad.
Tips for Making Crispy Tofu
These 3 tips below will make sure you get the best results possible.
Tip #1: Use extra-firm tofu. Just as the name suggests, this is the most firm tofu, and tends to bake up best. Firm tofu also works! Just avoid "silken" tofu, which is too soft and crumbly. (It works better for desserts, like vegan chocolate mousse.)
Tip #2: Press it. Cut the tofu block in half, then sandwich the slices between a towel. Place something heavy on top, and let it rest for 10-15 minutes. (You can watch me do this in the video below!) The moisture in the tofu will be absorbed in the towel, making the final baked tofu crispier.
Tip #3: Don't skip the coating. The seasonings and arrowroot powder create a lightly crispy coating on the outside of the tofu. You can use tapioca or cornstarch instead of the arrowroot, but if you leave this out, the tofu won't be quite as crispy.
How to Serve Baked Tofu
Baked tofu is a delicious appetizer on its own, but I also love to add it to meals as a source of vegetarian protein. (It has 10 grams of protein per 1/2 cup serving!)
Here are some serving ideas:
Plate it as an appetizer with peanut dipping sauce or soy sauce.
Toss it into a skillet for a fast stir fry.
Looking for more tofu recipes? Try my favorite tofu scramble for breakfast, or tofu ricotta, which is perfect in vegan lasagna.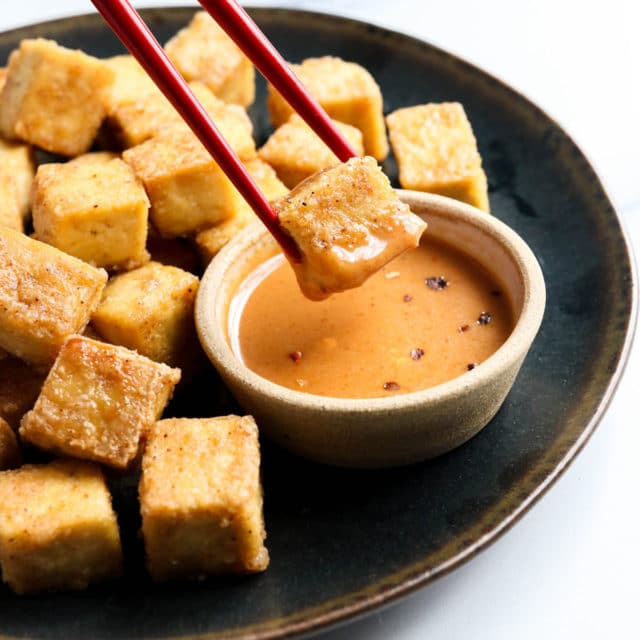 Baked Tofu (Perfectly Crispy!)
Baked tofu turns out perfectly crispy every time, and is a great source of vegetarian protein. Serve it over salads, in pasta, or with peanut sauce as an appetizer!
Ingredients
1

(14 oz.) block

extra-firm tofu

1

tablespoon

toasted sesame oil

1

teaspoon

fine sea salt

(I use Real Salt brand; use less to reduce sodium)

1/2

teaspoon

garlic powder

pinch of cayenne pepper

1

tablespoon

arrowroot starch
Instructions
Preheat the oven to 400ºF and line a large baking sheet with parchment paper. Drain the tofu, then cut it in half lengthwise, making two thinner pieces.

Set a towel down on the counter, then place the two tofu pieces on one side of the towel. Fold the other side over, sandwiching the tofu in the middle of the towel. Place something heavy on top of the towel, like a cast iron skillet, to help "press" the moisture out of the tofu. Let it rest for 10 minutes.

Remove the tofu from the towel, cut it into 1-inch cubes, transfer the cubes to a bowl, and toss them with the sesame oil. In a separate small bowl, stir together the salt, garlic, and cayenne, then sprinkle it over the tofu. Stir well to season.

Sprinkle the arrowroot starch over the tofu, and stir until the powder is no longer visible. Pour the tofu onto the prepared baking sheet, and arrange it so that none of the cubes are touching each other. Bake at 400ºF for 20 minutes.

Remove the pan from the oven, flip the tofu pieces over, and bake for 15 more minutes, or until the tofu is golden on the outside. Serve it warm right away, with your favorite dipping sauce, or add it to your favorite meal for extra protein. Leftover tofu can be stored in an airtight container in the fridge for up to 5 days.
Video
Notes
Nutrition information is for 1 of 2 total servings. This information is just an estimate, and not a guarantee.
Feel free to use any other seasonings you like for this recipe. I use a full teaspoon of salt to make sure the tofu has plenty of flavor (the saltiness pairs really well with the peanut sauce!) but you can always use less if you would prefer.
Nutrition
Calories:
188
kcal
,
Carbohydrates:
8
g
,
Protein:
15
g
,
Fat:
11
g
,
Saturated Fat:
2
g
,
Sodium:
1288
mg
,
Potassium:
315
mg
,
Fiber:
1
g
,
Sugar:
2
g
,
Vitamin C:
1
mg
,
Calcium:
64
mg
,
Iron:
2
mg
If you try this baked tofu recipe, please leave a comment and star rating below letting me know how you like it!