This Cauliflower Pizza Crust recipe is a healthy veggie-packed option that is naturally gluten-free and grain-free. It's perfect for people who still want to eat their pizza, while following a low-carb or food combining diet.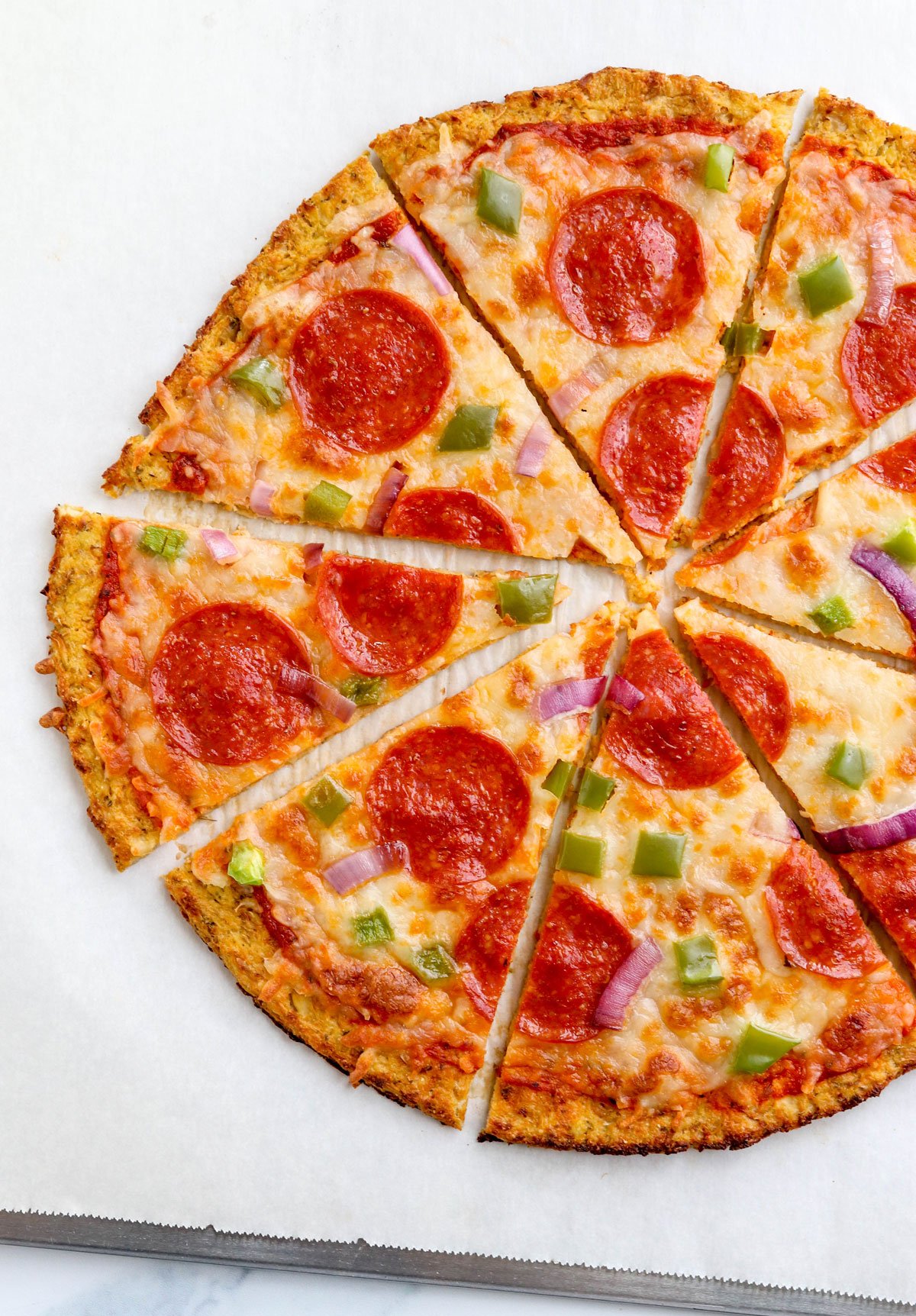 How to Make Cauliflower Pizza
Making cauliflower pizza is straight-forward, but a little labor intensive. If you start with fresh cauliflower, you'll need to steam it until tender. (You can skip this step by using frozen cauliflower– read further down in this post for more info.) Then, you'll pulse it in a food processor until it's rice-like in texture.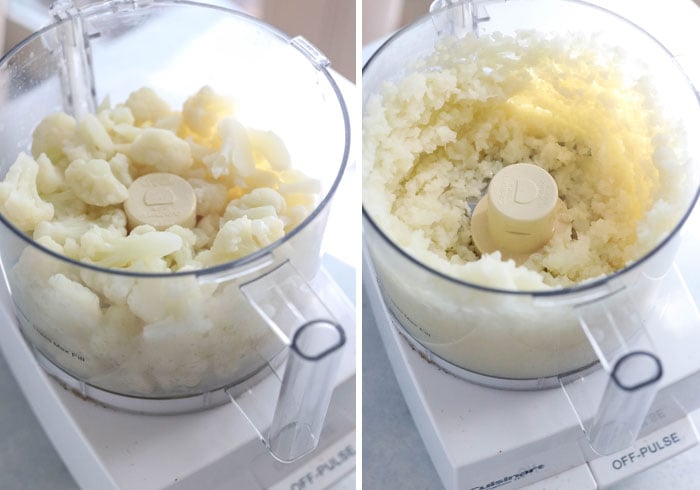 (You can save even more time by purchasing pre-riced cauliflower, either fresh or frozen.)
The Secret to a Non-Soggy Crust
Once your cauliflower is tender and "riced" you'll need to squeeze out the moisture that cauliflower naturally contains. This is the secret to getting a dry crust that you can pick up with your hands. (I the same nut milk bag that I use to make almond milk to do this.)
Once the cauliflower "rice" is very dry, you mix it with an egg, soft goat cheese (which gives the crust a better texture than using shredded cheese), and some Italian seasonings.
If you don't have goat cheese on hand, many readers have reported success in the comments below using other cheeses. You can try mozzarella, cheddar, or even cream cheese with similar results. The texture is the driest with the soft goat cheese, though.
The crust won't be like anything else you've worked with before– you spread it with a spatula, and use your hands to press and shape the dough.
Bake until the crust is dry and golden, then flip it and bake longer until the other side isn't soggy. I use the parchment paper to make the flipping process easier.
(You don't need a second piece of parchment paper after you flip it– the baked crust won't stick to the pan after it's been flipped.)
Using Frozen Cauliflower for Pizza Crust
I've been making this cauliflower pizza crust for years, and there are a number of ways you can make it, but the easiest method is by starting with frozen cauliflower.
I buy 1-pound bags of frozen cauliflower, so that I don't have to do any chopping, and then I thaw them in the fridge the night before I want to make my pizza.
Using frozen cauliflower allows you to skip the pre-cooking of the cauliflower, and ultimately saves you time, but I've also included directions for starting with fresh cauliflower in the recipe below if you'd prefer to do that.
You must thaw and squeeze out the liquid from the cauliflower to get a non-soggy crust.
Update: Many stores are also now carrying frozen pre-riced cauliflower, which will save you even more time, since you won't have to break out the food processor, either.  I've made this crust using two 12-ounce or two 16-ounce bags of frozen cauliflower, so know that this recipe is relatively flexible with the cauliflower amount.
Cauliflower Pizza Toppings
One last thing to keep in mind when making a cauliflower pizza crust is that you should try to keep the toppings minimal. Go light on the sauce, so that it doesn't re-hydrate the crust and make it soggy, and the same goes for the cheese. (Remember, there's already some cheese baked into the crust, too!)
How to Make It Without Cheese
If you don't tolerate dairy well, I've made this crust by omitting the cheese and using an extra egg instead. The crust texture is a little "egg-ier" that way, but it still holds up.
I've also posted a Vegan Cauliflower Pizza Crust recipe, if you need an egg-free and dairy-free option.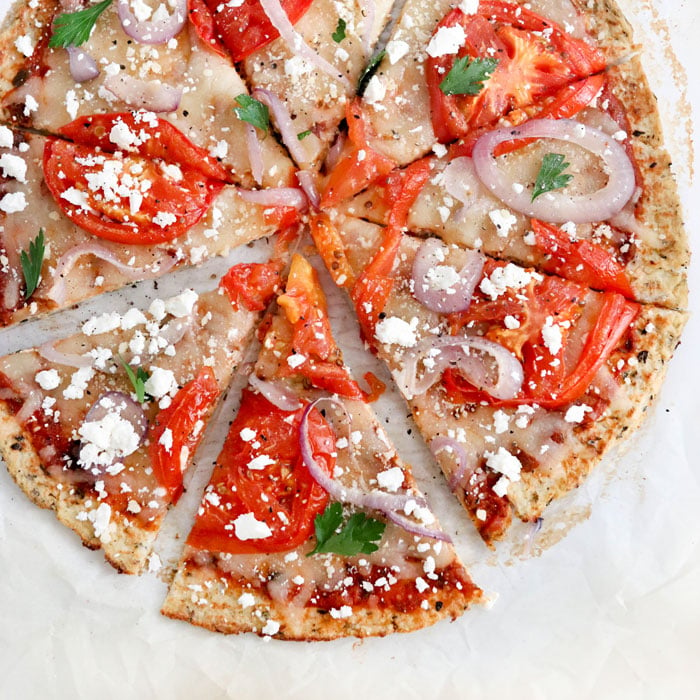 How to Freeze Cauliflower Pizza Crust
Because making a cauliflower pizza crust can be a bit labor-intensive, I like to double the recipe and make two large crusts (or 4 smaller crusts for individual pizzas) and freeze the extras for an easy future meal.
I've found that this works best by baking the crusts, and then freezing them in an airtight container. That way, when you're ready to make a pizza, you can simply place the frozen crust on a pizza sheet and bake it at 400ºF just until it's heated through, about 10 minutes.
Then add your toppings and bake for 5-10 minutes more, until the cheese is bubbling.
The Secret To Perfect Cauliflower Pizza Crust
Here's how to make a perfect cauliflower pizza crust, for a healthy and low-carb option. Time-saving tips included!

Ingredients
2

pounds

cauliflower florets

, riced

1

egg

, beaten

1/3

cup

soft goat cheese

(chevre)

1

teaspoon

dried oregano

pinch of salt
Instructions
Preheat the oven to 400ºF. If using fresh cauliflower, fill a large pot over medium heat with an inch of water. Fit a steamer basket into the pot, then pour the raw cauliflower into the steamer basket. Bring the water to a boil and cover the pot, steaming the cauliflower until it is very tender and can be pierced with a fork.


If using frozen cauliflower, be sure to thaw it completely before getting started, then continue with the following steps.


Pour the completely thawed, or freshly steamed, cauliflower into a large food processor fitted with an "S" blade. (You may have to do this in batches if you have a smaller food processor.) Process until a rice-like texture is created. If you bought frozen riced cauliflower, you can skip this step and proceed to the next one.


Transfer the "rice" to a clean, thin dishtowel. Wrap up the steamed rice in the dishtowel, twist it up, then SQUEEZE all the excess moisture out! (Be careful if your cauliflower is still hot-- you may want to let it cool before handling.) A lot of extra liquid will be released, which will leave you with a nice and dry pizza crust.

In a large bowl, mix up the squeezed-out rice, egg, goat cheese, and spices. (Don't be afraid to use your hands! You want it very well mixed.) It won't be like any pizza dough you've ever worked with, but don't worry-- it'll hold together!

Press the dough out onto a baking sheet lined with parchment paper. (It's important that it's lined with parchment paper, or it will stick.) Keep the dough about 1/4" to 1/2" thick, and make the edges a little higher for a "crust" effect, if you like.

Bake for 30-35 minutes at 400F, until dry and golden. Use the parchment paper to flip the crust over, and bake again until the other side is nice and dry, about 10 to 15 more minutes.


Add your favorite pizza toppings to the crust, such as sauce and cheese, then return the pizza to the 400F oven. Bake an additional 5-10 minutes, just until the cheese is hot and bubbly. Slice and serve warm.

Notes
Time-Saving Tip: I recommend making a double-batch of cauliflower pizza crusts and make one for now, and save one for later. After baking the crusts, wrap up the extra pizza crust in foil, and FREEZE it for a quick "frozen pizza" to enjoy another night! All you need to do is add toppings and bake at 400F, until the cheese is hot and bubbly.
Nutrition
Serving:
1
g
|
Calories:
74
kcal
|
Carbohydrates:
4
g
|
Protein:
6
g
|
Fat:
4
g
|
Fiber:
2
g
Nutrition information is for 1/4 of this recipe. This information is automatically calculated, and is just an estimate, not a guarantee.
If you try this Cauliflower Pizza recipe, please leave a comment below letting me know how you like it. And if you make any modifications, I'd love to hear about those, too. We can all learn from your experience!
More Cauliflower Recipes:
I can't wait to hear what else you try!
–
Reader Feedback: Have you tried a cauliflower pizza crust yet?