Here's how to make almond butter at home, with step-by-step photos. No added oil required! This process is similar to making your own coconut butter or peanut butter, but when it comes to homemade almond butter you'll need a little extra patience.
Almond Butter Ingredients
This homemade almond butter is made with just one ingredient— almonds! I use raw almonds, as I prefer their more mild flavor, but you can use roasted ones if you prefer.
There's no added oil required for this recipe, as the almonds will release their natural oils during the process. Look for organic almonds, if possible, as all "raw" almonds are required to be pasteurized in the United States, and organic almonds are steam pasteurized, rather than using chemicals.
Almond Butter Benefits
Almond butter has been getting a lot of positive attention lately, possibly because it has more vitamins, mineral and fiber when compared to peanut butter. (Because peanuts are a legume, they also aren't a part of the Paleo or Whole30 diets, which has many people looking to almond butter as an alternative.)
Here are a few other benefits of almond butter:
It's a good source of monounsaturated fats, which have been associated with a lower risk of heart disease.
Almonds are one of the best natural sources of vitamin E, an antioxidant, and may also help lower cholesterol.
It's a good source of magnesium, which is thought to promote healthy blood pressure.
Studies have shown that people who regularly eat nuts & nut butters tend to avoid weight gain, despite the high calorie content in nuts. This may be due to the fact that nuts and nut butters are satiating and help balance blood sugar levels.
Homemade Almond Butter in a Blender
I use a food processor to make my almond butter, but you can use a powerful blender, if you'd prefer. I recommend adding 1/4 cup of oil to the recipe in that case, to help facilitate blending. My old 2-speed Vitamix would produce a burning smell when trying to make almond butter without the oil, but if you have a 10-speed Vitamix, the lower settings will help to avoid that.
How to Make Almond Butter
As I mentioned before, making almond butter really just requires patience, but I've included step-by-step photos below to help you gain the confidence you need. I think it helps to have a visual example!
To get started, I recommend warming your almonds in the oven for about 10 minutes at 350ºF. This step is optional, but it can save you and your food processor some time, as the almonds will heat up regardless from this process.
Add the almonds to the bowl of your food processor, fitted with an "S" blade, attach the lid and start processing. I use one pound of almonds at at time, which is roughly 3 cups.
Be prepared, the food processor will be running for a while. You'll notice that the ground almonds will start to collect around the edges of the bowl, so be sure to stop and scrape down the sides every few minutes, just to keep everything blending evenly.
Depending on the size of your food processor, you'll notice a change start to happen around the 10 to 15 minute mark. As the oils are released from the almonds, they'll start to stick together and form a large mass that moves around the bowl. You'll also notice that the almond butter is getting rather warm
After about 20 minutes of consistent processing– right about the time when you think you're never going to wind up with almond butter and want to give up– magic will happen. You'll finally have a grainy-looking almond butter. Don't worry, you're almost there!
After a few more minutes of processing, your almond butter will become smooth and creamy.
Let the almond butter cool, then transfer it to a 16-ounce container with a lid. I don't recommend sealing the almond butter until it's completely cool, so that it doesn't create steam inside the jar. (Steam will cause it to spoil faster.)
Homemade almond butter can be stored for at least 2 weeks in the fridge, but mine often lasts longer as long as I am careful not introduce any moisture to the jar.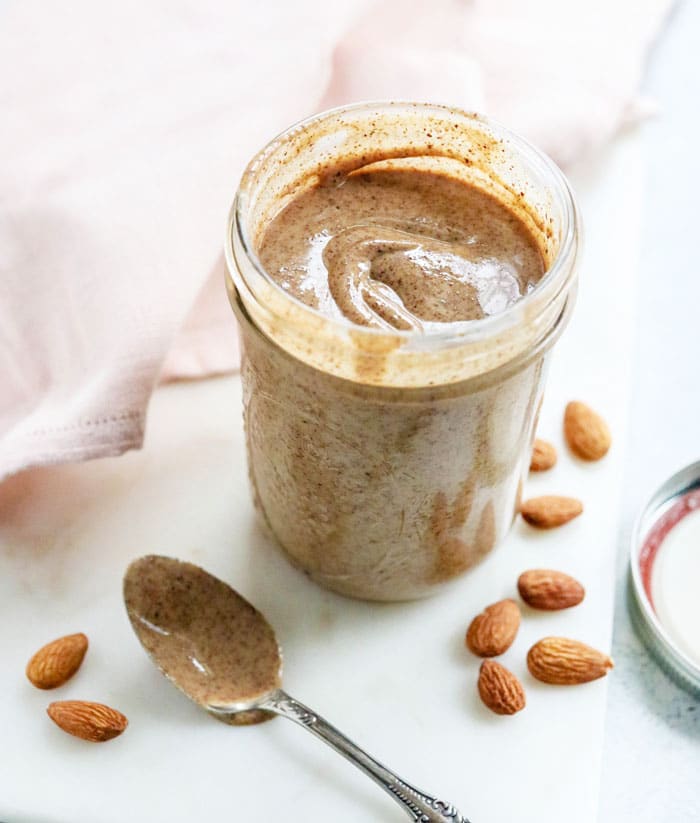 Is Almond Butter Healthier than Peanut Butter?
I started using almond butter as a replacement for peanut butter in many cases, because peanuts tend to be more susceptible to mold that produces aflatoxin, which has been associated with liver cancer. (source) On the bright side, aflatoxins may be reduced by as much as 89% when you grind peanuts into peanut butter! (source) Hence, why there are still plenty of peanut butter recipes here on my website.
Homemade Almond Butter (1-minute video):
How To Make Almond Butter (No Added Oil!)
Here's how to make almond butter using your food processor or blender. No added oil required!

Equipment
Ingredients
3

cups

almonds

(one pound)
Instructions
To make the process faster, warm the almonds in an oven preheated to 350ºF degrees for 10 minutes.

Transfer the almonds to a large food processor fitted with an "S" blade, and process them until creamy. You may want to stop and scrape down the sides every now and then, but this process will take up to 25 minutes. The almonds will first look like a flour with clumps, then will form a ball that moves around the food processor, then it will turn to a grainy almond butter before it becomes silky-smooth. Be patient! Just when you'll want to give up is usually when the magic happens.


Once totally smooth and creamy, transfer the almond butter to a glass jar and store it in the fridge. I've found that almond butter with no additives usually lasts at least a month in the fridge, but be sure to check for signs of spoiling (such as mold or a bad smell) each time you use it.

Nutrition
Calories:
102
kcal
,
Carbohydrates:
3
g
,
Protein:
3
g
,
Fat:
8
g
,
Potassium:
126
mg
,
Fiber:
2
g
,
Calcium:
47
mg
,
Iron:
0.7
mg
Almond Butter Nutrition per tablespoon: Calories: 102, Fat: 8g, Carbohydrates: 3g, Fiber: 2g, Protein: 3g
Almond Butter Recipes
You can use your new almond butter in the following recipes. They are some of my favorites!
Homemade Almond Butter Tips:
You may add salt to this recipe to your tastes. I'd recommend starting with 1/4 teaspoon, but keep in mind that many recipes call for unsalted almond butter, so you'll need to adjust accordingly if using it in recipes.
Don't be tempted to add liquids to this recipe, such as vanilla extract or maple syrup. They can reduce the shelf life of the almond butter and may cause the texture to seize. I've heard lots of feedback regarding this in the comment section below, so be cautious! If you desire a sweeter almond butter, you might try something granulated like coconut sugar instead.
I've made this recipe using a KitchenAid, Cuisinart, and Breville brand food processors, all with great results. My very favorite food processor is this Breville model.
–
Reader Feedback: Have you tried making your own almond butter, or other nut butters? Let me know if you have any other tips in the comments below!

SaveSave
SaveSave