If you struggle to get beets into your diet, this beet juice recipe is an easy solution. It's fast to prepare (in less than 10 minutes) and tastes like an earthy, ginger-y lemonade. I could drink it every day!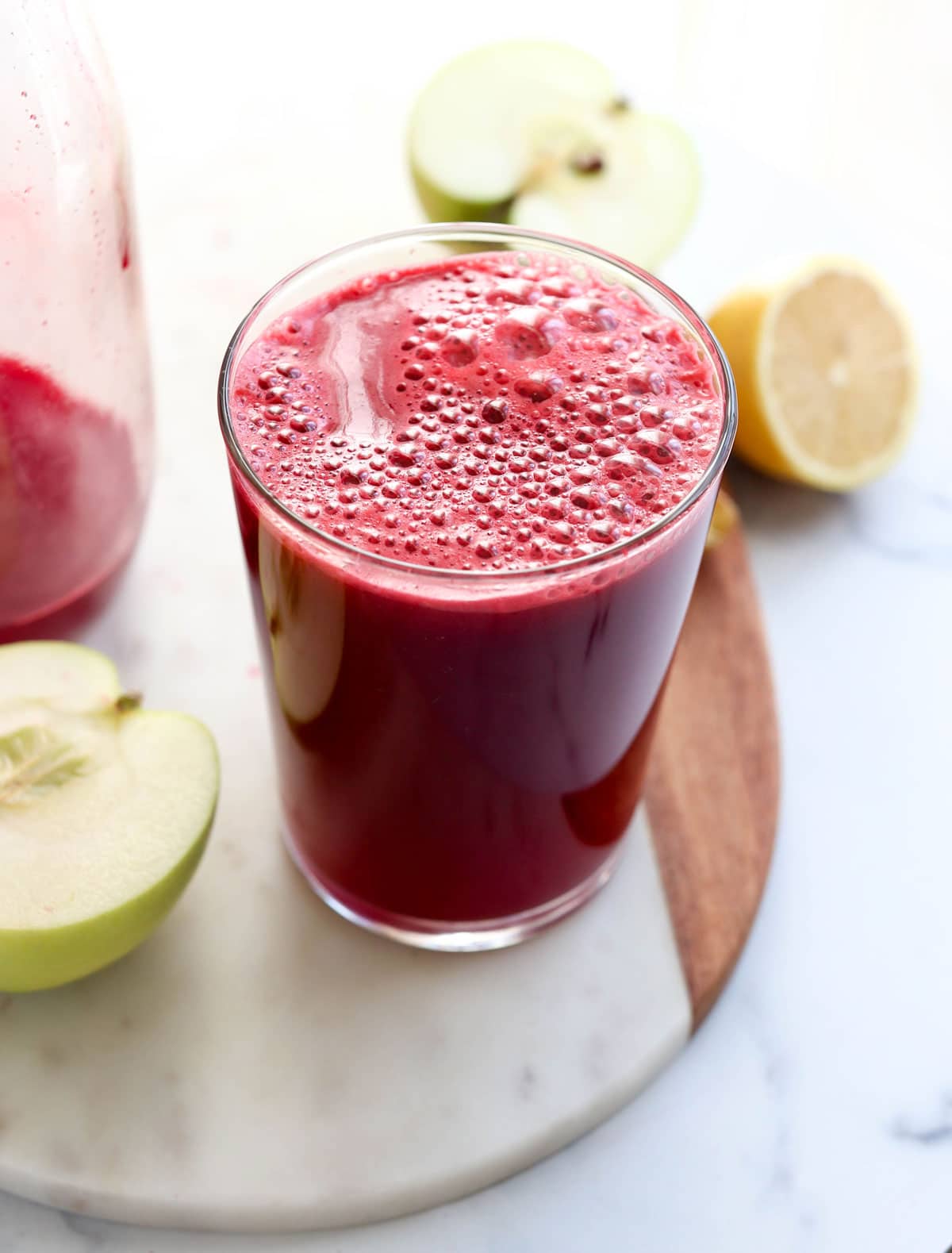 Benefits of Beets
What are the benefits of beet juice? There are several reasons to incorporate it into your day:
Beetroot juice has been shown to significantly lower blood pressure, which, in turn, may lower the risk for cardiovascular disease.
In regards to lowering blood pressure, raw beet juice seems to be more effective than cooked beets, although both show benefits.
The nitrates found in beets are likely responsible for the blood pressure lowering effects, since the body converts that into nitric oxide, which may help to relax blood vessels and improve blood flow. Research suggests that this effect is only temporary– lasting about 6 hours after consumption. So, you'll need to consume nitrate-rich foods (like this beet juice) daily to get continued results.
Drinking beet juice may help athletes improve athletic performance and endurance, too!
Beets contain phytonutrients called betalains (the specific pigment in beets is called betanin), which may help to lower inflammation.
The nitrates found in beets may help promote brain health, by increasing blood flow to the brain.
Beets also contain other important minerals, like magnesium, potassium, and iron.
These reasons alone make me want to drink beet juice every day!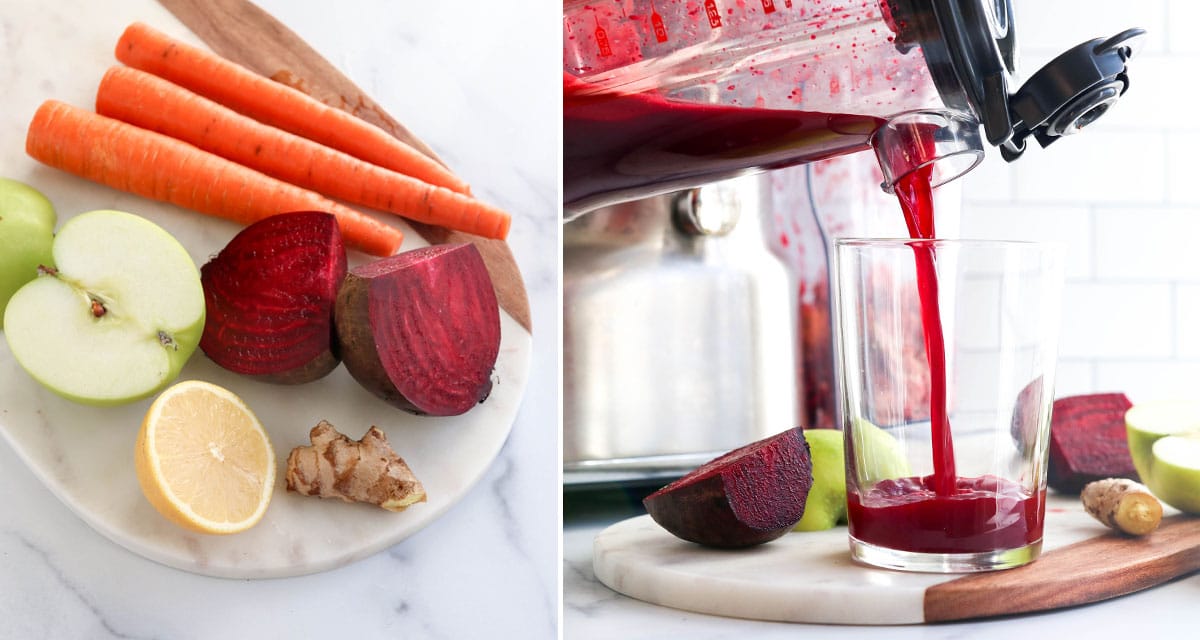 How to Make the Best Beet Juice
The easiest way to make beet juice is with a juicer. I use my Breville Juice Fountain on a daily basis, but there are many brands available out there!
Note: Look for a juicer with a wide chute, so that you won't have to spend a lot of time chopping the produce before you get started.
Wondering which juicer is best? Check out my comparison of Masticating vs. Centrifugal Juicers.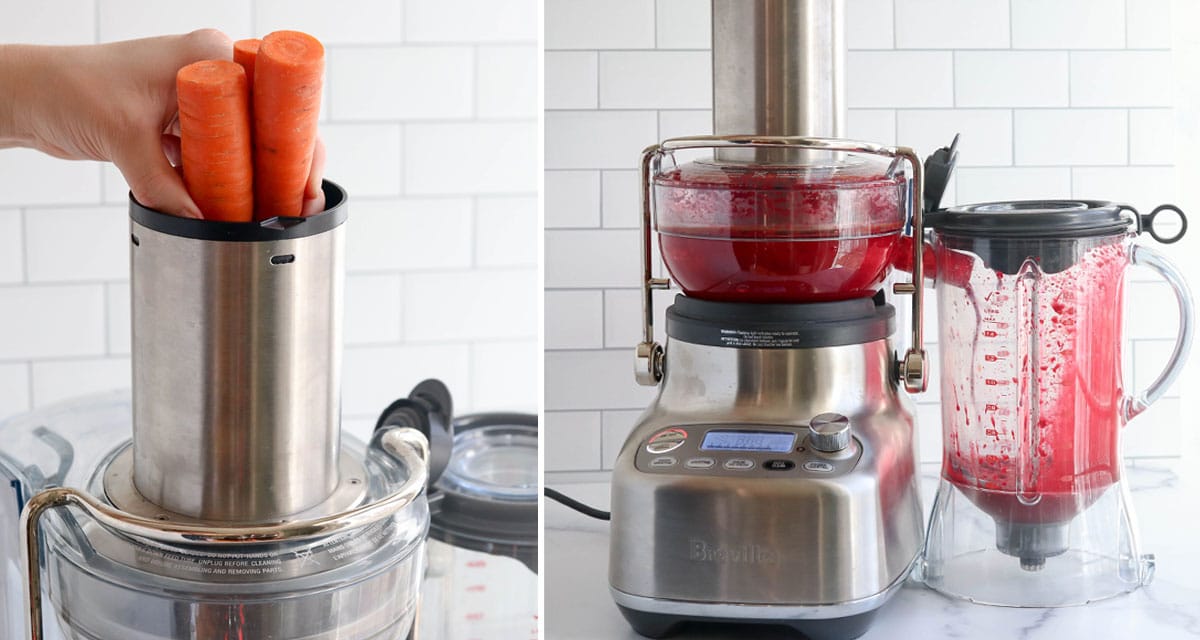 In these photos, you'll see another Breville model that I own, because it's cleaner than the model I use for juicing on a daily basis. You don't want to see my cloudy pitcher pouring this pretty juice!
To make beet juice, you'll simply wash the produce and make sure it's cut into small enough pieces that it will fit through the chute of your juicer. In my case, I just need to cut the beet and apple in half, so they won't be too wide.
Run the produce through the juicer, and that's it! You'll have perfectly delicious beet juice that's ready to drink in just minutes.
What to Do with Juice Pulp?
After you juice fruits and vegetables, your juicer will collect the leftover pulp in another bin. You can discard this pulp in your compost bin, if you have one, or you can use it in another recipe like my Juice Pulp Meatballs or Juice Pulp Burgers.
Important: If you plan on using your juice pulp for a recipe, like the ones mentioned above, I would juice the carrots and beets first, then save that pulp before you add in the lemon, ginger or apple.
Those other ingredients can negatively affect the flavor of a savory recipe. If you plan on make a sweet recipe (like adding the pulp to a muffin recipe) you can include the apple pulp, if you'd like to, but in that case I'd probably omit the beet pulp, as it's overpowering in flavor for most sweet recipes.
Side Effects of Beet Juice
Is it OK to drink beet juice every day? Here are some things to keep in mind:
Consuming beets may turn your urine or stools bright pink or red. It can be shocking if you're not expecting it, even though this effect is harmless.
Beets are high in oxalates. If you're prone to getting calcium oxalate kidney stones, you may want to avoid drinking beet juice too often.
If you're taking blood pressure medications or have low blood pressure, drinking beet juice may lower your blood pressure too much. Be sure to work with your doctor and monitor your blood pressure if you plan on incorporating it into your lifestyle, as you may need to lower your medication.
I personally find that beet juice is a little overwhelming in flavor on its own, so I like to dilute that with carrots, and often times cucumber, too, for extra hydration.
The apple, lemon, and ginger make this juice taste more like a spiced lemonade, but if you want a less-sweet juice, you can use only half of an apple, or omit it entirely.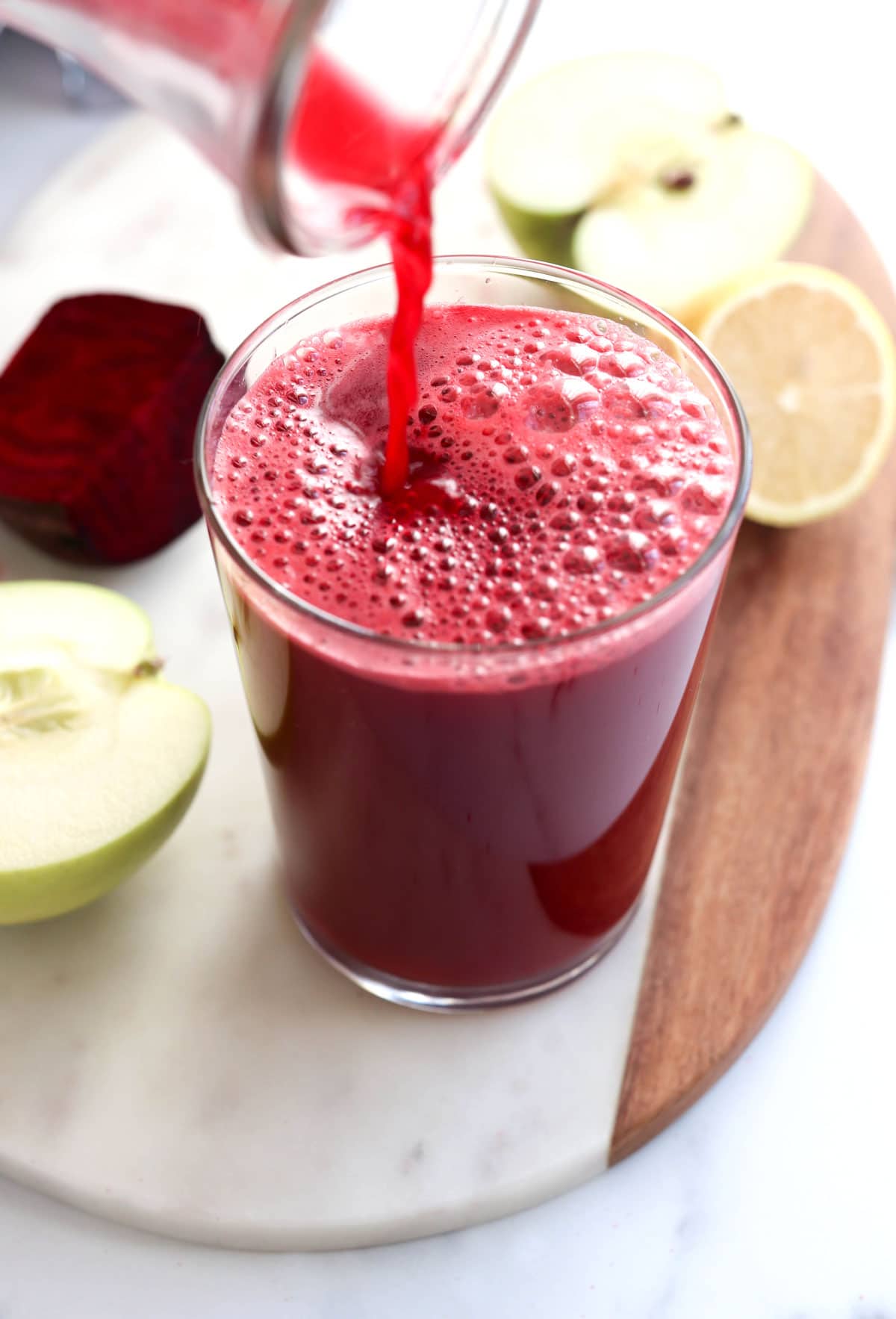 How to Make Juice with a Blender
Don't have a juicer? You can make juice in your blender, too! Simply add the ingredients to your blender, and blend them with a small amount of water. (Add just enough water to get them blending; start with a 1/2 cup.)
When it's done, you'll strain out the pulp with a nut milk bag, cheesecloth, or fine mesh strainer, for a similar juice experience, without the juicer.
Check out my Green Milk recipe for photos of how this looks.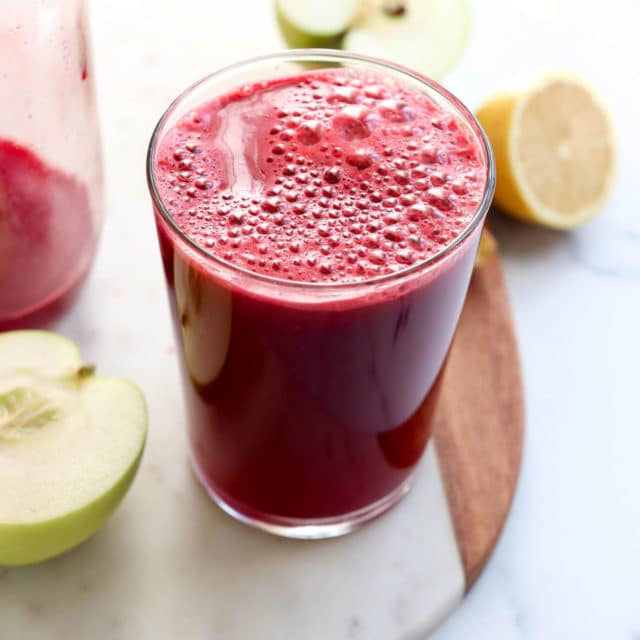 Beet Juice
This Beet Juice recipe tastes like a ginger lemonade! Beets may help to lower blood pressure and are loaded with antioxidants, so this is a great way to get those benefits more often.
Equipment
Ingredients
1

large

raw beet

(8 ounces)

3

large

carrots

(8 ounces)

1

inche

fresh ginger

(1 ounce)

1

medium

apple

(red or green; 5 ounces)

1/2

lemon

(2 ounces)

1

English cucumber

(10 ounces)
Instructions
Wash and dry the produce, then cut any pieces that aren't small enough to fit through the chute of your juicer. There's no need to remove any peels or skin from the produce. (The juicer will do that for you!)

Turn your juicer on and run all of the produce through the chute, using the tamper to press it towards the blades. I juice hard produce, like beets, apples, and carrots, on "high" speed, and softer produce, like the cucumber, on "low" speed, if your juicer has two speed options. I like to juice the ginger and lemon with something else, like the apple, so the smaller pieces won't fly around the chute.

Enjoy the juice right away. Discard the pulp, or save it for another recipe as mentioned in this post. Fresh juice is best within 30 minutes of making it, but if you need to store any leftovers, fill up an airtight jar all the way up to the top, and then secure the lid, to make sure there's as little air as possible in the container. Store it for up to 24 hours in the fridge.
Notes
Nutrition information is for 1 of 2 servings, but you can drink the whole recipe if you'd like to! It's ultra-hydrating and loaded with nutrients. This information is automatically calculated, and doesn't take into account that much of the fiber is removed during the juicing process.
For lower-sugar juice, you can omit the apple, and even some of the carrots. The cucumber will help dilute the beet flavor on its own.
Nutrition
Calories:
183
kcal
,
Carbohydrates:
44
g
,
Protein:
5
g
,
Fat:
1
g
,
Saturated Fat:
1
g
,
Sodium:
186
mg
,
Potassium:
1143
mg
,
Fiber:
11
g
,
Sugar:
27
g
,
Vitamin A:
18294
IU
,
Vitamin C:
36
mg
,
Calcium:
94
mg
,
Iron:
2
mg
If you try this beet juice recipe, please leave a comment and star rating below letting me know how you like it. And if you make any modifications, I'd love to hear about those, too! We can all benefit from your experience.
–
Reader Feedback: What's your favorite juice combination?