Cinnamon tea is a comforting warm drink that's brimming with antioxidants. It's the perfect recipe to sip on during cold & flu season, or anytime you need to warm up!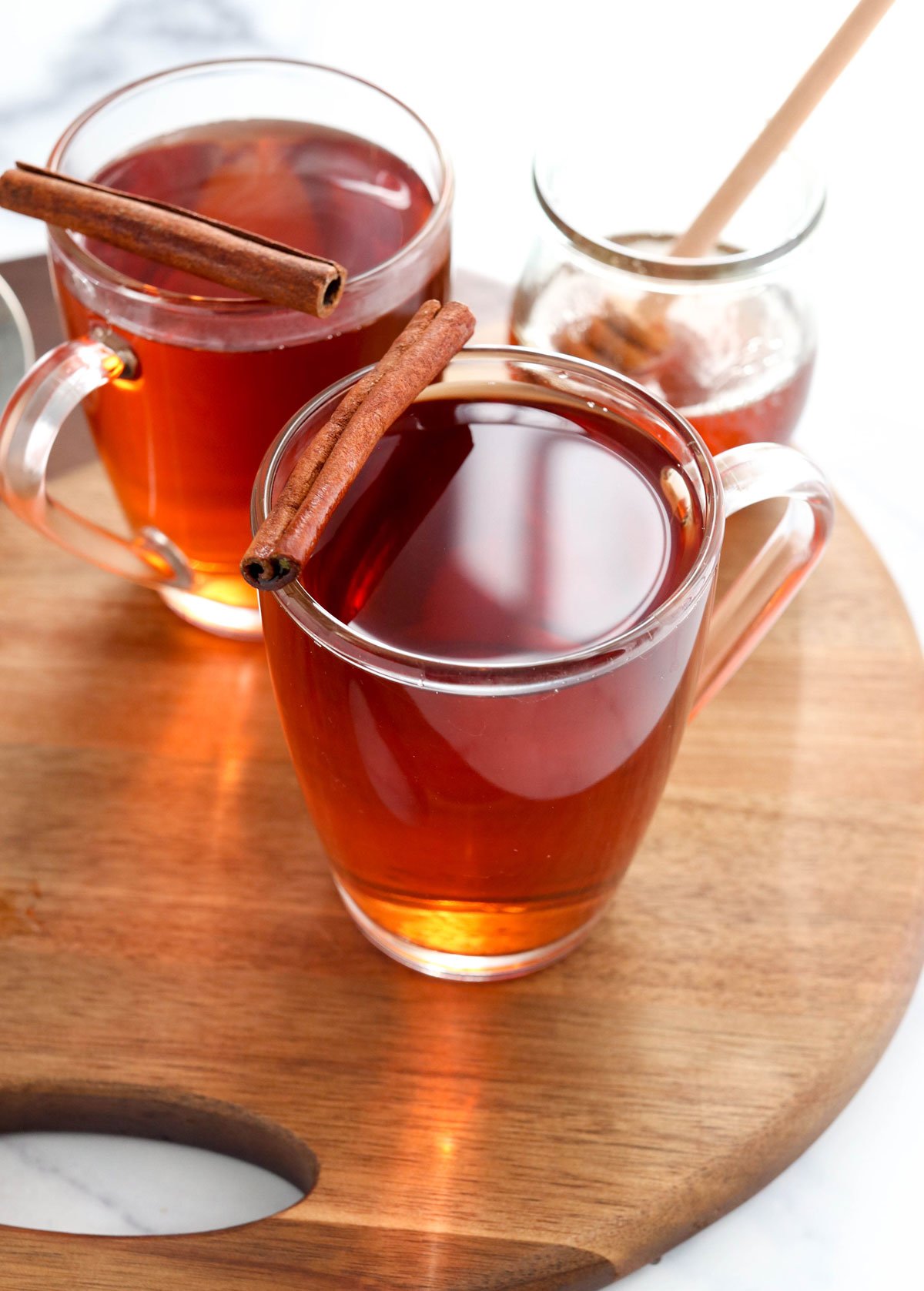 Benefits of Cinnamon
What is cinnamon tea good for? Cinnamon is loaded with antioxidants and has potent anti-inflammatory properties.
Here's why you'll love it:
Another perk? Brewing this cinnamon tea in your kitchen will make your house smell amazing!
How to Make Cinnamon Tea
To make cinnamon tea, you'll simply simmer together cinnamon sticks and water. I use 1 cinnamon stick per 1 cup of water.
Just like making Ginger Tea or Elderberry Tea, you'll simmer the two ingredients together for about 15 minutes. Then strain out the cinnamon sticks (and any small pieces that might fall off during the process) and serve warm.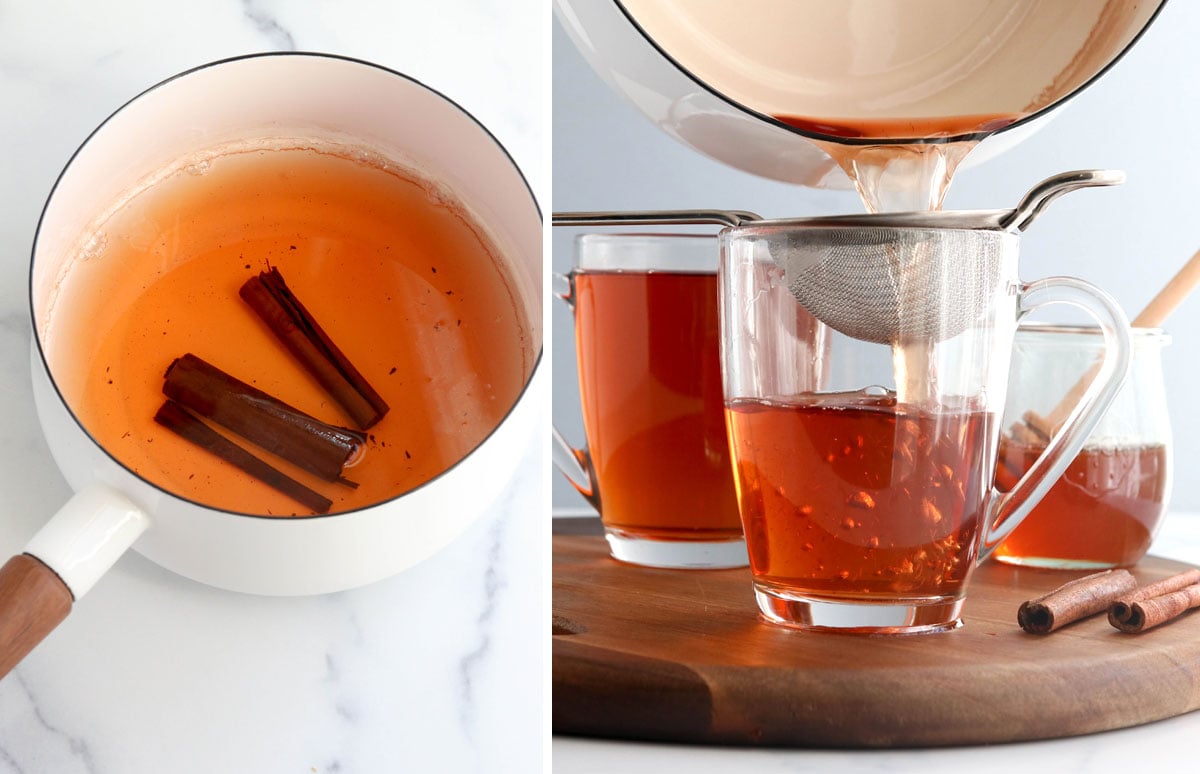 Cinnamon tea tastes lightly sweet and spicy on its own, so you don't have to add anything to it if you don't want to. However, it's also delicious with a squeeze of fresh lemon juice and a drizzle of honey.
Fun Fact: Adding lemon juice to your tea will make it turn lighter in color. Watch it change from an amber red color, to a light yellow-orange color right before your eyes when you add the lemon juice!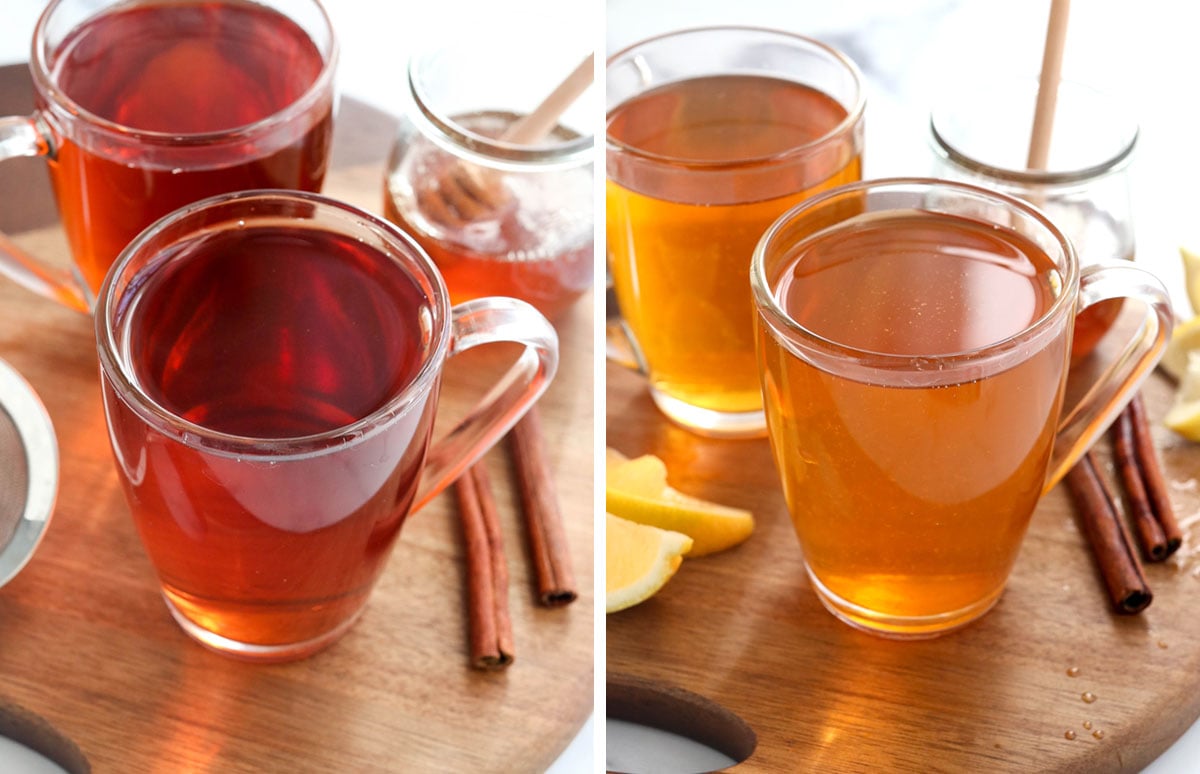 Which Type of Cinnamon is Best?
There are several varieties of cinnamon available, but they tend to be grouped into two categories: Cassia and Ceylon.
Here's the difference between the two:
Ceylon Cinnamon. This is known as "true" cinnamon, though both cinnamon varieties come from the same family of trees. Ceylon cinnamon sticks have a pale brown color, with thin, multiple layers swirled inside. It tends to be a little more expensive and harder to find in grocery stores. It has a more mild, delicate flavor that people seek out, especially when cinnamon is the star flavor in your recipe.
Cassia Cinnamon. This is the more common variety you'll find at the grocery store. The sticks are darker brown, are are rolled in thicker, single sheets. (These are probably what you think of when you think of what a cinnamon stick looks like.) Cassia cinnamon is stronger in flavor, and comes in three varieties: Indonesian, Saigon, and Chinese.
Is it Safe to Drink Everyday?
Cinnamon is generally considered safe in small amounts, but like almost everything, you can overdo it.
Cassia cinnamon contains a compound called coumarin, and eating too much coumarin has been linked to liver toxicity. Even just 1 teaspoon of ground cinnamon per day could be too much when it comes to cassia cinnamon (depending on your body weight, according to this study), while Ceylon cinnamon seems to only have trace amounts of coumarin.
So, it sounds like a good idea to use Ceylon cinnamon sticks when making this tea, if you can get your hands on them.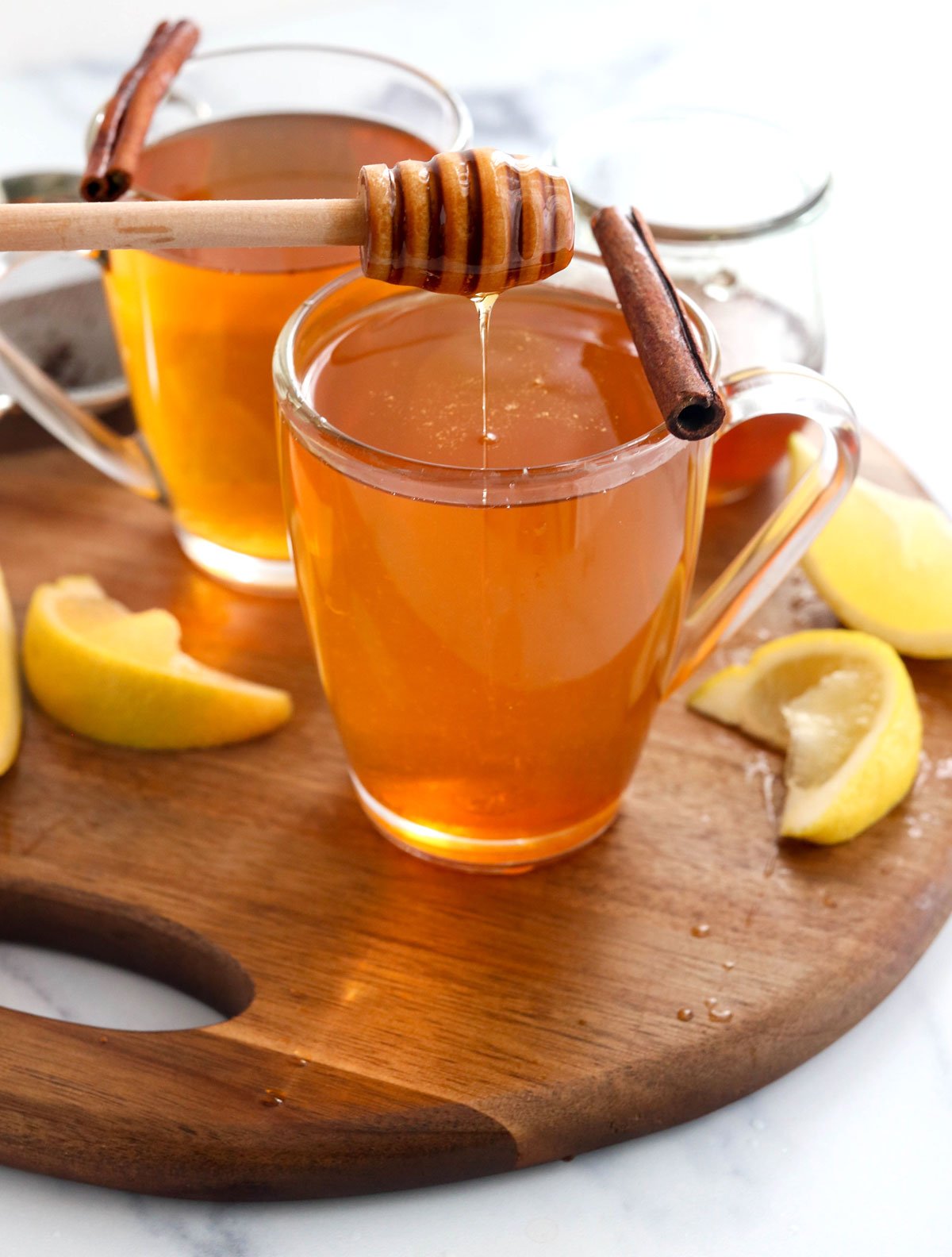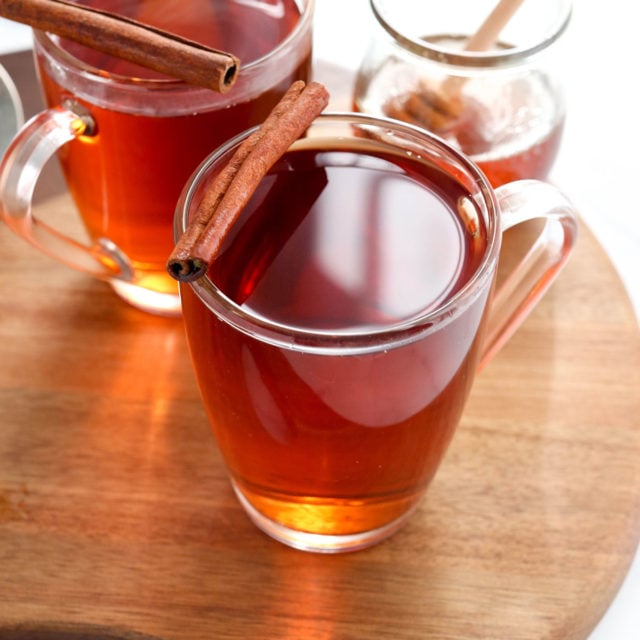 Easy Cinnamon Tea
Cinnamon tea is a warm and slightly spicy drink that's loaded with antioxidants! It's perfect for cold & flu season, or anytime you want to warm up with a cozy drink.
Equipment
Ingredients
2

Ceylon cinnamon sticks

2

cups

water
Instructions
In a small saucepan, combine the cinnamon sticks and water. Bring the pot to a boil, then lower the heat and gently simmer for 15 minutes.

Remove the large cinnamon sticks with a slotted spoon or fork, then pour the tea through a strainer to catch any small pieces that might have flaked off.

Serve warm, with fresh lemon juice and honey, if desired. Leftover tea can be stored in an airtight container in the fridge for up to 3 days if you want to make extra for later! You can serve it cold or reheated.
Notes
Nutrition information is automatically calculated and doesn't take into account that the cinnamon sticks are strained out. So, this is just a rough estimate, and not a guarantee.
Feel free to simmer the cinnamon with other extras, such as sliced ginger, cloves, or fresh rosemary.
Nutrition
Calories:
17
kcal
,
Carbohydrates:
6
g
,
Protein:
1
g
,
Fat:
1
g
,
Saturated Fat:
1
g
,
Sodium:
24
mg
,
Fiber:
4
g
,
Sugar:
1
g
,
Calcium:
84
mg
,
Iron:
1
mg
If you try this Cinnamon Tea, please leave a comment below letting me know how you like it. And if you make any modifications, I'd love to hear about those, too! We can all benefit from your experience.
–
Reader Feedback: What's your favorite warm beverage? My morning go-to is my London Fog or Vegan Latte.