If you love brownies, you're in luck, because these are amazingly decadent.

When it comes to brownies, mine have to have a chewy and fudgy texture. That's pretty difficult to achieve without a large quantity of eggs, butter, and sugar, but after numerous attempts, I think I came up with a pretty delicious solution.
Almond meal provides plenty of fat and fiber to these chewy grain-free brownies, while coconut sugar offers a low-glycemic alternative to traditional white sugar. Granulated sugar is essential for creating that delicious crackled crust on the top of the brownies and gives them their chewy texture, but unlike its refined counterpart, coconut sugar still retains many minerals from the coconut palm, including iron, zinc, calcium and potassium.
I tried to develop this recipe exclusively with coconut sugar (because I always like to keep the ingredient list as concise as possible), but in this case a liquid sweetener was also necessary to provide enough moisture and sweetness. My husband likes to act as my brutally-honest-taste-tester, and he didn't care for these brownies at all until I added the maple syrup– they just aren't sweet enough for most people without it. However, you're welcome to experiment with your family's own taste buds if you want to try to reduce the sugar a bit more. I also added some dark chocolate chips per my husband's request, making it a more traditional brownie with chunks of chocolate in each bite. However, if you prefer a 100% naturally sweetened treat, feel free to leave them out.
To make these brownies egg-free, I first tried using chia eggs as a substitute. The texture turned out well, but the flavor wasn't great– they tasted like a "healthy" brownie, which is fine, but I wanted to make a truly crowd-pleasing alternative. The best option I found was using arrowroot starch! Arrowroot is often used to thicken gravy or added to recipes for babies, but it also makes a great binder in these brownies. You could also use Tapioca Starch/Flour if you prefer, though that substitution does affect the flavor slightly.
I hope you enjoy these brownies as much as I do– they have become quite additive in my home!
—
Chewy Vegan & Paleo Brownies
Makes 16
Ingredients:
1 tablespoon coconut oil
2 tablespoons water
1/4 cup maple syrup
1 teaspoon vanilla extract
1/8 teaspoon salt
1 1/2 cups almond meal (ground almonds)
1/2 cup dark chocolate chips (optional)
Directions:
Preheat the oven to 350F and line a 9-inch by 9-inch baking dish with parchment paper.
Gently melt the baking chocolate and coconut oil in a double boiler and stir until smooth. (Or you can use a heat-safe bowl over a pot of boiling water, like I did– you only need an inch or two of water in the bottom pot.) In a large mixing bowl combine the arrowroot, water, and maple syrup and use a whisk to stir them together, breaking up any lumps. Add in the melted chocolate and oil, along with the coconut sugar, vanilla extract, salt, and stir well. Add in the almond meal, and stir, creating a thick and uniform batter. Stir in the chocolate chips, if using.
Use a spatula to spread the batter evenly into the bottom of the lined baking dish, and smooth the top. This batter is much thicker and stickier than traditional brownie batter so you'll definitely have to use the spatula to spread it well. Bake at 350F for 30 minutes, until the top looks crinkly and your whole house smells like rich, chocolate brownies.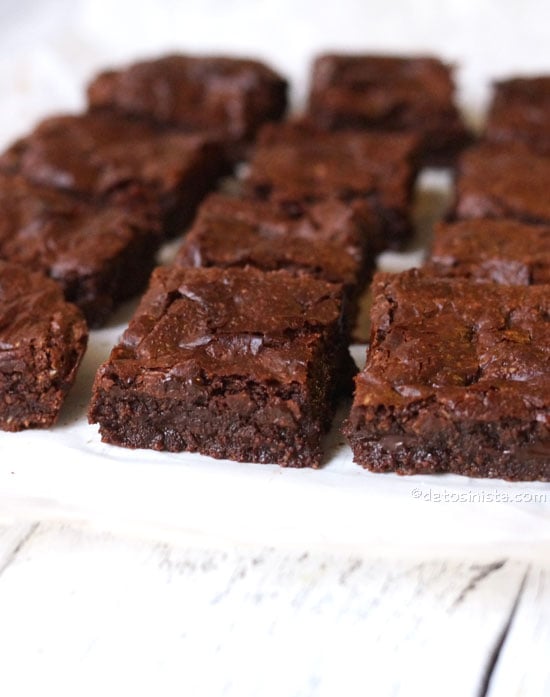 Now comes the hard part– these brownies are WAY too sticky when hot, so you need to wait for them to cool completely before cutting them into squares. I placed mine in the fridge to speed the process along! Once they are cool, cut them into 16 squares and serve at room temperature. These brownies can be stored at room temperature in an airtight container for up to a week, or in the fridge for longer. (Or as long as they last before you eat them.)
Per Serving: Calories: 177, Fat: 10g, Carbohydrates: 20g, Fiber: 2g, Protein: 3g
Note: I don't recommend making substitutions in this recipe, as grain-free and egg-free recipes can be very tricky to work with. If you do make any substitutions, please leave a comment below letting us all know what worked for you!