Making a Chipotle-style burrito bowl at home couldn't be easier with the help of your Instant Pot. Black beans and brown rice cook at the same time (from scratch!) in the same pot, in just a 30 minute pressure cooking cycle. No soaking required!
I set out to create this recipe because my family has committed to eating at home for the next 30 days, and I knew we'd be missing Chipotle as an easy take-out option. We love their burrito bowls! I usually get the vegetarian burrito bowl with brown rice and guacamole, so I figured making that should be my top priority. I've already covered the guacamole recipe!
How to Make Chipotle Burrito Bowls
What I love about Chipotle's black beans is that they are mildly spiced. They have a slightly spicy kick, but they're not so hot that my two-year-old can't eat them, too.
I mimicked their flavor by using a whole chipotle pepper, cumin, and oregano. Chipotle actually uses a few more ingredients in their black beans (according to their ingredient statement) but if you know me, you know I'm a lazy cook and I know I'm not going to pull out too many ingredients to make an easy weeknight meal.
Chipotle Burrito Bowls at Home
The perk of making these burrito bowls at home is that you save money and calories. By making this at home, you are avoiding the added oil that Chipotle adds to both their rice and beans. And by making these items from scratch, this recipe is as cheap as possible!
This recipe uses the magic of pot-in-pot cooking. I use a 2.5-inch trivet and an oven-safe bowl that's roughly 6 or 7 inches in diameter (I use my salad bowls from West Elm) to cook the brown rice at the same time as the beans. I've heard you can also place the trivet that comes with your machine directly on top of the beans, but that would be a little messier.
I think the flavor of this recipe is remarkably similar to Chipotle's, while also being incredibly easy to throw together. The whole process should only take you 5 minutes before you seal the lid!
What You Should Know About Your Instant Pot
In case you're intimidated by your Instant Pot, all you need to know is in the photo below. When the floating valve in the lid "pops up" you'll know your Instant Pot is pressurized, and the cooking cycle should begin soon after.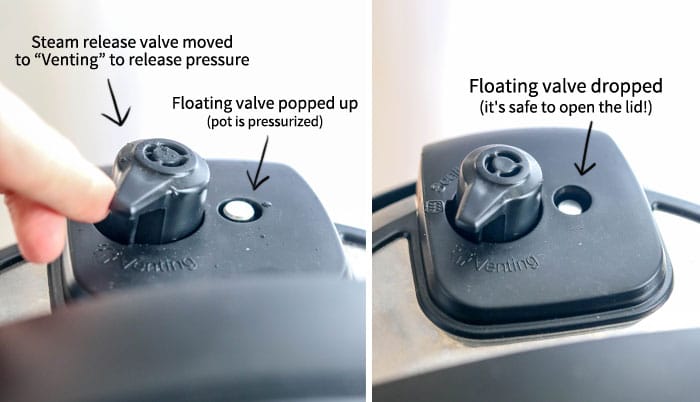 When the natural release is done, you move the steam release valve to "venting" and then the remaining pressure will release through the top. You'll know it's safe to open the lid when the floating valve has dropped again, signaling that the pot is no longer pressurized.
Instant Pot Black Beans
This recipe produces cooked black beans from scratch, without the need to soak them ahead of time. (You can if you want to, but it will shorten the cooking time and changes the rice you can use. See the notes below.)
In my experience, it's best to have the beans covered in water for even cooking results, so when this recipe is done there is a little bit of cooking liquid leftover. When I'm in a rush, I serve them right away with a slotted spoon, but if you prefer you can use the Instant Pot's saute function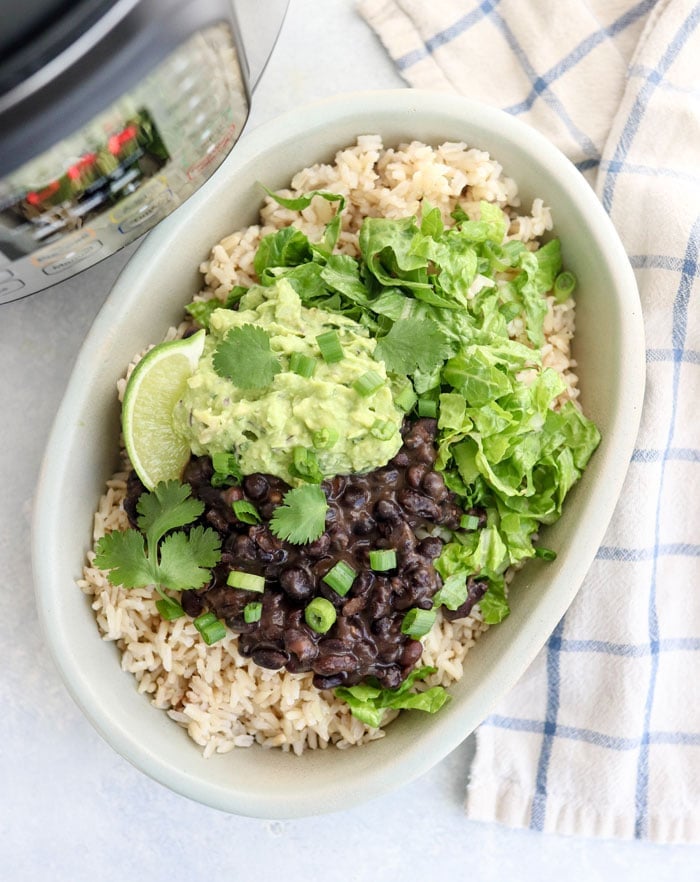 Chipotle Burrito Bowls (in the Instant Pot!)
These Chipotle Burrito Bowls are an easy one-pot meal in the Instant Pot. The black beans & brown rice cook from scratch at the same time! No soaking required.
Ingredients
1

cup

dried black beans

(not soaked)

2 1/2

cups

water

1

whole chipotle pepper

(from a can in adobo sauce)

1

teaspoon

ground cumin

1/2

teaspoon

dried oregano

1

cup

brown rice

1 1/4

cups

water

lime slices & fresh cilantro

, for serving
Instructions
In the bottom of the Instant Pot, add the dry beans, water, whole chipotle pepper, cumin and oregano.


In an oven-safe bowl that is roughly 7-inches in diameter, add the brown rice, 1/4 teaspoon of salt, and 1 1/4 cups of water. Place a 2.5-inch trivet into the beans at the bottom of the pot, so you can place the bowl of rice on top of that.


Secure the lid to your Instant Pot and move the steam release valve to SEALING. Press the MANUAL or PRESSURE COOK button on your machine, then cook at high pressure for 30 minutes. It will take about 10 to 15 minutes for the Instant Pot to come to pressure before the cook cycle begins.


Once the cook cycle is complete, let the pressure naturally release for 10 minutes. The Instant Pot screen will read LO:10 when 10 minutes has passed. Move the steam release valve to VENTING to release any remaining steam pressure. When the floating valve in the lid drops, it's safe to open the lid.


Use oven mitts to remove the bowl of cooked brown rice, and the trivet from the beans. Use a spoon to remove the whole chipotle pepper (so you don't bite into that later), then stir the beans and test them to make sure they are tender by pressing one against the side of the pot with a fork. When they mash easily, you may season them with 1/2 teaspoon of salt. (If they are not tender, you can always return the lid and cook for 5 more minutes, but don't add salt until they are done.)


The beans will be sitting in a little bit of liquid, so you can use the SAUTE function if you'd like to get rid of that quickly. I've found that they become less watery the longer they sit in the pot, so I don't always use the saute function and simply serve them using a slotted spoon instead.

Serve the cooked rice and black beans with your favorite burrito bowl toppings, like shredded lettuce, salsa, guacamole, a squeeze of lime juice, and some fresh cilantro. I like to store the leftovers separately to keep them more visually appealing, but you can store them together for an easy-to-grab lunch later. Leftovers should keep in the fridge for up to a week.

Nutrition
Calories:
339
kcal
,
Carbohydrates:
66
g
,
Protein:
14
g
,
Fat:
2
g
,
Sodium:
16
mg
,
Potassium:
855
mg
,
Fiber:
9
g
,
Sugar:
1
g
,
Calcium:
85
mg
,
Iron:
3.6
mg
Per serving: Calories: 339, Fat: 2g, Carbohydrates: 66g, Fiber: 9g, Protein: 14g
Recipe Notes:
If you would prefer to use soaked black beans, they cook in just 9 minutes at high pressure. With that short of a cooking time, I would use white rice instead of brown in this recipe. You'll still need to use a natural release of 10 minutes so that foam doesn't spurt out of your steam release valve and make a mess.
For spicier beans, add another chipotle pepper before cooking. You can always add a teaspoon of the adobo sauce from the can if you like a little more smoke or spicy flavor, too.
To make the rice more like Chipotle's, stir in a squeeze of lime juice and fresh cilantro before serving. You can add some lime juice to the beans, too! The perk of cooking your own is that you control the seasonings, so feel free to add more to your taste.
Stove Top Directions:
If you don't have an Instant Pot, you can make this recipe on the stove using two separate pots. I would start with beans because they'll take longer to cook than the rice. Since water evaporates with stove top cooking, you'll need to cover the beans with close to 3 inches of water, instead of using the measurements given in the recipe, but include the rest of the ingredients as called for above. Bring to a boil over high heat, then lower the heat to a simmer and cook until the beans are fork-tender. I'd start check on them after 1 hour, but it may take up to 1 hour and 45 minutes for them to be ready. Season the black beans with salt AFTER they are tender for fastest cooking results. Brown rice takes 30 to 45 minutes on the stove, so cook that according to your package directions, and then serve it together with the black beans when both are ready.
–
Reader Feedback: Have you ever made your own beans from scratch before? I'll admit, the Instant Pot makes me much more likely to do it now that it's so hands-off!