This Cauliflower Alfredo Sauce is creamy and delicious, while being deceptively simple! In lieu of the heavy cream, butter and cheese found in traditional Alfredo sauce, this particular version gets its creamy texture from pureed cauliflower— but when you serve it, most people can't even tell.
This sauce is naturally Vegan and Paleo-friendly, but make sure to choose a pasta that also fits your dietary needs by looking at the label. Zucchini noodles make a great grain-free option!
Benefits of Cauliflower
Cauliflower is the ultimate "chameleon" of vegetables, if you ask me. It can easily transform into Cauliflower Fried Rice, Cauliflower Pizza Crust, or a creamy sauce, like this one. Cauliflower also hides well in a Low-Sugar Smoothie, if you're trying to use a little less fruit.
Here are some of the nutritional benefits of cauliflower:
There are 3 grams of fiber in just 1 cup of cauliflower. (That's 10% of your daily needs!)
Cauliflower is high in antioxidants and flavonoids, which may help to lower the risk of cancer and heart disease. (source)
92% of cauliflower is water, and eating water-rich foods have been shown to aid in weight loss.
Cauliflower is high in choline, which is involved in brain development and a healthy metabolism.
How to Make Cauliflower Alfredo Sauce
Making this Cauliflower Alfredo is as easy as steaming fresh or frozen cauliflower until tender, and then blending it until smooth with the rest of the ingredients. The key to this sauce is slightly over-cooking the cauliflower, so that it's very soft and easily blended.
In situations like this, I'm not concerned with losing a few nutrients by over-cooking, because the true benefit of eating this sauce is that it's replacing the heavier version. 
By avoiding the whipping cream, butter and cheese found in traditional Fettuccine Alfredo, you'll be doing your body a favor every time you choose this sauce, instead! Your taste buds will be pretty happy, too.
This low-fat creamy sauce is dairy-free and nut-free, making it the perfect topping for your favorite pasta or vegetables. I could see it being delicious in a homemade lasagna, or even over a white pizza, too! The options are endless. If you follow food combining principles, this sauce is "neutral" and can be served with any other foods you like for streamlined digestion.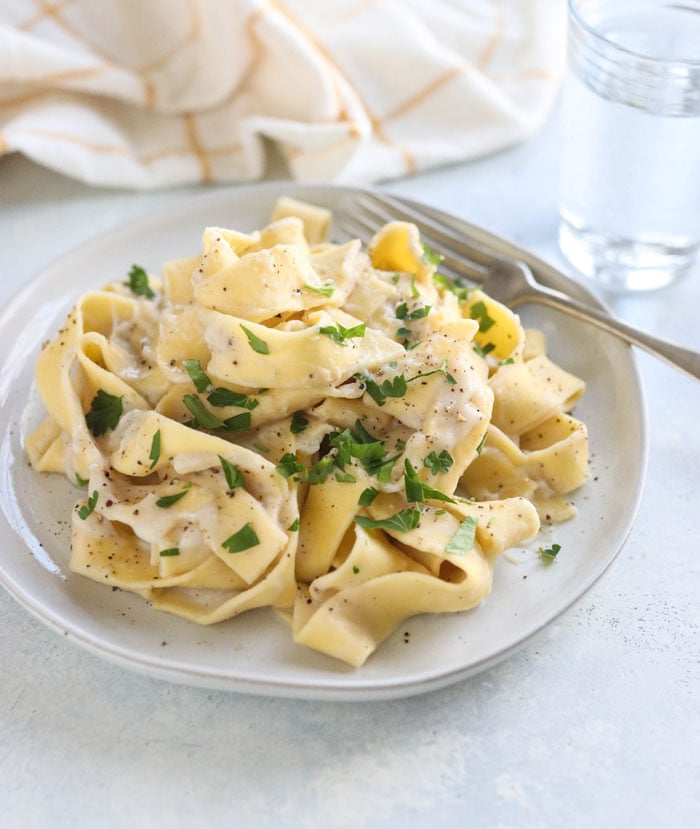 How to Make Cauliflower Alfredo (1-Minute Video):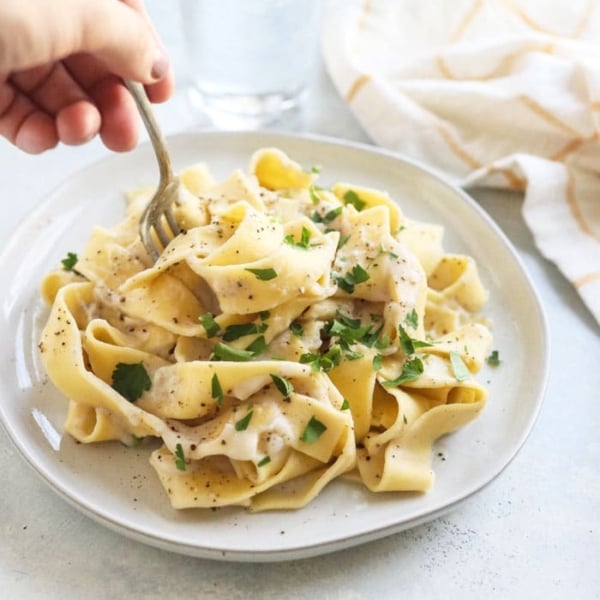 Cauliflower Alfredo (Vegan & Nut-free)
This CAULIFLOWER ALFREDO SAUCE is a healthy pasta topped, made from pureed cauliflower! It's deceptively easy and delicious, while being vegan and paleo friendly.

Ingredients
1

teaspoon

extra virgin olive oil

2

cloves

garlic

, minced

12

ounces

cauliflower florets

(about 3 cups)

1

cup

water

1/2

teaspoon

fine Himalayan salt

, or more to taste

black pepper

, to taste
Instructions
Saute the minced garlic in the oil in a small saucepan over low heat. Allow to cook for a few minutes, until the garlic is tender and fragrant, but not browned.

Add the 1 cup of water to the saucepan, along with the cauliflower, and bring the water to a boil. (The water will not cover the cauliflower, and that's okay.) Once the water is boiling, lower the heat to a simmer and cover the pot to cook until the cauliflower is fork-tender and very soft, about 10 to 15 minutes.


Transfer the entire contents of the saucepan into a blender or food processor, and season with salt and pepper. Process until very smooth and creamy, with a texture similar to traditional cream sauce. (Always be careful when blending hot liquids-- the steam pressure can blow the lid off your blender. Cover the vent in your blender lid with a thin kitchen towel to allow venting.)

Season with additional salt and pepper, if desired, and serve hot over your favorite pasta.

Notes
Keep in mind that this sauce will need additional salt if served over plain pasta or steamed vegetables, as the flavor will get diluted. If you plan on adding another salt source, such as Parmesan cheese, the additional salt may not be necessary.
Nutrition
Calories:
64
kcal
,
Carbohydrates:
9
g
,
Protein:
3
g
,
Fat:
2
g
,
Saturated Fat:
1
g
,
Sodium:
639
mg
,
Potassium:
508
mg
,
Fiber:
3
g
,
Sugar:
3
g
,
Vitamin C:
82.9
mg
,
Calcium:
43
mg
,
Iron:
0.7
mg
Per Serving: Calories: 64, Fat: 2g, Carbohydrates: 9g, Fiber: 3g, Protein: 3g
This sauce is delicious on its own, but it can be extra-tasty with a few add-ins. A few ideas are listed below, but feel free to get creative!
Optional Add-Ins:
A generous topping of freshly grated Pecorino Romano or Parmesan, for an authentic-tasting Alfredo sauce. (If you're not vegan & dairy-free.)
Sun-dried tomatoes and fresh spinach.
Sauteed mushrooms and roasted broccoli.
Nutritional yeast, for a dairy-free "cheesy" flavor.
As always, if you try something different with this recipe, please leave a comment below letting us know what you tried. We can all benefit from YOUR experience!
—
Reader Feedback: What's your favorite pasta sauce?