Acai (pronounced ah-sah-eee) bowls and smoothies have been gaining in popularity for a few years now, but I'm only just now jumping onto this superfood bandwagon. Up until recently it felt like acai puree was an exotic specialty food that wasn't easily available to me, and as you may know, I'm not usually the type to seek out specialty ingredients. My specialty is making recipes from ingredients you already have in your fridge or pantry.
However, all of that has changed now I can find organic unsweetened acai puree packets at Trader Joe's. If you don't have a Trader Joe's near you, I've also seen acai puree packets in the freezer section at Whole Foods and even some traditional grocery stores, if you're inclined to give them a try.
Why is acai good for you?
It is thought to have more antioxidants than any other fruit.
It contains medium chain fatty acids, including oleic acid (omega-6) and linoleic acid (omega-9 fatty acids), which are thought to reduce LDL cholesterol and raise HDL cholesterol. These healthy fats promote both heart and skin health.
It contains important minerals, including potassium, iron, and magnesium. Potassium is important for maintaining healthy blood pressure levels.
It contains plant compounds that are thought to be anti-aging, anti-inflammatory, and anti-cancer by protecting the body from free radical damage.
Other than its unusually high antioxidant and healthy fat content, I'm not convinced that acai berries are any more of a "superfood" than any other berry. I think they are a healthy addition to your diet and taste great, but I don't think there's any reason to go overboard on them. (According to the Mayo Clinic, consuming large amounts of acai berries may affect the results of an MRI scan.)
What really sold me on this acai smoothie is how much my 3-year-old son loves it! The first time I made it, he drank a full 16-ounce cup of this smoothie, and then asked me to make him another one. I can't remember the last time he did that. Perhaps it's the creaminess that the acai adds to this smoothie?
Because of its healthy fat content, I've noticed that this smoothie seems creamier than a typical fruit smoothie, as if you've added a bit of avocado or full-fat coconut milk to it. I hope you'll enjoy this cold and creamy shake as much as we do. Since it's dairy-free, that makes it vegan and paleo friendly, too!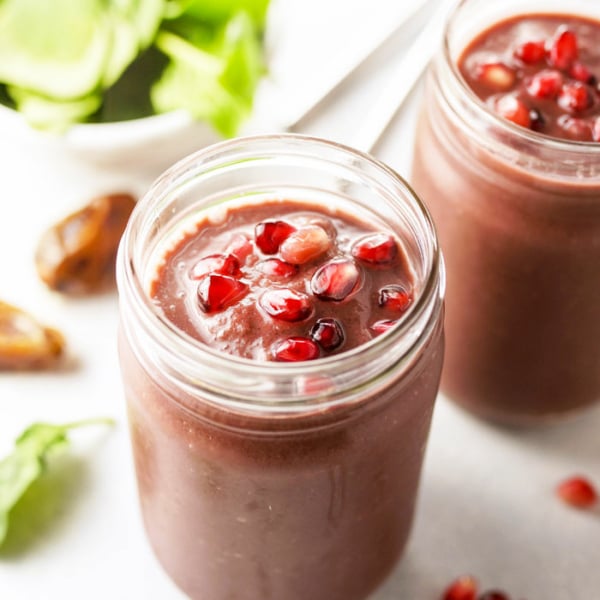 Vegan Acai Smoothie Recipe
This is the BEST acai smoothie recipe! Using Trader Joe's affordable organic unsweetened acai packets, this healthy smoothie is quick, easy, vegan and paleo.
Ingredients
1

(100 gram) pouch frozen unsweetened acai puree

2

soft Medjool dates

, pitted

1/2

cup

fresh orange juice

1

cup

water

1

cup

frozen mango chunks

Large handful of fresh baby spinach

Handful of ice cubes

(optional)
Instructions
To open the frozen pouch of acai puree, run it under warm water for 10 seconds. You should feel the puree loosen enough to break it up into chunks and will easily be able to open the bag with scissors.

In a high-speed blender, combine the acai puree, dates, orange juice, water, frozen mango, and spinach and blend until completely smooth.

If you'd like a thicker shake, feel free to add a handful of ice cubes and blend again until your desired texture is achieved. Serve immediately.
Nutrition
Calories:
381
kcal
,
Carbohydrates:
78
g
,
Protein:
5
g
,
Fat:
6
g
,
Saturated Fat:
2
g
,
Sodium:
71
mg
,
Potassium:
868
mg
,
Fiber:
9
g
,
Sugar:
59
g
,
Vitamin A:
4100
IU
,
Vitamin C:
164.2
mg
,
Calcium:
110
mg
,
Iron:
3.1
mg
Per Serving: Calories: 381, Fat: 6g, Carbohydrates: 78g, Fiber: 9g, Protein: 5g
Substitution Notes:
When I run out of my acai packets, I've successfully fooled my son by substituting roughly 1 cup of frozen wild blueberries to replace the acai packet. (I think acai tastes very similar to wild blueberries.) You may want to add 1/4 of an avocado when making this substitution to make up for the creaminess that acai provides, which will also leave you feeling satisfied longer.
If you'd prefer to skip the orange juice, I like to add a tablespoon of freshly squeezed lemon juice to balance out the sweetness of this smoothie, then make up the rest of the difference with water.
As always, if you make any other substitutions, please let us know in the comments below so that we can all benefit from your experience.
—
Reader Feedback: Have you caught on to the acai berry trend yet? If so, what's your favorite way to use it?