These Coconut Flour Pancakes are amazingly fluffy and naturally gluten-free. I love how quick and easy they are to prepare, and since they are made with coconut flour, they have more fiber and protein than traditional pancake recipes, too. They should keep you feeling satisfied for hours!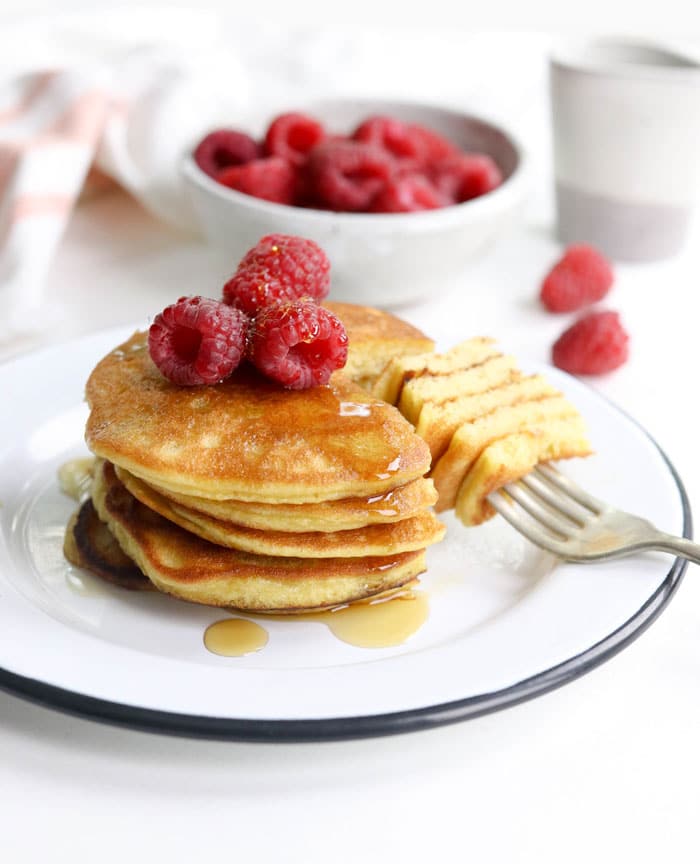 How to Make Coconut Flour Pancakes
Making these pancakes is as easy as making any other pancake recipe. All you need to keep in mind is that coconut flour does require a precise, level measurement. I like to dip the measuring cup into the flour, then use the back of a knife to level off the top, removing any excess flour from the top. (You can see how I do this in the recipe video towards the bottom of this post.)
After that, you'll just stir the handful of ingredients together in a large bowl, and then cook the pancakes in a greased skillet. Just like any other pancake recipe, it's important to use medium-low heat so that the outside of the pancake doesn't burn before the inside of the pancake is cooked.
What Does Coconut Flour Taste Like?
Not surprisingly, coconut flour has a flavor similar to dried unsweetened coconut. The flavor isn't overwhelming in this pancake recipe, especially if you serve it with fruit or maple syrup on top, but I do think you can taste a hint of coconut.
Can You Substitute Coconut Flour for Regular Flour?
Do not be tempted to make substitutions with this recipe. Coconut flour is a very unique ingredient, in the fact that it's very high in fiber and requires more eggs than other recipes for structure. If you want a recipe using regular flour, I'd start with a recipe that calls for the type of flour you have on hand.
If you'd like to use another type of gluten-free flour, try one of the following options:
I also don't recommend trying to use a flax egg as an egg substitute in this recipe. Coconut flour really works best with real eggs, but you might try one of the vegan recipes above for an egg-free option.
Is Coconut Flour Paleo and Keto Friendly?
If you're following a low-carb or grain-free diet, coconut flour makes a pretty good choice. Two tablespoons of coconut flour has only 4 "net carbs," making it a low-carb choice compared to the 12 grams of net carbs found in two tablespoons wheat flour.
I've included notes to make this recipe sugar-free, by using a sugar-free syrup of your choice. If you make the pancakes this way, they are keto-friendly and have only 1 gram of net carbs per pancake.
How to Make Coconut Flour Pancakes (3-minute video):
Coconut Flour Pancakes (Dairy-free + Keto-Friendly)
These Coconut Flour Pancakes are amazingly fluffy and naturally gluten-free. They're a great low-carb alternative to traditional pancakes, with extra protein and fiber to help keep you feeling satisfied.
Ingredients
1/4

cup

coconut flour

(use a level measurement)

3

large eggs

2

tablespoons

olive oil

2

tablespoons

maple syrup

(or sugar-free syrup for keto)

1

teaspoon

baking powder

(see note)

1

teaspoon

vanilla extract

1/8

teaspoon

fine sea salt
Instructions
In a large bowl, combine the coconut flour, eggs, oil, maple syrup, baking powder, vanilla extract, and salt. Use a whisk to stir it all together, breaking up any clumps.

In a greased skillet over medium-low heat, add 3 tablespoons of the pancake batter and allow it to cook until bubbles start to form in the middle of the pancake, about 4 to 5 minutes. Flip the pancake and let it cook on the other side, about 4 more minutes, or until both sides are golden. Don't be tempted to increase the heat to speed up the cooking time, or the outsides of the pancake might burn before the inside is cooked through and fluffy.

Repeat with the remaining batter, making roughly 6 small pancakes (about 5-inches in diameter). Serve warm with your favorite toppings. Leftover pancakes can be stored in an airtight container in the fridge for up to 3 days.
Nutrition
Calories:
96
kcal
,
Carbohydrates:
3
g
,
Protein:
3
g
,
Fat:
7
g
,
Saturated Fat:
2
g
,
Cholesterol:
82
mg
,
Sodium:
139
mg
,
Potassium:
98
mg
,
Fiber:
2
g
,
Sugar:
1
g
,
Vitamin A:
120
IU
,
Calcium:
41
mg
,
Iron:
0.6
mg
Coconut Flour Pancake Nutrition (per pancake): Calories: 114, Fat: 7g, Carbohydrates: 8g, Fiber: 2g, Protein: 3g
Pancakes made without Sweetener (per pancake): Calories: 96, Fat: 7g, Carbohydrates: 3g, Fiber: 2g, Protein: 3g
Recipe Notes:
I don't recommend making substitutions for the flour or eggs in this recipe. Please see the notes above for other pancake recipes that use other flours or are egg-free.
Texture-wise you can make this pancake recipe with water instead of syrup, but readers have reported that this makes them too salty. If you want to use water, I recommend using no added salt, and prepare for these to taste more like a coconut-y biscuit than a pancake.
If you're following a grain-free diet or need to avoid corn, be sure to look for a baking powder that is made with arrowroot starch instead of cornstarch. In a pinch, you can use 3/4 teaspoon of baking soda instead, but the pancakes might not be quite as fluffy in that case.
If you try this recipe, please leave a comment below letting me know how you like it! And if you try a substitution, let me know how that works out for you, too. We can all benefit from hearing about your experience.
–
Reader Feedback: What's your favorite thing to make with coconut flour? Mine is Coconut Flour Cookies and Coconut Flour Banana Bread!