Ginger tea is about to become your new favorite drink. It's warm and comforting, and takes only 5 minutes to make at home!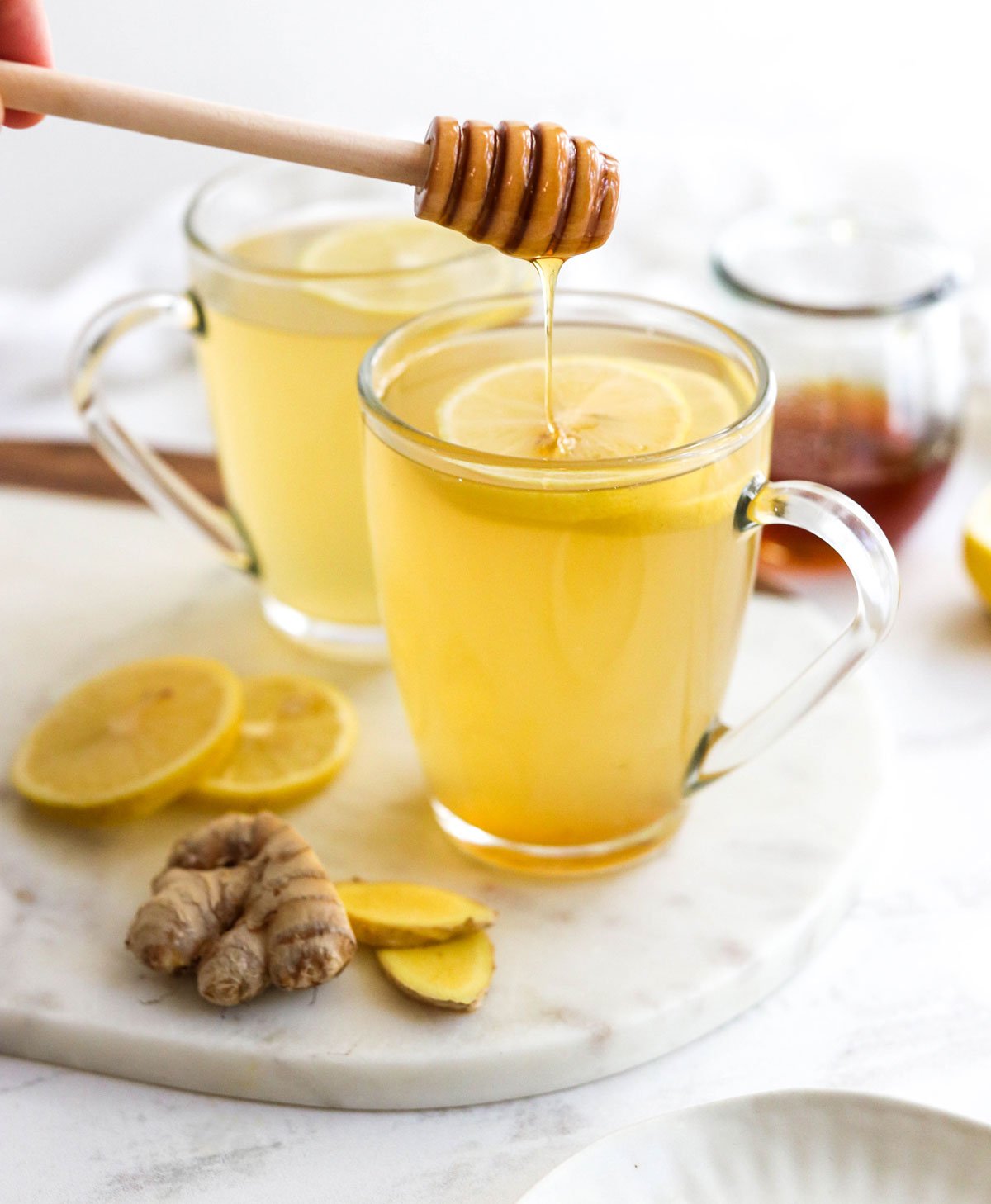 Ginger tea is also called "ginger water" because it's essentially just a ginger-infused water. You simmer fresh ginger and water together, then strain out the large ginger pieces. This cup of tea is quite spicy, and will warm you up from the inside out. It's perfect during cold & flu season, or anytime you need a cozy drink.
If you've ever made cinnamon tea or elderberry tea, you'll love this one, too!
Adding a squeeze of lemon and honey right before serving helps to cut the spice, while also adding in an extra dose of immunity-boosting vitamin C.
Honey is also an extra source of antioxidants, which has been linked to lowering cholesterol and blood pressure.
Health Benefits of Ginger
Ginger has long been used in traditional medicine, thanks to it's potential health benefits. It's main active compound is called gingerol, which has been shown to have anti-inflammatory and antioxidant properties. Below, you'll find more potential ginger tea benefits.
• It may help relieve morning sickness and nausea. 
Ginger may be effective at reducing nausea and vomiting, particularly with pregnancy-related nausea in the first trimester.  (This study suggests that you should avoid ginger if you've had miscarriages or are close to labor.)
It has also been studied as a potential aid for reducing surgery-induced nausea and chemotherapy-incuded nausea.
• It may aid in weight loss efforts. 
One review suggests that ginger supplementation may help significantly reduce body weight and increased the "good" HDL cholesterol. In an animal study, ginger water was shown to reduce body weight, which the researchers believe happens due to a change in metabolizing proteins. (In other words, it may increase the number of calories burned.)
• It may help lower blood sugar levels.

In a study of participants with Type 2 diabetes, ginger powder supplementation significantly lowered fasting blood sugar, and improved their A1c levels by up to 10% over 12 weeks.
• It may help to improve digestion.
Ginger has been shown to speed up the emptying of the stomach, which may in turn, help reduce symptoms of indigestion. In a study of healthy individuals, those who were given ginger before a meal emptied their stomachs almost twice as fast as those who were given the placebo.
• It may offer pain relief .
Particularly for menstrual cramps! One study suggests that ginger powder may be as effective as taking 2 NSAIDs (medication like ibuprofen) for pain relief.
Keep in mind, I'm not a doctor, so be sure to consult your physician if you have any questions or concerns about ginger tea.
How to Make Ginger Tea
1. Slice.
Slice the fresh ginger root into pieces no larger than 1/4-inch thick. There's no need to peel it, since you'll be straining out these large pieces later. Do be sure to wash off any visible dirt from the skin, though.
2. Simmer. 
Place the ginger slices in a small saucepan, and add water. You'll want to use about 1-inch of ginger per 8 to 12 ounces of water, so make as much or as little tea as you want to.
Bring the water to boil over high heat, then lower the heat to a simmer. Stir occasionally, and let the ginger simmer in the water for at least 5 minutes. You can let it simmer longer, up to 10 minutes, for an even stronger ginger flavor. (But trust me when I say 5 minutes is enough for a pretty spicy tea!)
Alternatively, you can pour boiling water over the sliced ginger in a mug and let it steep, like tea, but it will have a more mild flavor compared to the simmered version.
3. Enjoy!
Remove the pan from the heat, then pour the hot water through a fine mesh strainer to catch the ginger pieces. Serve warm, with lemon juice and a drizzle of honey, to taste.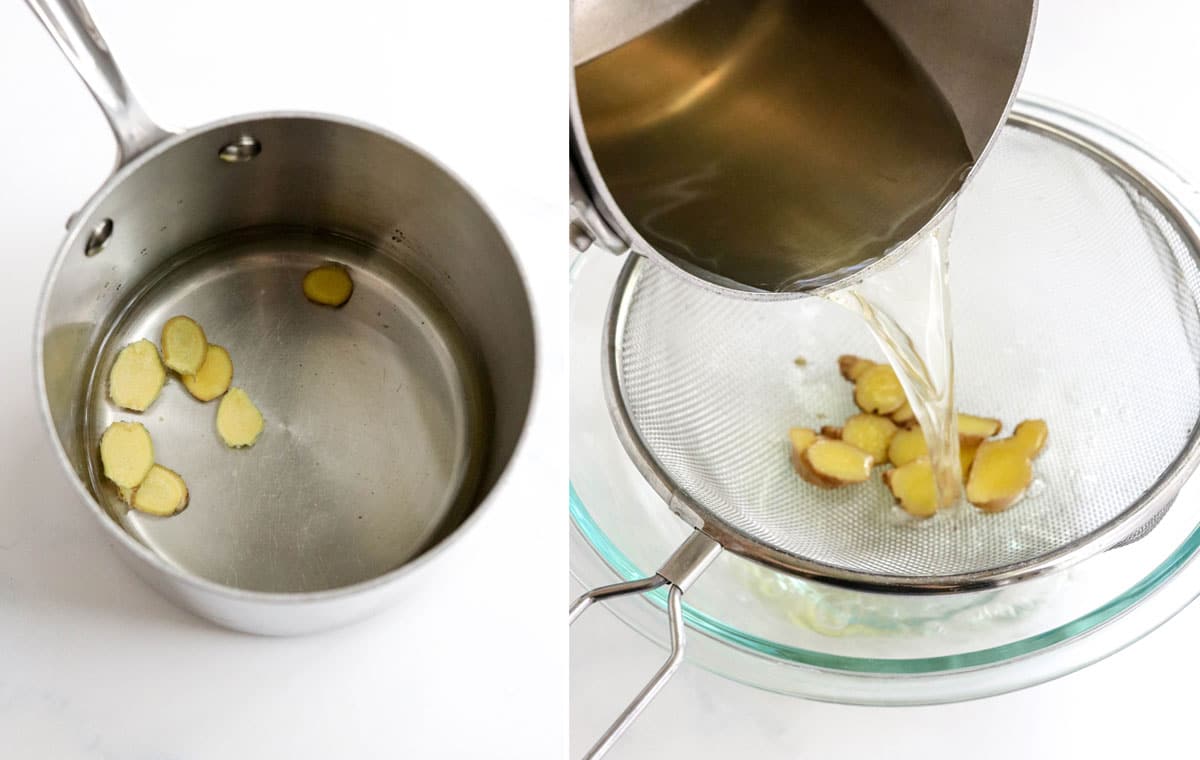 Variations
Want to add extra flavor to your fresh ginger tea? Try one of these optional ingredients below.
Cinnamon. Add a cinnamon stick to the boiling water, and let it simmer alongside the fresh ginger slices. It will add extra spice, and may even help to fight bad breath.
Fresh turmeric. You can slice turmeric root just like the ginger root, and boil it together for extra anti-inflammatory properties. Add a pinch of black pepper, to help make the curcumin it contains more bio-available.
Orange slices. Did you know that orange peel contains more polyphenols than the actual fruit inside? Throw a few slices in (skin and all!) to boil with the ginger, for an extra boost of flavor and nutrients. Don't add too many, though, or the orange peel can make the drink taste more bitter.
Fresh herbs. For a fresh flavor, add in fresh mint or rosemary, to pair with the ginger as it boils. They can be very potent, so start with just a small amount. (2-3 mint leaves or 1 sprig of rosemary, for example.)
Need to keep this drink vegan? Feel free to swap the honey for maple syrup as the sweetener, instead.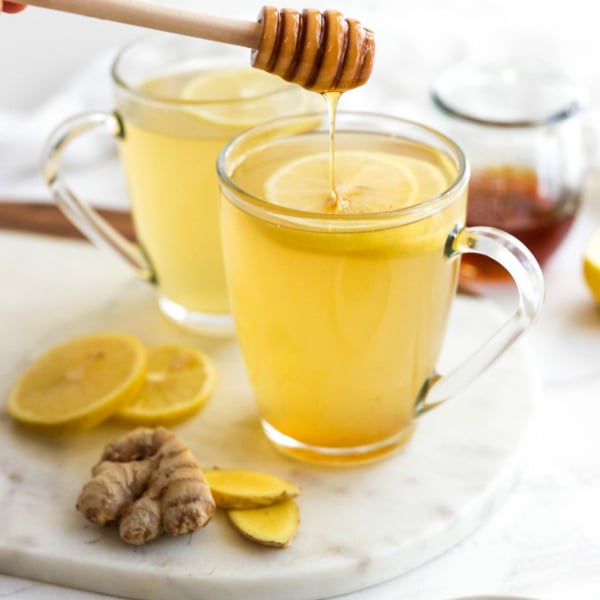 Ginger Tea
Ginger tea is easy to make at home, without any expensive tea bags! It's ready to drink in less than 10 minutes, and will warm you up from the inside out.
Ingredients
1

inch

fresh ginger

8 to 12

ounces

water

lemon

, to taste

honey

, to taste
Instructions
Slice the ginger into thin pieces, no more than 1/4-inch thick. There's no need to peel it, but you should wash off any visible dirt from the skin.

Place the sliced ginger in a small sauce pan, and cover with 8 to 12 ounces of water. If you want to make more than one serving, you can double or triple this recipe, as needed.

Bring the water to a boil, then lower to a simmer. Let the mixture simmer for at least 5 minutes (or up to 10 minutes), and then remove from the heat.

Pour the liquid through a fine mesh strainer to catch the large ginger pieces, then serve warm with a squeeze of fresh lemon and honey, to taste.

You can store extra ginger tea in an airtight container in the fridge for up to 1 week. Serve it cold or reheated.
Notes
Nutrition information is for 1 serving of ginger tea, without the lemon or honey, since that is added to taste. This information is just an estimate, and not a guarantee.
Nutrition
Calories:
6
kcal
,
Carbohydrates:
1
g
,
Protein:
1
g
,
Fat:
1
g
,
Saturated Fat:
1
g
,
Sodium:
12
mg
,
Sugar:
1
g
If you try this ginger tea recipe, please leave a comment and star rating below, letting me know how you like it!