These Gluten-Free Cinnamon Rolls are life-changing. They have a soft and gooey center, and when you top them with your favorite icing, I think they're totally irresistible.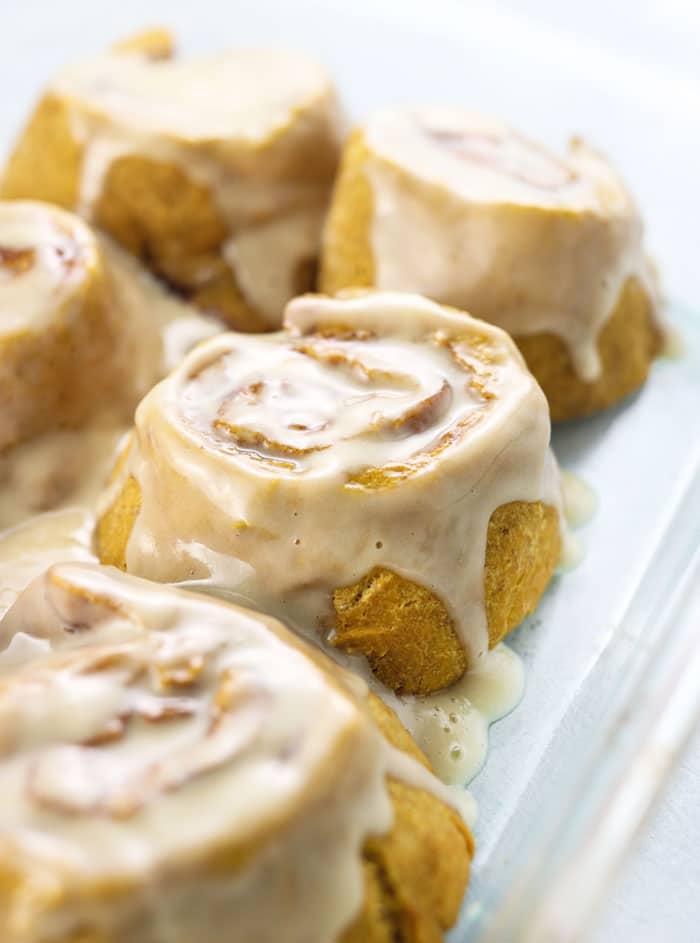 My standards are pretty high when it comes to cinnamon rolls, which is why it took me an embarrassing number of attempts to get these just right. My family has always made Paula Deen's recipe at Christmas every year, but I wanted to see if I could create gluten-free and vegan cinnamon rolls that resembles hers. I think this recipe is pretty darn close!
I tried making my own gluten-free flour blend for my first round of experiments, but I soon discovered that it was WAY easier and more convenient to use a mix that you can simply pick up at the store.
I settled on Bob's Red Mill 1-to-1 Gluten-Free Baking Flour because it's available almost everywhere and works really well. If I can find it at my local Target and regular grocery stores here in Kansas, I feel like most people will be able to find it elsewhere, too.
(Do not mistake this blend for Bob's Red Mill All-Purpose Gluten-Free Flour… which tastes terrible, in my opinion. It has to be the 1-to-1 Baking Flour!)
I also added some ingredients that you don't normally see in a traditional cinnamon roll recipe, like ground chia seeds and pumpkin puree. These things greatly improve the texture of the cinnamon rolls, so please try this recipe as written before making any changes.
Trust me when I say I've tried this recipe without them, and these two extra ingredients make a world of difference. (The extra nutrient boost doesn't hurt, either!) Rather than tasting like a "pumpkin cinnamon roll" I think these taste like they were made with a whole wheat pastry flour, which is still pretty good when we're talking about gluten-free baked goods. (Some gluten-free recipes taste downright awful depending on the flour blend you use.)
The trickiest thing I've found with working with cinnamon rolls is the yeast aspect. My favorite cinnamon roll recipe uses yeast, so I knew I'd need to use it for an authentic copycat, too. However, what I didn't know is how many things can go wrong with yeast. (Fact: This is the ONLY recipe on my website that calls for active yeast. And it will probably stay that way!)
Here are some tips to help you work with yeast and avoid common mistakes:
Proof the yeast in a separate bowl. Use warm water and the amount of sugar called for, so that you'll know if the yeast is active without wasting any of your other ingredients. The water needs to be warm to the touch, like bath water. If it's too hot or too cold, the yeast won't rise (and you'll be left with a yucky yeast flavor).
Don't use too much yeast. I made the mistake of using a whole packet of yeast in this recipe, but it's not necessary with only 2 1/2 cups of flour– just 1 teaspoon will do, and will help ensure that you don't wind up with yeasty-flavored cinnamon rolls.
Don't rise in too warm of an area. I thought that it would be a good idea to let my rolls rise in a warm oven (around 110-120ºF), since my kitchen was so cold, but if the yeast rises too fast, it can give your cinnamon rolls a yeast-heavy flavor that isn't appealing. I still put my rolls in the oven to rise when my kitchen is freezing, but now I make sure it's closer to 80ºF inside, so it's more similar to a warm room of your house. You can also simply place the rolls on top of your preheating oven for a warm spot to rise.
Try different brands of yeast. I found that Red Star brand worked significantly better for me, compared to Fleischmann's brand. And please note that this recipe calls for active dry yeast, not the rapid rise or instant version.
When pressing out the cinnamon roll dough, be sure to line your countertop with parchment paper (or even plastic wrap), as it will help you roll the dough easily. I use this method for making ANY type of cinnamon roll, because I find all the "good" doughs are usually somewhat soft and fragile.
Fragile dough = tender cinnamon rolls!
A perfect cinnamon roll dough should be slightly sticky to the touch, without being wet. You'll need to sprinkle a little flour on the top of the dough while pressing it out to help prevent it from sticking to your hands. Don't be tempted to add too much extra flour to this recipe, as gluten-free flour is very drying and will result in more dense, biscuit-like rolls.
Make Ahead Cinnamon Rolls
If you ask me, cinnamon rolls are always the very best when you make them fresh, but if you're feeling rushed for time, you can also make these ahead of time. There are two ways to do it:
Rise Ahead. You can make the dough, roll out the cinnamon rolls and let them rise for 45 to 60 minutes. Then cover and chill in the fridge overnight. When you're ready to bake them, let them come to room temperature (so your glass pan doesn't shatter) then bake as directed.
Bake Ahead. You can bake these ahead of time and store them in an airtight container in the fridge for up to 3 days. (Don't frost them yet.) When you're ready to reheat, bake the rolls at 350ºF until heated through, about 10 minutes. Add the icing once they cool slightly.
Can You Make Gluten Free Cinnamon Rolls with No Yeast?
Yes, you can. You can leave the yeast out of this recipe and bake them as directed, with more dense results. Keep in mind that yeast makes cinnamon rolls light and fluffy, so when you leave it out the result is more dough-y in texture and the cinnamon rolls won't rise and spread like you might be used to. However, I think these rolls still taste good without the yeast and you won't have to worry about all the yeast troubleshooting tips I mentioned above.
Just don't expect a fluffy cinnamon roll when you leave out the yeast.
When you leave out the yeast, I do like to double the baking powder to help add more leavening to the recipe. (And make sure you include the vinegar to help react with the leavening ingredients!)
The Best Gluten-Free Cinnamon Rolls
I hope you'll enjoy these gluten-free and vegan cinnamon rolls for your next special occasion. To keep this recipe nut-free, you can use the powdered sugar icing below (we usually use powdered sugar on Christmas morning!), or to keep these naturally sweetened, try the Maple Glaze option that you see pictured in this post.
I hope you'll enjoy them!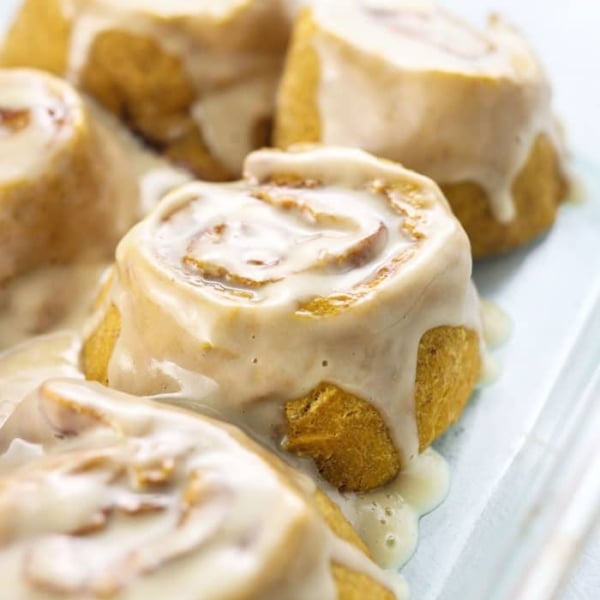 Gluten-Free Cinnamon Rolls (Vegan!)
Special Treat | Gluten-Free, Dairy-free, Soy-Free, Egg-Free, Nut-Free, Vegan
These Gluten-Free Vegan Cinnamon Rolls are light and fluffy, made with Bob's Red Mill Baking Flour. They're totally irresistible!
Ingredients
Instructions
In a small bowl, combine the yeast, warm water, and coconut sugar and whisk together. Let it rest for 10 minutes until a foam develops on top. (This ensures that your yeast is active.)

While the yeast is proofing, combine the remaining water, pumpkin, and coconut oil in a small saucepan over low heat on the stove. Warm and stir until the coconut oil is melted. Don't boil this-- you want the liquids warm, but not hot to help the dough rise without killing the yeast. (Don't go above 110ºF.)

In a large bowl, whisk together the flour, ground chia seeds, sugar, baking powder, baking soda, and salt.

Pour the warm liquid from the saucepan into the flour mixture, and add in the apple cider vinegar. Stir well, then add in the yeast mixture. Stir well until a uniform dough is created. It should be slightly sticky to the touch, but not too wet.

Line your counter with a large piece of parchment paper and turn the dough out onto the paper. Sprinkle the top of the dough with a tablespoon of flour and use your hands to press out a large rectangle, about 10-inches by 15-inches. Use more flour as needed to press out the dough evenly.

Brush melted coconut oil over the top of the large rectangle, using only as much as needed to cover the surface. Sprinkle the top with a layer of coconut sugar, then sprinkle cinnamon over that. (I don't formally measure, I just try to make even layers.)

Starting from the long side of the rectangle, use the parchment paper to help roll the dough into a long log with a spiral of cinnamon sugar in the middle. (See photos for reference.)

Use a serrated knife to slice the log in half, so you're left with two pieces. Slice each piece in half again, so you have 4 pieces, and then slice those in half again, leaving you with 8 evenly-sized rolls. Arrange the rolls in a greased 9-inch by 13-inch glass baking dish and set them in a warm place to rise for 45 minutes. (Preferably a room that's 75-80 degrees)

Once the rolls have risen, they should be touching. (They won't double in size.) Bake at 350ºF until cooked though, about 25 minutes. If you placed the rolls in a smaller pan, like a cake pan, you might need to bake them for 30 minutes.

While you let the rolls cool for 10-15 minutes, prepare the icing.

Maple Glaze: Combine the drained cashews, maple syrup, 4 tablespoons of water, and vanilla in a high-speed blender and blend until smooth. Add more water, as needed, to facilitate blending.

Powdered Sugar Icing: Combine the sugar, 1 tablespoon of water, vanilla, and salt and stir until smooth. Add more water, as needed, to thin the icing.

Pour the icing over the warm cinnamon rolls and serve. Leftovers can be stored in an airtight container in the fridge for up to a week, but like most cinnamon rolls, these taste the very best when you serve them the day you make them.
Nutrition
Calories:
273
kcal
,
Carbohydrates:
41
g
,
Protein:
5
g
,
Fat:
11
g
,
Saturated Fat:
7
g
,
Sodium:
237
mg
,
Potassium:
174
mg
,
Fiber:
7
g
,
Sugar:
8
g
,
Vitamin A:
4765
IU
,
Vitamin C:
1.3
mg
,
Calcium:
104
mg
,
Iron:
2.3
mg
Per Serving: Calories: 273, Fat: 11g, Carbohydrates: 41g, Fiber: 7g, Protein: 5g
Recipe Notes:
If you don't want to add pumpkin to the recipe, feel free to use water instead. I've tested it that way, and it's fine, but I prefer the texture with the pumpkin. Applesauce or butternut squash puree should work, too, though applesauce will change the flavor and might be noticeable.
I have not tested this recipe with other gluten-free flour mixes, so I can't predict how other blends might work. If you try something else, please leave a comment below letting us know what worked for you.
I tried baking several batches in a round cake pan, but I found that the rolls need a longer baking time and have a doughier texture when baked that way. Try baking for at least 30 minutes in a 9-inch cake pan or square pan.
Because these cinnamon rolls are gluten-free and vegan, they do have a slightly different taste and texture from traditional cinnamon rolls. I recommend making a test-batch before making them for a big holiday event, just to make sure YOU like them before attempting to serve them to company!
(This should really be  a rule for any recipe, but I thought it was worth repeating for this recipe– practice makes perfect, so it's a good one to try ahead of time!)
—
Reader Feedback: Do you have a special holiday treat that you make every year? I'm so excited to test this one on all of my family members this year!
SaveSave
SaveSave
SaveSave