If you like peanut butter, you're going to LOVE this fudge. It's smooth and creamy, dairy-free, and naturally sweetened with pure maple syrup, but I think it will fool any of your sugar-loving friends and family.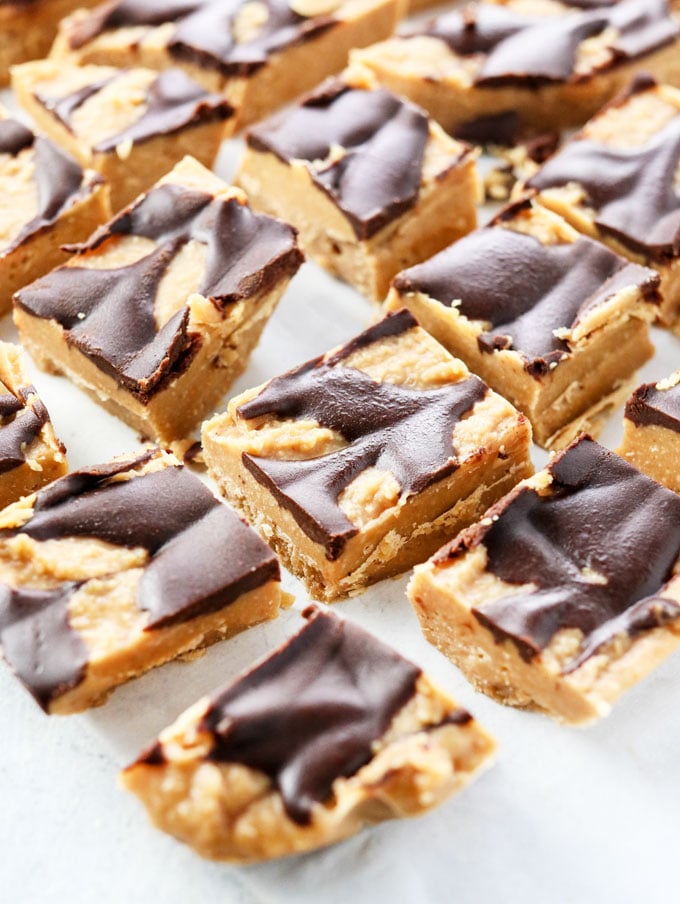 I think the first time I ever tasted a peanut butter-based fudge was shortly after I graduated college. I was dating my now-husband and was inspired to try following a vegan diet for the first time. My sister-in-law brought us a 3-ingredient vegan fudge made with peanut butter, vegan margarine, and powdered sugar, and it was to die for. It melted almost instantly in your mouth and tasted totally decadent. It almost put traditional fudge to shame.
Now, you can have the same melt-in-your mouth vegan peanut butter fudge using just 4 all-natural ingredients. I even took it a step further by adding a quick and easy dark chocolate swirl on top, which makes this fudge taste like a chocolate peanut butter cup. (Bonus: this recipe is easier than making your own peanut butter cups!)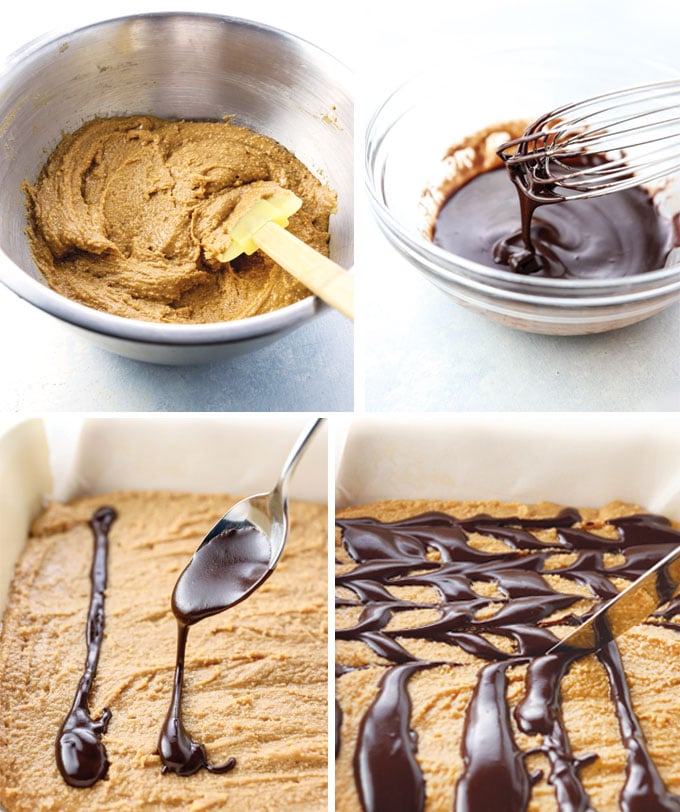 This chocolate peanut butter fudge is:
Gluten-free and grain-free
Egg-free
Dairy-free
Vegan
Paleo-friendly, if you swap the peanut butter for another nut or seed butter
Super-fast to prepare
Totally addictive!
I served this chocolate peanut butter fudge at a gathering this past weekend, and it was completely devoured in minutes. Which is a good thing, because I don't think it would actually last very long sitting out at room temperature– it will get soft to the touch when not chilled.
Unlike my Almond Butter Freezer Fudge, which I tend to serve straight from the freezer, I recommend storing this vegan peanut butter fudge in the fridge for best texture, and serving it chilled. (It definitely wouldn't be great for serving at a warm outdoor event.) Serving it from the fridge gives it the same texture as traditional fudge, along with the best flavor, since flavors can be muted when frozen.
As always, feel free to customize this recipe to your taste, or to use up whatever ingredients you have on hand. Because this is a vegan, no-bake recipe you can simply taste the batter as you go so that it tastes exactly how to you want it to! I hope you'll enjoy it.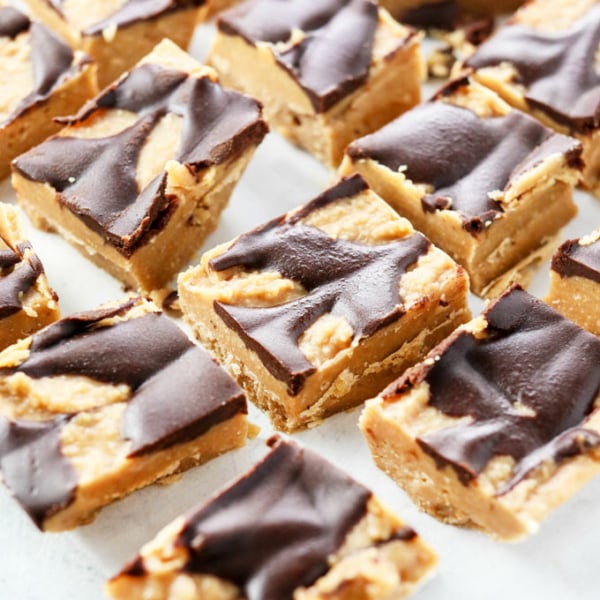 Healthy Vegan Peanut Butter Fudge
This healthy vegan peanut butter fudge is dairy-free and naturally sweetened with maple syrup. It tastes decadent with a homemade dark chocolate topping!
Ingredients
Vegan Peanut Butter Fudge
1.5

cups

natural peanut butter

(unsalted)

5

tablespoons

coconut oil

(melted)

5

tablespoons

maple syrup

(at room temperature)

1/2

teaspoon

fine sea salt
Dark Chocolate Swirl Topping
Instructions
Make sure all of the ingredients are at room temperature for best results. (The batter might be difficult to stir if the nut butter or maple syrup has been in the fridge.) Line a 9-inch square baking dish with parchment paper and set it aside.

To prepare the peanut butter fudge, stir together the peanut butter, coconut oil, maple syrup, and salt. The batter should be thick. Use a spatula to transfer the batter to the lined dish, and smooth the top. Set it aside while you prepare the topping.

To prepare the dark chocolate swirl topping, whisk together the cacao powder, maple syrup, and melted coconut oil in a small bowl. All ingredients should be warm so that the chocolate is pourable. (If the ingredients are chilled, it will clump and become solid too quickly.)

You can simply pour the chocolate topping over the top, but for a swirled effect, use a spoon to pour the chocolate into vertical lines over the top of the peanut butter fudge. Drag a clean knife through the lines horizontally, alternating which directly you drag the knife. (So, drag it from left to right, then drag it from right to left the next time.) This should create a swirled, marbled effect. Place the fudge in the freezer for at least one hour to set, or place it in the fridge to chill overnight.

Slice the fudge into 1-inch squares and serve chilled. The leftover fudge should keep well for up to one month when stored in an airtight container in the fridge, or you can freeze it for up to 6 months. (But keep in mind it will have the best flavor and texture when served from the fridge.)
Nutrition
Calories:
97
kcal
,
Carbohydrates:
4
g
,
Protein:
2
g
,
Fat:
8
g
,
Saturated Fat:
3
g
,
Sodium:
82
mg
,
Potassium:
82
mg
,
Sugar:
3
g
,
Calcium:
9
mg
,
Iron:
0.2
mg
Per Serving: Calories: 97, Fat: 8g, Carbohydrates: 4g, Protein: 2g
Substitution Notes:
If you don't care for peanut butter, feel free to use another nut or seed butter, such as almond butter, sunflower seed butter, or tahini.
If you don't have maple syrup, I think you could use honey as an alternative. (Just use a little less, as honey is sweeter than maple syrup.) Honey isn't vegan, so keep that in mind if serving this to vegan friends. Stevia would probably work in this recipe as well, but you'll just have to taste as you go to figure out the amount you'll need to use. (You might also need to add more coconut oil for texture in that case.)
The best substitute for coconut oil is real butter, but that will also make this recipe no longer dairy-free or vegan.
As always, if you make a substitution with this recipe, please leave a comment below letting us know what worked for you so that we can all benefit from your experience.
Reader Feedback: Do you love peanut butter desserts? What's your favorite no-bake dessert?