Homemade Croutons are incredibly easy to prepare, with only 5 simple ingredients. They are the perfect crunchy topping for a Caesar Salad, and I've even caught myself snacking on them alone, because they're so delicious!
Croutons aren't necessarily the world's healthiest salad topping, but making them yourself lets YOU control the ingredients. If adding a few crunchy croutons to your salad makes you want to eat more salad, then I'd call that a win, too!
Ingredients You'll Need
How do you make croutons from scratch? All you need is your favorite bread, some olive oil, and a few spices.
I've been using sourdough bread from a local bakery, but this also works with sprouted wheat bread (I like Ezekiel bread), or your favorite gluten-free bread. It's totally flexible!
All you need to season a classic crouton is garlic powder and salt, but I also like to add a touch of dried oregano to make these homemade croutons even more flavorful. I seriously enjoy snacking on them on their own!
How to Make Them
To make croutons, start by slicing the bread into 1-inch cubes, or whatever size you prefer. I like the small, bite-sized pieces, but the important thing is that you keep them similarly sized so they will all cook evenly.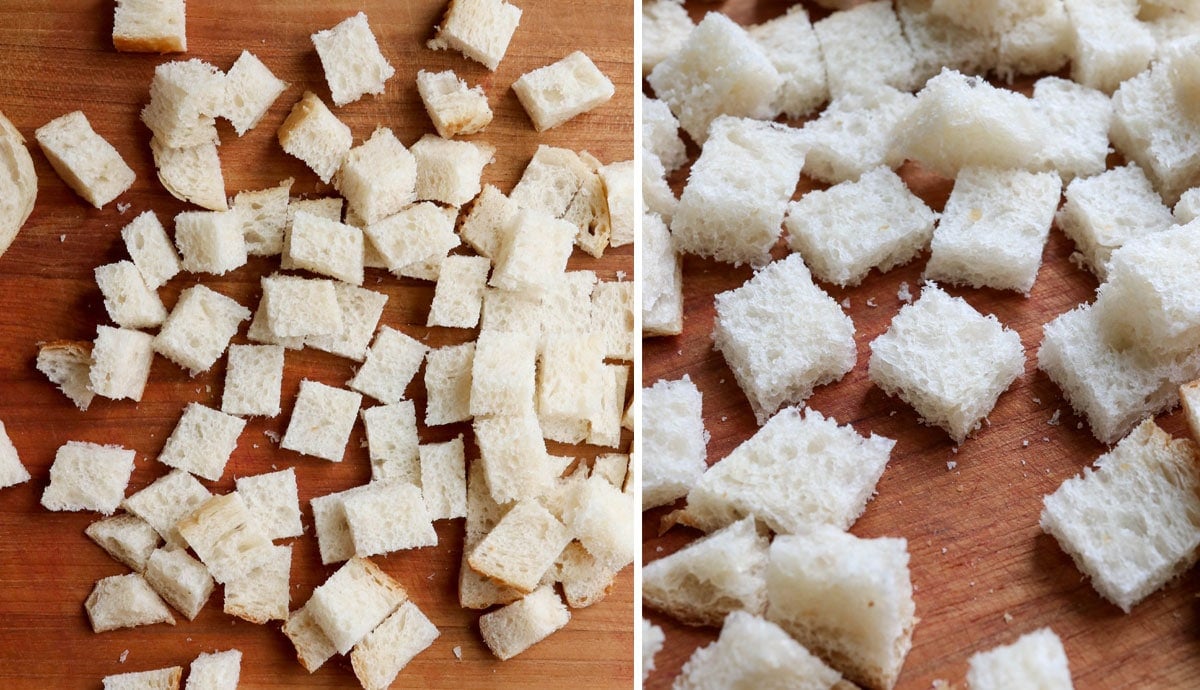 Toss the bread cubes with olive oil, then season with garlic powder, oregano, and salt.
I like to use my hands to do the tossing, to help distribute the oil and seasonings better.
Pour the seasoned bread onto a large baking sheet, and arrange the croutons in a single layer. Bake at 350ºF for 15 minutes, then stir and bake for another 5 minutes or so, until all of the pieces are crispy.
Let the croutons cool, then they are ready to use! Try them on a Caesar Salad, or on top of your favorite soup.
Tips for Crispy Croutons
Use enough oil. I originally tested this recipe with only 2 tablespoons of olive oil, but I noticed that my favorite pieces were the ones that had been coated in more oil. They melt in your mouth when you bite into them! So, for croutons that will impress, use plenty of olive oil.
Watch the oven. Your oven may run hotter than mine, so it's always a good idea to keep an eye on the croutons as they approach the 15-minute mark. Remove any dark golden pieces, if you see them, so the rest of the croutons can continue baking until golden.
Avoid moisture. How do you avoid soggy croutons? Avoid any added moisture. Don't be tempted to add a wet seasoning, like lemon juice or vinegar, and make sure the croutons stay dry when you store them.
Storage Tips
How long do homemade croutons last? Croutons can be stored at room temperature for up to 2 weeks. I keep mine in an airtight jar, as they will become more stale if you don't keep them covered.
It's amazing how long they keep their crunch!
Homemade Croutons
Here's how to make croutons at home, in less than 30 minutes! All you need is a few simple ingredients, and you get to control which bread you use to accommodate any dietary needs.
Ingredients
8

ounces

bread

(gluten-free, if needed)

3

tablespoons

extra virgin olive oil

1/4

teaspoon

garlic powder

1/2

teaspoon

dried oregano

1/2

teaspoon

fine sea salt
Instructions
Preheat the oven to 350ºF and cut the bread into 1-inch cubes.

Transfer the cubes to a bowl, and add in the olive oil. Toss well, to distribute the oil as evenly as possible. Sprinkle the garlic, oregano, and salt over the top, and toss again.

Spread the bread cubes out on a large baking sheet, then bake at 350ºF for 15 minutes. When the timer goes off, remove the pan and stir well, then return to the oven to bake until the croutons are lightly golden and crisp to the touch, about 5 more minutes.

Let the croutons cool completely on the pan, then use them on your favorite salad or soup. Store any leftovers in an airtight container at room temperature for up to 2 weeks.
Notes
This recipe makes roughly 2 cups of croutons, so the nutrition information is for approximately 1/4 cup. This is just an estimate, and not a guarantee.
Nutrition
Calories:
117
kcal
,
Carbohydrates:
12
g
,
Protein:
4
g
,
Fat:
6
g
,
Saturated Fat:
1
g
,
Sodium:
259
mg
,
Potassium:
72
mg
,
Fiber:
2
g
,
Sugar:
2
g
,
Vitamin A:
1
IU
,
Vitamin C:
1
mg
,
Calcium:
31
mg
,
Iron:
1
mg
If you try these homemade croutons, please leave a comment below letting me know what you think!