This Lentil Salad is one of my favorite make-ahead meals. It makes enough to feed you for several meals in a row, and it's loaded with nutrient-rich veggies and protein-packed lentils. I could eat this every week!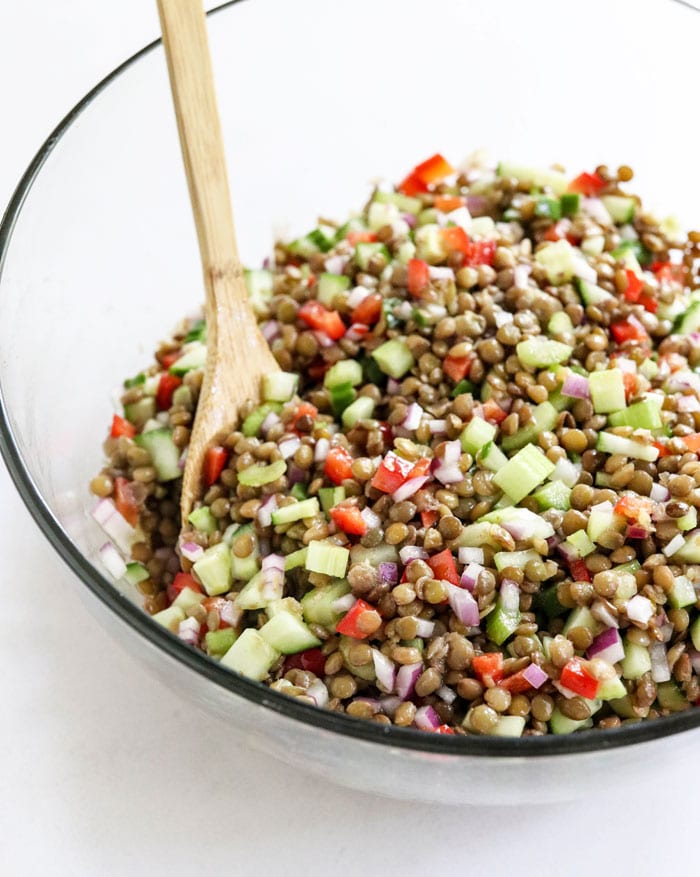 This vegan salad is incredibly easy to throw together, ultra-filling, and can be customized to use what you have in your fridge. Plus, it's a nutritional powerhouse!
Benefits of Lentils
Lentils contain high levels of soluble fiber, which may help to lower cholesterol and reduce your risk of heart disease, and they are a great source of magnesium and folate, which happen to be especially important during pregnancy.
Many people also find that lentils are easier to digest than beans, which can be a perk for anyone with sensitive digestion, and they are an affordable source of vegetarian protein, providing 18 grams of protein per cooked cup.
This lentil salad makes a perfect make-ahead lunch or dinner for the week, and I think it's also going to become my go-to dish to bring to potlucks and parties. This recipe makes enough to feed an army, and it's sturdy enough to sit out for a while without getting soggy. The flavor and variety of textures makes it a total crowd pleaser!
Which Type of Lentils Work Best for a Salad?
You can use brown, black, or green lentils in this salad, all with great results. Red and yellow lentils tend to be too soft and mushy in my experience, so I'd recommend saving those for something like my Instant Pot Red Lentil Curry or Lentil, Kale & Quinoa Stew.
Do You Need to Soak Lentils Before Cooking Them?
Unlike beans, you don't have to soak lentils before cooking them. Soaking them ahead of time can shorten their cooking time, but it's not necessary and I personally never do it. Green lentils cook in about 20 to 30 minutes, and you can make the process totally hands-off by using your Instant Pot if you have one. (See the notes below the recipe for cooking tips!)
How Can You Tell When Lentils Are Cooked?
When you're cooking lentils for salad, you want them to be on the firm side, rather than too soft and mushy. I recommend taste-testing them around the 20-minute mark to see if they are easy enough to chew. I like mine to have a little bit of a bite to them still, so I think 20 to 25 minutes of simmering is usually perfect.
Keep in mind that the age of dry lentils can affect their cooking time, so that's why it can always vary. Older lentils take longer to cook than fresher lentils, and it's nearly impossible to know how old the lentils are that you buy at the store.
Can you Freeze Lentil Salad?
If you want to make this recipe far in advance, you can cook the lentils and freeze them for up to 3 months ahead of time. You can thaw what you need for this salad overnight in the fridge, or run the frozen lentils under water until they are tender again.
I don't recommend freezing raw vegetables for salad, as they can get mushy when they thaw, but having the lentils ready-to-go makes this salad a breeze to throw together.
How to Make the Best Lentil Salad
Once your lentils are cooked, making this salad is as easy as chopping a few vegetables and stirring together a quick dressing. When you stir together the dressing ingredients in the bottom of a large bowl, you can add the vegetables on top of that, and then the cooked lentils– so you'll only have one dish to clean later!
This salad can be enjoyed right away, but I think it gets even better as it marinates in the fridge! It should keep well for up to a week in the fridge, so it's perfect for packed lunches.
How to make the Best Lentil Salad ( 1- Minute Video):
Lentil Salad (Perfect for Make-Ahead Meals!)
This Lentil Salad makes an easy packed lunch! It's packed with protein and loaded with veggies, for a flavor-packed make-ahead meal.
Ingredients
1 1/2

cups

dry green or brown lentils

(or 4 1/2 cups pre-cooked lentils)

1/4

cup

olive oil

1/4

cup

raw apple cider vinegar

1

tablespoon

maple syrup

1

tablespoon

stone-ground mustard

2

small cloves garlic

, minced

2

teaspoons

fine sea salt

Black pepper

, to taste

1 1/2

cups

diced cucumber

(1 English cucumber)

1 1/2

cups

diced red onion

(1 large red onion)

1 1/2

cups

diced red bell pepper

(1 large bell pepper)

3

celery stalks

, diced

1

cup

golden raisins

(optional)

1

cup

sliced almonds

(optional)

Arugula

, for serving (optional)
Instructions
To cook the lentils, combine 1 1/2 cups of dry lentils with 4 1/2 cups of water. Bring the water to a boil in a sauce pan that is large enough for the lentils to triple in size as they cook. Once boiling, lower the heat to a simmer and cook until the lentils are tender, but still firm, about 15 to 20 minutes.

While the lentils are cooking, prepare the dressing. In a large bowl, combine the oil, vinegar, maple syrup, mustard, garlic, salt, and several grinds of black pepper, then whisk well to combine.

When the lentils are tender, drain any excess liquid and rinse the cooked lentils under cold water to stop the cooking process and help them cool down faster.

While the lentils cool, you can dice the cucumber, onion, bell pepper, and celery if you haven't already. The smaller you dice them, the more flavor you'll get in each bite. Add the chopped vegetables to the large bowl of dressing and toss to combine. Add in the cooled lentils, and stir again.

Add in the raisins and sliced almonds, if desired, then serve right away or transfer the salad to an airtight container to chill in the fridge. Serve chilled, over a bed of arugula, if desired.
Nutrition
Calories:
214
kcal
,
Carbohydrates:
28
g
,
Protein:
10
g
,
Fat:
7
g
,
Saturated Fat:
1
g
,
Sodium:
620
mg
,
Potassium:
509
mg
,
Fiber:
12
g
,
Sugar:
5
g
,
Vitamin A:
975
IU
,
Vitamin C:
40.7
mg
,
Calcium:
40
mg
,
Iron:
2.9
mg
Lentil Salad Nutrition (per serving; without almonds & raisins): Calories: 214, Fat: 7g, Carbohydrates: 28g, Fiber: 12g, Protein: 10g
Recipe Notes:
You can use honey instead of maple syrup if you don't need this recipe to be vegan.
If you follow food combining, leave off the almonds and dried fruit to make this a properly combined starch meal.
If you try this lentil salad recipe, please leave a comment below and let me know how you like it! And if you make a substitution, let me know how that works out for you, too. We all can benefit from your experience!
—
Reader Feedback: What's your go-to dish to bring to a potluck?