This Lentil Salad is a delicious make-ahead meal loaded with plant-based protein. Toss it together for a party, or keep it in the fridge for an easy lunch!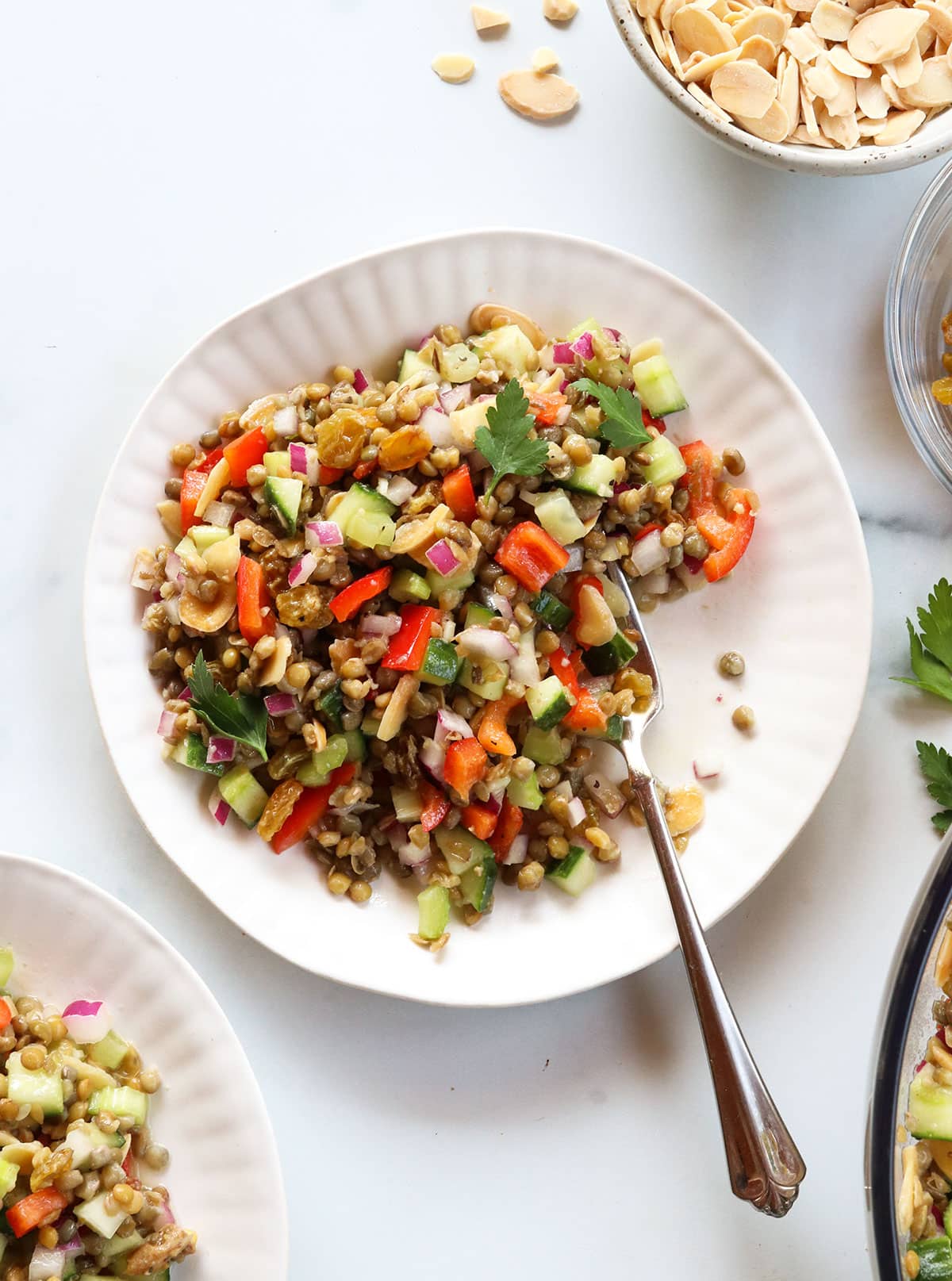 If you are looking for a way to sneak more lentils into your life, this salad is a delicious way to do it. Lentils pack nearly 18 grams of protein into each cooked cup, and when you pair them with freshly diced veggies, you'll have a flavor party in your mouth.
Assemble this salad recipe over the weekend and enjoy it for the next 5 days. It's delicious chilled, straight from the fridge for an easy meal prep idea.
If you'd like to change things up, top it with a sprinkle of feta cheese, or baked chicken breasts, or serve it as a side dish with your favorite main course.
Ingredients You'll Need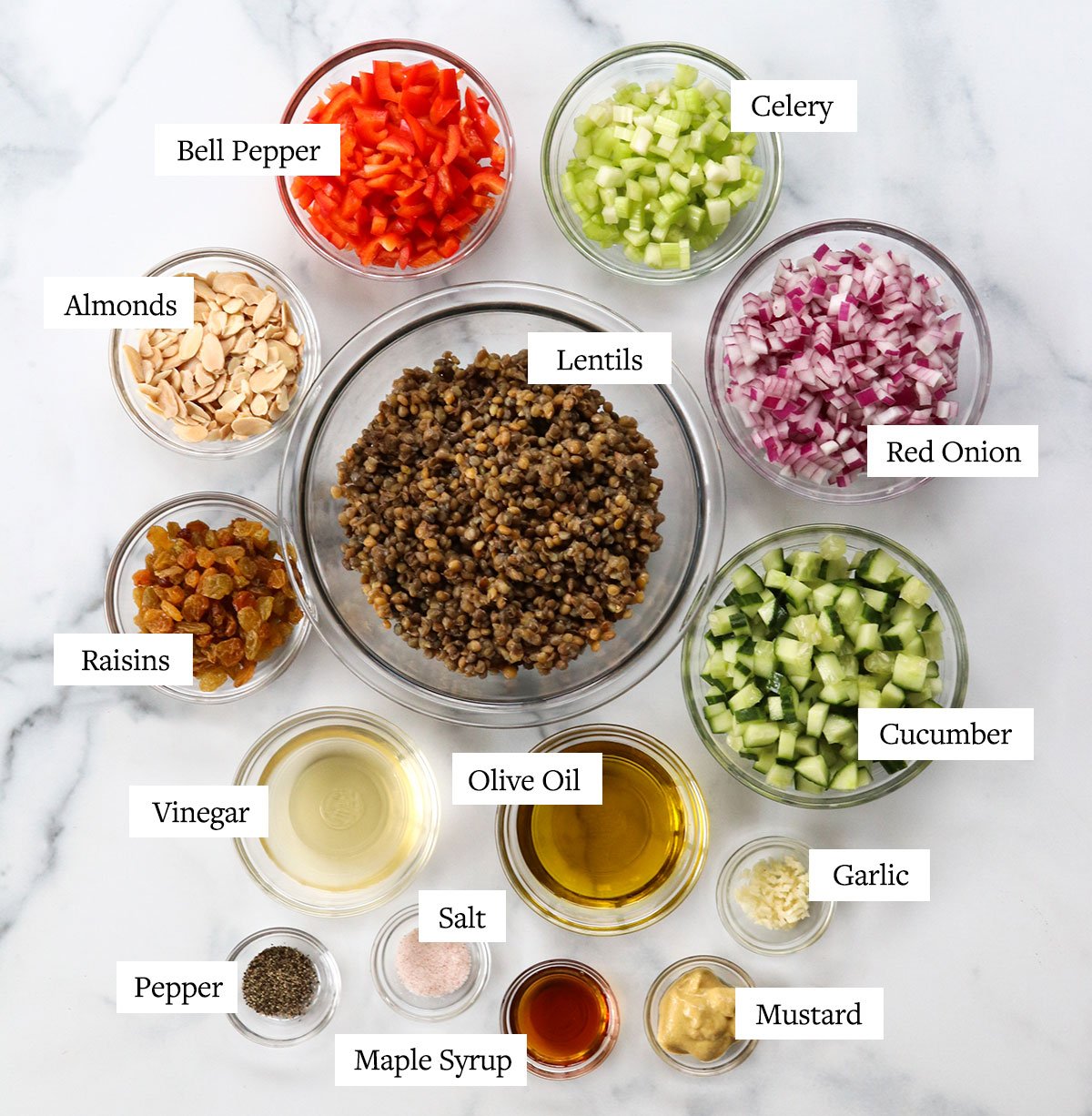 The beauty of this lentil salad recipe is you can use any vegetables and herbs you have on hand. Feel free to swap the red bell peppers for cherry tomatoes or baby spinach. You can use lemon juice instead of vinegar if that's what you have.
Buying pre-cooked lentils from the store will save you time, but you can cook them from scratch in about 25 minutes. Use brown, black, or green lentils for the best results. (Red lentils are too mushy for salads.)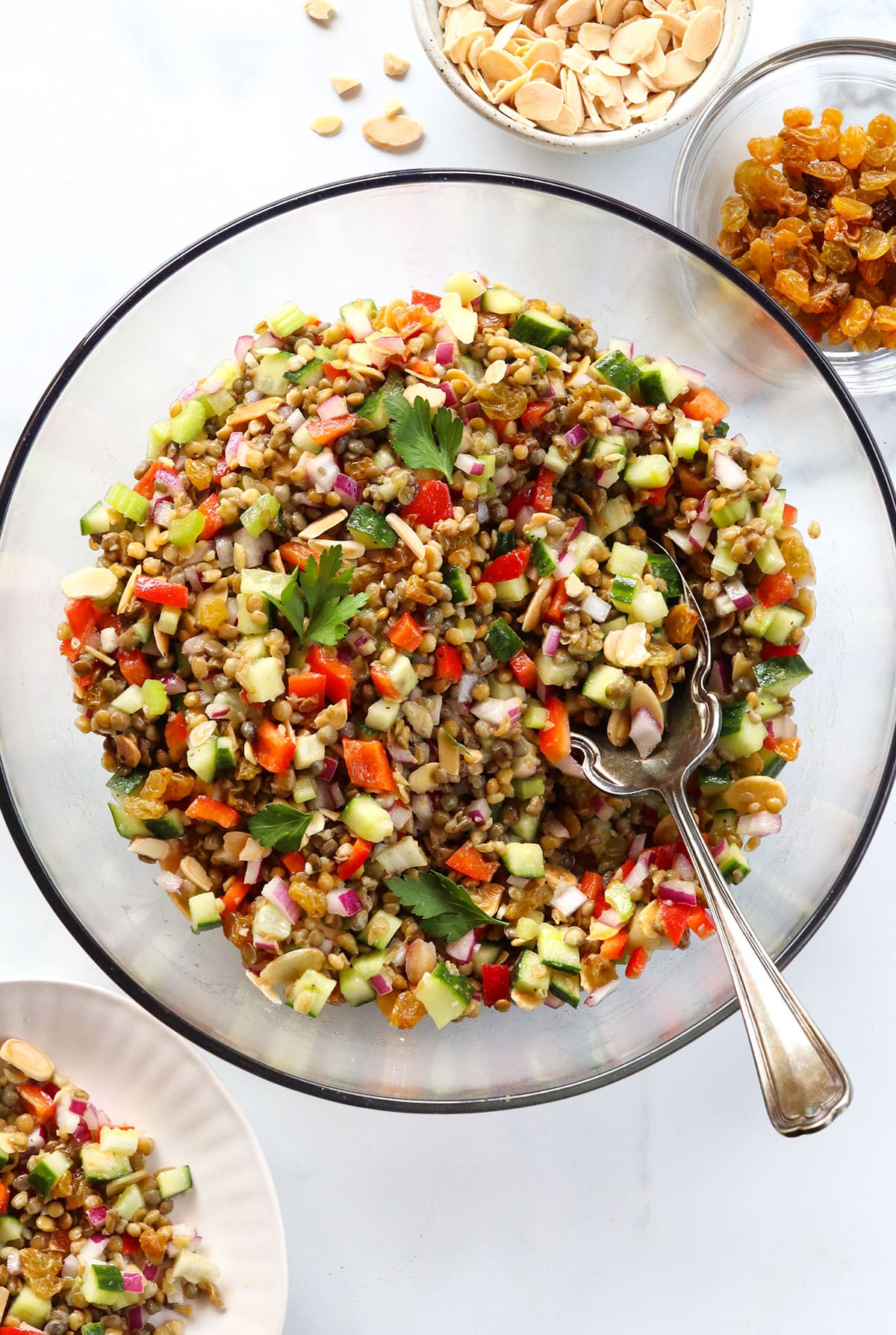 How to Make Lentil Salad
1. Cook the lentils.
If you are not starting with pre-cooked lentils (they are available canned or vacuum-sealed in the chilled section of the grocery store), add the dry lentils to a saucepan and cover them with water. You can use chicken broth or add a bay leaf to the cooking water if you'd like to add more flavor. The lentils will triple in size as they cook, so make sure you use a large enough pot.
Bring the liquid to a boil, lower the heat, and cover the pot with a lid. Simmer until the lentils are tender, about 20 to 25 minutes. Be sure the lentils are always covered in liquid during this time so that they will cook evenly.
When the lentils are tender, pour them through a fine mesh strainer to drain any excess cooking liquid. Set them aside to cool.
Don't have enough lentils? That's okay, too! I've made this recipe with just 3 cups of cooked lentils (about 2 cans or a 1-pound vacuum-sealed pack), and it still turns out delicious with a higher veggie-to-lentil ratio. Add salt to taste when using fewer lentils because you won't need as much.
2. Prepare the dressing.
In a large bowl, combine the olive oil, vinegar, dijon mustard, maple syrup, garlic, 1 teaspoon of salt, and black pepper. Whisk well to mix.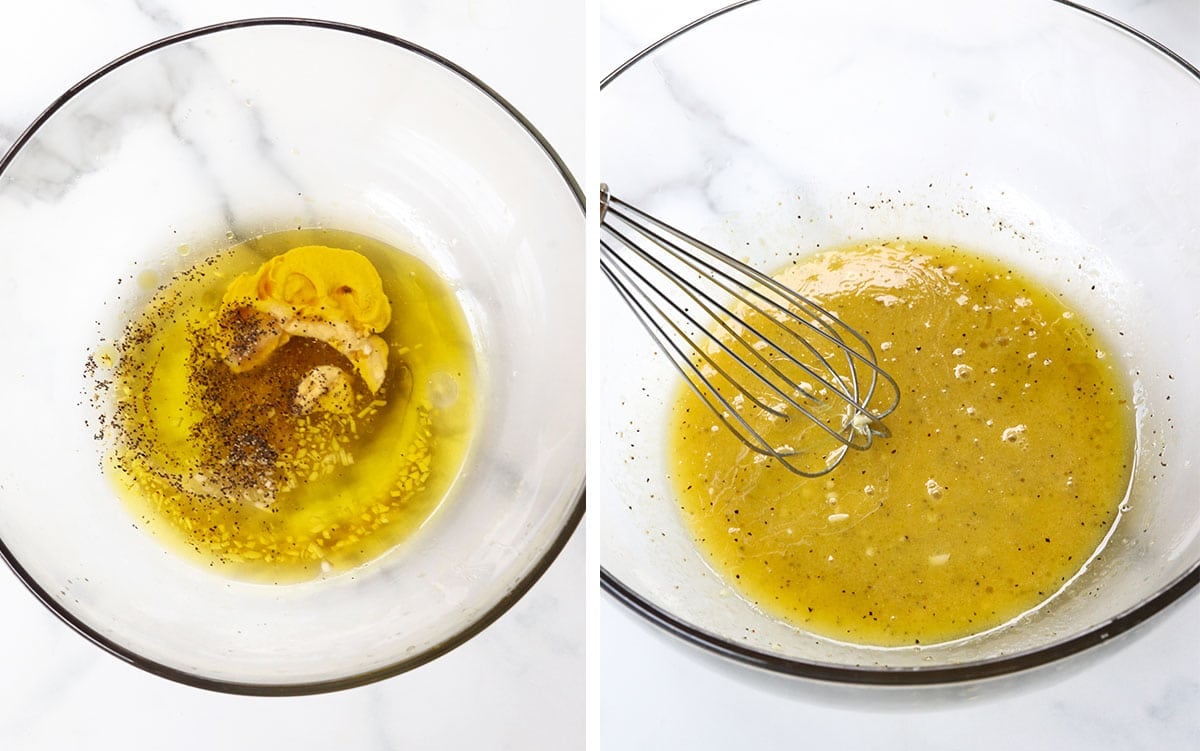 3. Add the veggies.
Add the diced red onion, cucumber, celery, and red bell pepper to the bowl of dressing, and toss well.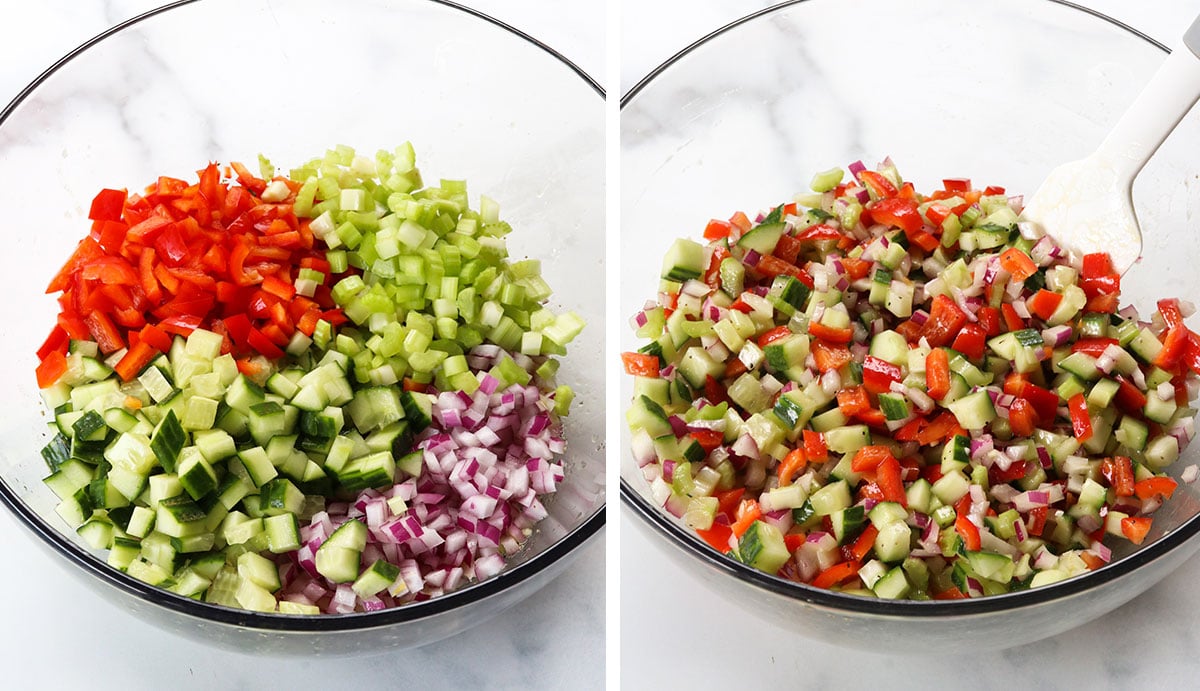 4. Mix it all together.
When the lentils have cooled, stir them with the sliced almonds and raisins.
Adjust the seasoning to taste, adding a little extra salt, if needed, to boost the flavor.
Set the salad aside to marinate for at least 15 minutes. The raisins will plump as the salad rests, and then it's ready to serve. Use a slotted spoon for serving to allow any excess liquid at the bottom of the bowl to drain away, and garnish with fresh parsley or fresh mint leaves.
Leftover salad can be stored in an airtight container in the fridge for up to 5 days. Shake the jar well before serving again to ensure the dressing is evenly distributed. The salad tastes even better the next day!
Frequently Asked Questions
Do you need to soak lentils before cooking them?
Unlike beans, you don't have to soak lentils before cooking them.
How can you tell when lentils are cooked?
You'll need to taste-test the lentils to check for tenderness after 20 minutes of cooking. (Rinse them off under cold water to help them cool down quickly; don't burn your mouth!) The age of dry lentils can affect their cooking time, so the timing might vary each time. Older lentils take longer to cook than fresher ones, and it's nearly impossible to know how old they are when you buy them at the store. Adding salt or acid to the cooking water can also slow the cooking time.
Looking for more lentil recipes? Try Instant Pot Lentil Soup, Stuffed Spaghetti Squash, Red Lentil Soup, or Lentil Bolognese for more ideas.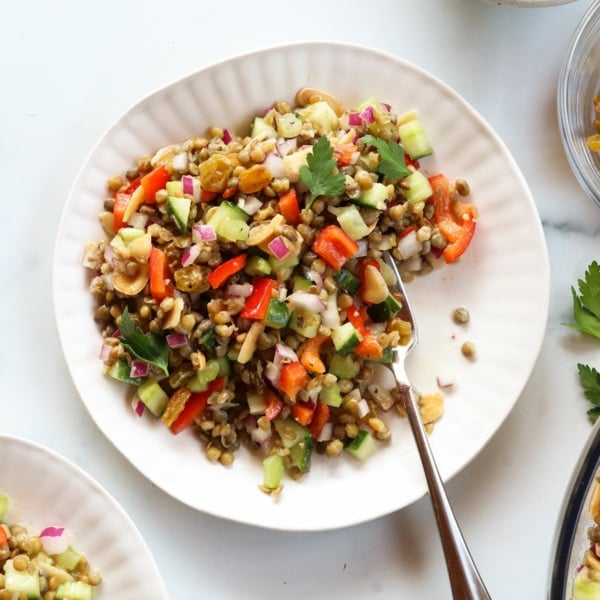 Best Lentil Salad
This Lentil Salad is loaded with veggies and plant-based protein and will make your taste buds do a happy dance! It's an easy make-ahead meal you can eat straight from the fridge.
Ingredients
1 ½

cups

dry green or brown lentils

(or 4 ½ cups pre-cooked lentils)

¼

cup

olive oil

¼

cup

apple cider vinegar

1

tablespoon

maple syrup

1

tablespoon

stone-ground mustard

2

small cloves garlic

, minced

1 ½ to 2

teaspoons

fine sea salt

½

teaspoon

ground black pepper

1

cucumber

, diced (about 1 ½ cups)

1

red onion

, diced (about 1 ¼ cups)

1

red bell pepper

, diced (about ¾ cup)

3

celery stalks

, diced (about 1 cup)

1

cup

golden raisins

(optional)

1

cup

sliced almonds

(optional)
Instructions
To cook the lentils, combine 1 ½ cups of dry lentils with 4 ½ cups of water. Bring the water to a boil in a saucepan that is large enough for the lentils to triple in size as they cook. Once boiling, lower the heat to a simmer and cook until the lentils are tender, but still firm, about 20 minutes.

While the lentils are cooking, prepare the dressing. In a large bowl, combine the oil, vinegar, maple syrup, mustard, garlic, 1 teaspoon of salt, and black pepper, then whisk well to combine.

When the lentils are tender, drain any excess liquid and rinse the cooked lentils under cold water to stop the cooking process and help them cool down faster.

While the lentils cool, you can dice the cucumber, onion, bell pepper, and celery if you haven't already. The smaller you dice them, the more flavor you'll get in each bite. Add the chopped vegetables to the large bowl of dressing and toss to combine. Add in the cooled lentils, and stir again.

Add in the raisins and sliced almonds, if desired, then season with additional salt, as needed. Serve right away with a slotted spoon to let the excess dressing drip away, or transfer the salad to an airtight container to chill in the fridge. Shake or stir before serving again to make sure the dressing is evenly distributed.
Notes
Nutrition information is for roughly 1 heaping cup of salad, assuming you get 8 cups from this recipe. This information is automatically calculated and is just an estimate, not a guarantee.
Lentil Note: This recipe works best with brown or green lentils, which don't get too mushy. If using store-bought cooked lentils, you can get away with using just 3 cups of cooked lentils (which is 2 cans drained or a 1-pound vacuum-sealed pack). In that case, you won't need more than 1 1/2 teaspoons of salt for this recipe.
Nutrition
Calories:
214
kcal
,
Carbohydrates:
28
g
,
Protein:
10
g
,
Fat:
7
g
,
Saturated Fat:
1
g
,
Sodium:
620
mg
,
Potassium:
509
mg
,
Fiber:
12
g
,
Sugar:
5
g
,
Vitamin A:
975
IU
,
Vitamin C:
40.7
mg
,
Calcium:
40
mg
,
Iron:
2.9
mg
If you try this lentil salad recipe, please leave a comment and star rating below, letting me know how you like it.