This hearty Lentil Soup makes an easy vegan lunch or dinner. It's packed to the brim with veggies, and cooks in only 10 minutes when you use an electric pressure cooker, like the Instant Pot. I love to make it when I meal prep on the weekend, so I always have something comforting, and easy to heat up, when I'm hungry!
After testing, literally, thousands of recipes in the Instant Pot while writing The Fresh & Healthy Instant Pot Cookbook, I've discovered that the Instant Pot brings out more flavor in food than traditional cooking methods. As a result, I don't think it's always necessary to saute the aromatics in olive oil before getting started.
I've actually tested this soup two ways. First, I sauteed the onions, carrots, and celery together in a little olive oil, and later added the garlic, to help bring out their flavor the way I would making any soup on the stove top. Next, I tried a much simpler preparation– simply throw all of the raw ingredients into the pot and press a button to start the pressure cooking cycle.
In the end, both versions tasted the same to me, so I've omitted the initial sauté step in the healthy lentil soup recipe below, which reduces the fat and calories because you can omit the oil. As an added bonus, it also saves you the extra time and effort!
How to Cook Lentils in the Instant Pot
When cooking lentils, it's really important that you don't add any salt to them before cooking. After lots of failed recipe attempts, I learned that green or brown lentils cook in about 5 minutes when you don't use salt, but they can take 30 minutes, or more, if you do add salt. In some cases, they never become tender when you add the salt. That's why this recipe calls for adding the salt after the soup is cooked– don't be tempted to add it early!
Instant Pot Lentil Soup Cook Time
When working with an electric pressure cooker, like the Instant Pot, it's important to take into account the total time it will take for your recipe to be ready– including the time it takes for the pot to come to pressure, the cooking cycle time, and the time it takes for the pressure to release. In the case of this soup, I like to use a pressure cooking cycle of 10 minutes, which makes the lentils and vegetables tender, without being mushy.
Including the pressurize time, and natural release, the total cooking time is closer to 30-35 minutes. Luckily, most of that time is totally hands-off, so it still feels like it's faster than if you were to make it on the stove. (If you don't have a pressure cooker, be sure to look for the stove top directions below the recipe, too.)
Instant Pot Lentil Soup (Vegan)
This healthy Lentil Soup is as easy as it gets-- simply pour the ingredients into an electric pressure cooker, like the Instant Pot, and press a button. With no added oil, and loads of vegetables included, it makes a nutritious vegan or vegetarian meal.

Ingredients
1

yellow onion

, chopped

2

carrots

, peeled and chopped

2

celery stalks

, chopped

1

15-oz. can

diced tomatoes

(with juice)

2

garlic cloves

, minced

1

teaspoon

ground cumin

1

teaspoon

curry powder

pinch of cayenne pepper

(optional)

1

cup

dry green or brown lentils

3

cups

water

freshly ground black pepper

1

teaspoon

salt

, plus more to taste

1

cup

fresh spinach

, roughly chopped

lemon slices

, for serving
Instructions
In the bowl of the Instant Pot, combine the onion, carrots, celery, tomatoes, garlic, cumin, curry, cayenne (if using), lentils, water, and several grinds of black pepper. Do not add any salt yet. Stir well to combine.


Secure the lid and move the steam release valve to Sealing. Use the Manual or Pressure Cook button to cook for 10 minutes at high pressure. It should take 10 to 15 minutes for the pot to come to pressure, then the cooking cycle will begin to countdown.


When the cooking cycle is complete, allow the pressure to naturally release for 10 minutes, then move the steam release valve to Venting. When the floating valve drops, it's safe to remove the lid.


Give the soup a stir to make sure the lentils and vegetables are tender, then stir in 1 teaspoon of salt and the chopped fresh spinach. The greens should wilt quickly in the hot soup. Season with additional salt to taste, then serve warm with slices of lemon to help brighten the flavor even more.


Leftover soup can be stored in an airtight container in the fridge for up to a week.

Nutrition
Calories:
128
kcal
,
Carbohydrates:
22
g
,
Protein:
8
g
,
Sodium:
425
mg
,
Potassium:
446
mg
,
Fiber:
10
g
,
Sugar:
2
g
,
Vitamin A:
3935
IU
,
Vitamin C:
6
mg
,
Calcium:
47
mg
,
Iron:
2.8
mg
Nutrition info is for 1 of 6 servings. This information is automatically calculated, and is just an estimate, not a guarantee.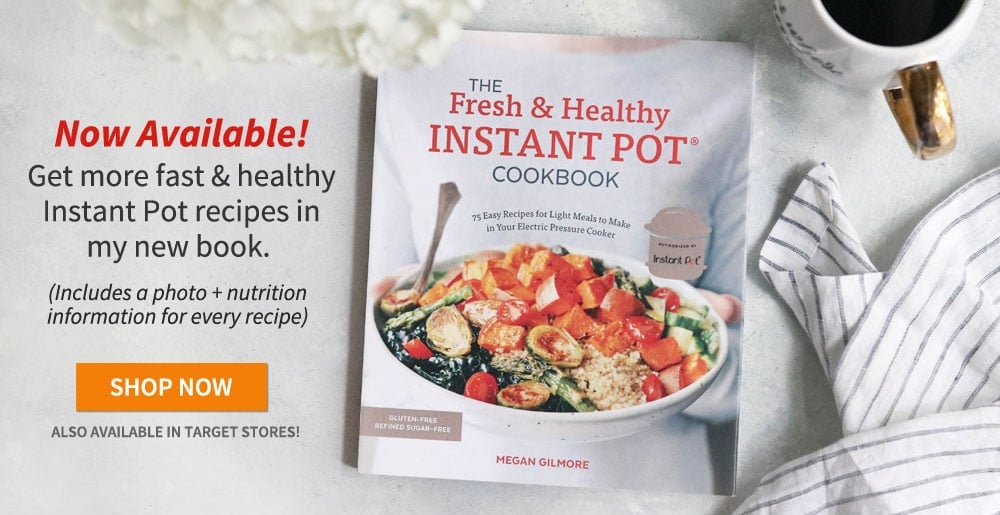 Don't have an Instant Pot?
Stove Top Directions: Heat a tablespoon of olive oil in a large pot over medium-high heat, and saute the onion, carrots, and celery until they soften, about 8 minutes. Add in the garlic, cumin, curry, and cayenne, and stir for one more minute. Add in the diced tomatoes, lentils, water, and several grinds of black pepper, and bring the soup to a boil. Once boiling, lower the heat and cover to simmer until the lentils are tender, about 20 to 30 minutes. When the lentils are tender, add more water if needed (evaporation can happen on the stove) and then stir in the spinach and season with the salt. Add more to taste, then serve with a squeeze of lemon juice.
Recipe Notes:
This soup is easily adaptable to use whatever vegetables you have on hand. I think it would be delicious with fire-roasted tomatoes and green chiles, but in that case I'd omit the cayenne pepper. The Instant Pot tends to accentuate the spiciness in foods, so always start with less spice than you think you need and add more after cooking, if necessary.
You can use vegetable broth instead of water, if you'd prefer to, but I like to save money by just using water– I think the vegetables provide plenty of flavor on their own!
Reader Feedback: Do you have a go-to soup recipe?