This Jackfruit "Pulled Pork" is an easy vegetarian alternative, perfect for topping sandwiches and salads. I love how quickly this recipe comes together, using a homemade BBQ sauce that's sweetened with maple syrup.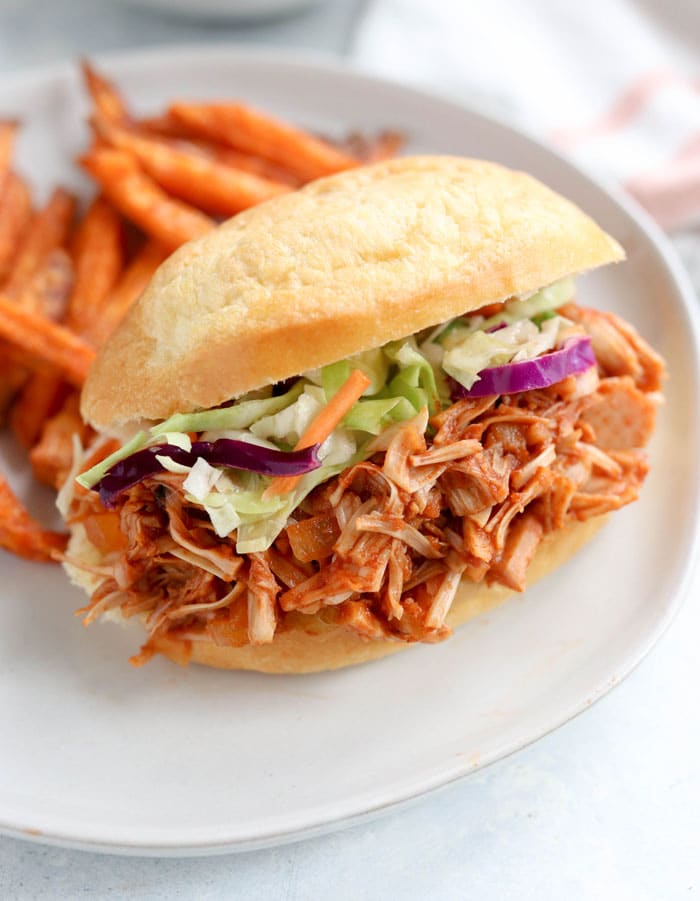 What Does Jackfruit Meat Taste Like?
Jackfruit has a relatively neutral taste, absorbing the flavors of what you cook it with. Because jackfruit is often canned in brine, it can have an acidic or salty taste that I usually try to rinse off before using it in recipes.
Texture-wise, jackfruit reminds me of a cross between canned artichoke hearts and pineapple. When cooked in barbecue sauce, it reminds me of pulled pork, just not quite as chewy. (Which I think is a good thing!)
How Do You Cook Green Jackfruit from a Can?
To cook green jackfruit from a can, I recommend rinsing it first to remove as much of the brine flavor as possible. I also like to "shred" it with my fingers, while it's still at room temperature, so that it's easier to coat with the sauce later.
Sauté the shredded and rinsed jackfruit in a skillet on the stove until it's heated through. Jackfruit in a can is not raw, so you don't have to cook it for a certain amount of time– just until it's heated through and has absorbed the flavors of what you're cooking it with.
Can I Use Fresh Jackfruit?
You can buy fresh jackfruit from the store, but be warned– I hear it is a PAIN to work with. Not only will it leave your fingers with a sticky texture that is hard to remove, you'll then have to boil it until tender. Overall, this will add at least 30 extra minutes to your prep time, and that's only if you're fast a cutting the jackfruit into 1/4-inch wedges.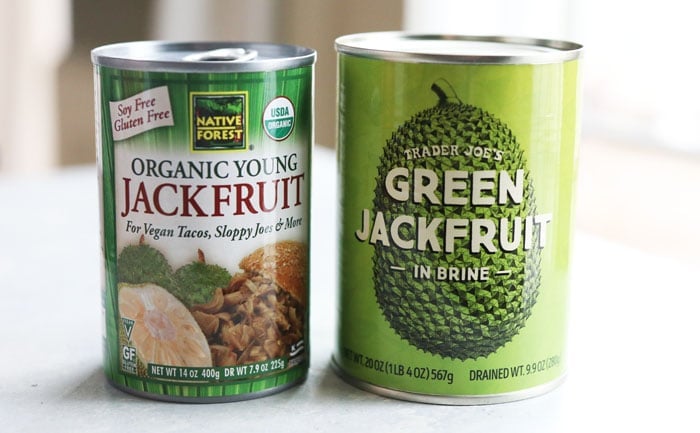 Ripe vs. Unripe Jackfruit
Please note that this recipe calls for green jackfruit. Green jackfruit is most commonly used in recipes, because it is unripe and therefore is more chewy in texture and mild in flavor. Ripe jackfruit, on the other hand, is sweet and would not work well for savory recipes like this one.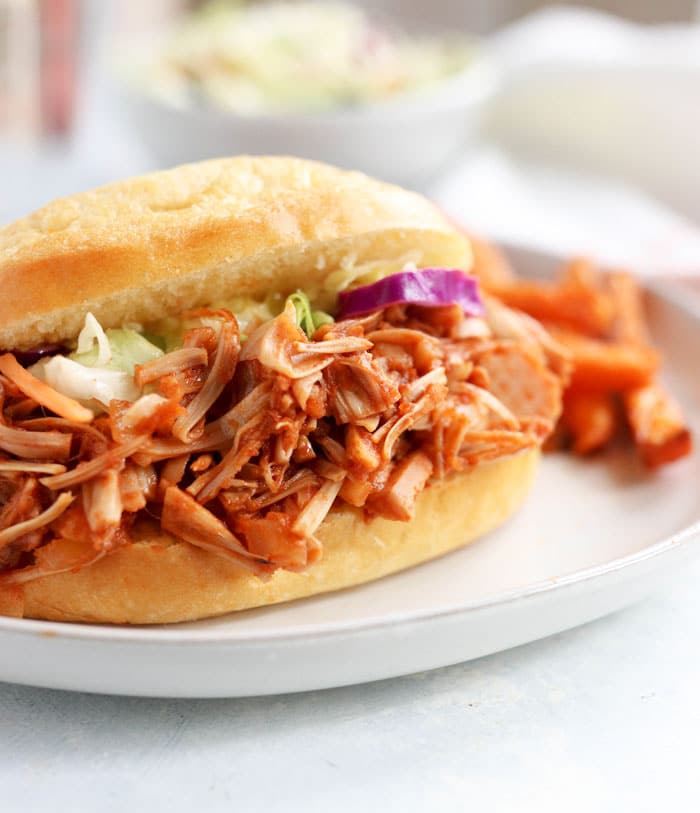 How to Make Jackfruit Pulled Pork
Making this Jackfruit Pulled Pork is as easy as rinsing and shredding the canned jackfruit, then sauteeing it with an easy homemade BBQ sauce. This recipe is adapted from The Fresh & Healthy Instant Pot Cookbook, but I've made it even easier for a quick weeknight meal.
Jackfruit Pulled Pork
Here's how to make Jackfruit Pulled Pork! It's an easy vegetarian alternative, cooked in a homemade BBQ sauce, that's perfect for topping sandwiches and salads. No soy or gluten.

Ingredients
2

(14 oz. cans)

green jackfruit

, drained

1

tablespoon

olive oil

1/2

yellow onion

, chopped

1/2

teaspoon

chili powder

1/2

teaspoon

paprika

1/4

cup

tomato paste

(no salt added)

1/4

cup

apple cider vinegar

1/4

cup

maple syrup

1

teaspoon

spicy brown mustard

1/4

teaspoon

salt
Optional add-ins
pinch of

cayenne pepper

(for a spicy BBQ sauce)

pinch of

smoked paprika

(for a smoky BBQ sauce)

1

teaspoon

blackstrap molasses

(for a richer BBQ sauce)

1 to 2

garlic cloves

, minced (saute with onion, if desired)
Instructions
Drain the 2 cans of jackfruit into a large mesh strainer and rinse them under running water. While the jackfruit is still in the strainer, use your fingers to "shred" the jackfruit into strands that resemble shredded meat. Rinse it again to remove any remaining brine, then set aside.


Heat the olive oil in a large skillet over medium-high heat, then sauté the onion until it starts to soften, about 5 minutes. Add in the chili powder and paprika, and saute again for 30 seconds.


Add in the tomato paste, vinegar, maple syrup, mustard, and salt and stir well to combine. You may want to add up to 1/4 cup of water at this point, to help the sauce come together and not stick to the pan.


Add in the jackfruit, and stir well to get every piece coated with the sauce. Stir until heated through, and taste a piece to see if you need to adjust the seasoning. At this point, you can add more salt, extra optional spices for more heat or smoky flavor, or an extra splash of maple syrup if you prefer sweeter barbecue sauce.


Serve the jackfruit pulled pork on a bun with your favorite coleslaw, or over a salad if you prefer. Leftovers can be stored in an airtight container in the fridge for up to 1 week.

Nutrition
Calories:
110
kcal
,
Carbohydrates:
18
g
,
Fat:
3
g
,
Sodium:
296
mg
,
Potassium:
242
mg
,
Fiber:
1
g
,
Sugar:
14
g
,
Vitamin A:
445
IU
,
Vitamin C:
4.6
mg
,
Calcium:
31
mg
,
Iron:
0.5
mg
Per heaping 1/2 cup serving: Calories: 110, Fat: 3g, Carbohydrates: 18g, Fiber: 1g, Protein: 0g
Recipe Notes:
If you don't want to make your own BBQ sauce, feel free to use a store-bought sauce instead. I would use roughly 1/2 cup of prepared sauce per can of drained jackfruit, but you can add more to taste.
This is the most simplified recipe I could come up with that still tastes like BBQ to me, but feel free to add in any other spices that you love to make the flavor more complex. I use a tiny pinch of smoked paprika and molasses to make it more like the local Kansas City BBQ we know and love.
For a Southern-style sandwich, try topping your Jackfruit Pulled Pork with my creamy Vegan Coleslaw.
As always, if you try something different with this recipe please leave a comment below letting us know what you tried. We can all benefit from your experience!
–
Reader Feedback: Have you tried jackfruit yet? Let me know if you have any other recipe requests for this fun ingredient!