This Vegan Pistachio Ice Cream is super-simple, and tastes unbelievably good. All you need is 4 simple ingredients to make it, and it's naturally dairy-free and ultra-creamy.
This ice cream is inspired by my Coffee Ice Cream, which is made in a similar way, only with cashews.
The pistachios in this recipe add a little more fiber to this recipe, but you'll hardly notice once it's frozen, especially if you add in a few chopped pistachio pieces. (Which I highly recommend!)
Why You'll Love It
It's dairy-free. This pistachio ice cream gets its creaminess from blended pistachios, rather than milk or cream. This way you'll get maximum pistachio flavor!
It's naturally sweet. All you need is pure maple syrup to sweeten this ice cream, so it shouldn't spike your blood sugar as much as traditional ice cream might.
It's simple. With just 4 ingredients, one of them being water, you won't find an easier ice cream to make.
It's flexible. I love this ice cream recipe with almond extract added in (this seems to be a common addition with pistachio ice cream recipes) but you can leave it out if you or a family member has an almond allergy.
It's vegan & gluten-free. Perfect for those following a number of special diets!
Best of all, it's delicious. I couldn't stop taste-testing the mixture before I poured it into the ice cream machine.
Note: Keep in mind that the flavors will mellow once the ice cream is frozen. (This happens with any recipe that you freeze.) So if the mixture tastes extra-sweet, or more flavorful than you are expecting, don't be surprised if that flavor is slightly more diluted once the ice cream is frozen.
How to Make It
Blend. Simply blend all 4 ingredients together. If you want more almond flavor, or want to add a pinch of salt, now is the time to add those things in.
Freeze. Pour the ice cream mixture into the frozen bowl of your ice cream maker, and process until it's thick and creamy, about 30 to 35 minutes.
Enjoy! As soon as the ice cream is thick, it's ready to serve. I like to stir in a few more chopped pistachio pieces (or you can just sprinkle them on top), for an added crunch with each bite.
Nut-based ice creams, like this one, tend to freeze very well overnight. (They won't get as hard as a coconut milk-based ice cream.)
So, you should be able to scoop this ice cream for the next few days, if you have any leftovers.
Don't have an Ice Cream Maker?
Instead of using an ice cream machine, you can pour the blended mixture into an airtight container and store it in the freezer until firm, about 6 to 8 hours. For the creamiest results, be sure to stir the ice cream every hour or so, to help incorporate some air into the mixture.
If you don't stir the ice cream, it will still turn out fine, just slightly more icy in texture.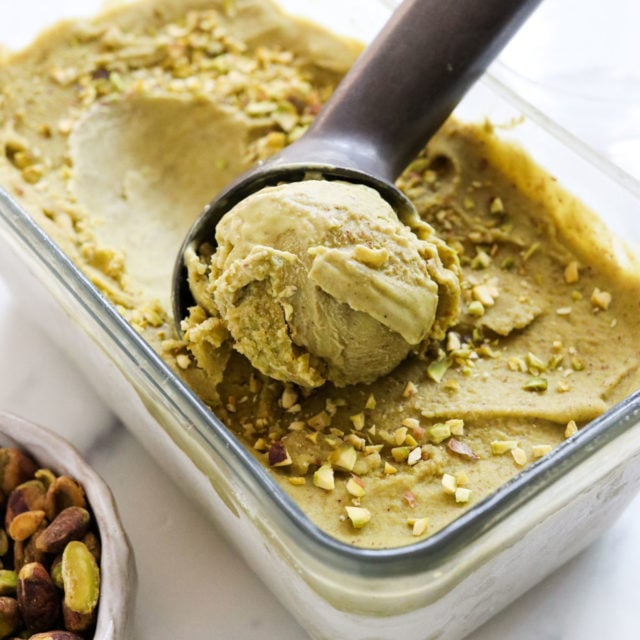 Vegan Pistachio Ice Cream
This Pistachio Ice Cream is ultra-creamy and delicious, without using dairy. All you need is 4 simple ingredients to make it, and it couldn't be easier!
Equipment
Ingredients
1 1/2

cups

shelled raw pistachios

(208 grams; not salted)

1 1/2

cups

water

(12 ounces)

1/2

cup

maple syrup

(155 grams)

1/4

teaspoon

almond extract

(optional; but recommended)
Instructions
Be sure to freeze the bowl of your ice cream maker at least 24 hours in advance, if your ice cream machine requires it. In a high-speed blender, combine the pistachios, water, maple syrup, and almond extract, and blend until completely smooth.

Pour the mixture into the frozen bowl of your ice cream maker, then process until thick and creamy, about 30 to 35 minutes.

You can serve this ice cream right away, or stir some extra chopped pistachio pieces into it for added crunch. For a more firm ice cream, transfer it to an airtight container with a lid, and store in the freezer for 2 to 4 hours. This should give it a firmer, more scoop-able texture. Leftover ice cream can be stored in the airtight container in the freezer for up to 3 months.
Notes
Nutrition information is for a slightly heaped 1/2 cup serving. This information is automatically calculated, and is just an estimate, not a guarantee.
See the full post above for additional notes.
Nutrition
Calories:
247
kcal
,
Carbohydrates:
27
g
,
Protein:
6
g
,
Fat:
14
g
,
Saturated Fat:
2
g
,
Polyunsaturated Fat:
4
g
,
Monounsaturated Fat:
7
g
,
Sodium:
7
mg
,
Potassium:
370
mg
,
Fiber:
3
g
,
Sugar:
18
g
,
Vitamin A:
80
IU
,
Vitamin C:
1
mg
,
Calcium:
64
mg
,
Iron:
1
mg
If you try this Pistachio Ice Cream, please leave a comment below letting me know how you like it. I love hearing from you!
–
Reader Feedback: Which ice cream flavor would you like to see next?