Spinach Muffins are a delicious way to sneak more green veggies into your life, and they come together quickly in a blender! You'd never guess you're eating spinach just by tasting them.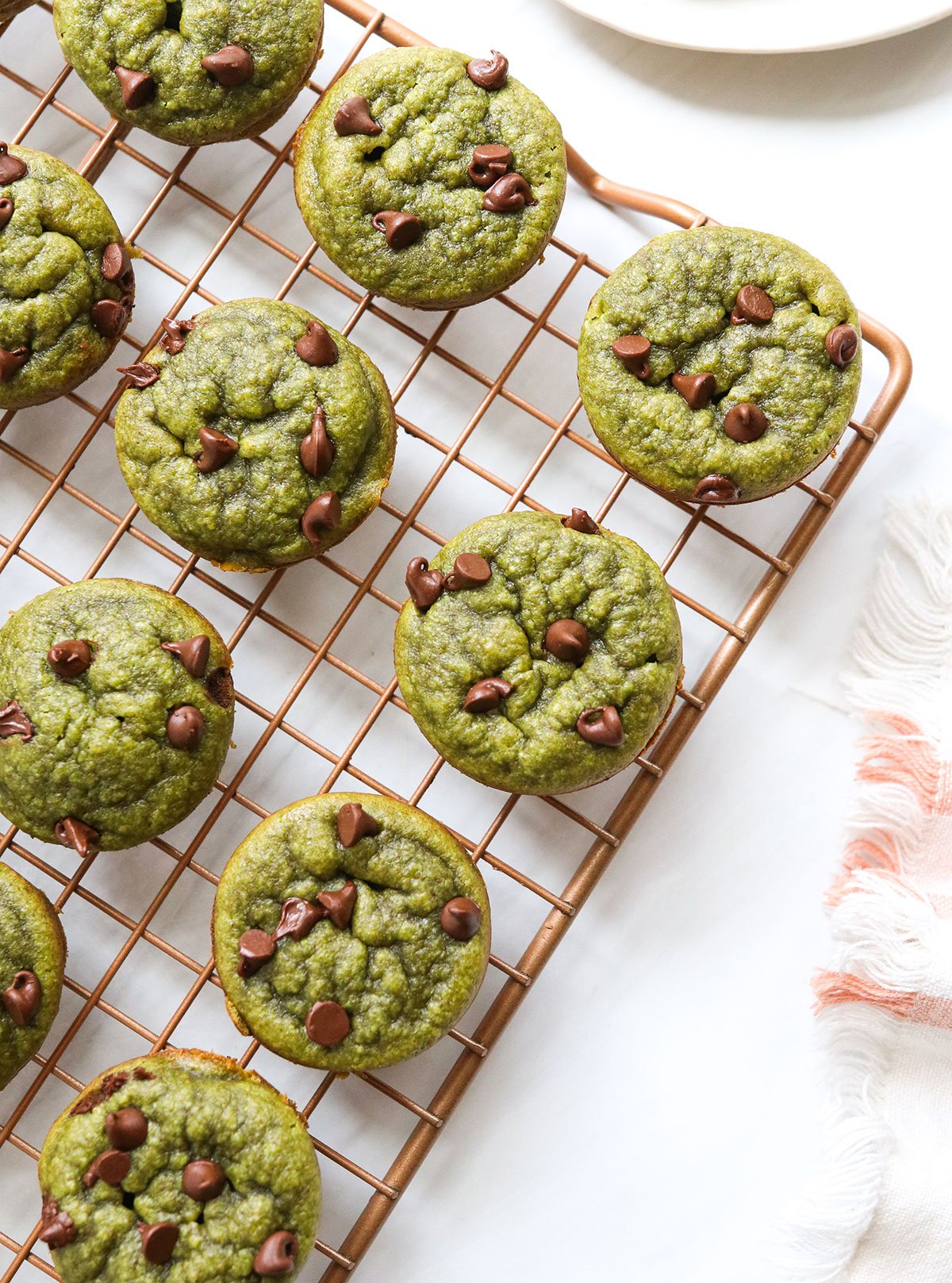 Why You'll Love Them
They are easy to make. Just toss the ingredients into a blender, and blend until the batter looks smooth. You can pour it from the blender pitcher directly into a greased muffin pan, so there is no extra bowl to clean!
They taste amazing. These muffins are lightly sweetened with honey, so they have a sweet flavor without tasting like spinach. You can add in a few mini chocolate chips to make them a more appealing snack, if you like!
They are allergy friendly. Instead of using flour, these muffins are made with whole grain oats, which are naturally gluten-free. (Make sure you buy certified gluten-free oats, if you need this recipe to be gluten-free, though, to avoid any cross-contamination during processing.) This recipe is also dairy-free and oil-free.
They are easy to customize. If you want to use a different nut butter, like almond butter or even sunflower seed butter, feel free! You can also make these vegan using the substitution tips below.
They are great for kids. When you call these "hulk muffins" or "Ninja Turtle Muffins" these green colored muffins become a fun treat, especially for toddlers. My son always felt like he got "turtle power" every time he ate one, so the color green never was off-putting.
Safety Note: If you are using these muffins for baby-led weaning, and your child is under 1 year old, you might want to use maple syrup as the sweetener, since honey is not recommended for children under 1 year old.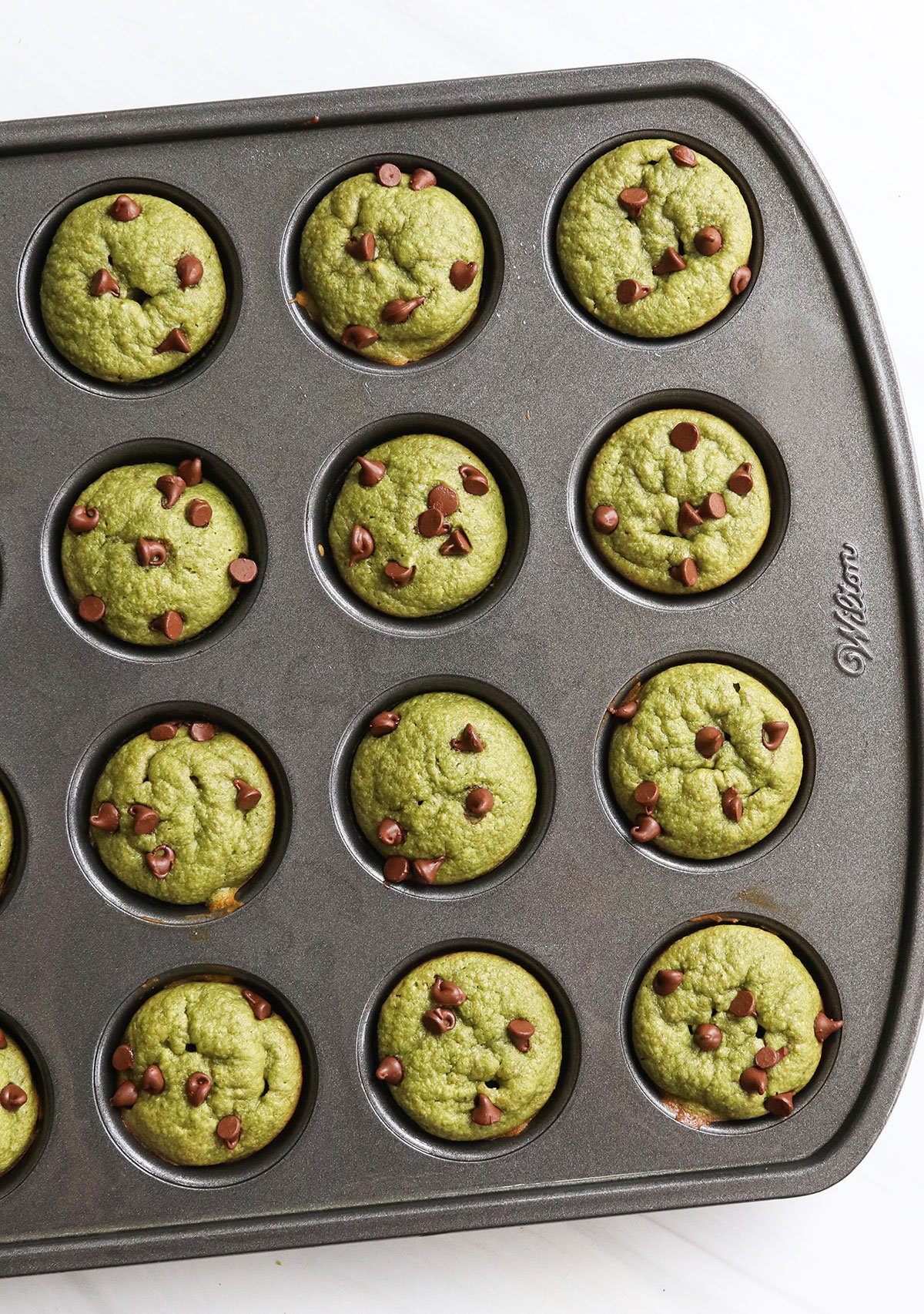 Ingredients You'll Need
Using fresh baby spinach will give you the best neutral flavor, as frozen spinach is often cooked prior to freezing and tastes more concentrated. (If you need to use frozen, use less than this recipe calls for.)
You can boost the natural sweetness of these muffins by using a ripe banana, with lots of brown spots on its skin. If you don't have bananas on hand, you can use unsweetened applesauce, instead.
How to Make Sweet Spinach Muffins
1. Blend.
In a high-speed blender, combine the eggs, peanut butter, banana, spinach, rolled oats, honey, baking powder, cinnamon, and salt. Blend until the mixture is very smooth, with no large pieces of spinach remaining.
Stop and scrape down the sides of the blender, as needed, to keep everything blending smoothly.
2. Bake.
Grease a 24-cup mini muffin tin with coconut oil or olive oil, or line a 12-cup muffin pan with muffin liners. Pour the batter into the muffin cups, and add any toppings you like, such as chocolate chips.
Bake the muffins in an oven preheated to 350ºF for 20 to 25 minutes. (Mini muffins should be done in 20 minutes; larger muffins will need 25 minutes.)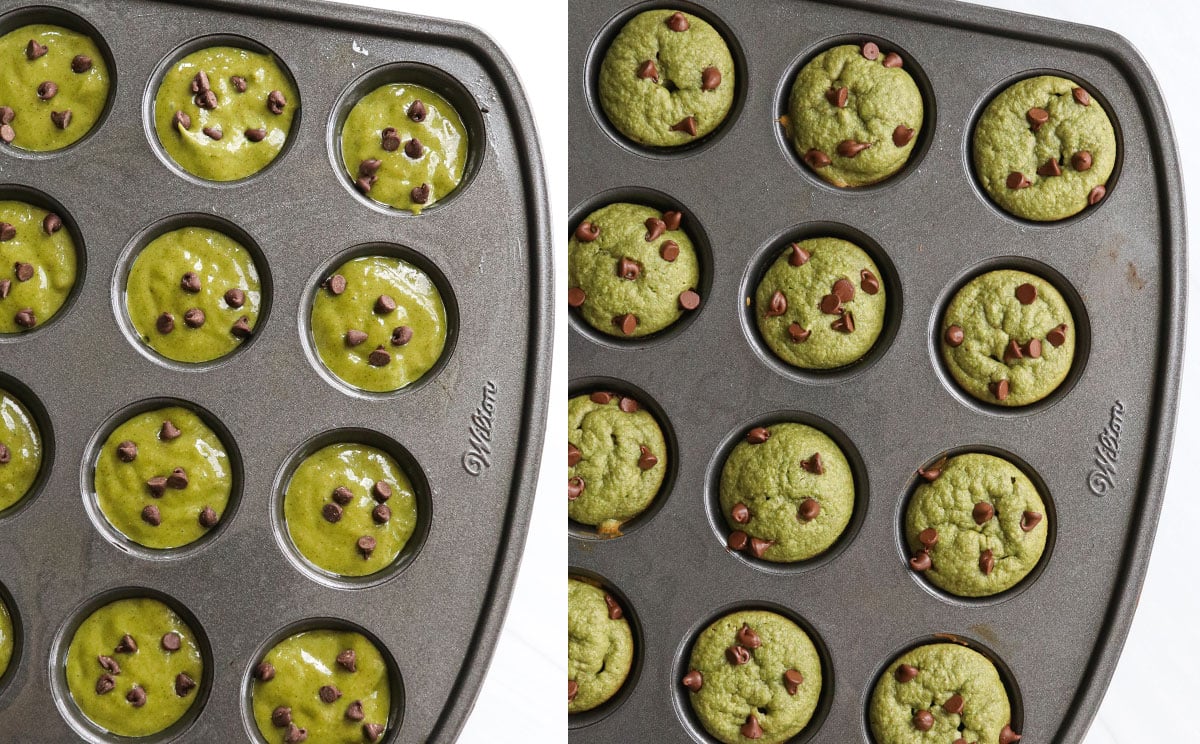 3. Enjoy!
Once the muffins feel firm to the touch in the center, remove them from the oven and let them cool in the pan. If you didn't line the pan, run a knife around the edges of each muffin to help loosen them from the pan, then lift them out.
Serve these spinach banana muffins at room temperature once they are cool, or store them in an airtight container in the fridge for up to 5 days. You can also store them in the freezer for up to 3 months, if you'd like to store them longer.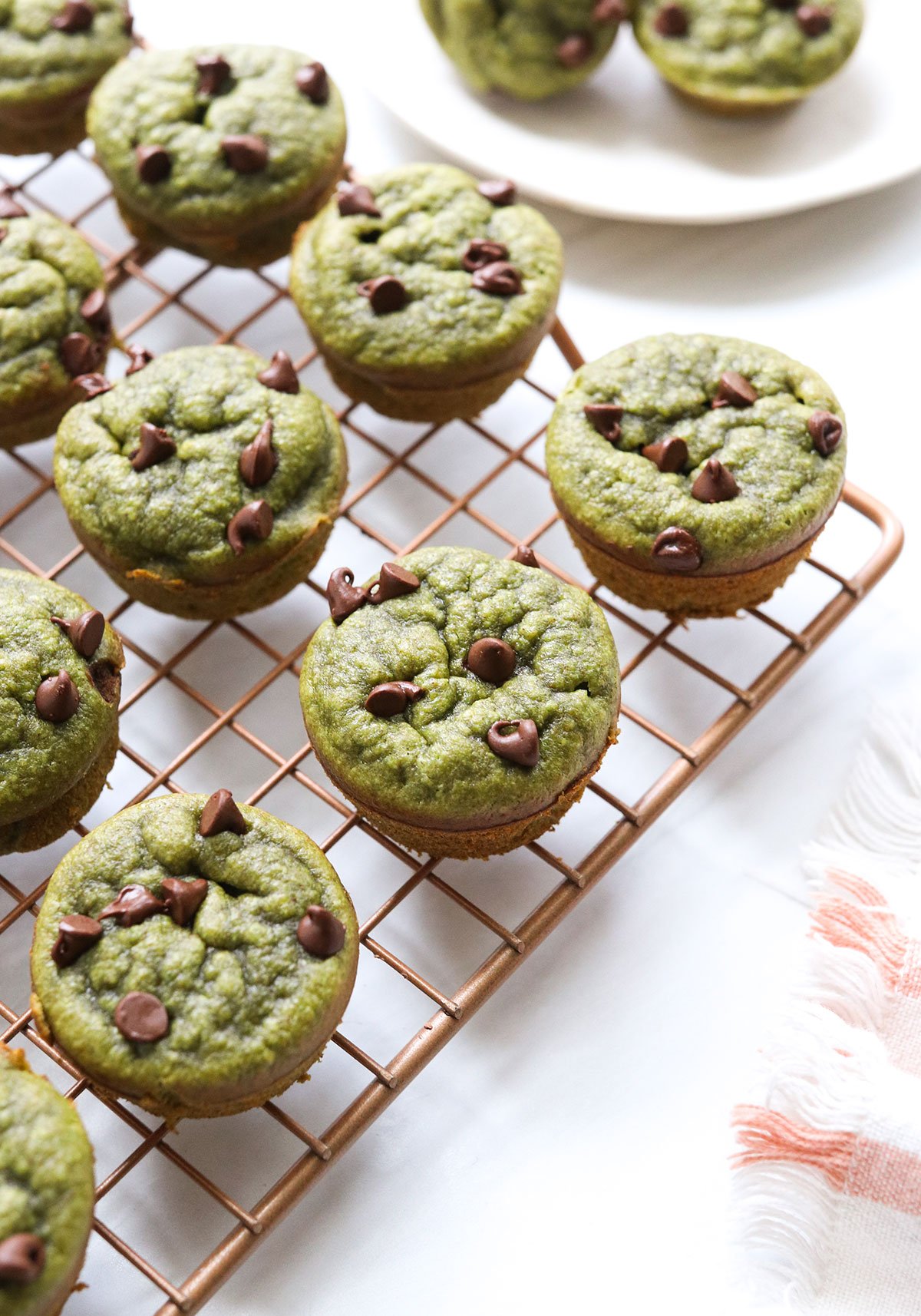 Frequently Asked Questions
Why are my muffins not fluffy?
The key to fluffy muffins is using plenty of eggs and fresh baking powder. If your baking powder is old, it might be time for a replacement. If you need to use baking soda instead, use a 1/4 teaspoon of baking soda for every egg in this recipe. (So 3/4 teaspoon total.)
Can I use flax eggs instead?
Ground flaxseed mixed with water tends to work best with traditional flour, since the gluten also acts as a binder. For this recipe, you might want to try using a powdered egg replacement, like the one made by Bob's Red Mill, instead.
Has this recipe been updated?
Yes, after several months of testing this recipe has a much more fluffy texture than the original, with more protein for growing kids. You can find the original recipe here, which is made with vanilla extract and less eggs, if you prefer it.
Can I use a different sweetener?
You can use maple syrup instead of honey, for a slightly less-sweet muffin, or try using a 1/2 cup of coconut sugar, instead. (The coconut sugar will turn them slightly more brown, FYI.)
Can I use flour instead of oats?
If you prefer to use a gluten-free flour instead of oats, you'll get the most consistent results by using a scale to weigh the flour. (This recipe calls for 78 grams of oats, so you'd use the same weight in oat flour for the most similar results.)
Looking for more kid-friendly snacks? Try Frozen Banana Bites, chewy homemade Granola Bars, or Banana Snack Cake, for a treat with no added sugar.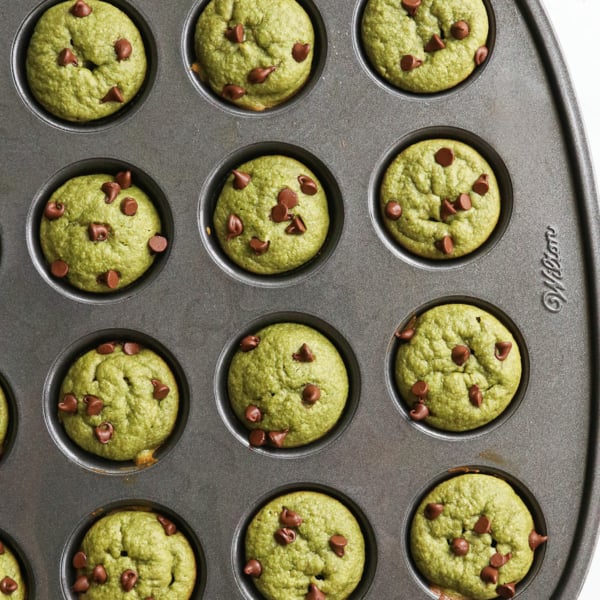 Spinach Muffins for Picky Eaters
If you're looking for a way to sneak more greens into your day, these Spinach Muffins are a delicious & easy option. The muffin batter comes together quickly in your blender!
Equipment
Ingredients
1

ripe banana

3

large

eggs

(see notes for vegan option)

¼

cup

almond butter or peanut butter

⅓

cup

honey

1-2

cups

fresh baby spinach

¾

cup

old fashioned rolled oats

(certified gluten-free, if needed)

1

teaspoon

baking powder

1

teaspoon

ground cinnamon

(optional)

½

teaspoon

fine sea salt

¼

cup

mini chocolate chips

(optional topping)
Instructions
Preheat the oven to 350ºF and grease a mini muffin tin with cooking spray or olive oil.

In a high-speed blender, add the banana, eggs, nut butter, honey, spinach, rolled oats, baking powder, cinnamon, and salt, in that order. (Liquids on the bottom help facilitate blending better.) Blend until very smooth, stopping to scrape the sides as needed.

Pour the green batter into the greased mini muffin pan, filling the 24 slots. (Alternatively, you can bake these in a standard muffin pan to make 12 muffins.) Sprinkle a few mini chocolate chips on top, if you'd like to.

Bake the mini muffins at 350ºF for 12 to 14 minutes, until the muffin tops feel firm to the touch. If you're baking 12 standard muffins, they will need to bake for closer to 25 minutes at 350ºF.

Remove the muffins from the oven and allow them to cool before removing them from the muffin tin. Once the muffins are cool, run a knife around the sides of each muffin to help get them out.

Muffins can be stored at room temperature for 24 hours, but I recommend storing them in an airtight container in the fridge for up to a week for the best shelf life.
Notes
Nutrition information is for 1 mini muffin, without the optional chocolate chip topping. This information is automatically calculated, and is just an estimate, not a guarantee.
Update Note: This recipe was updated in March 2023 to create muffins that have a much better fluffy texture! I hope you'll give them a try, but if you prefer the original recipe, you can find the printable version here. (The original recipe includes an egg-free option, too.)
Need a nut-free recipe? Try using sunflower butter or tahini as a swap. Or you can try using 2 to 3 tablespoons of a mild-flavored oil, instead of the nut butter.
Nutrition
Calories:
55
kcal
,
Carbohydrates:
8
g
,
Protein:
2
g
,
Fat:
2
g
,
Saturated Fat:
1
g
,
Polyunsaturated Fat:
0.5
g
,
Monounsaturated Fat:
1
g
,
Cholesterol:
23
mg
,
Sodium:
69
mg
,
Potassium:
76
mg
,
Fiber:
1
g
,
Sugar:
5
g
,
Vitamin A:
153
IU
,
Vitamin C:
1
mg
,
Calcium:
16
mg
,
Iron:
0.3
mg
If you try this spinach muffin recipe, please leave a comment and star rating below letting me know how you like it!