These Homemade Granola Bars are quick & easy to prepare, calling for just 4 ingredients that you probably already have on hand. They are inspired by my Peanut Butter Rice Crispy Treats, and taste BETTER than a store-bought bar, if you ask me!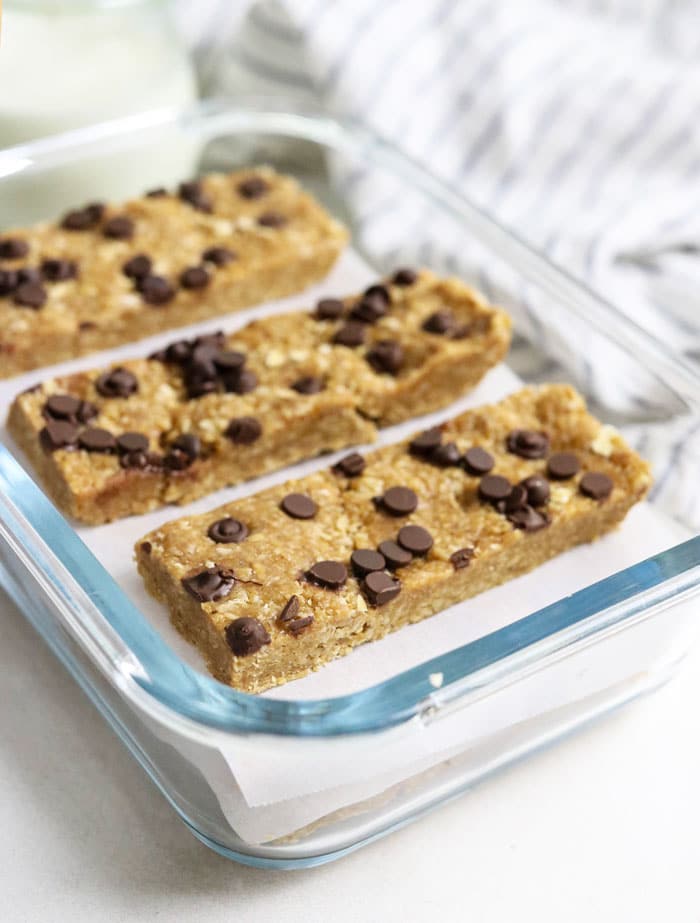 What Makes Granola Bars Stick Together?
The key to making these homemade granola bars stick together is boiling the honey for exactly 1 minute. This makes the honey harden slightly as it cools, giving these bars the classic "chewy" texture that I love in a store-bought granola bar.
If you're vegan and would rather not use honey, you can do the exact same method using maple syrup instead. In my experience, maple syrup hardens a bit more than honey, so the resulting bars have a slightly more crisp texture, but they are equally delicious!
This recipe is easily adaptable to use any other nut or seed butters you have on hand. If you don't like peanut butter, feel free to use almond butter, instead.
How to Make Nut-Free Granola Bars
For a nut-free granola bar that you can use as a school lunch idea, try using sunflower seed butter or tahini to replace the peanut butter. In this case, you might want to use a little extra sweetener, or press some raisins or cranberries on top, to help distract from the slightly more bitter flavor of the ground seeds.
This recipe moves quickly, so I recommend you have all of the ingredients you need measured and ready to go before you get started. You'll want to mix the peanut butter into the freshly boiled honey right away, and then pour it over the oats and stir quickly so that the honey doesn't harden as you stir it.
Homemade Granola Bars Tutorial (1-minute video):
Homemade Granola Bars (only 4 ingredients!)
This homemade granola bar recipe calls for just 4 main ingredients, and then you can customize it withy any toppings you like!
Ingredients
Optional toppings:
1/4

cup

mini chocolate chips

(use a brand like Enjoy Life for dairy-free)

1/4

cup

raisins or dried cranberries

1/4

cup

sunflower seeds, pecans, or walnuts

, for crunch
Instructions
Line a 9-inch square pan with parchment paper and set aside.

In a small saucepan over medium-high heat, bring the honey to a boil. Set a timer, and allow the honey to continue boiling for 1 minute. In the meantime, place the oats in a large bowl and set aside. Remove from the pan of honey from the heat and stir in the peanut butter and salt.

Immediately pour the warm mixture over the oats, and use a spatula to stir well, coating the oats evenly. As the mixture cools, it will become sticky and difficult to mix, so be sure to move quickly!

Transfer the mixture to the lined loaf pan, and press HARD to pack it into the pan. Pressing firmly will ensure that the bars stick together well later. Sprinkle any optional toppings over the top, if desired. (The chocolate chips will melt, so I use a piece of parchment paper over the top to help press them into place without making a mess.) Place the pan in the fridge or freezer to cool for 1 hour, then use a large knife to cut 10 evenly-sized bars.

These granola bars can be kept at room temperature for 3-5 days, or in the fridge in an airtight container for up to 1 month. You can also freeze them for up to 6 months if you'd like to make a larger batch. They can thaw overnight in the fridge, or in your purse if you'll need to be out and about.
Nutrition
Calories:
189
kcal
|
Carbohydrates:
27
g
|
Protein:
5
g
|
Fat:
8
g
|
Saturated Fat:
2
g
|
Sodium:
177
mg
|
Potassium:
151
mg
|
Fiber:
2
g
|
Sugar:
15
g
|
Vitamin C:
1
mg
|
Calcium:
15
mg
|
Iron:
1
mg
Homemade Granola Bar Nutrition (per bar): Calories: 189; Fat: 8g, Carbohydrates: 27g, Fiber: 2g, Protein: 5g
Recipe Notes:
As I mentioned above, this recipe is easily adaptable. Feel free to use any other nut or seed butter to replace the peanut butter, and you can use maple syrup to replace the honey. (The sweetener is the binder in this case, so I wouldn't recommend swapping a sugar-free substitute without expecting possibly different results…)
For a grain-free snack bar, try my Cherry Pie Larabars or Peanut Butter Cookie Larabars, which also only require a handful of easy ingredients.
If you try this recipe, please leave a comment below letting me know how it works out for you. And if you make a substitution, I'd love to hear how it goes, too! We can all benefit from your experience.
—
Reader Feedback: What's your favorite granola bar flavor? Austin's favorite is the recipe above, but mine are the Cinnamon Raisin snack bars in Everyday Detox— I can't wait for you all to try them, too!