This Spirulina Smoothie has quickly become my favorite breakfast. I love that it's loaded with filling fiber and plant-based protein, and it's a delicious way to include this popular blue-green algae into your day.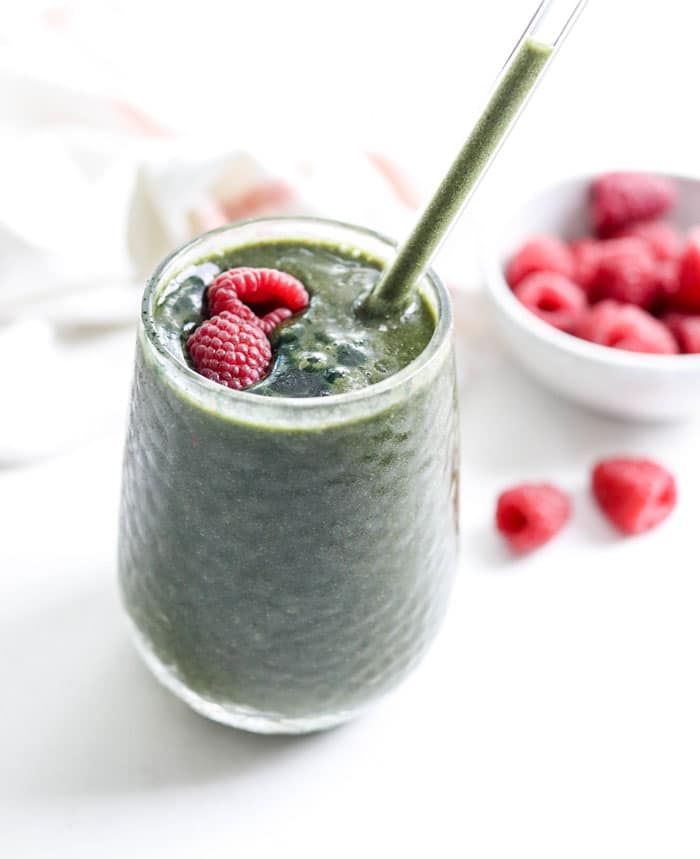 What is Spirulina?
Spirulina is a type of blue-green algae that may be one of the most nutritious foods on the planet. It became popular back in the 80's, when NASA suggested that it could be grown in space for astronauts. (source)
Spirulina is also a complete source of protein, containing all the amino acids the body needs. All you need is a tablespoon to get 4 grams of protein!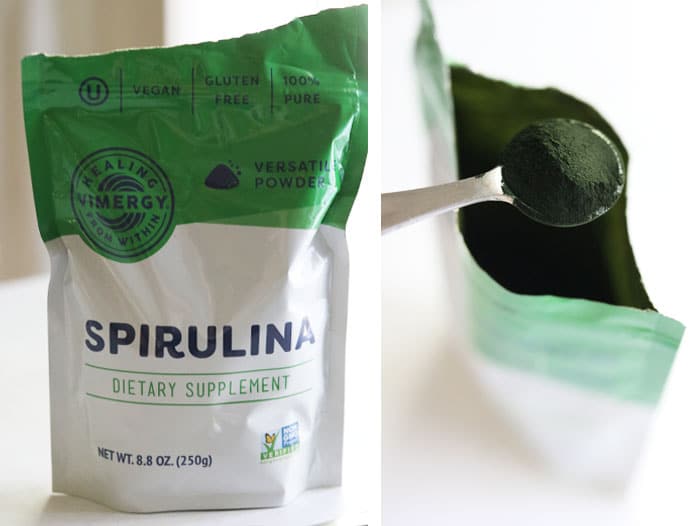 What are the Health Benefits of Spirulina?
Spirulina packs quite a nutritional punch. It has powerful antioxidant and anti-inflammatory properties, and may help to fight free radical damage.
Here are a few more potential benefits:
I think it's also important to note that spirulina is not a good source of vitamin B12. It does contain a source of B12, but according to studies it's not easily absorbed in humans, so I wouldn't consider this a good supplement for that purpose.
As an Amazon affiliate, I earn on qualifying purchases.
Which Brand of Spirulina is Best?
Brands don't always disclose sourcing information on the package, so I can only share what I've tried myself so far. I've had a good experience using pure Hawaiian Spirulina and I'm currently trying Vimergy's Spirulina, which is also grown in the USA.
What Do You Put in a Spirulina Smoothie?
This smoothie is a nutritional powerhouse. Along with the spirulina, I like to pair it with cucumber, spinach, banana, and a mix of vitamin-rich berries.
Here's why I picked these smoothie ingredients:
Cucumbers are incredibly hydrating and studies have shown that they may help to lower blood sugar levels. (source) Because they are low in calories and contain antioxidants, they may also help with weight loss and protect against free radical damage.
Spinach is an excellent source of vitamin C, which can act as an antioxidant in the body and may boost the immune system. It's also a good source of iron and calcium.
Bananas are a good source of fiber, and research has shown that eating more vegetables and fruits is linked to weight loss and a lower body mass index. (source)
Raspberries are high in antioxidants, and may have anti-inflammatory effects to help reduce the risk of disease. (source) Animal studies also suggest that raspberries may be helpful in controlling blood sugar. (source)
Cherries are loaded with antioxidants and research suggests that they may be good at reducing inflammation. (source) They are particularly high in polyphenols, which are thought to protect against cellular damage and promote overall health. (source)
Strawberries are an excellent source of vitamin C and folate, which is essential for cell function. (source) They're also a great source of potassium, which may help to regulate blood pressure. (source)
Dates are a nutritious fruit, which may help to protect against neurodegenerative diseases, like Alzheimer's. (source) Studies have shown that women who consume 6 dates a day may be more likely to go into labor, and be in labor for a shorter amount of time, compared to women who don't. (source) This was certainly the case for me!
I tend to use a mix of frozen raspberries, cherries, and strawberries to make one cup of fruit for this smoothie. If you're one to measure, I like to do roughly 1/4 cup of raspberries, and then I fill out the rest of the measuring cup with cherries and strawberries. Some stores carry a mix so you won't have to measure them separately, or you can pick just a single fruit to use in this smoothie.
What are the Side Effects of Spirulina?
Research suggests that spirulina is generally considered safe. (source) There is a risk of it being contaminated if the algae is grown in water that is polluted with heavy metals or harmful bacteria, so it's important to look at the source when shopping for spirulina powders.
Since spirulina may boost your immune system, it's important to talk with your doctor before using it if you take a medication that is meant to decrease your immune system. It may also slow blood clotting, so taking medications that also slow blood clotting may increase your chances of bruises or bleeding. (source)
Some people may be allergic to spirulina, and can have severe reactions in rare cases. (source) If you tend to have food allergies, it's probably best to be on the safe side and consult with your health care professional before using it.
Can you Taste Spirulina in Smoothies?
Spirulina isn't an ingredient that you hide in smoothies. Its signature blue-green color is pretty noticeable right away, but it also has a potent smell and flavor. The key to making it enjoyable in a smoothie is to add vibrant-tasting fruit, like cherries and raspberries. Tropical fruit, like pineapple works, too!
If you're new to using spirulina, I recommend you start with just 1 teaspoon in this recipe. That way the flavor isn't overwhelming. As you grow accustomed to using spirulina, you can work your way up to using a tablespoon in this smoothie.
Here's How to Make this Smoothie: (1-minute video)
My Go-To Spirulina Smoothie
This Spirulina Smoothie is a delicious way to sneak the blue-green algae into your day. It's a great source of vitamins and plant-based energy, and is perfect for pre-workout fuel.
Ingredients
1

cup

water

1/2

cucumber

, peeled (to avoid bitterness)

1

frozen banana

1

cup

mixed berries

(frozen)

1 to 2

teaspoons

spirulina powder

(you can use up to 1 tablespoon)

1

Medjool date

, pitted

1

large handful

baby spinach
Instructions
Combine all of the ingredients in a blender and blend until very smooth. Serve chilled right away.

Note: If you don't have a powerful blender, I recommend blending the water, spinach, cucumber, and date together first. Once they are broken down, add in the frozen fruit and spirulina and blend again.
Nutrition
Calories:
284
kcal
,
Carbohydrates:
69
g
,
Protein:
6
g
,
Fat:
2
g
,
Saturated Fat:
1
g
,
Sodium:
74
mg
,
Potassium:
1085
mg
,
Fiber:
11
g
,
Sugar:
46
g
,
Vitamin A:
3070
IU
,
Vitamin C:
27.4
mg
,
Calcium:
78
mg
,
Iron:
2.8
mg
Spirulina Smoothie Nutrition (with only 1 teaspoon spirulina): Calories: 284, Fat: 2g, Carbohydrates: 69g, Fiber: 11g, Protein: 6g
Recipe Notes:
This recipe is very adaptable to use what you have on hand. You can leave out the date if you don't have one, and you can swap kale for the spinach if you don't mind your smoothie tasting like kale.
Frozen pineapple and mango are also great swaps for the berries or banana if you want more of a tropical flavor to your smoothie.
If you try this recipe, leave a comment below letting me know how you like it. If you make any substitutions, let me know how that works for you, too! We can all benefit from hearing about your experience.
–
Reader Feedback: Have you tried spirulina in a smoothie yet? Let me know if you have a favorite combination!