This Vegan Nacho Cheese is the best dairy-free cheese sauce you'll ever make. It tastes like the nacho cheese sauce you'd get at a sporting event or movie theater, only better!
What's special about this recipe is that you don't need any specialty ingredients to make it– not even nutritional yeast, which typically adds a "cheesy" flavor.
This recipe is naturally gluten-free and will quickly become one of your favorite vegan cheese recipes. Especially since it's so fast to prepare!
Ingredients You'll Need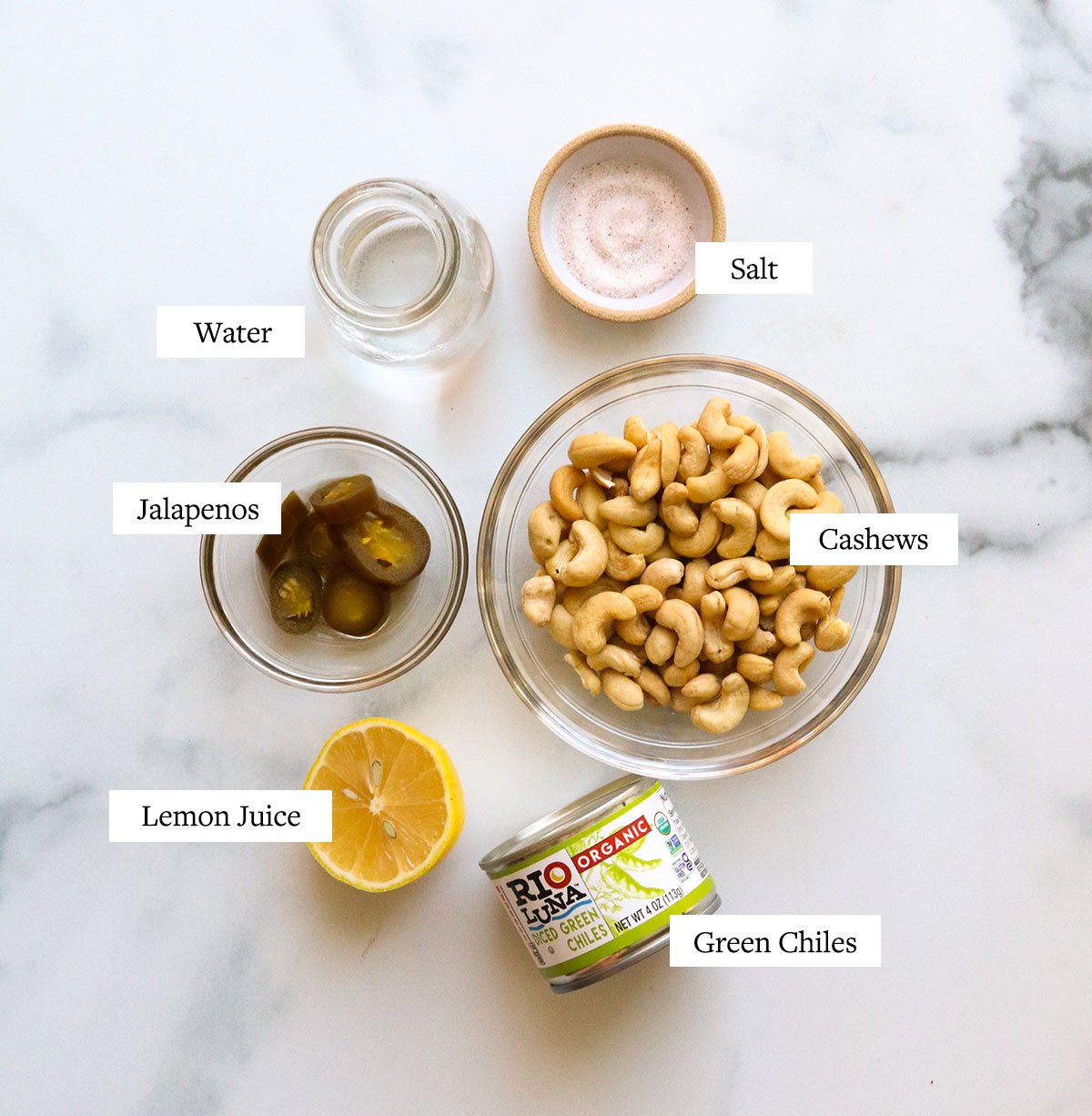 This nacho cheese sauce gets its creaminess from raw cashews, rather than using cornstarch or other thickeners. Canned green chiles and a few jarred jalapeño slices give the sauce an amazing flavor without needing to boil or chop anything.
Because the ingredients aren't orange, this sauce won't look like the neon-orange nacho cheese you may be used to. You can add a pinch of paprika or chili powder for color, but the spices will change the flavor, so be sure to taste it before making any changes.
Need a nut-free recipe? Try my vegan cheese sauce, which is made with boiled carrots and potatoes. It also has the traditional orange color you'd expect! 
How to Make the Best Vegan Nacho Cheese
There's no need to soak raw cashews if you are using a high-speed blender, as it will easily pulverize them. If you don't have a powerful blender, place the cashews in a large bowl and cover them in hot water.
Let them soak for up to 2 hours.
Drain well before adding them to the blender, then proceed with the recipe as written. 
In a high-speed blender, combine the cashews, lemon juice, water, green chiles, jalapenos, and salt. Secure the lid and blend until the sauce looks smooth about 60 seconds. 
Taste the sauce and make any adjustments you like. Add more jalapenos for a spicier flavor, or a pinch of garlic powder or onion powder if you'd like. For a runnier consistency, add another tablespoon of water and blend again.
This cheese sauce will thicken as it sits, so if you're not going to use it right away you may need to stir in an extra tablespoon of water to thin it out again.
Serve it in a bowl for dipping, or drizzle it over tortilla chips, tacos, black beans, french fries, or even pizza!
Leftover nacho cheese sauce can be stored in an airtight container in the fridge for up to 5 days. Thin it out with water as needed, if it thickens when chilled.
Frequently Asked Questions
Can I substitute cashews in this recipe?
If you need to use another nut, blanched almonds may provide similar results, but the flavor could be slightly different. I've also swapped hemp hearts (hulled hemp seeds) for cashews in my vegan ranch dressing with wonderful results, so feel free to give that a try. In that case, the mouthfeel may be slightly different. 
What if I don't have green chiles?
The canned green chiles give this sauce an amazing flavor. but you could use half of a can of diced tomatoes with green chiles (like Rotel) for more of an orange queso dip if you need a swap. 
Can I make it spicier? 
Yes, add a chipotle pepper in adobo sauce when blending, for a smoky, spicy flavor. 
Can I use non-dairy milk for blending?
Yes, you can use almond milk or soy milk, if you'd like to, but it's unnecessary. The cashews add plenty of creaminess already, and water won't add an extra flavor the way store-bought milk can.
Looking for more vegan recipes? Try Vegan Queso, Vegan Quesadillas, Vegan Mac and Cheese, or dairy-free Spinach Artichoke Dip for more comfort food ideas.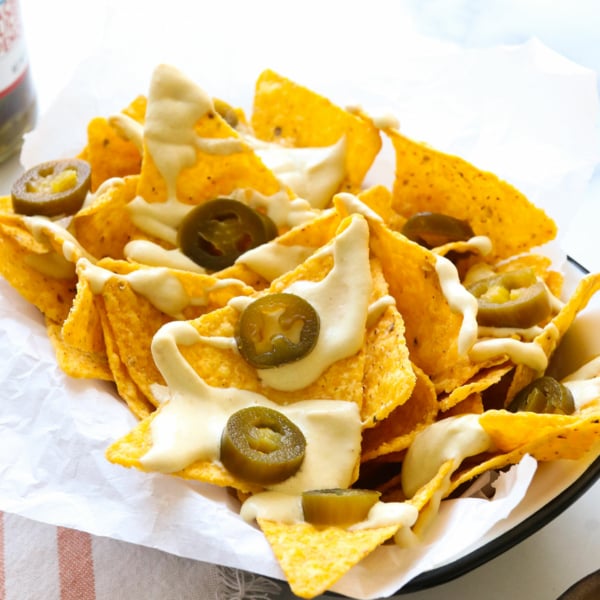 Best Vegan Nacho Cheese Sauce
Vegan Nacho Cheese Sauce is the best you'll ever taste, with no nutritional yeast required. It will remind you of the kind you'd get at a movie theater or sporting event!
Equipment
Ingredients
1

cup

cashews

(not roasted or salted)

6

tablespoons

water

1 ½

tablespoons

lemon juice

(about 1/2 lemon juiced)

¾

teaspoon

fine sea salt

(I use Real Salt brand)

1

(4-ounce can)

diced green chilies

(I use Rio Luna organic)

6

jarred jalapeno slices

(optional, but recommended)
Instructions
In a high-speed blender, combine the cashews, water, lemon juice, salt, diced chilies (along with their juices), and jalapeno slices. Secure the lid and blend until very smooth.

Serve right away with your favorite tortilla chips for dairy-free nachos, or use it as a topping for tacos, burrito bowls, and more. This nacho cheese sauce will thicken when you store it in the fridge, so add a tablespoon of water to thin it out again, if needed. Store it in an airtight container in the fridge for up to a week, or freeze it for up to 3 months.
Notes
Nutrition information is for roughly 1/4 cup of cheese sauce, assuming you get 1 1/2 cups of sauce total from this recipe. This information is automatically calculated and is just an estimate, not a guarantee.
Soaking Note: If you don't have a high-speed blender, you may want to soak the cashews in a bowl of water for up to 2 hours to help them soften up. Drain the soaking water away before adding them to the blender. Since the cashews may retain some of the water in this case, start with only a 1/4 cup of water for blending. You can add more water, as needed, until the sauce reaches the consistency you like.
Nutrition
Calories:
125
kcal
,
Carbohydrates:
8
g
,
Protein:
4
g
,
Fat:
9
g
,
Saturated Fat:
2
g
,
Polyunsaturated Fat:
2
g
,
Monounsaturated Fat:
5
g
,
Sodium:
357
mg
,
Potassium:
146
mg
,
Fiber:
1
g
,
Sugar:
2
g
,
Vitamin A:
0.2
IU
,
Vitamin C:
4
mg
,
Calcium:
9
mg
,
Iron:
1
mg
Fun Fact: No cheese is naturally orange. All natural cheese should all be white, like this dip! Orange-colored cheddar cheese and nacho cheese-style dips are dyed orange, typically using annatto seed. Check out NPR's story on the history of cheese to see how adding orange color was sparked by an act of fraud in the 17th century.
If you try this vegan nacho cheese sauce, please leave a comment and star rating below letting me know how you like it.