Making spaghetti sauce at home just got a LOT easier. When you use the Instant Pot to make it, you can throw all of the fresh ingredients in the pot, press a button and walk away until it's done!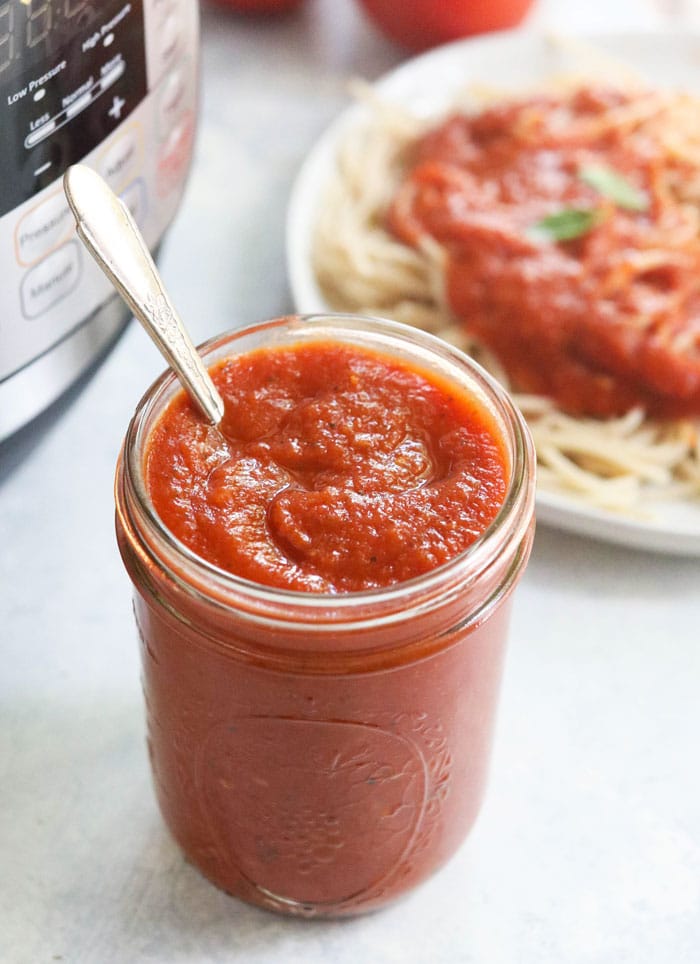 As an Amazon Associate I earn from qualifying purchases.
My Go-To Instant Pot Spaghetti Sauce
What's great about this easy spaghetti sauce is that it's oil-free with no added sugar. Instead, it gets a little natural sweetness from the addition of a carrot. This recipe is from my first cookbook, Everyday Detox, but it's made even easier in the Instant Pot!
Because tomatoes have so much natural moisture, you don't add any water to this recipe. If you're used to cooking with your Instant Pot, you know how unusual this is, because the Instant Pot requires liquid to bring the pot to pressure.
How Do You Keep Tomato Sauce from Burning in the Instant Pot?
If you're familiar with Instant Pot cooking, you may know that sometimes tomato products can cause a "burn" error while pressure cooking. This is more typical with prepared tomato sauces that are thicker in texture, because the Instant Pot needs plenty of liquid to build up steam pressure.
In the case of this recipe, the tomatoes contain more than enough liquid to bring the pot to pressure because they will release their moisture as the pot heats up, without burning or sticking to the bottom. Be sure to closely follow the directions, though. The spices can NOT touch the bottom of the Instant Pot or they may burn to the bottom, so sprinkle them on top of the tomatoes without stirring.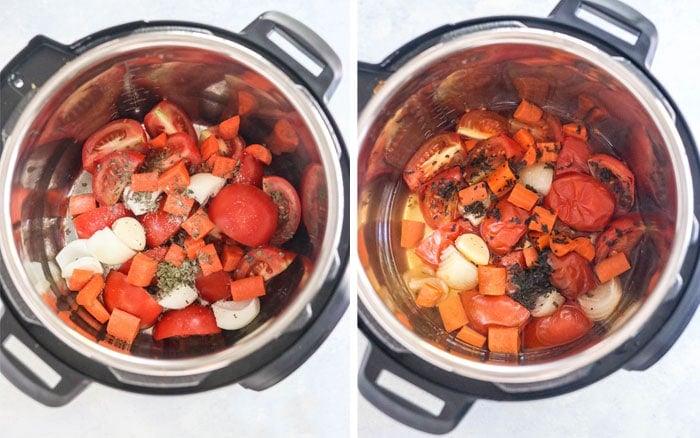 How to Make Fresh Spaghetti Sauce in the Instant Pot
This Instant Pot spaghetti sauce couldn't be easier. I like to quarter my fresh tomatoes and onions to help their liquid release faster, but there's not a ton of chopping involved, because everything can be left in rather large chunks. (I don't even bother mincing the garlic at all.) Add the veggies to the pot, sprinkle some seasonings over the top, and then let the Instant Pot do its thing.
When the cooking time is up, let the pressure naturally release for 10 minutes– which means that you essentially don't touch the pot until 10 minutes after the pot has beeped, letting you know the cooking cycle is over. (The screen will read L0:10 when it's time to release the pressure.)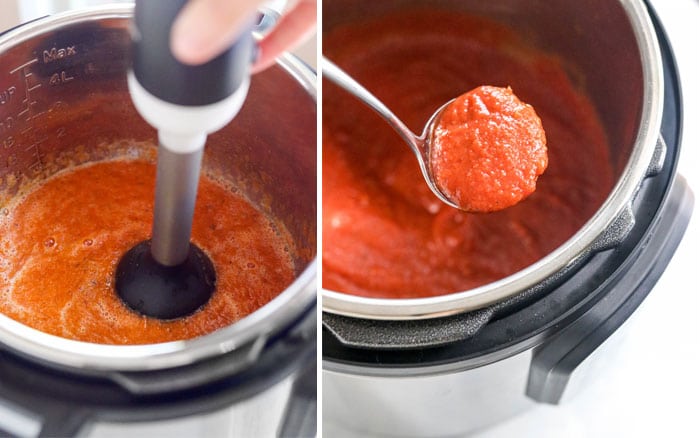 Once you remove the lid, use an immersion blender to puree the ingredients into a smooth sauce. I like to stir in a little tomato paste at the end to thicken the spaghetti sauce and boost the tomato flavor, but feel free to season the final sauce to your tastes. It's hard to go wrong with this easy homemade version!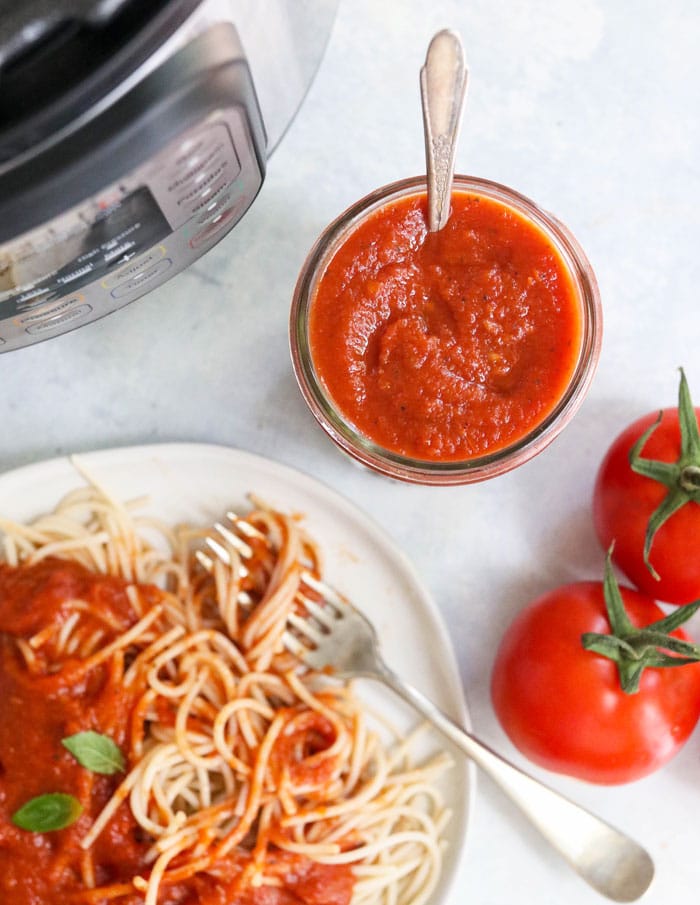 If you enjoy this recipe, I think you'll love my new book, The Fresh & Healthy Instant Pot Cookbook. It's loaded with EASY recipes for your electric pressure cooker, using easy-to-find whole food ingredients. There's nutrition information and a photo for every recipe, so I hope it will become your go-to resource for more healthy Instant Pot recipes.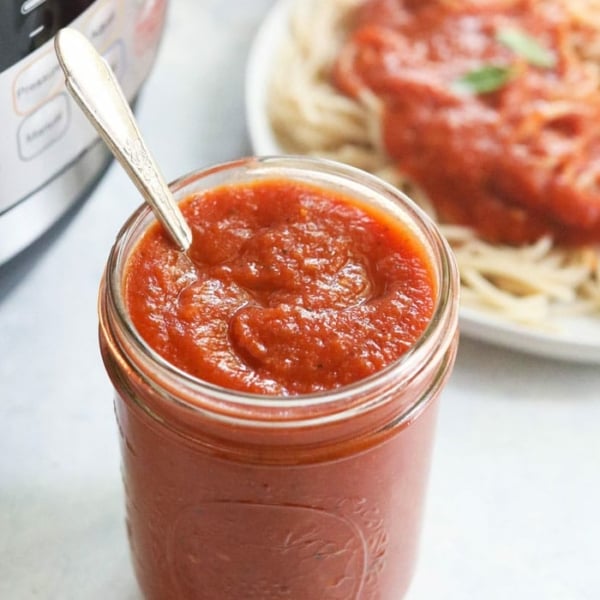 Instant Pot Spaghetti Sauce (with fresh tomatoes!)
This INSTANT POT SPAGHETTI SAUCE is made with fresh tomatoes in just about 30 minutes. With no added oil or sugar, it's a healthy & easy pasta sauce recipe!
Servings:
(roughly 40 ounces)
Ingredients
2

pounds

fresh tomatoes

, cut into quarters

2

small

yellow onions

, cut into quarters

2

large

carrots

, cut into large chunks

2

cloves garlic

(whole)

2

teaspoons

dried oregano

2

teaspoons

dried basil

1

teaspoon

sea salt

6

ounces

tomato paste

(no salt added)
Instructions
Add the tomatoes, onion, carrot, and garlic to the Instant Pot. Sprinkle the oregano, basil, and salt over the top of the vegetables, but don't stir. (You don't want the seasonings to touch the bottom of the Instant Pot or you could get a burn error.)


Secure the lid and move the steam release valve to Sealing. Select Manual or Pressure Cook (the name of the button will vary by machine) and cook at high pressure for 20 minutes. It will take roughly 10 minutes for the pressure to build in the pot before the cooking cycle begins, so the pot will say "On" until then.


When the cooking cycle completes, allow the pressure to naturally release for 10 minutes. When the screen reads L0:10, move the steam release valve to Venting to release any remaining pressure. When the floating valve drops, it's safe to remove the lid.


Use an immersion blender to blend the cooked vegetables into a smooth sauce. Add in the tomato paste and blend again to make sure it's fully incorporated. It should thicken the sauce. Adjust any seasoning to taste, then serve warm over your favorite pasta.


This sauce should keep well in an airtight container for up to a week in the fridge, or you can freeze it for up to 3 months.

Nutrition
Calories:
35
kcal
,
Carbohydrates:
7
g
,
Protein:
1
g
,
Sodium:
317
mg
,
Potassium:
372
mg
,
Fiber:
2
g
,
Sugar:
4
g
,
Vitamin A:
2545
IU
,
Vitamin C:
15.1
mg
,
Calcium:
22
mg
,
Iron:
0.8
mg
Per 1/4 cup: Calories: 35, Fat: 0, Carbohydrates: 7g, Fiber: 2g, Protein: 1g

Recipe Notes:
I use this 6-quart Instant Pot Duo for my recipes, but I think this would work in the 8-quart pot, too. (You may want to double the recipe in that case, to have plenty of liquid to bring the pot to pressure.)
This recipe makes roughly two jars of tomato sauce. (Around 20-22 oz. each; it will vary based on the size of your fresh produce every time.)
The seasoning in this recipe is totally up to you– feel free to double the basil, add thyme, or even a pinch of red pepper flakes for a spicy kick. Sometimes I add a splash of syrupy balsamic vinegar and simmer it at the end using the Sauté function on the Instant Pot.
If you need a spaghetti sauce without tomatoes, try my Tomato-less Marinara Sauce recipe instead!
—
Reader Feedback: Do you make your own spaghetti sauce? Let me know what you'd like to see me make in the Instant Pot next!