I've been on a mission to sweeten more of my dessert recipes with dates lately. If you ask me, dates are the BEST natural sweetener because they are loaded with fiber and essential minerals, like calcium and iron.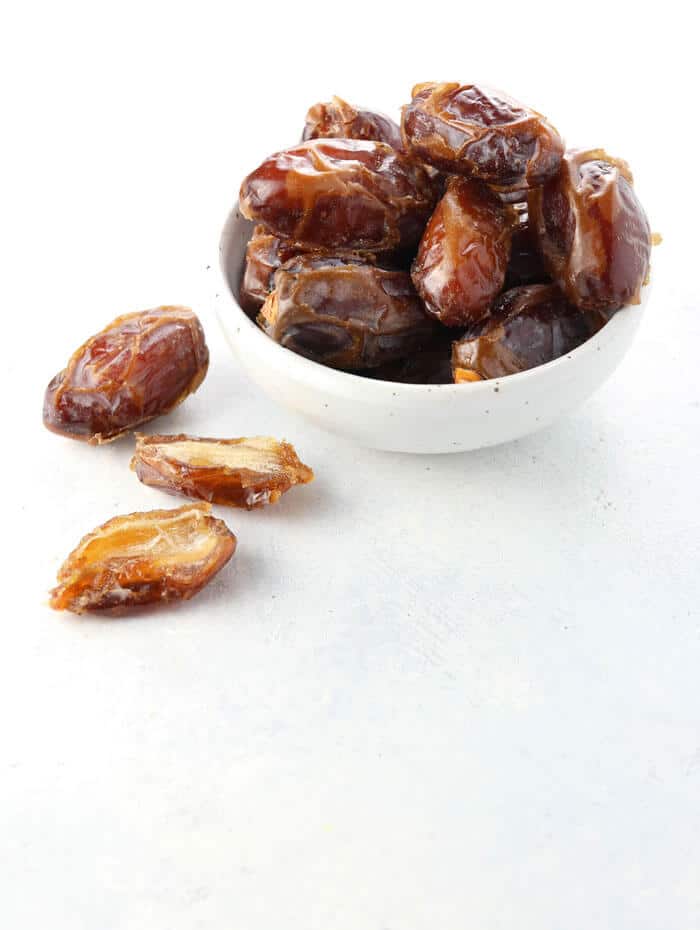 You may have already tried these amazing Date-Sweetened Brownies and Date-Sweetened Peanut Butter Cookies, but I also wanted to give you an option for using dates as a sugar substitute in practically ANY recipe. That's where date paste comes in.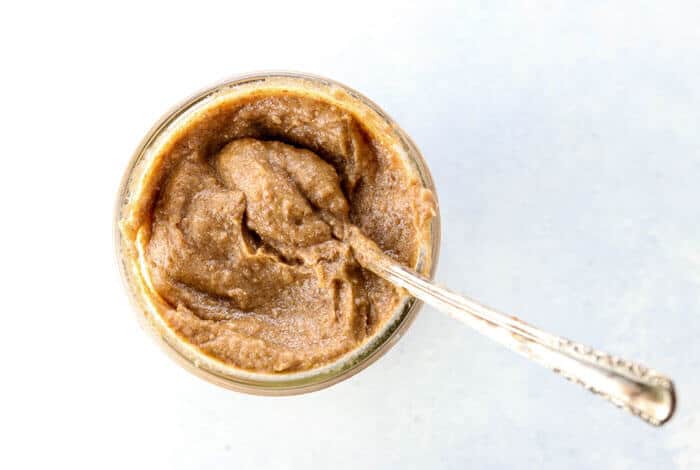 I remember hearing about date paste years ago, but I was always leery of trying it because the method for making it sounded so… vague. Recipe directions usually go something like "add enough water and blend until a paste is formed." But how much water and how many dates you use could vary SO MUCH with those instructions! Especially if you soak the dates first.
Maybe that works for some home cooks, but I prefer hard and fast measurements so that I can easily follow along. (That's why I've always loved baking– give me a set of solid directions I can follow and I'm happy.)
That's why I'm sharing my exact measurements for making date paste today, along with some recipes that I've used it in, so you can see how you can use date paste as a substitute for sugar.
Why are dates good for you?
They may help lower cholesterol. Dates are loaded with soluble fiber, which may help to lower the total cholesterol in your blood.
They're good for bone health. Dates contain minerals like selenium, magnesium, manganese and copper, which are thought to keep bones healthy and help to prevent osteoporosis.
They're good for constipation. Dates are known for helping to relieve constipation, most likely due to their soluble fiber and magnesium content.
They're rich in iron. Dates are a plant-based source of iron, which may help to prevent anemia. (I ate a bunch of them during my second pregnancy, and I managed to avoid anemia like I had during my first pregnancy.)
They're good for your skin. Dates contain vitamins C and D, which are thought to help with skin elasticity.
Are dates good for diabetics?
I know some people are scared of the "sugar" in dates, but research has shown that dates are a low glycemic food. A study that tested the effect of eating dates on healthy individuals and on those with diabetes found that dates do not cause significant glucose spikes in the blood, and therefore may be beneficial for diabetics as part of a healthy diet. (source)
How to Make Date Paste
The ratio I've been using to make date paste is 1 cup of tightly packed dates (about 8 ounces by weight) + 1/4 cup of water. I wanted to use as little water as possible, so as not to add too much hydration to a recipe when making sugar substitutions, but this seems to be just enough water to also make the dates blend in a normal food processor. (That way you don't need a fancy high-speed blender!)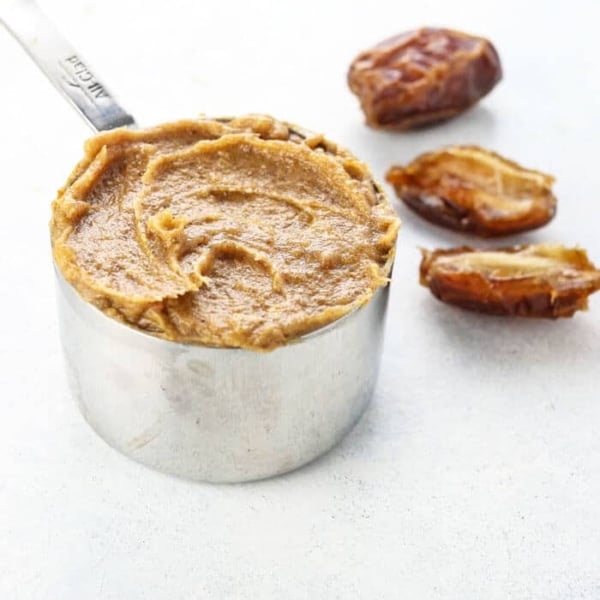 How to Make Date Paste (a healthy sugar substitute!)
Here's how to make date paste, a healthy substitute for sugar, and how to use dates as a substitute for sugar and maple syrup in baking.

Ingredients
1

pound

Medjool dates

, pitted (about 2 cups tightly packed)

1/2

cup

water
Instructions
In the bowl of a large food processor fitted with an "S" blade, combine the pitted dates and water.


Process until very smooth, scraping down the bowl to make sure all of the dates are incorporated.

Store the date paste in an airtight container in the fridge for up to two weeks, and use it in your favorite healthy recipes.

Nutrition
Calories:
104
kcal
,
Carbohydrates:
28
g
,
Protein:
0.6
g
,
Sodium:
7
mg
,
Potassium:
2104
mg
,
Fiber:
2.5
g
,
Sugar:
25
g
,
Vitamin A:
450
IU
,
Calcium:
194
mg
,
Iron:
2.7
mg
Per Serving: Calories: 104, Carbohydrates: 28g, Fiber: 2.5g, Protein: 0.6g
How to use Date Paste as a Sugar Substitute
If you follow me on Instagram, you've probably seen me testing date paste as a substitute in various recipes. I wanted to see how date paste worked as a 1:1 substitute for various types of sugar in recipes, including coconut sugar and maple syrup. Keep in mind that when you use date paste as a substitute, the texture and sweetness will vary slightly from the original recipe– so maybe don't experiment with this right before serving guests!

To Substitute Date Paste for Sugar:
Use a 1:1 ratio when subbing date paste for granulated sugar, like coconut sugar. I tested this method with my Gluten-Free Oatmeal Chocolate Chip cookies and found that the results were slightly softer and slightly less sweet, but the cookies still held together well. You can get away with adding slightly more date paste, for a sweeter flavor, but keep in mind that the date paste will create a more cake-like texture, rather than a chewy texture in baked goods. (I went ahead and used a full cup of date paste in this cookie recipe, and they still turned out well.)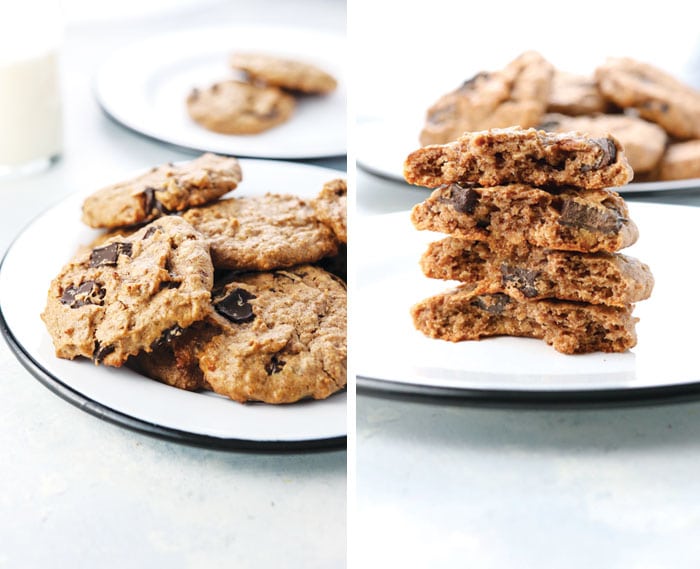 To Substitute Date Paste for Maple Syrup:
Use double the amount of date paste when subbing for maple syrup. So, if a recipe calls for 1/2 cup of maple syrup, I'd recommend using 1 cup of date paste. I tested this method using my Paleo Pumpkin Spice Muffins, and the results were super-dry when replacing the maple syrup with a 1:1 ratio of date paste, but if you double the amount of date paste, the texture and sweetness are much better.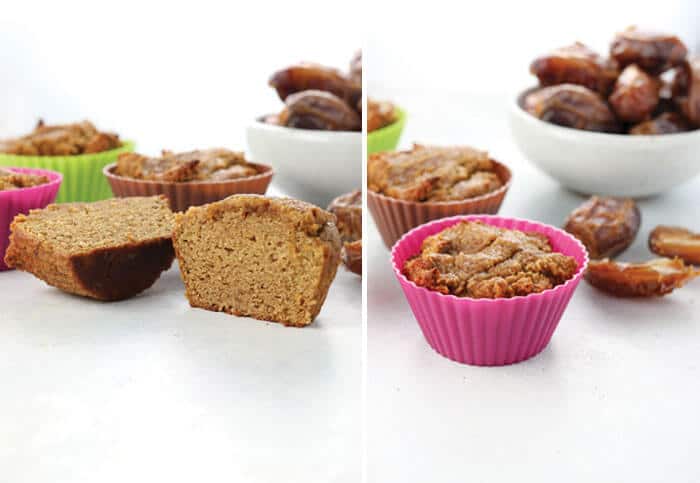 One thing I've noticed when substituting date paste for either a granulated sugar or maple syrup is that the baked goods seem slightly drier than the original, which I found surprising! I thought the date paste would make baked goods too moist, but that hasn't been the case so far. I imagine that it might vary per recipe, particularly since there are so many variables in baked goods, like the type of flour used and the amount of oil called for, so I'll continue to update this post as I experiment with this super-healthy sweetener even more.
(Next time I'm going to try to add 1-2 tablespoons of olive oil to the date paste, to help account for the dryness it adds. I'll report back!)
You can bet that my daughter's first birthday cake is going to be sweetened with date paste this year!
—
Reader Feedback: Have you used date paste before? Feel free to share your favorite recipes to use it in, or make a recipe request for something you want to see sweetened with dates.
SaveSave