These Vegan No-Bake Cookies are one of my family's favorite cookie recipes. They are quick and easy to prepare, and happen to be naturally gluten-free and sweetened without refined sugar. But be warned– they go fast!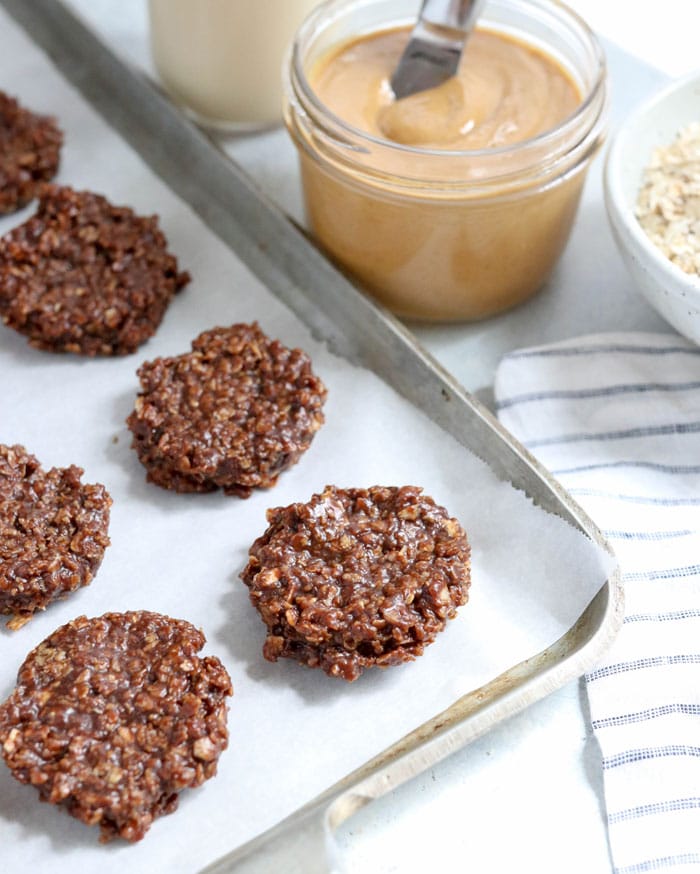 This recipe came about when I was trying to vegan-ize a traditional no-bake cookie, but I was making them from memory. (Not always the best idea when baking.) When I tasted this batch, I found myself wondering… why do these taste so much better than the usual ones I make? And then I realized, I had left out the cacao powder!
Since these cookies are naturally sweetened with coconut sugar, they still have the dark, chocolatey look of a traditional no-bake cookie, but they pack even more flavor. The combination of coconut sugar (which has a maple-like flavor), peanut butter, and salt is downright addictive!
How To Make Vegan No-Bake Cookies
This recipe moves quickly, so it's important that you gather all of the ingredients right away so everything is ready to go. I like to add the oats, peanut butter, vanilla, and salt to a large bowl and then set it aside before boiling the sugar mixture.
Once your bowl is ready, you can combine the vegan butter, coconut sugar, and water in a saucepan and bring it to a boil on the stove. It's important that you use a timer with this recipe, because once the sugar is at a full, rolling boil, you'll set it to exactly 2 1/2 minutes.
Once the time is up, remove the boiled sugar from the stove and pour it over the oats in the bowl. Stir to coat everything evenly, then scoop the dough onto a lined baking sheet to make the cookies.
I use the back of the scoop to flatten the cookies slightly. Let them cool completely to room temperature to firm up, or place them in the fridge or freezer to speed things up!
What's the Best Vegan Butter to Use?
My favorite vegan butter, hands-down, is Miyoko's dairy-free butter. It's made with coconut oil and fermented cashews, and tastes remarkably like the real thing! I love how the final cookies don't have a coconut-flavor when I use this.
If you can't get your hands on a good vegan butter, you can use coconut oil instead with similar results.
Is there a Substitute for Coconut Sugar?
If you can't easily find coconut sugar, I've tested this recipe using 1/2 cup of maple syrup with similar results. I imagine you could use honey, too, but then this recipe will no longer be vegan.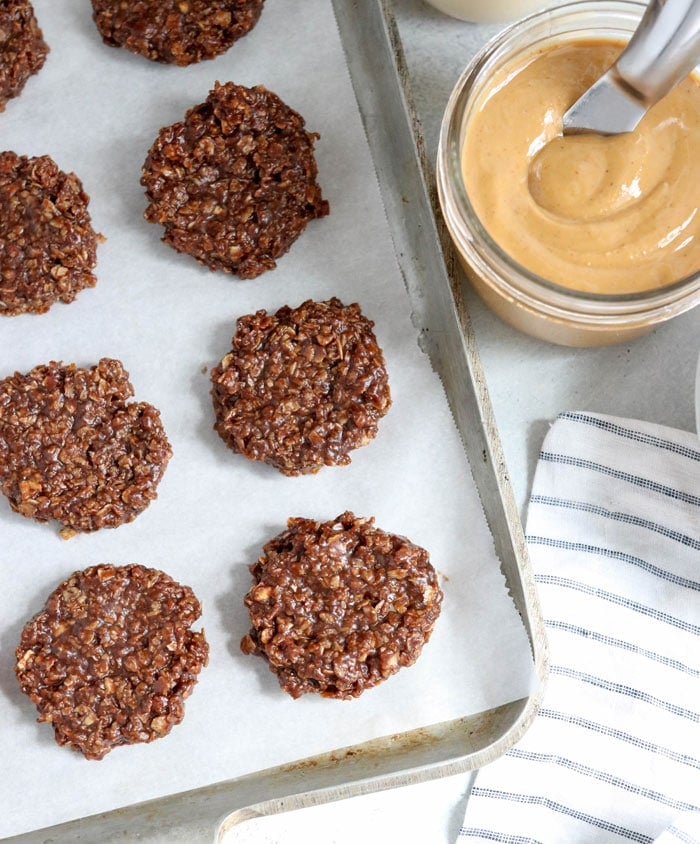 How to Make Perfect Vegan No-Bake Cookies (1-Minute Video):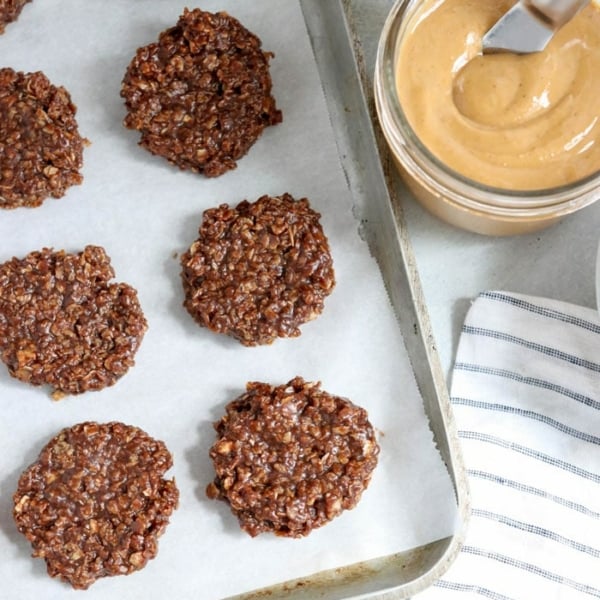 Perfect Vegan No-Bake Cookies
Vegan No Bake Cookies use just a handful of ingredients, and taste better than the version I grew up eating! Gluten-free & dairy-free.
Instructions
In a large bowl, combine the oats, peanut butter, vanilla, and salt. Set it aside while you boil the sugar.


In a small saucepan, combine the vegan butter, sugar, and water. Start to bring the mixture to a boil. As soon as the edges of the mixture are bubbling all the way around the pan, set a timer for 2 minutes and 30 seconds. Let the mixture boil without stirring until the timer goes off.


When the timer goes off, immediately remove the boiled sugar from the heat and pour it into the bowl of oats. Stir well to make sure everything is evenly coated.


Use a heaping tablespoon to scoop the dough onto a baking sheet lined with parchment paper. Use the back of the spoon to flatten the cookies. You can let the cookies cool at room temperature, or speed the process by placing them in the fridge or freezer.


These cookies should be firm at room temperature, but if for some reason they are softer to the touch, you can store them in the fridge and they'll remain firm that way. My husband prefers these cold, so we keep them in the fridge so they'll last longer anyway! They can be stored at room temperature for up to a week, but they do start to dry out the longer they stay out on the counter.

Nutrition
Calories:
92
kcal
,
Carbohydrates:
12
g
,
Protein:
1
g
,
Fat:
4
g
,
Saturated Fat:
1
g
,
Sodium:
71
mg
,
Potassium:
39
mg
,
Sugar:
7
g
,
Vitamin A:
230
IU
,
Calcium:
19
mg
,
Iron:
1.4
mg
Per cookie (1 of 16): Calories: 92, Fat: 4g, Carbohydrates: 12g, Fiber: 1g, Protein: 1g
Recipe Notes:
As I mentioned above in this post, you can swap 1/2 cup of maple syrup for the cup of coconut sugar in this recipe, and then I recommend boiling it for a full 3 minutes. (They will be lighter in color in this case, too– so add the cacao powder for a dark colored cookie.)
If you don't have vegan butter, you can use coconut oil instead. (Or any other fat/oil that solid at room temperature.)
If you want a traditional chocolate no-bake cookie, add 2 tablespoons of cacao powder to the ingredients in the saucepan and boil as directed.
If you try something different with this recipe, please leave a comment below letting us know what worked for you. We can all benefit from your experience!
–
Reader Feedback: What's your favorite cookie recipe?