These Almond Flour Sugar Cookies are pillowy-soft with a melt-in-your-mouth icing on top. With a hint of almond extract, I'm totally hooked!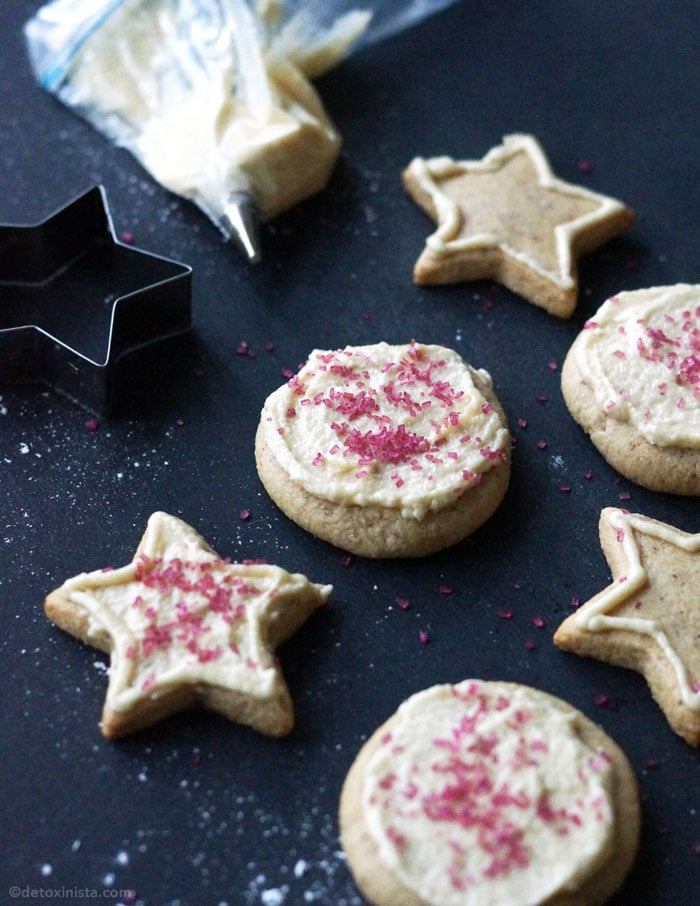 Now that my son is old enough to be aware of cookies, I wanted to make a cookie that wouldn't leave him bouncing off the walls. As a two-year-old, he does enough of that without any added sugar!
These cookies are my solution– they're naturally sweetened with maple syrup and are made with almond meal for a protein-rich cookie that actually leaves you feeling full after you've had one or two. (Because if I'm being honest, I usually eat two at a time…)
I love how soft they stay in the middle, but if you want a firmer cookie you can always bake them longer than suggested below.
Refrigerator Sugar Cookie Dough
I also tried rolling the dough up in parchment paper for a slice-and-bake cookie that you'd find in your grocer's refrigerated section, and these work great that way, too!
I love having some cookie dough on hand around this time of the year, so I hope it's a convenient option for you, too.
Vegan Iced Sugar Cookies
For a vegan cookie, use this Coconut Sugar Icing instead of the Honey Buttercream mentioned below.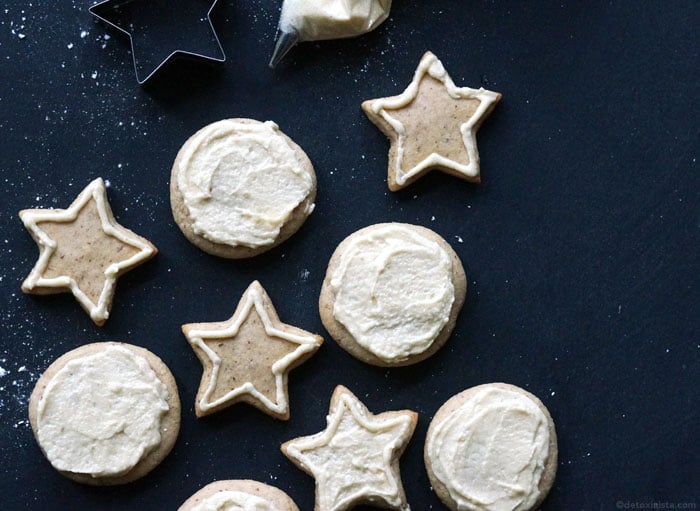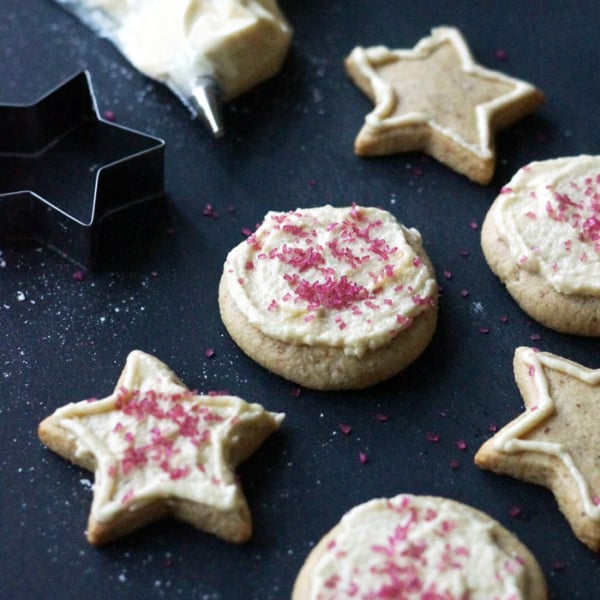 Almond Flour Sugar Cookies (Vegan & Paleo)
These Almond Flour Sugar Cookies are naturally gluten-free, and they taste even better than the traditional versions. Includes two frosting options!
Ingredients
Cookies:
1 1/2

cups

almond meal

1/4

cup

arrowroot or tapioca starch

1

tablespoon

melted coconut oil

5

tablespoons

pure maple syrup

1

teaspoon

vanilla extract

1/2

teaspoon

almond extract

1/4

teaspoon

baking soda

Pinch of sea salt
Honey Buttercream:
1

tablespoon

Nutiva red palm oil shortening

1

tablespoon

coconut oil

(not melted)

2

tablespoons

arrowroot or tapioca starch

2

tablespoons

(thick) raw honey

1/2

teaspoon

vanilla or almond extract
Instructions
Preheat the oven to 350F and line a baking sheet with parchment paper. In a large mixing bowl stir together the almond meal and tapioca starch, then add in the rest of the ingredients. Stir well until a sticky, uniform dough is formed.

At this point, you can drop the dough by tablespoons onto the pan and flatten them with your fingers. (The dough is very sticky, so you might want to wet your hands with water to easily press the dough.) These cookies spread just a little bit, not a lot, so try to shape them into the size you want them to turn out.

Alternatively, you can freeze the dough for 30 minutes and then roll it out on parchment paper to create cookie-cutter shapes. Sprinkle the dough with extra arrowroot to help prevent sticking to your rolling pin, and dip the cookie cutters in arrowroot, too. Roll the dough into 1/4-inch thickness for cookies that are firm on the outside and soft in the middle. The thicker your dough, the softer the cookie will be in the center.

Bake the cookies at 350F for 12 to 14 minutes, until the edges are dry to the touch. The browner the edges get, the crispier the cookies will be, so I pull mine out before the edges brown at all. (But, I like mine pretty soft in the center.) You can play around with your baking time to get your desired texture, but keep in mind that these cookies will firm up even more as they cool. Allow the cookies to cool on the pan completely before frosting, at least 30 minutes.

To make the Honey Buttercream, combine all of the ingredients in a small bowl and squish them together with a spatula. This frosting will not harden like traditional sugar cookie icing, but it should spread easily and not melt at room temperature, thanks to the use of shortening and arrowroot. Spread the frosting on the cooled cookies, or use an icing bag with a decorating tip to pipe it around the edges. I also used a few naturally-dyed red sprinkles (this company uses beet juice for coloring!) to bring these festive cookies to a holiday party last night. They were a total hit!
Notes
If you want to make this dough ahead of time and store it in your fridge for a slice-and-bake cookie, I'd recommend making a double batch of this recipe. That amount makes a thicker roll, so the slices you cut off will already be the size of a normal cookie. (One big roll like that makes about 24 cookies.) Prepare the dough as directed above, but instead of baking it right away you'll plop the dough in the middle of a large piece of parchment paper and use your hands to shape it into a log about 12-inches long. Roll it up in the parchment paper and twist the edges to seal them. (If you're going to store this in the freezer, you could place the roll in a freezer bag to prevent freezer burn.) Chill for at least 8 hours before slicing, but this dough can keep for a week in the fridge like that, or at least 6 months in the freezer. To bake, slice the dough into 1/4-inch slices, and arrange them an inch apart on a lined baking sheet. Bake at 350F for 14 minutes. You'll notice that the sliced cookies don't spread much at all, so be sure to shape them with your hands if you want a different result. (You can also still do cookie cutter shapes with this dough if you prefer, too!)
Nutrition
Calories:
168
kcal
,
Carbohydrates:
14
g
,
Protein:
4
g
,
Fat:
11
g
,
Saturated Fat:
3
g
,
Monounsaturated Fat:
1
g
,
Sodium:
39
mg
,
Potassium:
3
mg
,
Fiber:
2
g
,
Sugar:
9
g
,
Vitamin A:
1000
IU
,
Calcium:
80
mg
,
Iron:
2
mg
Per Serving: Calories: 168, Fat: 11g, Carbohydrates: 14g, Fiber: 2g, Protein: 4g
Recipe Notes:
As always, if you experiment with any substitutions please leave a comment below letting us know how it worked for you.
Enjoy!
—
Reader Feedback: How do you like your cookies– soft or crispy? 
SaveSave
SaveSave