It may not seem like it now, but it took me a while to jump onto the high-speed blender wagon. When Austin and I moved to Los Angeles nearly 10 years ago, I brought with me a blender that I thought was pretty good at the time. (It was made by Breville, which I usually consider to make quality kitchen appliances.)
I remember hearing about high-speed blenders in the magazines and health books I was reading at the time, but I always thought to myself, "How much better could they really be?" I felt like my smoothies turned out good enough in my standard blender, so I stuck with it until it died… which only took about a year and a half.
Even though we didn't have a lot of spending money at the time, I couldn't help but think I'd be saving money in the long-run by investing in a high-speed blender the next time around, since many of them came with a 7-year warranty. I had been buying a "good" $100 blender every year or two since I was in college, so spending $350 once, and then not buying another one for 7+ years sounded like a pretty good deal to me. However, I didn't know which high-speed blender to buy– at the time, I had heard that Vitamix and Blendtec were pretty comparable.
Choosing the Vitamix
I couldn't find any reviews online saying that one brand was decidedly better than the other, but my decision was helped by the fact that two of my friends had just gotten a Blendtec. I only had one experience using theirs– making frozen margaritas at their house– and I wasn't super-impressed by it right off the bat. I remember that we had to start and stop the blender a couple times to use a spatula to help the ice reach the blades, because the Blendtec doesn't come with a tamper. It was also REALLY loud. (Though, all high-speed blenders are fairly loud.)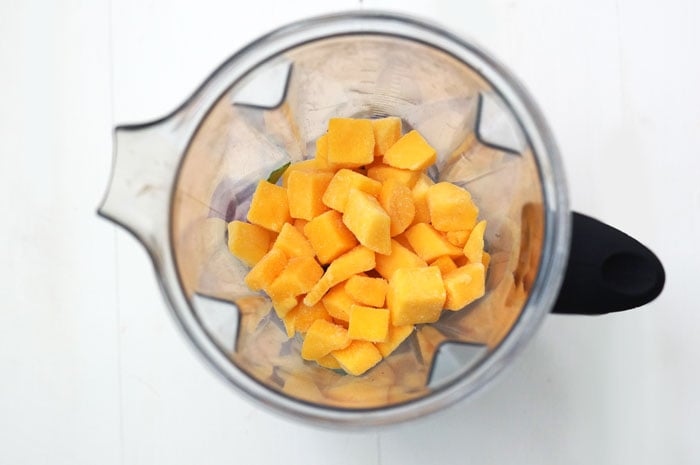 Because I wasn't blown away by my initial experience with the Blendtec, I decided to go with the Vitamix because I thought the tamper seemed necessary. I had never even tried a Vitamix before buying it, but Amazon had a great deal on this 2-speed model at the time, so the timing seemed perfect. The moment it arrived, I was hooked. The tamper helped my smoothies blend in seconds, and they were always thick, creamy, and super-silky-smooth. It even breaks down seeds from berries, like raspberries and strawberries! I've been a happy Vitamix customer ever since– owning the same old blender for nearly 8 years now. I've only ever had one issue with my blender, and when I called Vitamix customer service they immediately sent me out a free brand-new replacement; no questions asked. Keep in mind that I use my blender up to 4 times a day, especially when I'm testing recipes for a cookbook, so it gets quite a workout!
My Experience with BlendTec
Because I've had such a good experience with my Vitamix, I've never looked into using another blender… that is, until Blendtec reached out to me a few months ago. They offered to send me a complimentary blender so I could see for myself how they compare to Vitamix. I'm always up for seeing if there is something better out there, so I happily accepted their offer and soon received the new blender. Right out of the box, I was super-impressed by the sleek design and light-up electric touch pad. It seemed nicer than any car I've ever owned! Another nice perk of the Blendtec is that it fits under my kitchen cabinets fully assembled– the Vitamix container is taller, so I have to store the blender pitcher next to the base, rather than on top of it. (Not a big deal either way, but I think it's worth mentioning in case you're OCD about how your countertops look!) Regardless of how it is stored, you still have to pull the blender away from the wall to add anything inside– I couldn't keep the blender under the cabinets on my counter while actually using it.
While I was very impressed by the look and feel of the Blendtec, my first experience blending was not love at first use. I made my usual go-to chocolate smoothie in the Blendtec using their smoothie pre-set "smoothie" button, and it took significantly longer than the Vitamix to create a smooth consistency– probably because I wasn't using a tamper to help stir it along like I usually do with the Vitamix. I think it's also worth noting that I'm used to my shakes being super-thick and smooth, like a traditional chocolate milkshake, and it was difficult to achieve this texture since the Blendtec doesn't come with a tamper to help keep everything moving towards the blades. (The Blendtec's electric touch pad actually kept warning me that my smoothie was too thick– it wanted me to add liquid, which would have resulted in a thin and runny smoothie.) I stopped and scraped down the blender twice, and even after that I found small bits of dates in my final product– enough to clog my straw while I was attempting to drink it. I'm so spoiled by how smooth my smoothies are with the Vitamix, that I was really disappointed to have a less-than-perfect smoothie! (My other family members were disappointed by the texture, too, to the point that my son wouldn't even drink a smoothie made in the BlendTec.)
After that first experience, I didn't use the Blendtec again for a few days because I didn't want to risk my family members not enjoying another smoothie. In fact, I didn't try it again until the Blendtec reps reached out to me, asking how my experience was. They were surprised to hear that my first experience wasn't great, but I promised them I would try again to see if it was just beginner's bad luck. I later tried making an all-fruit smoothie using the manual settings instead of the pre-set button (because I prefer manual settings and having full control), but the final result was also disappointing because the seeds from the strawberries didn't totally break down, and I had to add more liquid than I would have liked to in order to keep the smoothie blending without a tamper– so the overall smoothie was too runny. Needless to say, I wasn't impressed the second time around, either.
To give them a fair shot, I also tried blending a smoothie in the smaller Twister jar that came with my BlendTec package, to see if the spatula-like attachments on the side of the lid would help with a smoother blend. Unfortunately, the Twister jar is not intended for liquid smoothies (it's intended for making nut butter or dips like hummus and guacamole), so I ended up with a messy disaster there, too. I would consider the optional smaller blender jar for nut-butters a "perk" of the BlendTec, but it's not enough in my opinion to make up for the lower-quality smoothies, since that's what I use a blender for the most often.
After reporting my unsatisfactory experience to the BlendTec reps, they recommended that I call their customer service line to see if I could be doing something wrong. I had already read the instruction manual and used the pre-set smoothie buttons– shouldn't it be that easy to use such an expensive blender? (As a side note, I've never had to call a customer service line for any other brand of blender I've used to make sure I'm not the problem.)
Side-By-Side Comparison
In a nutshell, here's how I feel that the two blenders compare:
To me, the Vitamix is the clear winner and that's what I would ultimately recommend you buy if you're trying to decide between the two. To be fair, I think if you're upgrading from a standard blender, anyone would be impressed by the texture of a smoothie made in the Blendtec, because it's definitely going to be an upgrade from what you're used to. However, I think it would be very difficult to enjoy using the BlendTec after using the Vitamix. (But maybe that's just me– all I can share is my own opinion.)
To be clear, this is not a sponsored post and I have no affiliation with Vitamix. They did not send me a free blender, and I'm still using my 8-year-old, two-speed model that I bought myself. In my opinion, my old Vitamix blender creates better smoothies than the free newer model that BlendTec sent me. (I've heard that BlendTec is amazing at milling grains into flour, but I find the Vitamix to be perfectly adequate in that regard as well.) Clearly, I'm under no obligation to post a positive review on BlendTec's behalf, despite the fact that they sent me a free blender. (I will always post my honest opinions!)
Money-Saving Tip:
If you're looking to buy a new blender but don't want to pay full-price, I'd recommend looking into the refurbished options, like this certified refurbished Vitamix model, which still comes with a 5-year warranty. Vitamix also makes a new low-profile model that fits under kitchen cabinets, and that model is available in a cheaper certified refurbished option, as well.
Note: I would like to eventually add some other blender recommendations to this post, especially if I get the chance to try the new Ninja blender model. When testing recipes for my last cookbook, I did borrow a friend's Ninja, and the results were terrible– but it was a very old model, and I'm guessing the newer models are better. Are they comparable to the Vitamix, though? I'll report back when I know for sure! 
—
Reader Feedback: Do you have a favorite blender? I hope this post is helpful if you're shopping for a new one! I know there are some fervent BlendTec fans out there, so also feel free to chime in if you think I missed something. I always try to keep an open mind!