If you love baking with almond flour, but don't love how expensive it is at the grocery store, try making it at home! It's cheaper than store-bought options, and is ready in just minutes when you use a food processor or blender.
Can You Substitute Almond Flour for All-Purpose Flour?
One of the most common questions I am asked is how you would substitute almond flour for all-purpose flour, to make a recipe healthier or naturally gluten-free. If a recipe calls for eggs, I've found that you can usually swap almond flour for all-purpose flour using a 1:1 ratio, which makes it an ideal alternative. However, I recommend testing this with a recipe before serving it to company.
Because almond flour is higher in fat and protein than all-purpose flour, it's not the best substitute when making a loaf of bread or anything cake-like that does NOT call for eggs. Instead, I recommend looking for almond flour recipes that have already been tested, so you won't have to do the guesswork and potentially waste ingredients.
How Healthy is Almond Flour?
Compared to white all-purpose flour, almond flour is high in protein and monounsaturated fats to help leave you feeling satisfied. Just one ounce of almonds has 6 grams of protein and 3.5 grams of fiber!
Because almond flour is simply ground almonds, which are a good source of magnesium, it may also help with blood sugar control and lowering blood pressure levels.
Is Almond Flour Considered Low-Carb?
I think almond flour is a great choice for low-carb baking. A 1/4 cup of blanched almond flour has 6 grams of carbohydrates and 3 grams of fiber, so it has 3 grams of net carbs. For comparison, a 1/4 cup of all-purpose flour has nearly 24 grams of carbohydrates and less than 1 gram of fiber.
Is Almond Flour Good for Keto?
If you're following a keto diet and need a flour alternative, I think almond flour is a good option since it has only 3 grams of net carbs. On a Keto diet I wouldn't imagine that you'd want to make too many sweet baked goods, but you can make low-carb almond flour pancakes without maple syrup to get a bread-like fix!
What is the Lowest Carb Flour?
If you're interested in other gluten-free & grain-free flours, I thought it might be fun to compare a few options. Below you'll see the amount of "net carbohydrates" (which are the carbohydrates minus the fiber) in 1/4 cup of the following flours:
Almond Flour: 3 net carbs
Coconut Flour: 4 net carbs
Tigernut Flour: 9 net carbs
Cassava Flour: 25 net carbs
Arrowroot Starch: 27 net carbs
As you can see, almond flour is the lowest carb flour, followed closely by coconut flour. Keep in mind however, that you can not substitute almond flour for coconut flour. Instead, look for coconut flour recipes that have been specifically developed to use that high-fiber flour.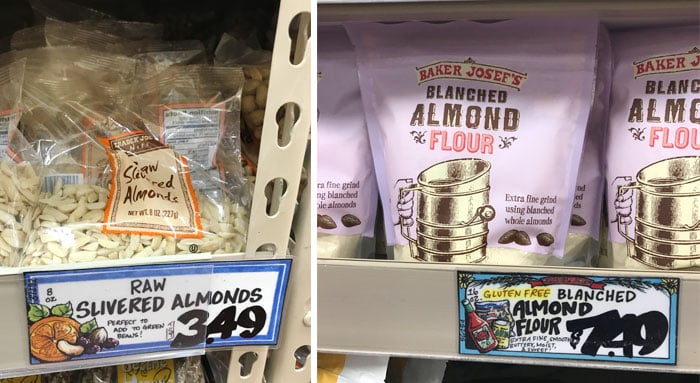 Is Homemade Almond Flour Cheaper Than Store-Bought?
How does the cost of making homemade flour compare to buying it at the store? It used to be more of a drastic difference (close to a savings of $3 per pound), but I'm updating this post to reflect current 2019 prices.
Here's the math:
8 oz. blanched slivered almonds from Trader Joe's currently costs $3.49. That comes to about $0.44 per ounce.
One pound of blanched almond flour from Trader Joe's currently costs $7.49, which comes to abouve $0.47 per ounce.
3 pounds of Honeyville Blanched Almond Flour (from Amazon with free shipping) currently costs $23.35. That comes to $0.47 per ounce.
So, when you make your own almond flour you save roughly $0.50 per pound. This cost savings might not be motivation enough for you to make your own almond flour at home, but there's still an advantage to those who can't find prepared almond flour in their area.
It's also nice to make your own almond flour if you don't need that much of it for a recipe. If you only need a 1/2 cup of almond flour, you can easily grind your own without worrying about storing the rest of a big bag for months.

Almond Flour vs. Ground Almonds
When a recipe calls for almond flour, it's most likely referring to blanched almond flour, which is made from almonds that have had their skin removed. Blanched almond flour is great for making authentic-looking baked goods with no brown flecks in the batter.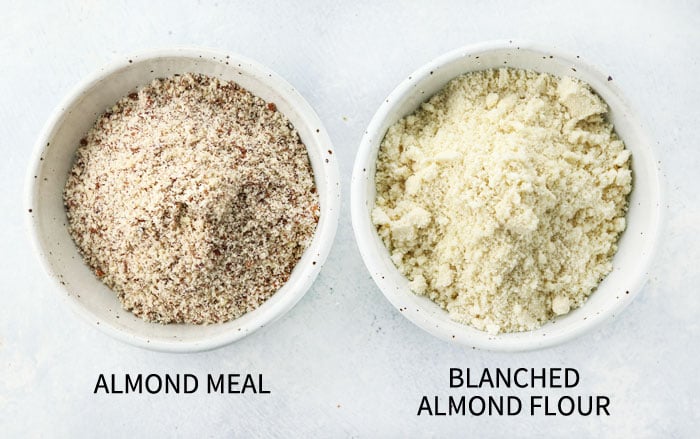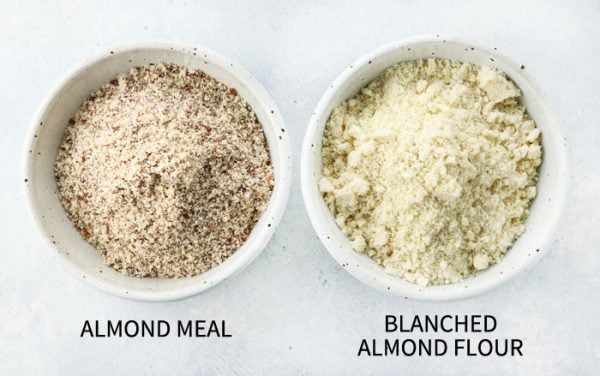 Ground whole almonds are referred to as "almond meal" and can be used interchangeably in most almond flour recipes. However, keep in mind that the texture and appearance will be slightly different if you make this swap. Almond meal tends to make baked goods more cake-like in texture, so cookies won't be as crisp or buttery with this alternative.
How to Make Your Own Almond Flour
Making your own almond flour at home is as simple as adding blanched almonds to your food processor or blender, and processing them until they are finely ground. However, there are a few tips & best practices to keep in mind:
One cup of slivered almonds = about one cup of almond flour. 
One 8 oz. bag of these raw blanched slivered almonds turned into exactly 2 cups of almond flour–> just what you need for my almond flour cookie recipe!
Only proess one cup of almonds at a time. Blending more than that creates an uneven texture, so you'll wind up with clumps of un-ground almonds.
If you don't mind seeing specks of brown in your resulting baked goods, you can also use regular whole almonds (non-blanched) to make almond meal. Almond meal makes "cakier" baked goods, rather than giving baked goods a buttery, shortbread-texture the way almond flour does.
I find that I get the best, most finely-ground results using my Vitamix blender, but a food processor can definitely be used if that's all you have. The resulting baked goods will just be slightly grainier that way.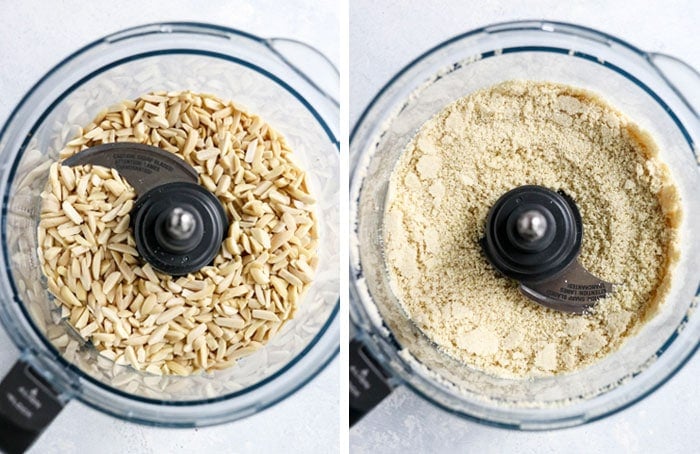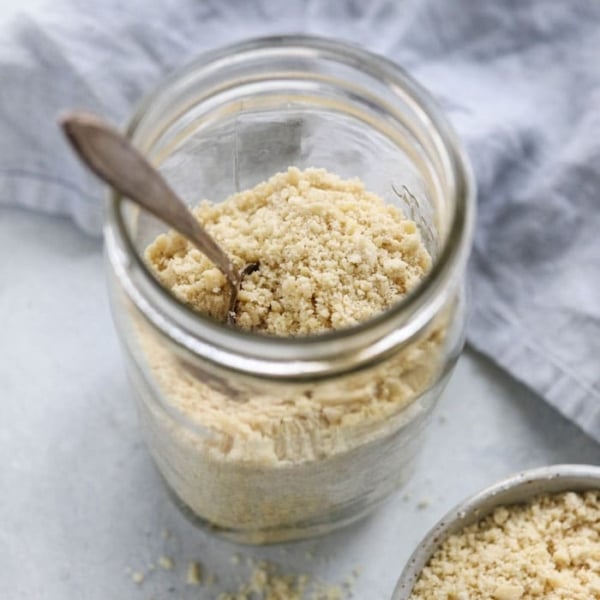 How to Make Almond Flour (Cheaper than Store-Bought!)
Here's how to make ALMOND FLOUR at home in just minutes! It's a great gluten-free and grain-free option used in low-carb baking. I love that it's high in protein and monosaturated fats.

Ingredients
8

ounces

blanched almonds

, whole or slivered
Instructions
Place the blanched almonds in a high-speed blender or food processor, and process until they are finely ground. If using a high-speed blender, be sure not to over-process as the almonds will eventually start to release their oils and become almond butter.


For best results, do not blend more than 8 ounces of almonds at a time. (I tried using 16 ounces and couldn't get them evenly ground.) For the most finely-ground results, I've found a blender works best, but the flour I made in the food processor also works for making almond flour recipes-- the final product is just slightly grainier.


Store leftover almond flour in an airtight container in a dark pantry, or better yet in the fridge or freezer for the longest shelf life. Almond flour can keep well for up to one year if it's not exposed to heat or moisture.

Nutrition
Calories:
167
kcal
,
Carbohydrates:
5
g
,
Protein:
6
g
,
Fat:
14
g
,
Saturated Fat:
1
g
,
Sodium:
5
mg
,
Potassium:
186
mg
,
Fiber:
2
g
,
Sugar:
1
g
,
Calcium:
67
mg
,
Iron:
0.9
mg
Per 1/4 cup: Calories: 167, Fat: 14g, Carbohydrates: 5g, Fiber: 2g, Protein: 6g
—
I hope this helps you all create even more almond-flour-based goodies in the future!
Reader Feedback: Have you tried making your own flours before? Let me know your favorite way to use almond flour in the comments below!