Watermelon Juice is a refreshing summer drink, and you don't need a juicer to make it. This juice recipe is perfect for a party, and is an easy way to use up any extra watermelon that you might have on hand.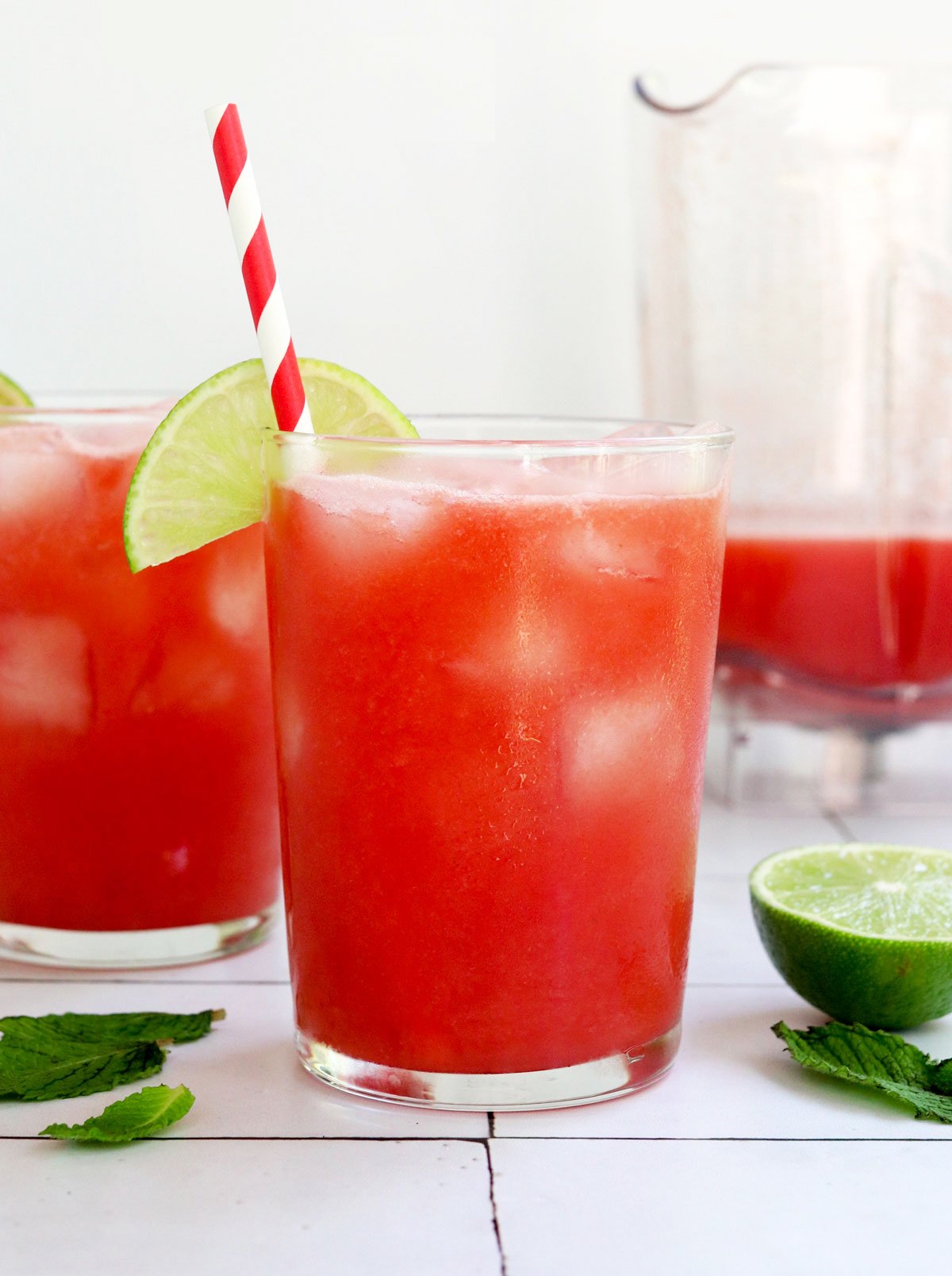 Why You'll Love It
It will keep you feeling hydrated. Watermelon is almost 92% water, so it's ultra-hydrating while also being low in calories. When you have a huge watermelon to use up, this recipe will help you make the most of it!
It's delicious. Watermelon juice tastes like fresh watermelon, in liquid form. When you add in a squeeze of lemon or lime juice, it's extra refreshing! Try using it as the base for an adrenal cocktail, when you want some extra minerals in each sip.
It's nutritious. Not only does watermelon help with hydration, it also contains important vitamins and antioxidants, like vitamin A and vitamin C. It's also naturally gluten-free & vegan friendly.
It has some potential health benefits. The lycopene found in watermelon (which gives it a bright red color) may help to lower cholesterol. Watermelon is also a good source of citrulline, which is an essential amino acid that may help to lower blood pressure.
It's a great post-workout drink. Drinking watermelon juice may help with muscle recovery and soreness after a workout, since it's a natural source of electrolytes, including potassium and magnesium.
Need another idea for using up watermelon? Try this Watermelon Smoothie.
Ingredients You'll Need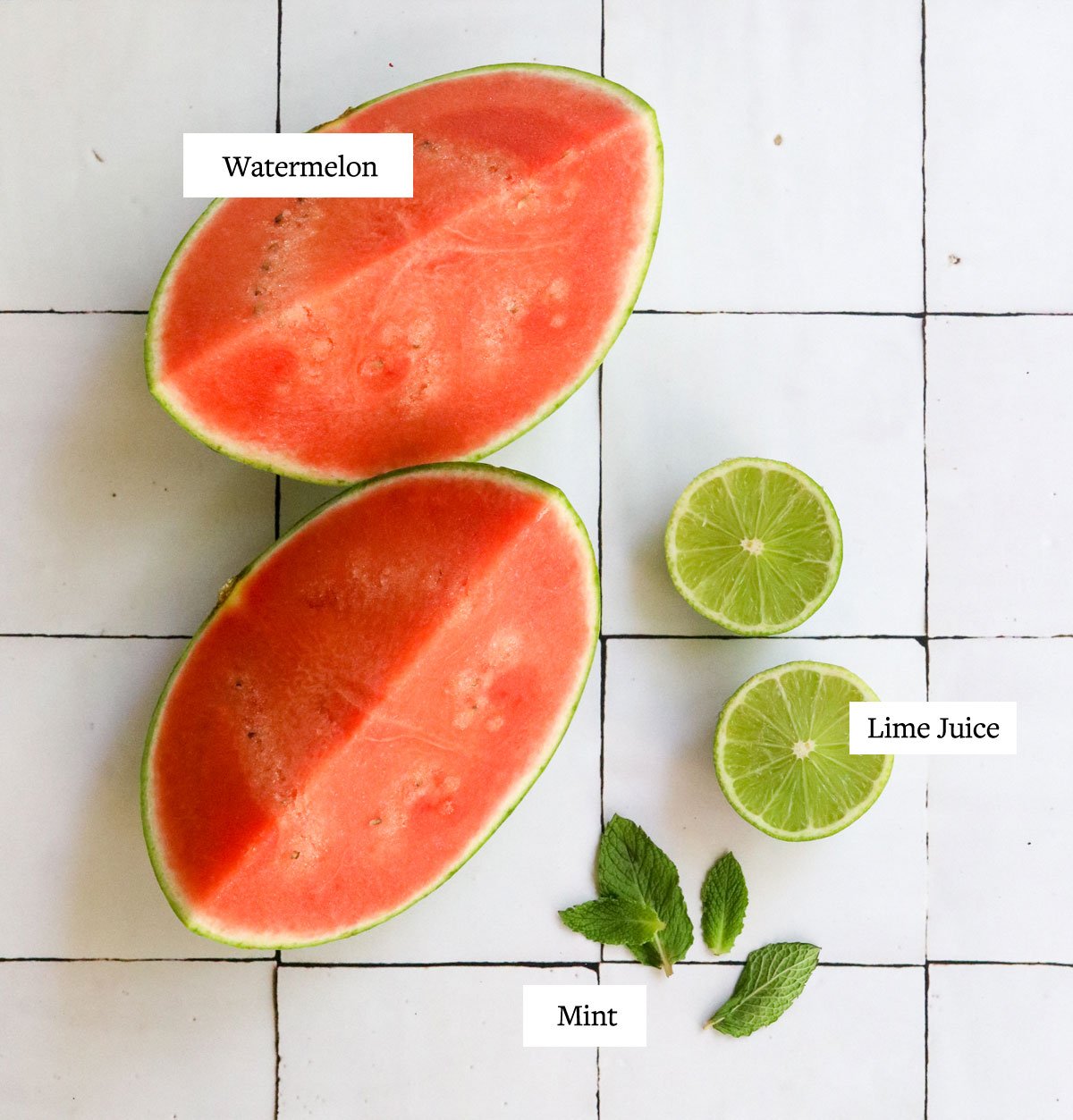 What's in watermelon juice?
Watermelon
Lime juice or lemon juice
That's it! There's no added sugar necessary when you use a ripe watermelon that tastes delicious, but you can add a splash of maple syrup or agave, if your watermelon is less flavorful. You can also add a few fresh herbs, like basil or mint leaves. (A small amount will do!)
The added fruit juice, from either lemon or lime, gives this drink a slightly elevated flavor that you'll want to keep sipping. Serve it over ice cubes for a refreshing summer drink, or you can even add a splash of vodka, if you want a summer cocktail.
How to Make Watermelon Juice
1. Cut the watermelon.
There's not a lot of prep work needed to make watermelon juice, but you will want to remove the watermelon flesh from the watermelon rind. You can do this by cutting the watermelon in half, and scooping it with a spoon. Or you can use a sharp knife to cut it into chunks, if you prefer.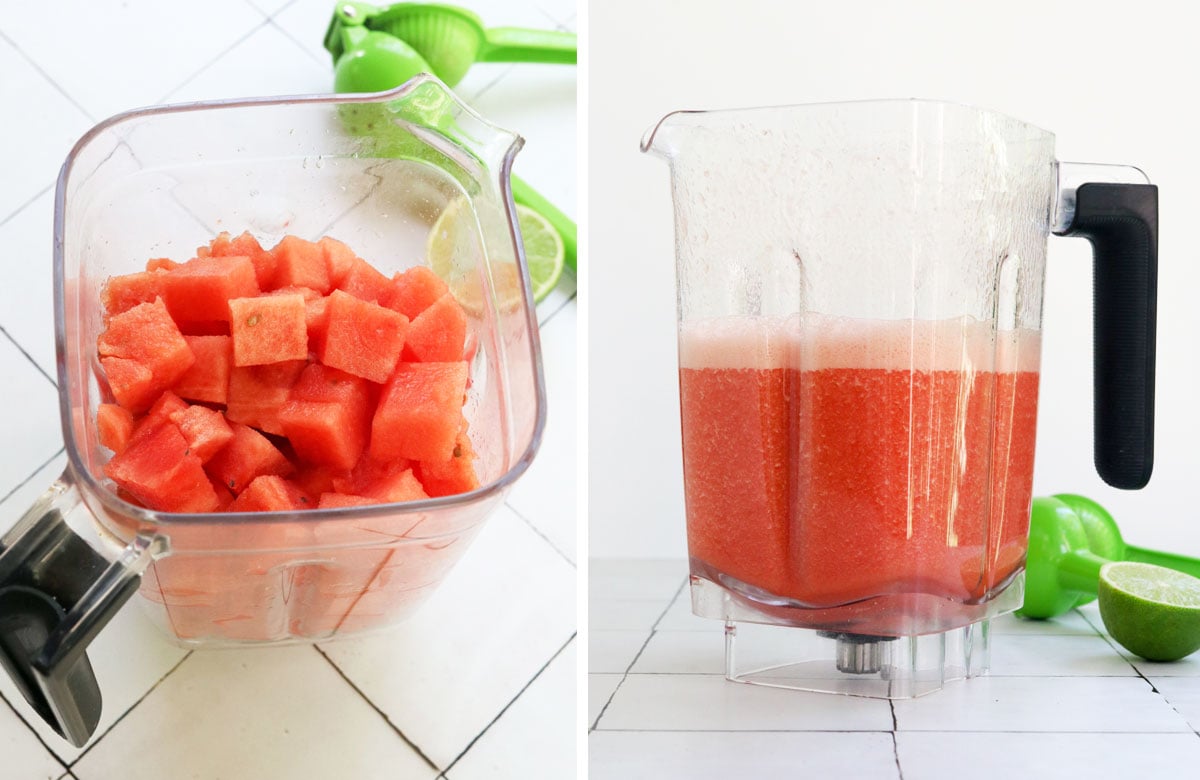 2. Blend.
Transfer the watermelon chunks to a blender, and add in any extras you like, such as lime juice, or a few fresh mint leaves or basil leaves. Blend until very smooth, about 60 seconds. The watermelon will froth up quite a bit on top after it is smoothly blended.
3. Strain. (optional)
Once the watermelon juice is blended, you can serve it right away if you don't mind the texture of a little pulp, and want the extra fiber. Watermelon juice has about the same amount of pulp as orange juice.
If you prefer a smoother result, arrange a fine mesh strainer over a large bowl. Pour the watermelon juice through the fine-mesh sieve. This will help catch the pulp, and any seeds that the blender might have missed. (Especially important if you don't use a seedless watermelon.)
Once the juice is strained, it's ready to serve with or without ice.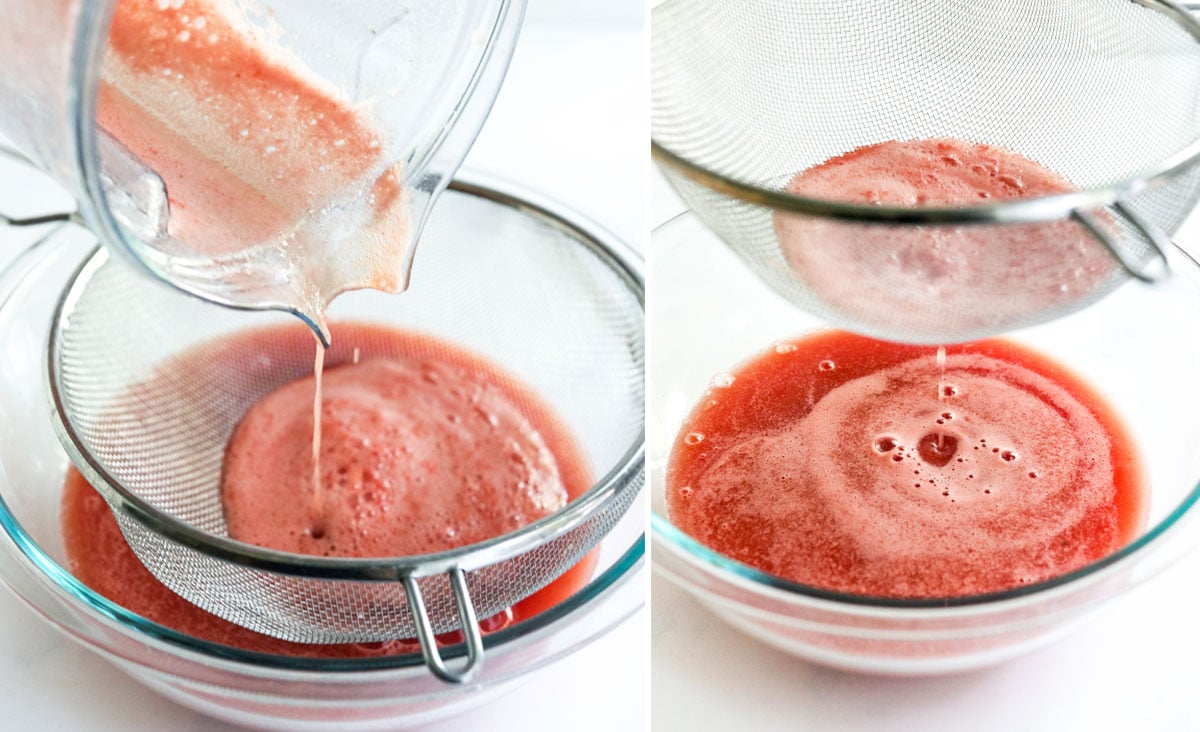 Storage Tips: Watermelon juice will keep well in the fridge for up to 3 days, as long as you store it in an airtight container. The flavor can start to taste less fresh after that amount of time, so I don't recommend making it too far in advance if you plan on serving this to guests.
Substitutions & Common Questions
Can I use another fruit? Yes, this method will work well for cantaloupe, honeydew melon, or pineapple!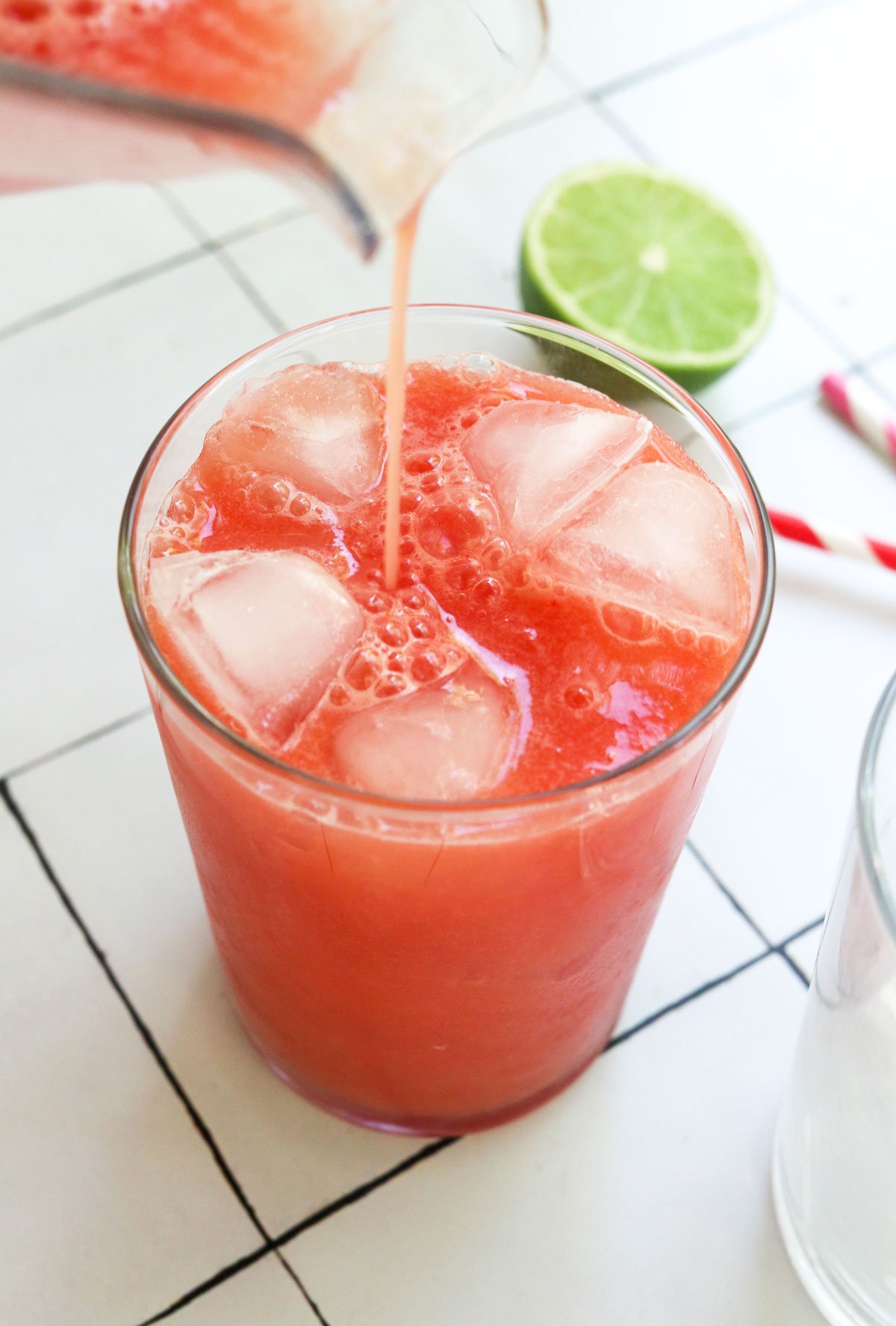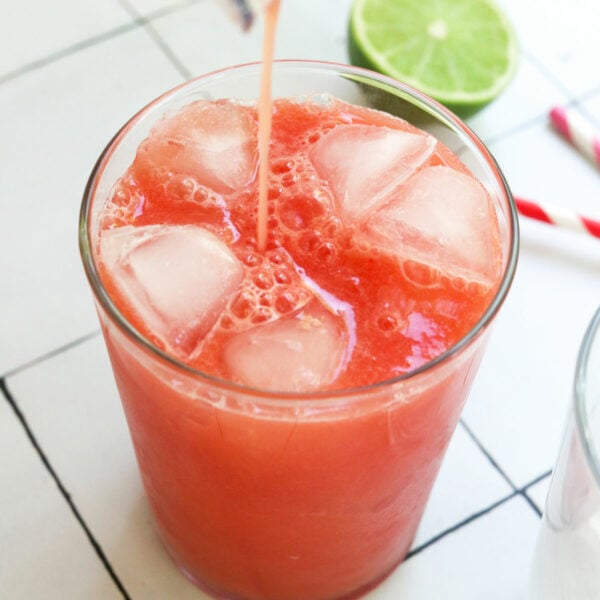 Watermelon Juice
Watermelon juice is a refreshing summer drink, made without a juicer! No added sugar required.
Equipment
Ingredients
1

small

watermelon

(about 5 pounds)

2

tablespoons

fresh lime juice

3-4

small

fresh mint leaves

(optional)
Instructions
Cut the watermelon into chunks and remove the rind. In a blender, combine the watermelon, lime juice, and mint leaves, if using. Blend until completely smooth. (The key to this juice having a good flavor is the watermelon; make sure it's ripe and sweet before you begin.)

You can serve this juice right away if you don't mind the watermelon pulp. Or, you can pour it through a fine-mesh strainer if you prefer a totally smooth drink.

Serve watermelon juice over ice, and garnish the glass with sliced lime. Leftover juice can be stored in an airtight container in the fridge for up to 3 days.
Notes
Nutrition information is for roughly 1 cup of watermelon juice. Typically you'll get at least 5 cups of juice from a 6-pound watermelon.
Nutrition
Calories:
96
kcal
,
Carbohydrates:
24
g
,
Protein:
2
g
,
Fat:
1
g
,
Saturated Fat:
1
g
,
Sodium:
4
mg
,
Potassium:
340
mg
,
Fiber:
1
g
,
Sugar:
19
g
,
Vitamin A:
1793
IU
,
Vitamin C:
30
mg
,
Calcium:
21
mg
,
Iron:
1
mg
If you try this watermelon juice recipe, please leave a comment and star rating below letting me know how you like it.