Have you ever tried an Adrenal Cocktail? This easy drink recipe is loaded with vitamins and minerals to help give you a nutrient boost. It's a great alternative to having a second cup of coffee!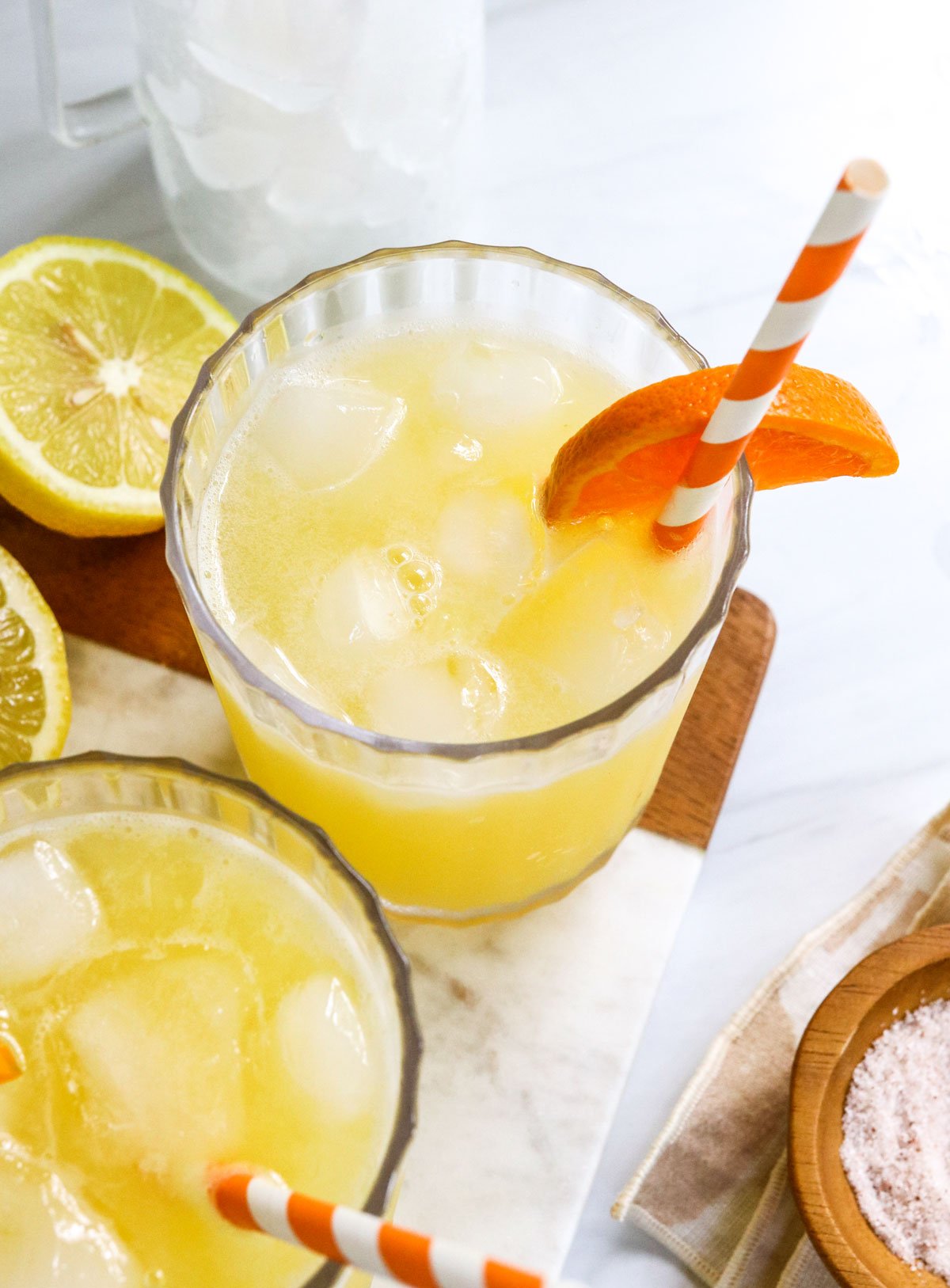 What is an adrenal cocktail? It's a non-alcoholic drink that is loaded with essential vitamins. The original source of this recipe comes from Susan Blackard, NP, ND, Ph.D., at the Rejuvenation Health Center, in Springfield, MO, as a potential way to help balance hormones. (Like cortisol production.)
The body's adrenal glands are located on top of both kidneys, and are responsible for producing hormones like cortisol and aldosterone, both of which help to regulate blood pressure.
Cortisol, also known as the primary stress hormone, increases blood sugar and helps to control the wake/sleep cycle. It can be triggered at the same time as adrenaline, when the body is presented with a stressful event.
The idea behind the adrenal cocktail is that it may help to replenish some of the nutrients that the body uses during times of stress.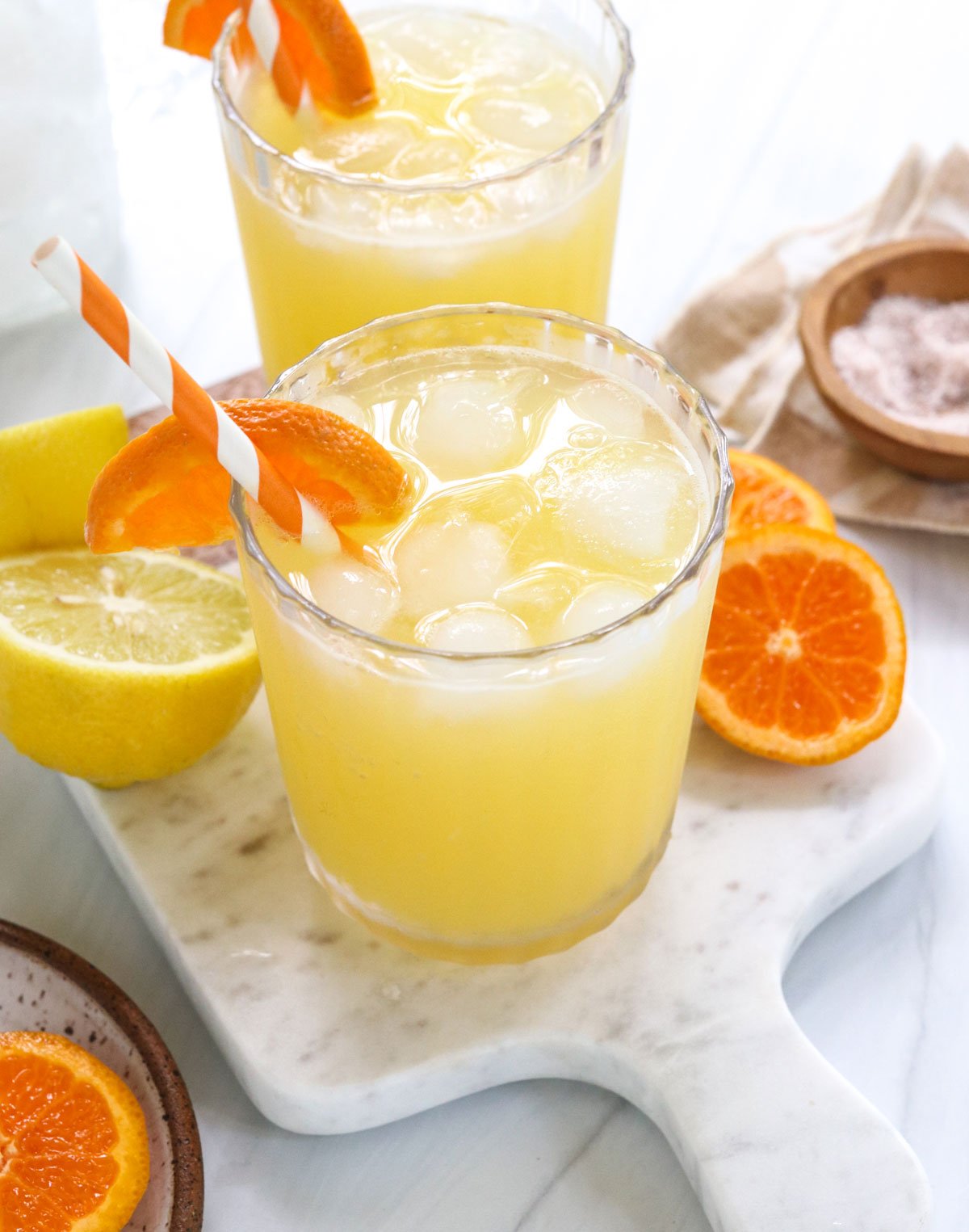 Why You'll Love It
It's a source of electrolytes. Instead of a sports drink, you can reach for this! It contains essential minerals like sodium, potassium, magnesium, and calcium, which may help the body regulate chemical reactions.
It may help to replenish nutrients. While there is some debate on the concept of adrenal fatigue, research does suggest that stress can lead to micronutrient depletion. This drink is a great way to get extra nutrients back into your day.
It's delicious. The combination of orange juice, lemon juice, and sparkling water makes you feel like you're drinking a mocktail, without extra added sugar. When you add coconut milk into the mix, it tastes like an orange creamsicle!
It's flexible. There are a variety of nutrient-rich juices and liquids you can combine to make an adrenal cocktail, so if you're out of coconut water or orange juice, there are still plenty of options you can use instead. This recipe is just a starting point!
Ingredients You'll Need
What do you need to make an adrenal cocktail?
Orange juice. Contributes vitamin C, folate, and potassium.
Coconut water. Provides potassium, magnesium, and sodium. If you're not a fan of coconut water, you can use sparkling mineral water, instead.
Sea salt. Sodium plays a critical role in maintaining a proper balance of water and minerals.
Lemon or lime juice. Adds vitamin C, folate, potassium and calcium.
Coconut milk. (Optional) This adds healthy fats, which may help with blood sugar regulation.
You can add even more minerals to your drink by adding a pinch of cream of tartar, which is a source of potassium and other trace minerals, or collagen powder, for added protein. (Skip the collagen if you need a vegan drink.)
Try adding a tablespoon or two of coconut milk (or just the thick coconut cream) for a creamy drink with extra healthy fats, which may also help balance blood sugar levels.
How to Make an Adrenal Cocktail
1. Start with the base.
The primary ingredients you need for this drink are orange juice, coconut water (or mineral water), and a pinch of mineral rich salt (like Himalayan pink salt).
You can also swap the coconut water for watermelon juice, which also has traces of potassium, calcium, and magnesium, or just use sparkling mineral water for an even lower-sugar drink.
Add a squeeze of lemon juice, for extra nutrients and tart flavor.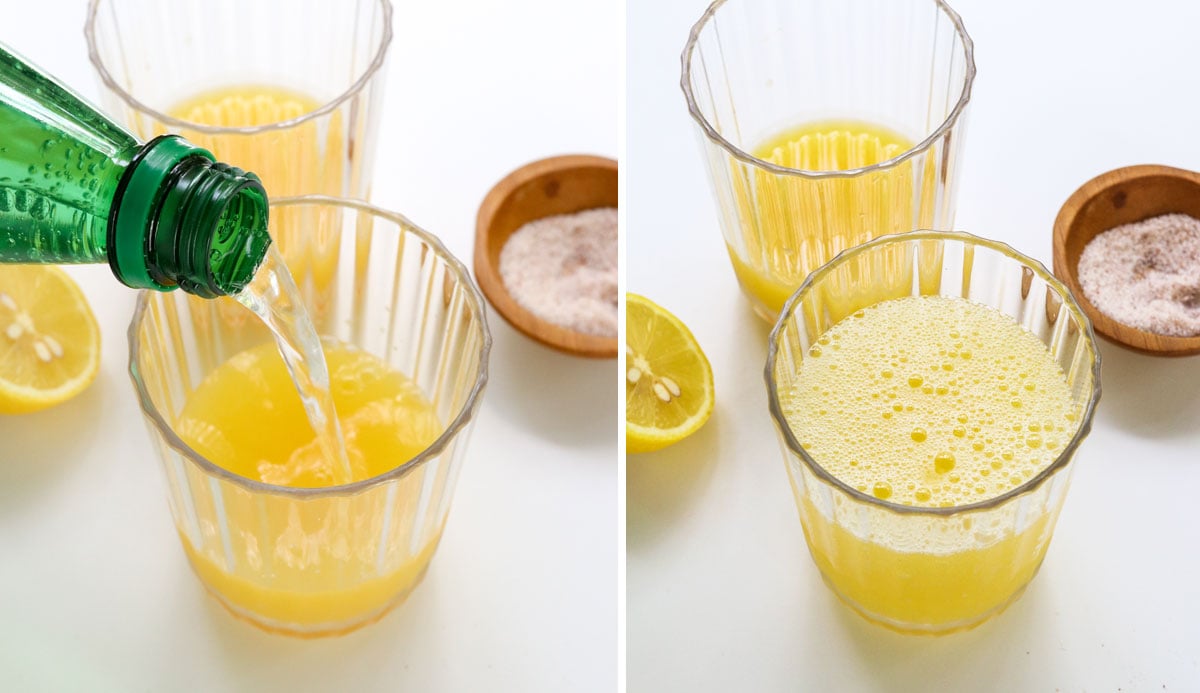 2. Add any extras.
For a dose of healthy fat, add a tablespoon or two of creamy coconut milk, and stir well. The drink is ready to serve right away!
Pro Tip: When using canned coconut milk, you may want to blend it in a blender first, so the solid fat is smoothly incorporated with the liquid. This makes it similar to heavy cream.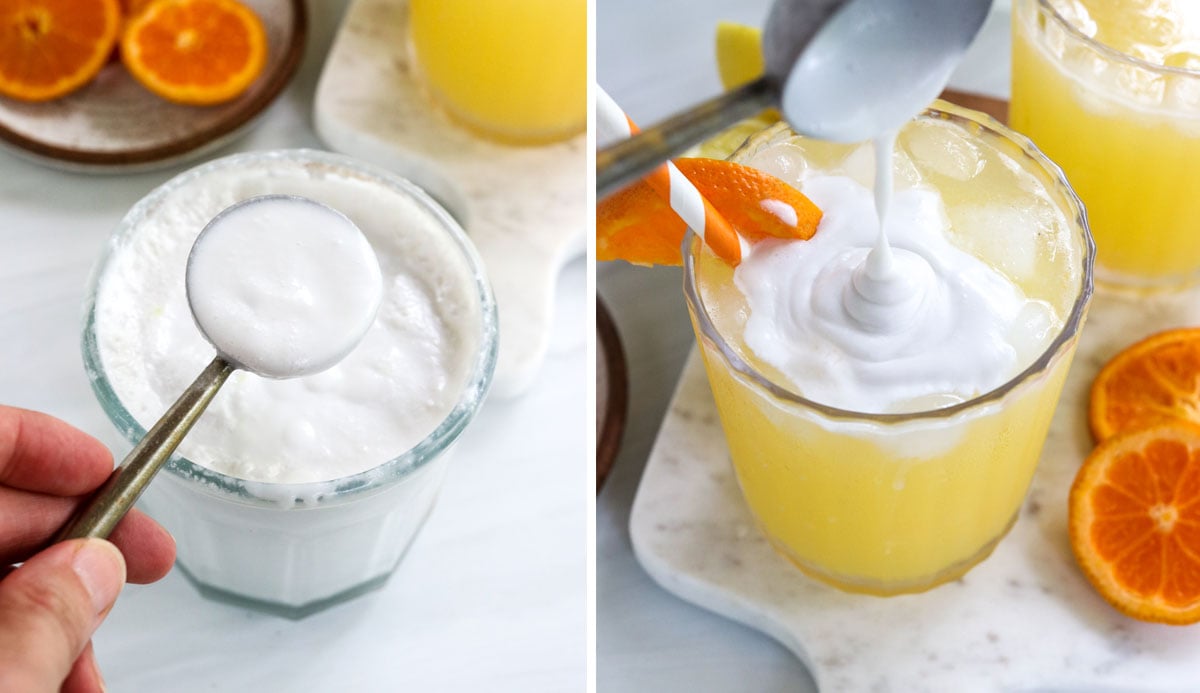 3. Enjoy!
Serve with or without ice, and enjoy it right away.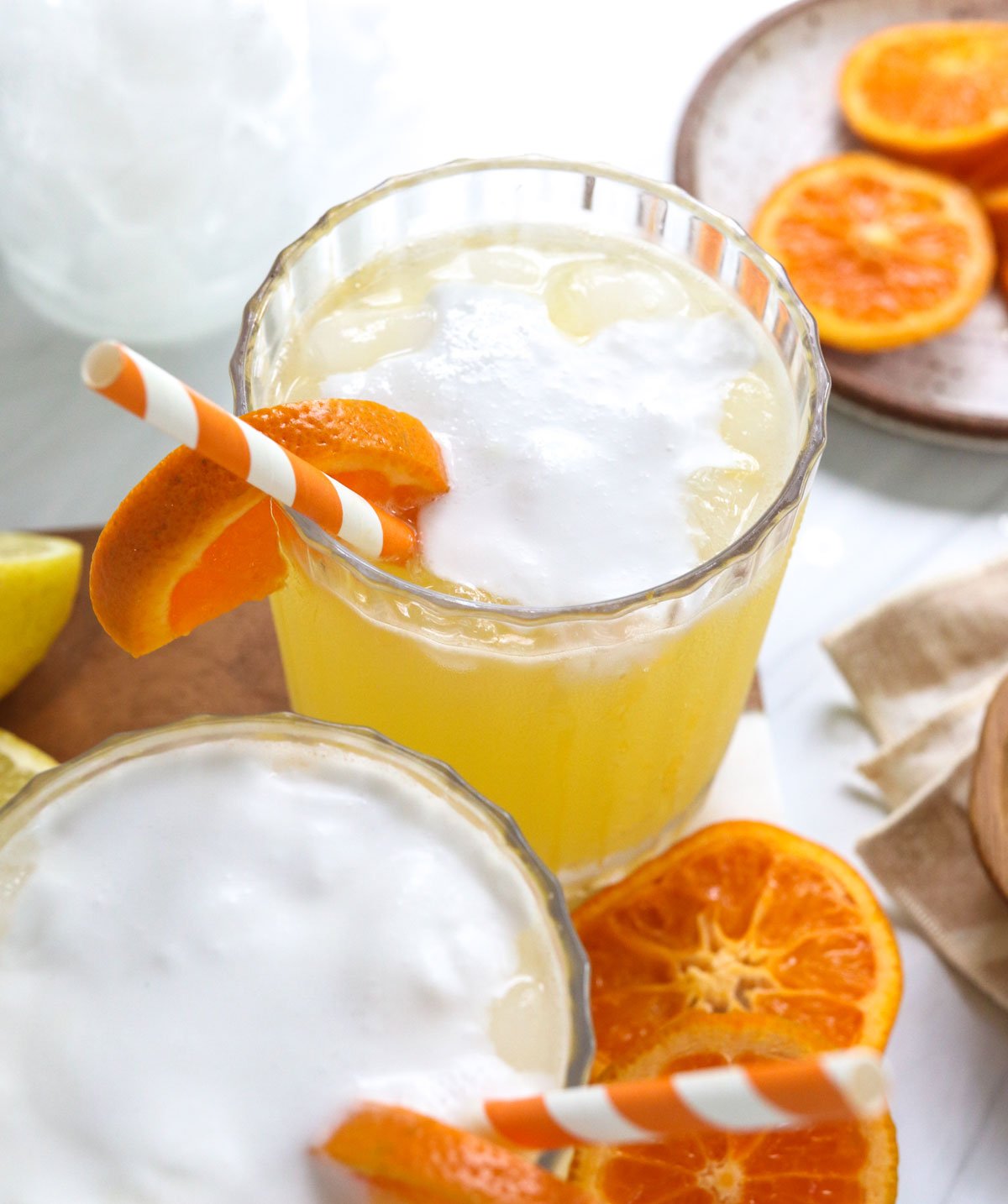 Frequently Asked Questions
What does an adrenal cocktail do?
It helps replenish the minerals and nutrients your body needs for hormone production, and may help to balance energy levels during the day.
Do I have to use orange juice?
No! For a lower-sugar drink, you can just use coconut water, lemon or lime juice, and salt. If you can't do coconut water, use sparkling mineral water instead.
Should I be worried about the added salt?
If you are watching your sodium levels, the salt in this recipe can be omitted. However, keep in mind that pink salt contains less sodium than table salt, and sodium plays a critical role in regulating fluid balance in the body.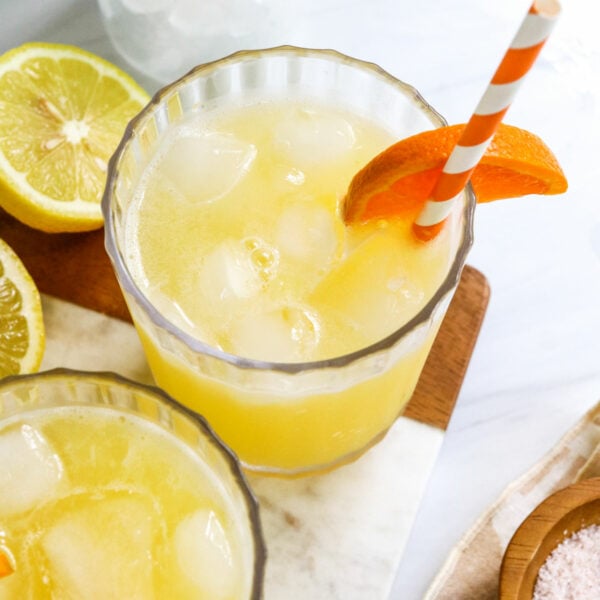 Adrenal Cocktail
This adrenal cocktail recipe is an easy way to get more vitamins and minerals into your day! All you need is a few ingredients to make it.
Ingredients
1/2

cup

orange juice

1/2

cup

coconut water

(or sparkling mineral water)

1 1/2

tablespoons

lemon juice

(juice of 1/2 a lemon)

pinch of Himalayan pink salt
Optional Add-Ins
1 to 2

tablespoons

coconut milk
Instructions
Add the orange juice, coconut water (or mineral water), lemon juice, and salt to a glass, with or without ice.

At this point, the drink is ready to serve, or you can add the coconut milk for extra creaminess. Stir well and enjoy right away.
Notes
Nutrition information is for the whole batch, including the coconut milk and an 1/8 teaspoon of salt. This information is automatically calculated, and is just an estimate, not a guarantee.
*See the full post for substitutions and other variations.
Nutrition
Calories:
143
kcal
,
Carbohydrates:
20
g
,
Protein:
2
g
,
Fat:
7
g
,
Saturated Fat:
6
g
,
Polyunsaturated Fat:
0.1
g
,
Monounsaturated Fat:
0.3
g
,
Sodium:
131
mg
,
Potassium:
637
mg
,
Fiber:
2
g
,
Sugar:
14
g
,
Vitamin A:
249
IU
,
Vitamin C:
74
mg
,
Calcium:
49
mg
,
Iron:
2
mg