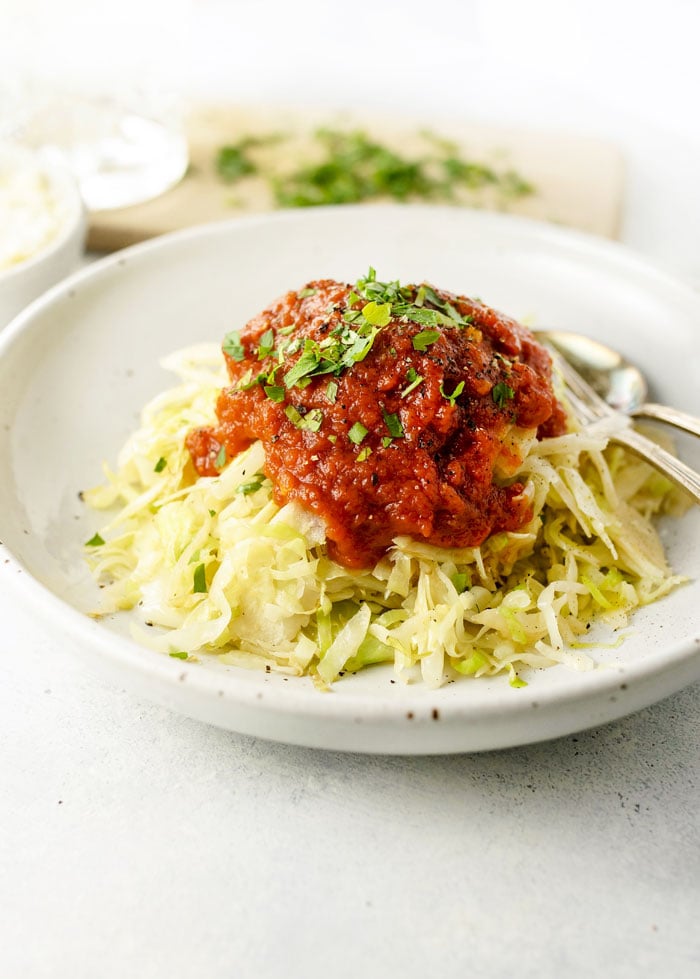 I don't know about you, but sometimes cooking sounds SO unappealing. There are days that I just want to eat something comforting fast, but I don't want to resort to take-out and feel even more sluggish later. That's when I turn to this 2-Ingredient Detox Spaghetti, because it literally takes me about 10 minutes to prepare and is ultra-comforting.
I realize that shredded cabbage does not have the same taste or texture of spaghetti, and it certainly won't fool anyone into thinking that they're eating real pasta, but that's not really the point of this quick recipe. When you cook shredded cabbage until very tender in your favorite pasta sauce and then top it with a sprinkling of your favorite parmesan cheese (try this vegan version if you like), it's transformed into a comforting dish that has the classic flavor of spaghetti. It's a fast and delicious way to eat a large portion of veggies, and leaves me feeling satisfied without the need for pasta or any extra tools, like a spiralizer. If you keep a bag of shredded coleslaw mix on hand, this meal is truly only minutes away! To tell you the truth, I think I like it more than using real pasta.
Since cabbage is very low in calories and carbs, I typically eat this entire recipe by myself. It's perfect for when you're only cooking for one, and I'll often make it on nights that my husband wants to eat the last portion of leftovers from a previous night's dinner. If you have spaghetti-lovers in your family, this recipe could also be a tasty side dish to get your picky eaters to try cabbage. Feel free to double or triple it to fit your needs!
This dish is naturally gluten-free, nut-free, dairy-free and vegan. It's even oil-free if you choose to use a fat-free marinara sauce! (You can see my favorite brand in this post.) Feel free to add your favorite cheese (or vegan cheese) as a topping, if you like. You could also make this meal heartier by adding your favorite protein, such as tofu, tempeh, cooked lentils, or high-quality meat, but keep in mind that cooking those items will extend the cooking time a bit. Adapt it as you see fit!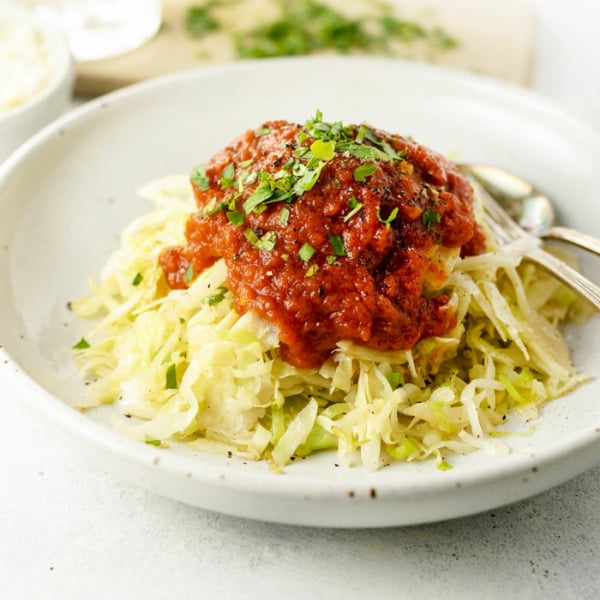 2-Ingredient Detox "Spaghetti"
This detox "spaghetti" is a healthy way to enjoy your favorite pasta flavors while staying low-carb and gluten-free. It's ready in just 10 minutes!
Ingredients
1

(12 ounce) bag shredded cabbage, or coleslaw mix

3/4

to 1 cup marinara or pizza sauce

, to your taste
Instructions
In a deep skillet or dutch oven over medium-high heat, combine the shredded cabbage and marinara sauce and stir well. (Start with 3/4 cup marinara and add more if you like to taste.) The cabbage will be very bulky at first, but it will shrink down significantly as it cooks.

Stir often to help prevent sticking, until the cabbage is very tender, about 8 to 10 minutes.

Serve warm with a sprinkling of your favorite cheese, and feel free to add in any other protein or toppings that you like.
Nutrition
Calories:
146
kcal
,
Carbohydrates:
28
g
,
Protein:
6
g
,
Fat:
2
g
,
Sodium:
61
mg
,
Potassium:
578
mg
,
Fiber:
10
g
,
Sugar:
11
g
,
Vitamin A:
700
IU
,
Vitamin C:
171.6
mg
,
Calcium:
140
mg
,
Iron:
1.6
mg
Per Serving: Calories: 146, Fat: 2g, Carbohydrates: 28g, Fiber: 10g, Protein: 6
Note: When choosing your marinara sauce, be sure to look at the ingredient list and check that there is no added sugar and less than 4 grams of fat per serving to limit the added oil. My favorite jar is from Whole Food's 365 brand with no added oil or sugar.
I hope you'll enjoy this quick dish anytime you're rushed for time or don't have the energy to cook an elaborate dinner. I eat it myself at least once a week!
—
Reader Feedback: Do you have a favorite go-to 10 minute meal?