With Valentine's Day typically comes a showering of candy and chocolates, but at the end of the day, all of that refined sugar can leave you feeling, well… less than romantic. Why not try making one of these easy, naturally-sweetened desserts for your loved ones instead?
Whether you love chocolate, coconut, cheesecake or peanut butter, there's something here for everyone!
—
This rich, chocolate "cheesecake" tastes so decadent, no one would ever guess that hidden inside the creamy filling is a full cup of vegetables!
—
These peanut butter balls feature fiber-rich coconut flour instead of powder sugar, but they taste just as delicious as the refined-sugar version.

—
Featuring just four ingredients, this impressive dessert couldn't be easier to prepare!
—
4. Dark Chocolate Avocado Truffles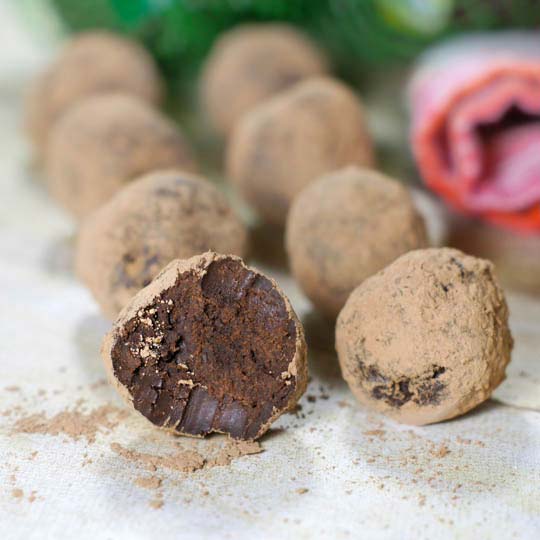 Who needs to buy a box of chocolates, when you can make these easy truffles instead? If you don't like the taste of avocado, don't worry– the flavor is hidden by the rich chocolate taste.
—
5. Raw Chocolate Swirl Cheesecake Bars
With these bars, you don't need to pick between cheesecake and chocolate– this recipe combines the best of both worlds!
—
These grain-free cookies have a chewy, brownie-like texture that anyone is sure to love. They're downright addictive!

—
7. Chocolate Peanut Butter Milkshake
This simple shake is the dessert my husband requests more than any other. It's so creamy, it's hard to believe it's not made with real ice cream!
However you celebrate, I'm wishing you and your loved ones have a very happy Valentine's Day!
—
Reader Feedback: Making anything special for you or your Valentine?