Steel cut oats make a warm and healthy breakfast, and today I want to show you how EASY they are to prepare in an Instant Pot electric pressure cooker, so they'll turn out perfectly every time!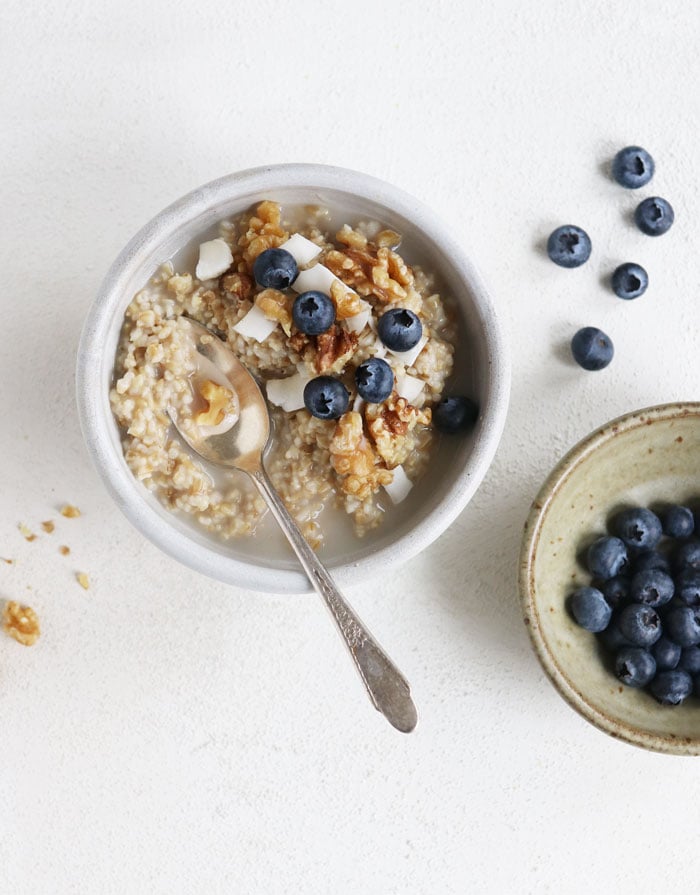 Steel cut oats have 5 grams of fiber and 7 grams of protein in just a 1/4 cup dry serving, and the insoluble fiber they contain has been associated with improved cholesterol levels and improved blood sugar levels in diabetics. They're also a natural source of B vitamins and iron. (You'll get 20% of the recommended daily allowance of iron if you eat a 1/2 cup of oats in the morning!)
Are Steel Cut Oats Better for you than Rolled Oats?
Steel cut oats and rolled oats both come from the same whole grain cereal, so they have similar nutrition content and really only differ in their processing. Rolled oats are steamed, then rolled to produce their signature flat look and quick-cooking texture. Because they are tender and cook quickly, they are ideal for adding to baked goods, like my Gluten-free Oatmeal Chocolate Chip Cookies.
Steel cut oats, on the other hand, are less processed. To make steel cut oats, the oat groat is sliced with a steel blade to create more of a chopped, rice-like grain that is chewier in texture and takes longer to cook.
Though, the cooking time isn't a problem when you have an Instant Pot (<– affiliate link for the 6-quart one). Just press a button and walk away until it's ready! I love not having to babysit my oats on the stove top, or worrying about them burning on the bottom.
The key to cooking perfect steel cut oats in the Instant Pot is allowing the pressure to naturally release after the initial 4 minute cooking cycle. While the pressure releases, the oats absorb the water without burning on the bottom of the pot. This prevents sticking and allows the oats to become perfectly tender. You just have to be patient!
While a 4-minute cook time sounds ridiculously fast for a bowl of steel cut oats, the entire process takes closer to 30 minutes when you take into account the 5 minutes for the Instant Pot to come to pressure, 4 minutes for the cooking cycle, and then about 20 minutes for the pressure to naturally release. This isn't any longer of a process than cooking them on a stove top, but it's also not significantly faster.
The Benefit of Using an Instant Pot
The real benefit of using the electric pressure cooker, if you ask me, is the hands-off approach. Instead of waiting over the stove for the water to come to a boil, then adding the lid, lowering the temperature, and checking on the oats to check for tenderness, you can truly "set it and forget it" with the Instant Pot.
Just press a button and walk away until you're ready to eat!
If you forget to check on the oats for 10 minutes, they won't burn, and in fact, the Instant Pot will keep them warm until you're ready to eat. I love this thing, and I hope you'll love these easy steel cut oats just as much, too.
Are Steel Cut Oats Gluten-Free?
Oats are naturally gluten-free, but they are often processed in facilities that process gluten-containing grains, and therefore you run the risk of cross-contamination. If you need to stay gluten-free, be sure to look for oats with a certified gluten-free label on the package.
Instant Pot Steel Cut Oats (Fool-Proof Method!)
STARCH | Gluten-free, Dairy-free, Soy-free, Egg-free, Nut-free, Vegan
Here's how to make steel cut oats in the Instant Pot electric pressure cooker for a quick and easy warm breakfast. They're naturally gluten-free and dairy-free, and are loaded with fiber and plant-based protein.
Ingredients
2

cups

steel cut oats

(certified gluten-free, if necessary)

5

cups

water
Instructions
Combine the steel cut oats and water in the bowl of a 6-quart Instant Pot and give them a stir. (If using a different size machine, please see the notes for modifications.) Secure the lid and turn the steam release valve at the top to "sealing." 

Press the Manual or Pressure Cook button, then set the cook time to 4 minutes on high pressure. The Instant Pot will read "ON" as it comes to pressure, which can take 10 to 15 minutes. When the floating valve in the lid pops up, you'll know the pot is pressurized and the countdown will begin.

When the cooking cycle is complete, allow the pressure to naturally release for 20 minutes. (The timer on the Instant Pot will remain on after the cooking cycle to let you know how long it's been kept warm, unless you press the OFF button. I like to keep it on for the timer function.) 

Once the 20 minutes have passed, turn the steam release valve to "venting" to release any remaining pressure. Carefully remove the lid and stir the oats to incorporate any water that has risen to the top. They might look watery at first, but should thicken up when you stir them.

Serve warm with maple syrup, cinnamon, and a splash of non-dairy milk, if desired. Leftover oats can be stored in individual containers in the fridge for up to a week, for a fast breakfast on the go.
Notes
If you are using a 3-quart Instant Pot, make sure you follow the max-fill guidelines set out in your user manual. Oats can release starchy foam as they cook, and you don't want to clog the vent. I'd recommend cutting the recipe in half for a smaller machine, but only if that works with your user manual guidelines for safety. If using a larger 8-quart machine, I would lower the cook time to 3 minutes since a larger machine takes longer to come to pressure.
Nutrition
Calories:
205
kcal
,
Carbohydrates:
35
g
,
Protein:
8
g
,
Fat:
3
g
,
Sodium:
10
mg
,
Fiber:
5
g
,
Calcium:
33
mg
,
Iron:
2.2
mg
Per serving: Calories: 205, Carbohydrates: 35, Fiber: 5, Protein: 8, Fat: 3
Need more healthy Instant Pot recipes? Be sure to check out my cookbook, The Fresh & Healthy Instant Pot Cookbook. You can see a sneak peek here!
Recipe Notes:
If you follow food combining, you can top cooked oats with pumpkin or sweet potato puree, pure maple syrup, and a splash of almond milk for a properly combined meal. Sliced avocado would work, too!
—
Reader Feedback: What's your favorite breakfast this week? Do you have any favorite Instant Pot recipes already? Feel free to share them below!
SaveSaveSaveSave
SaveSave
SaveSave