These Air Fryer Sweet Potato Fries are quick & easy to prepare, and will get you the crispiest results possible. They are ready in about 20 minutes from start to finish!
How to Cut Sweet Potatoes for Fries
One of the keys to getting crispy sweet potato fries is to cut them as thin as possible. With a knife and cutting board, you should be able to cut your sweet potato into french fry pieces that are roughly 1/4-inch thick.
It's okay if the fries are slightly uneven, as the shape of all sweet potatoes are different, but the more consistent you cut the fries, the more evenly they will cook. Super-small pieces will cook faster, and could burn in the air fryer, so you may want to check on those a few minutes before the cooking cycle is complete.
Sweet Potato Cutting Tip: I think sweet potatoes are the easiest to cut thin when they are standing up vertically. Watch my Sweet Potato Toast video, for an example of this.
How to Make Crispy Sweet Potato Fries
It's important to know that sweet potato fries won't ever be as crispy as fries made with white potatoes. You could possibly coat them in a batter, similar to an onion ring, to make them crispier, but if you want to keep the sweet potato fries relatively healthy (which is why I assume you're using an air fryer) I think you should lower your expectations when it comes to crispiness. Instead, expect to get sweet potato fries that are sturdy (not soggy!), with crisp edges.
Here's what you can do to get the best sweet potato fries:
Cut the fries as thin as possible. We covered this above, but it bears repeating. If you cut your sweet potato fries into 1/2-inch shapes instead of 1/4-inch shapes, the thicker fries will be softer. (But still tasty!)
Add a coating. You can also make your sweet potato fries crispier by coating them in a bit of starch first. This gives the fries a slight coating that can crisp up, while also preventing them from burning too quickly. I use arrowroot starch in this recipe, but I imagine that corn starch and tapioca starch would provide a similar effect.
Don't use too high of a temperature. I originally tested these fries at 400ºF, but found that they burn too fast. Cooking them at 360ºF, with a coating of arrowroot starch, gives them a nice golden color that crisps up, without burning the fries.
Serve them right away. You need to serve the fries as soon as they are done cooking, because they will start to soften up as they sit on the plate. Within 5 to 10 minutes, then will be significantly softer. (Note: I noticed that the darker I cooked my fries, the sturdier they stay, so err on the side of almost-burning your fries if you want them to stay crispier, longer.)
Sweet potatoes in general are more difficult to create crispy fries, when compared to white potatoes, so you'll notice that the crispiest sweet potato fries are the ones that get very brown on the outside, and almost-burnt. You'll want to watch your fries closely towards the end of the cooking cycle to make sure they don't cross over into burnt territory!
The Air Fryer You Use Makes a Difference
I own two different air fryers, and tested these fries in both models, because the difference is HUGE. Make sure you know the watts of your machine, so that you can choose the appropriate cooking time.
900 watt oven: Cook the fries for 18 to 20 minutes at 360ºF, turning after 12 minutes.
1500 watt oven: Cook the fries for 10 to 12 minutes at 360ºF, turning after 8 minutes.
1700 watt oven: Cook the fries for 10 minutes at 360ºF, turning after 7 minutes.
I tested this recipe with my NuWave Air Fryer (which cooks at 900w, 1500w, or 1800w) and my Instant Vortex Air Fryer (which cooks at 1700w).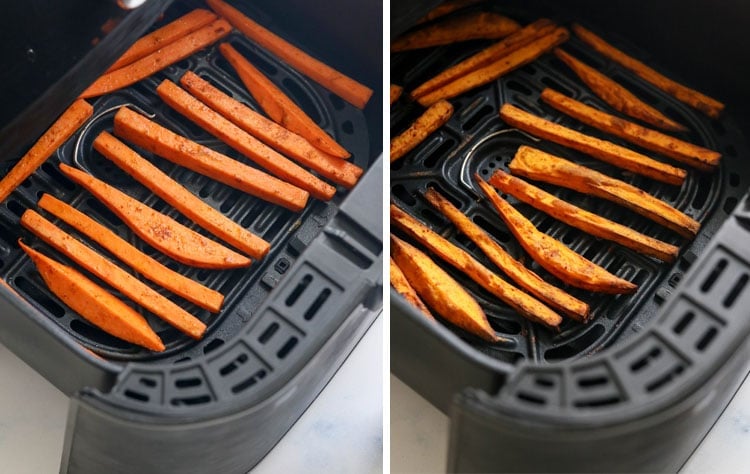 Do You Need to Soak Sweet Potatoes for Fries?
If you've tried my other Air Fryer Fries before, you may have tried soaking white potatoes to help remove some of their starch content before air frying them. This works well for white potatoes, but when I tried it for these sweet potato fries, the soaking seemed to make no difference.
So, I'm sharing this to let you know that I don't think soaking the potatoes is worth the extra time and effort.
Air Fryer Sweet Potato Fries
These sweet potato fries cook quickly in the air fryer, and are ready in 20 minutes or less!
Ingredients
1

sweet potato

(about 12 ounces by weight)

2

teaspoons

arrowroot starch

(corn or tapioca starch should work, too)

2

teaspoons

olive oil

1/2

teaspoon

salt

1/2

teaspoon

garlic powder

(optional)

1/2

teaspoon

paprika

(optional)

1/2

teaspoon

onion powder

(optional)
Instructions
Peel the sweet potato and cut it into fry shapes, about 1/4-inch thick. The thinner you slice the fries, the faster and crispier they will cook.

Place the fries in a large bowl, then toss well with the arrowroot starch. This will help the fries become a little sturdier and crispier.

Preheat the air fryer to 360ºF. While it's preheating (it takes mine about 3 minutes), toss the fries with the olive oil, coating well, then add in the remaining seasoning and toss again, to make sure all of the fries are well seasoned.

You'll most likely need to cook the fries in batches so that they can be in a single layer in your air fryer basket, so arrange half of the fries into a single layer, then cook them at 360ºF for 10 minutes. I like to stop at 8 minutes and shake the basket, to turn the fries and make sure they cook evenly. (These directions are for a 1700 watt air fryer. If you're using a 1500 watt air fryer, you may need to add 2 minutes to the cooking time, and a 900 watt air fryer will need nearly double the cooking time, so make sure to check your machine.)

When the fries are golden on the outside and feel tender on the inside, they are ready to serve. Set the cooked fries aside, and cook the remaining batch as directed above.

When all of the fries are cooked, you can reheat the fries you made previously by cooking them all together for 1 more minute at 360ºF. This ensures you serve a whole batch of piping hot sweet potato fries. Serve warm right away, since they will become softer as they cool.
Nutrition
Calories:
111
kcal
,
Carbohydrates:
18
g
,
Protein:
1
g
,
Fat:
4
g
,
Saturated Fat:
1
g
,
Sodium:
618
mg
,
Potassium:
219
mg
,
Fiber:
2
g
,
Sugar:
3
g
,
Vitamin A:
9468
IU
,
Vitamin C:
2
mg
,
Calcium:
20
mg
,
Iron:
1
mg
Sweet potato fries nutrition above is for half the batch.
Recipe Notes:
I used my Instant Vortex Air Fryer and NuWave Air Fryer for testing this recipe, but I assume it will work similarly with other makes and models of air fryers. Please report back if your air fryer works differently!
If you try this recipe, please leave a comment below letting me know how you like it. If you make any modifications, I'd love to hear about those, too! (Especially if you try a different seasoning combination– though I'm addicted to this one right now.) We can all benefit from hearing about your experience.
–
Reader Feedback: What's your favorite way to use your air fryer? I'd love to have more ideas on how to get the most out of mine. (I mostly use mine for french fries!