Are you ready to make perfect air fryer French fries at home? Today I'll show you how to get perfectly crispy results every time!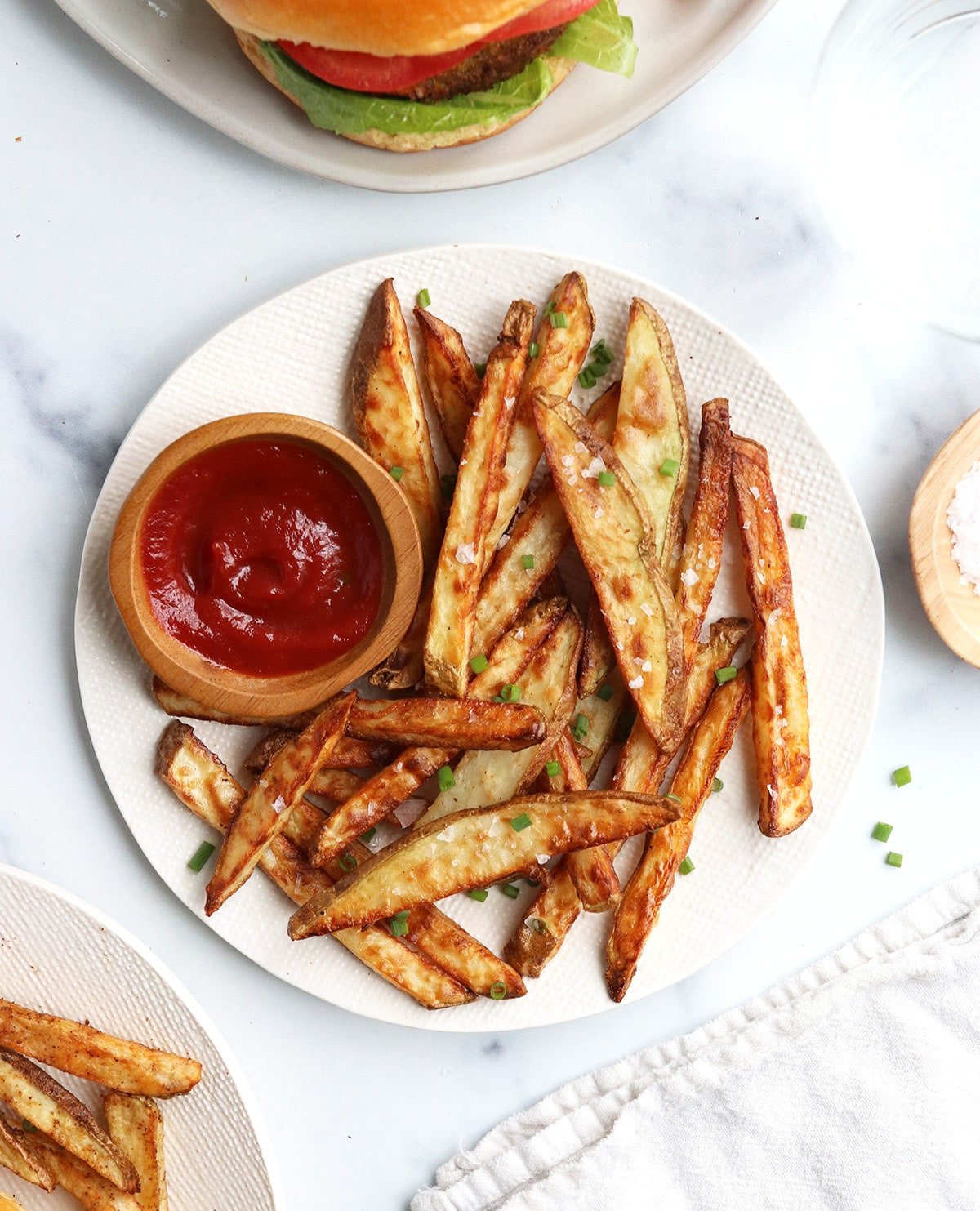 All you need to make crispy, relatively healthy french fries is a potato, a drizzle of olive oil, and your favorite seasonings. You basically prepare them exactly like you would oven-baked french fries, but the air fryer cooks them faster, and with crispier results. It's a total win-win!
Bonus: Make your own healthy ketchup as a dipping sauce.
Which Air Fryer is Best?
The best air fryer for making crispy french fries is a basket-style air-fryer. After reading lots of Amazon reviews, I landed on buying a NuWave model about 3 years ago. (This model is not currently available, but my Instant Vortex below is similar in both price and function.)
Here's how the other air fryers I've tried compare:
Instant Vortex. This basket style air fryer is great for making "crispy" french fries. The only con is that most basket-style air fryers like this one smell like hot plastic the first few times you use it. (This was the case with my NuWave model, too.) Luckily, the smell goes away, and I find myself using the basket-style air fryer more than the others I own, especially with the fast reheat button.
Breville Air Fryer. This is my second-favorite air fryer, mostly because of all the other functions it offers, like dehydrating, proofing, keep warm, bake, etc. It doesn't get things as crispy compared to the basket-style air fryer, but that's a benefit when it comes to roasting vegetables, I think. (If you're looking to avoid a non-stick coating, this oven still has one on the inside walls, but it doesn't have to touch your food.)
Cuisinart Air Fryer. This one is slightly more affordable than the Breville Air Fryer, but it tends to run very hot– you might want to adjust the temperature by as much as 50ºF lower than what recipes call for. As a result, it does tend to get food slightly crispier than the Breville does.
When my first air fryer arrived in the mail my initial reaction was, "Wow, this is huge!" It's roughly the same size as my 8-quart Instant Pot, so it's not a small appliance that will live on my countertop permanently. (The Instant Pot, on the other hand, has earned its spot because I use it almost every day.)
How to Make Crispy Fries
Step 1. The key to getting ultra-crispy french fries is to soak the cut potatoes in water for 10 minutes, to help remove some of their starch content. This helps the centers get tender, and the outsides get crispy!
The air fryer does an exceptional job of helping the process along, though, so if you don't have time to soak your sliced potatoes, it's not a deal-breaker when you use the air fryer. They really do get crispy regardless!
I tested them both ways, just to be sure. (On busy weeknights, I always skip the soaking process.)
Step 2. If you soaked the fries, be sure to dry them well, then toss with a drizzle of olive oil and your favorite seasonings. I use garlic powder and salt to keep things easy.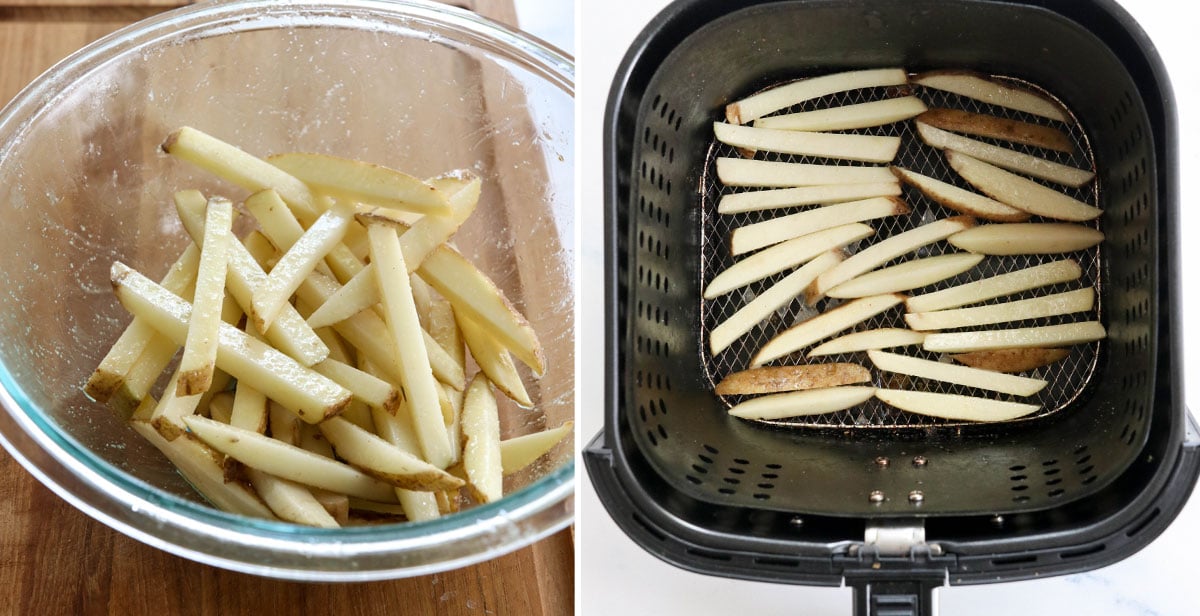 Step 3. Arrange the seasoned potato slices in a single layer in the air fryer. Don't try to make more fit, or they will end up soggy! I usually have to cook these in two batches, but you can throw them all in together at the end to make sure all of the fries are piping hot when you serve them.
What Makes Them Healthy?
Air fryer fries are made with significantly less oil than the deep-fried version, so they are lower in fat and calories when compared to the traditional variety. In theory, you can even make them with no oil at all, but I think using a little oil helps with texture and mouthfeel
If you think oven-roasted potatoes are healthy, these are the same thing– just crispier! In fact, you should try my crispy air fryer potatoes if you haven't. They are addictive! You can also make baked potatoes in the air fryer, and baked sweet potatoes.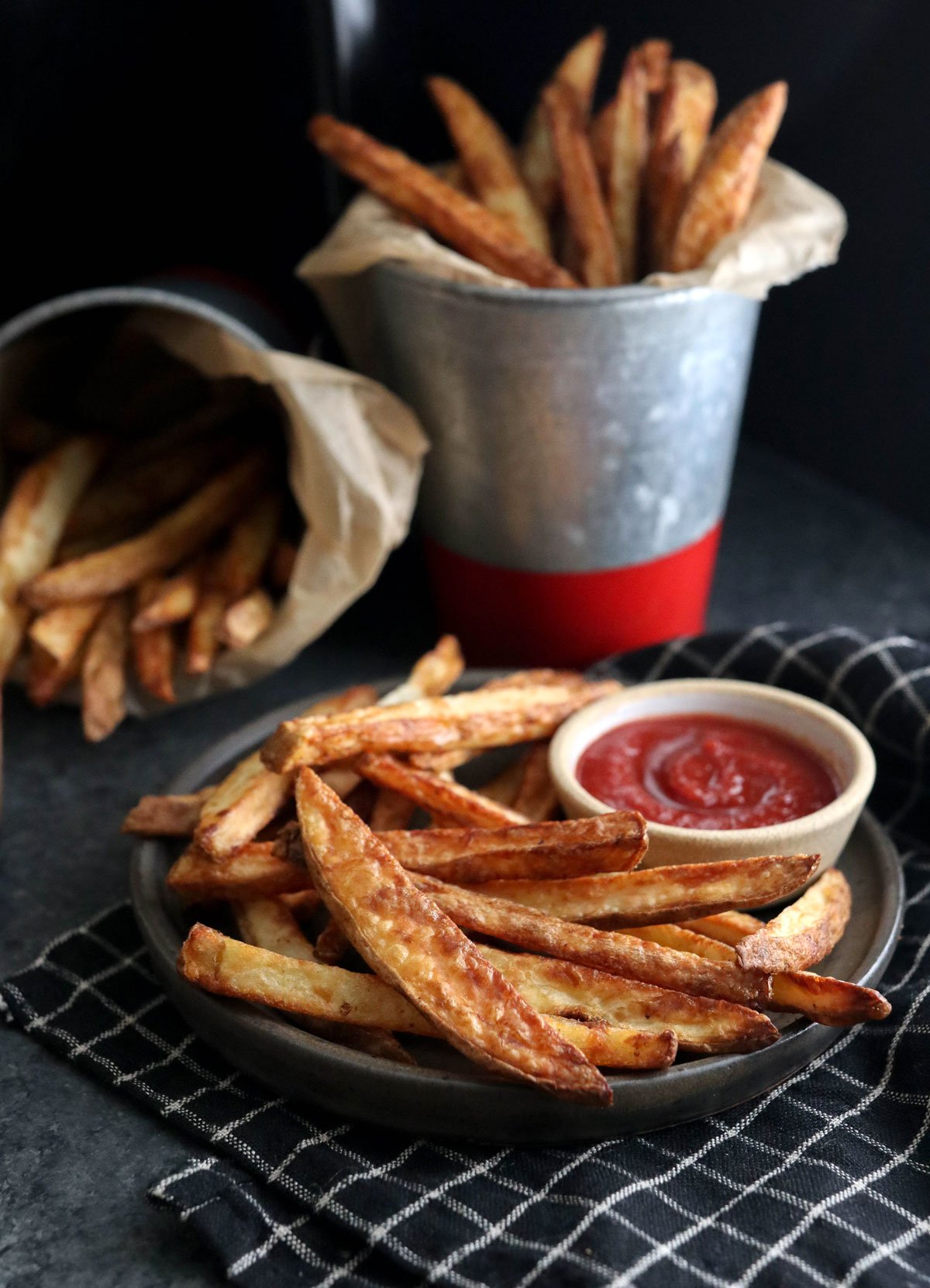 Can You Use Sweet Potatoes?
If you would rather use sweet potatoes for fries, be sure to check out my Air Fryer Sweet Potato French Fries tutorial. They require a slightly different cooking method to become crispy.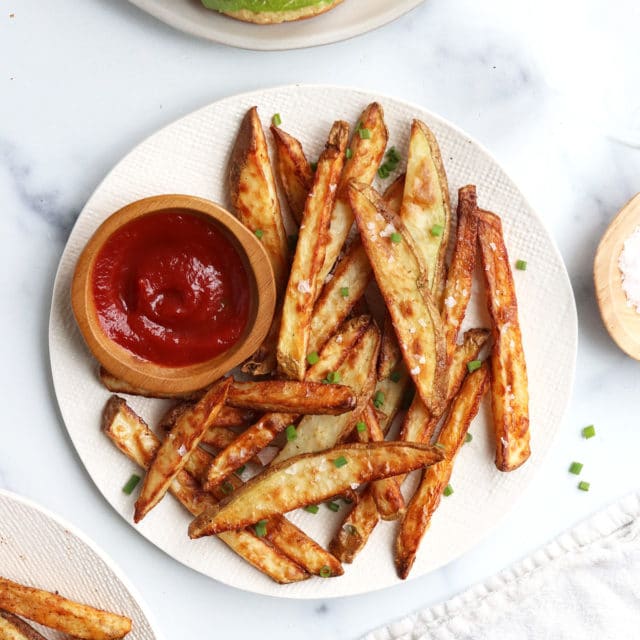 Air Fryer French Fries
Here's how to make Air Fryer French Fries in just 15 minutes! They turn out perfectly crispy every time, using less oil than the deep-fried variety.
Equipment
Ingredients
1

pound

Russet or Yukon Gold potatoes

, scrubbed

1

tablespoon

extra-virgin olive oil

1/2

teaspoon

fine sea salt

1/4

teaspoon

garlic powder
Instructions
Preheat the air fryer to 375ºF, then slice the potatoes into french fry shapes, about 1/4-inch thick. Place the raw potato slices in a bowl of warm water and let them rest for 10 minutes.

Drain the potatoes, pat dry, and place them in a large bowl. Drizzle them with the olive oil, then season with the salt and garlic powder. Toss well to coat the potatoes.

Arrange the seasoned potato slices on the bottom of your air fryer basket, in a single layer, if possible. (I have to do this in 2 batches with my basket-style air fryer.) The more separated the potatoes, the crispier they will be.

Cook the fries at 375ºF for 10 minutes, then shake the basket to help them cook evenly. Return the basket to the air fryer to cook for 5 more minutes, or until the fries are golden and crisp.

Serve warm right away, as the fries will get softer as they cool. If you ever need to reheat the fries, most air fryers have a 4-minute "reheat" button that will help them crisp up again!
Notes
Nutrition information is per 4 oz. of potatoes, but this is just an estimate and not a guarantee
I like using Yukon Gold potatoes best for french fries, as they have a "creamier" middle. Russet potatoes are drier in texture. If you want to make sweet potato fries, see my Air Fryer Sweet Potato French Fries tutorial instead.
Nutrition
Calories:
80
kcal
,
Carbohydrates:
10
g
,
Protein:
2
g
,
Fat:
3
g
,
Sodium:
8
mg
,
Potassium:
351
mg
,
Fiber:
2
g
,
Vitamin C:
9.7
mg
,
Calcium:
25
mg
,
Iron:
2.8
mg
More Air Fryer Recipes
Need more ideas? Try one of these recipes below!
If you try these Air Fryer French Fries, please leave a comment below and let me know how you like them! And if you make any modifications, I'd love to hear about those, too. We can all benefit from your experience.
–
Reader Feedback: Have you used an air fryer before? Let me know if you have any recipe requests.